These Easy Homemade Bagels are easy to make. We love making them because we can make smaller bagels that are very satisfying and helps cut some calories. This way we can enjoy a bagel and not fill guilty for having a large one. Or you can make super large ones and enjoy every bite of the yumminess!!! Plus, everyone can have the toppings they want. I mean some days I want an everything bagel and then some days I want a sesame topping.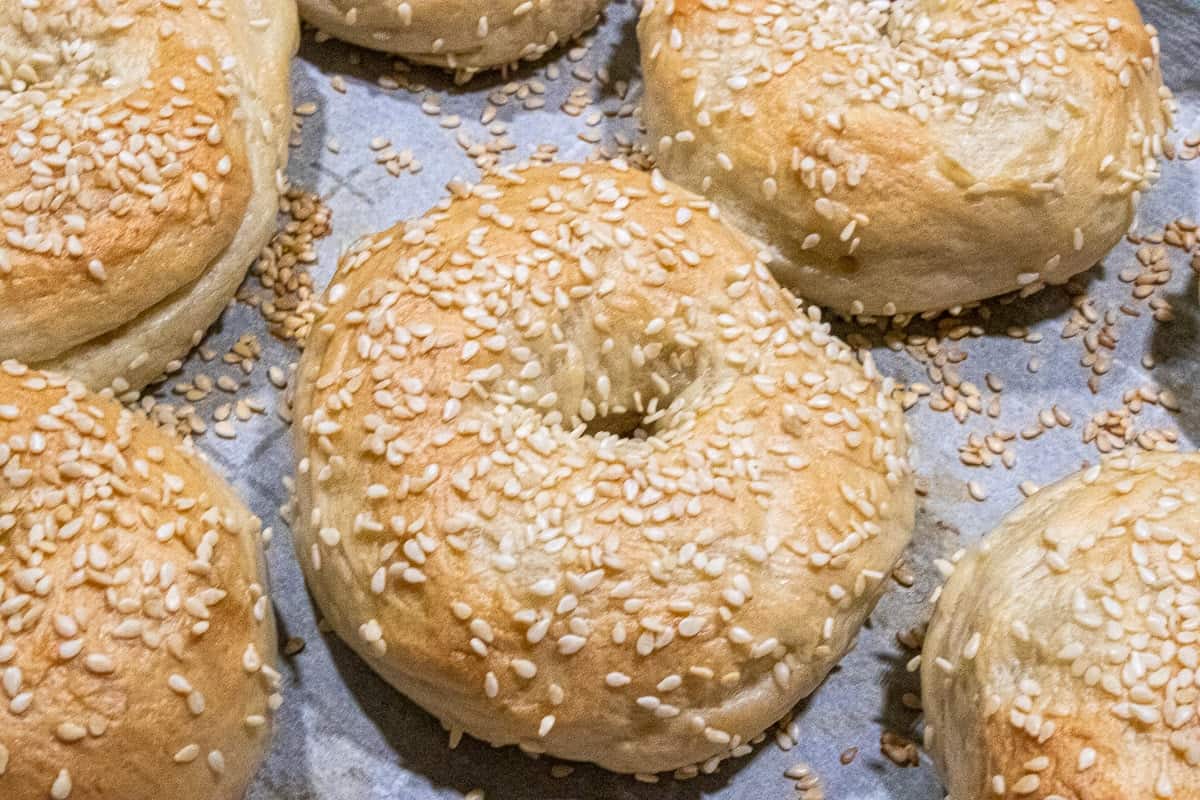 Enjoy with favorite toppings!!!
My favorite bagel is in the summertime. Spread some cream cheese, top with cherry tomatoes and some Jalapeños or Serrano for some heat. And of course add some bacon to really make these easy homemade bagels a yummy morning treat.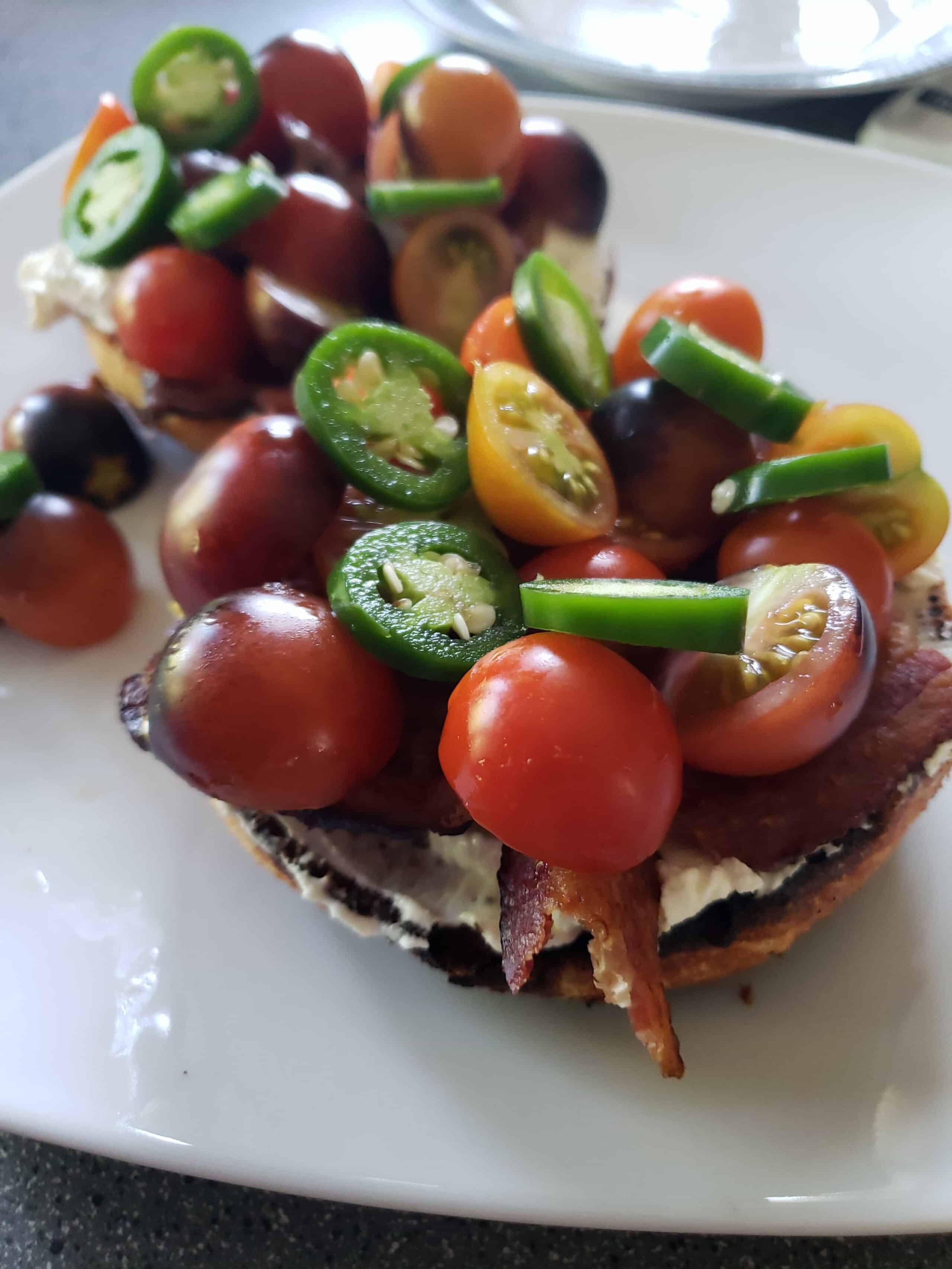 How to make
This is so easy to make and so rewarding. I don't know why but making homemade bagels really makes me feel happy. The cost is a lot less than buying them at the local shop. I don't know about you but I'm always looking for ways to save money!!! Plus, you don't have to drive to the store to pick them up. For us the local shop is 20 minutes away. So I'm not going there very often. The bagels can be made small or very large depending on how hungry you might be. The toppings can be different for everyone in the house.
So with 5 ingredients - Yeast, Sugar, Flour Salt and your favorite topping, plus water. Some mixing together, letting the dough rise, form the shape and size, sprinkle on your favorite topping, boil them and then cook in the oven for a few minutes and you have nice fresh hot bagels ready for breakfast or brunch.
Toppings for Easy Homemade Bagels
Some toppings for the bagels are; Everything bagel seasoning, Sesame seeds, Onion Flakes, Parmesan Cheese, Poppy Seeds, Garlic, Salt, or even a plain bagel. This is where you can use your imagination and have fun with making the bagels.
Just an Idea for Easy Homemade Bagels are really good with Poached Eggs and Salmon.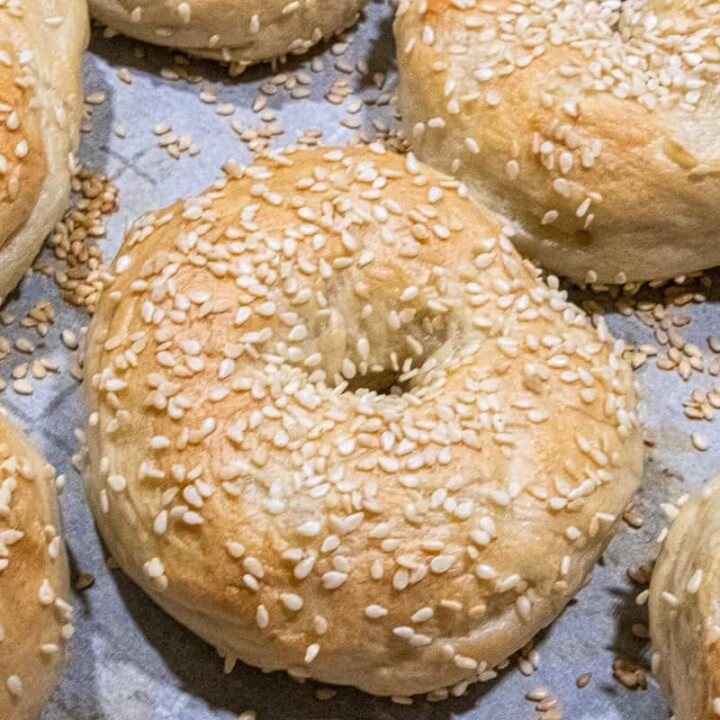 Easy Homemade Bagels
Print
Pin
Course:
Breakfast, Brunch
Author:
Belly Laugh Living
Ingredients
1

Package

Instant Yeast

2

teaspoons

Salt

3 1/2

Cups

Bread Flour

4

teaspoon

Sugar

1 1/4

Cup

Water
Instructions
Place Flour and salt in a mixing bowl and stir together. Set Aside

In a separate bowl add the sugar to the water and stir to dissolve

Add yeast and sugar water mixture to the flour and mix with the dough hook attachment on the mixer.  Or hand mix on counter top (we use the mixer so much easier)

When the dough starts to come together and form a ball, sprinkle 2-3 Tablespoons of flour in the bowl and continue to let the dough hook stir on the lowest setting.  If the dough is sticky, add a little more flour 1 tbs at a time.  Continue to knead the dough on the lowest setting for 6 to 7 minutes.  The dough will be firm but elastic. 

Place the dough ball in a greased bowl and cover with a damp towel.  Let rise for 1 hour.

Punch down the dough and let rest for 5-10 minutes

Cut the dough into portions. 

Form the portion into a ball and poke your finger through the center to form the bagel hole. 

Lightly stretch the dough around the hole until the hole is about an inch wide.  Set aside. 

Form the rest of the bagels.  After all the bagels are all formed, let them rest for 10 minutes.

Bring a large pot of water to boil.

When the water is boiling, add the bagels but don't overcrowd the pot, work in batches.  The bagels will float.  Boil the bagels for 1 minute, then flip them in the water and boil the other side for 1 minute. 

Remove from boiling water and place on a parchment lined cookie sheet.  Immediately top bagels with your favorite seasoning. 

Once all bagels are boiled and topped, bake at 425 degrees for 25 minutes.

Enjoy with your favorite topings
Pin Recipe
The post Easy Homemade Bagels appeared first on Belly Laugh Living.