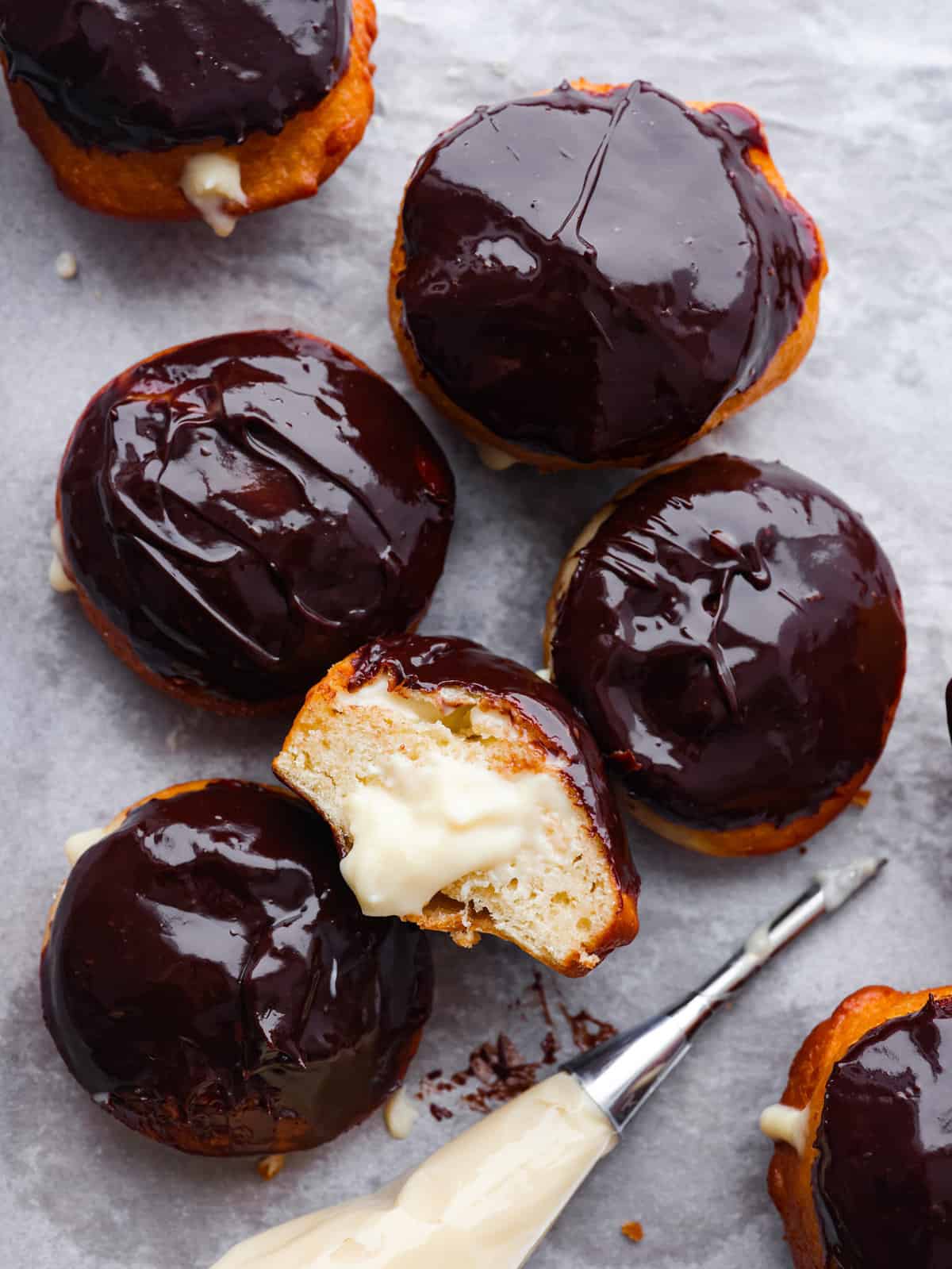 Treat yourself to a batch of homemade Boston Cream Donuts covered in chocolate ganache. These delightful treats are made from scratch and create an irresistible combination of fluffy donuts, creamy filling, and delicious chocolate topping.
Aren't donuts the best? They always satisfy my sweet tooth, and the best part is there are so many delicious options to choose from! Making them from scratch is the best way to go so you have to try making these Glazed Donuts, these seasonal Apple Cider Donuts or these simple and easy Cake Donuts!
What Are Boston Cream Donuts?
In the 19th century, the classic Boston cream pie (which is actually a cake) was born in Boston, Massachusetts. We all know and love that delicious treat, but I can't pretend that I don't like what came from it a little better… The donut! The pie was created at the Parker House Hotel and was all the rage when someone thought of the brilliant idea to take that recipe and create the most delicious handheld treat, a Boston cream donut.
Boston cream donuts offer an exquisite combination of flavors that is hard to resist. The soft and airy donut, filled with creamy custard and topped with a rich chocolate ganache, creates a perfect balance of sweetness and indulgence. You will love this homemade recipe!
What Ingredients Are in Boston Cream Donuts?
The ingredients are pretty simple and probably things you already have in your kitchen! Check out the recipe card at the bottom of the post for exact measurements.
Heavy cream: A rich and creamy ingredient that adds a velvety texture to the donut dough, filling, and ganache.
Whole milk: Smooth and slightly sweet, it contributes to the moist and tender texture of the donuts.
Granulated sugar: Provides sweetness to enhance the overall flavor.
Butter: I used unsalted butter in this recipe.
All-purpose flour: Forms the base of the donut dough, giving it structure and a fluffy texture.
Rapid rise yeast: This helps the dough rise quickly.
Salt: The salt enhances flavor and balances the sweetness in the donuts.
Egg yolks: These add moisture and richness to the donut dough.
Vegetable oil: This is what you will fry the donuts in so that they have that crisp outside and soft and fluffy inside.
Cornstarch: Helps thicken the custard filling, creating a smooth and creamy texture.
Vanilla extract: A splash of vanilla adds a sweet flavor to the chocolate topping.
Semi-sweet chocolate chips: These make a rich chocolate flavor for the ganache.
Let's Make Some Donuts!
The instruction list is a little long but don't let that scare you! I have walked you through each and every step so that this is as easy as possible. These homemade Boston Cream Donuts are the BEST.
Donuts
Warm Ingredients: Combine the heavy cream, milk, sugar, and butter in a heat-proof bowl or measuring cup and heat in the microwave in 20-second intervals until it reaches 130 degrees Fahrenheit.
Combine Wet and Dry Ingredients: Mix the flour, yeast, and salt together in the bowl of a stand mixer. Add the liquid to the dry and mix with a dough hook until combined. Add the eggs and mix until combined.
Knead the Dough: Knead on low for 5 minutes before removing from the bowl and transferring to a lightly floured surface. Knead by hand for 5-8 minutes until the dough is smooth and springs back when you poke it with your finger.
Let Dough Rest: Form the dough into a ball and transfer it to a large, greased bowl. Cover and let rest for 20 minutes.
Punch and Cut Dough, Let it Rise: After the dough has rested, punch down and roll out until it is ½ inch thick. Use a 3-inch circle cookie cutter to cut out donuts. Lay them on a parchment-lined baking sheet and cover with a clean kitchen towel. Let rise for about an hour until they are nearly doubled in size.
Heat Oil: When the donuts are close to being ready, begin heating the oil in a large, heavy-bottomed pot. Use a candy thermometer to keep track of the temperature until it reaches 360 degrees Fahrenheit. While frying, keep the oil between 350-375 degrees Fahrenheit, though I found the sweet spot to be 360.
Cook Donuts: Fry the donuts for 2-3 minutes on each side until golden brown.
Cool and Fill: Remove with a spider or slotted spoon to a cooling rack with paper towels underneath. Once cooled, fill the Boston cream donuts with the cream filling and dip the tops in the chocolate ganache.
Cream Filling
Whisk and Mix: Mix the sugar, cornstarch, and salt together in a heavy-bottomed medium saucepan. Whisk in the milk and egg yolks.
Heat to Thicken: Heat over medium, whisking constantly until the mixture thickens and bubbles, which takes about 5-8 minutes. Once thickened, continue to cook for an additional 1-2 minutes all while still whisking constantly.
Add Butter and Vanilla: Remove from the heat and whisk in the butter and vanilla. Pour into a heat-proof container and press a layer of plastic wrap to the top of the pudding, ensuring the plastic wrap makes contact with all of it to prevent a film from forming as it cools.
Chill: Chill in the fridge for 4 hours or overnight.
Chocolate Ganache
Heat and Combine: CombineHeat the cream in the microwave for 45 seconds and then pour over the chocolate chips. Let sit for 2-3 minutes and then stir until smooth.
Dip: Dip the tops of the Boston cream donuts in the chocolate.