You probably have a couple of bungee cords in the garage or in your trunk to tie things down, but did you know they're great as organizational tools, too? It's true! We've found 16 bungee cord uses and tricks that are pure genius. They are useful for so much more than random camping trips!
Do you have a bungee hack to share with us? Post it on our Facebook page!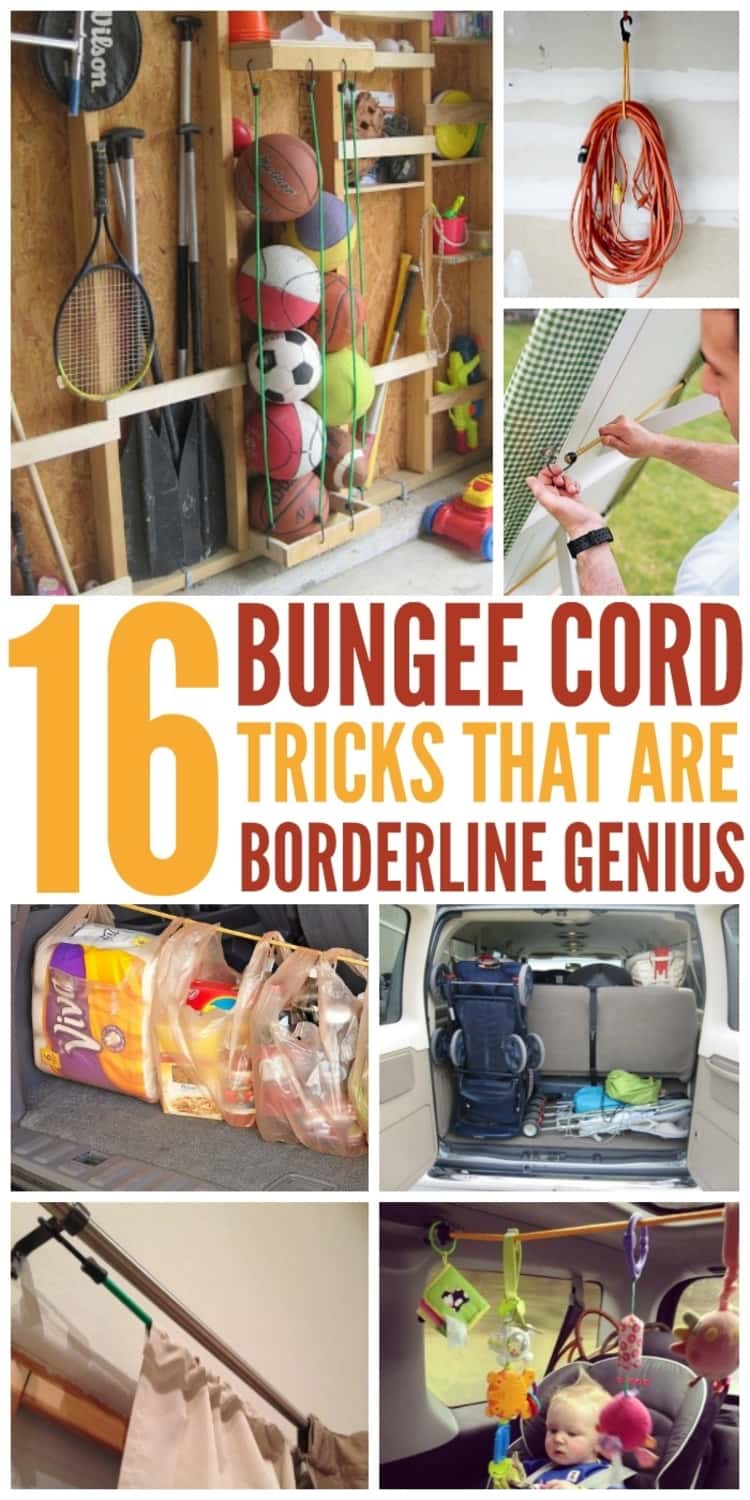 Bungee Cord Tricks You Need to Start Using Immediately
Bungee cords are those crazy stretchy cords that usually come in bright colors that have a metal hook on each end making them functional for many different uses. They have a braided or knitted inner set of cords made of natural or synthetic fibers with a nylon or cotton sheath.  Oh the possibilities are endless…
1. Neat Bungee Cord Uses In Garage Organization
Do your kids' sports equipment and outdoor toys seem to always get in the way? Welcome to my side of the world because it was the case for me too until I used this bungee cord trick: connect two studs at the top and bottom with a "U" shape, and use bungee cords in between the studs for genius ball storage in the garage.
And the best part is that no extra space is needed for this bungee cord use except for the ball holder. And should the rest of your garage still be a pain, check out more garage organization ideas here.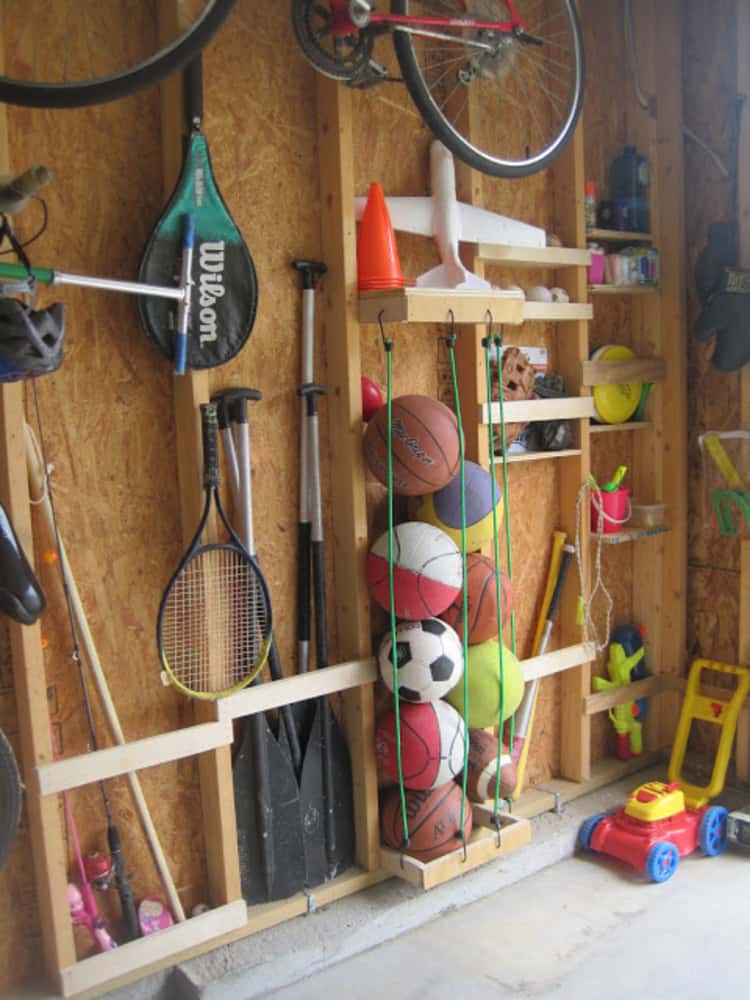 2. Easy Bungee Cord Uses For A Cozier Draft-Free Home
When the winter's fast approaching and you're not up for having additional hardware, you can use a bungee cord to hang those ugly thermal drapes behind your pretty curtains. This is amazing (and cheap) fix towards a cozy draft-free home.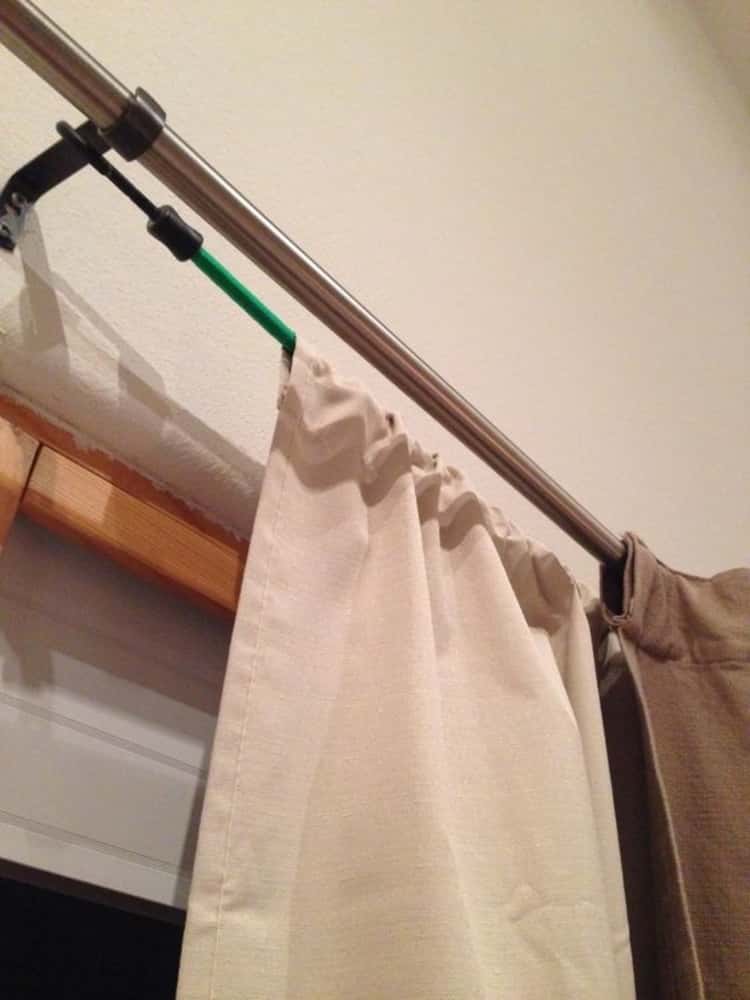 3. Bungee Cord Tricks For Safer And Comfortable Family Travel
The weather's nicer, it's travel season, and with it comes the headache of comfortable and safely packing everything your family needs. Worry not because you can use a bungee cord to hold your stroller upright and make room for groceries, gear, and anything else you need to toss in your trunk. And moms, we have more stroller tips you wanna have in your arsenal; you never know when you might need to pull one out!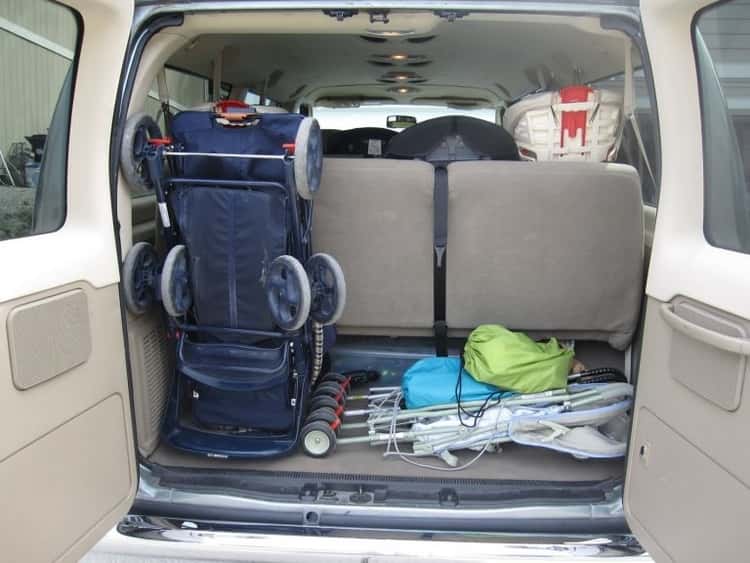 4. Nail Down Your RV Organization With This Bungee Cord Use
If there's something an RVer can't be caught slacking on, it's the organization in the tiny spaces that most RVs are. Otherwise, the RV will be chaos central taking away the joy of RVing. If you're an RVer, nail down your RV organization by using command hooks and a bungee cord to keep your trash can in place.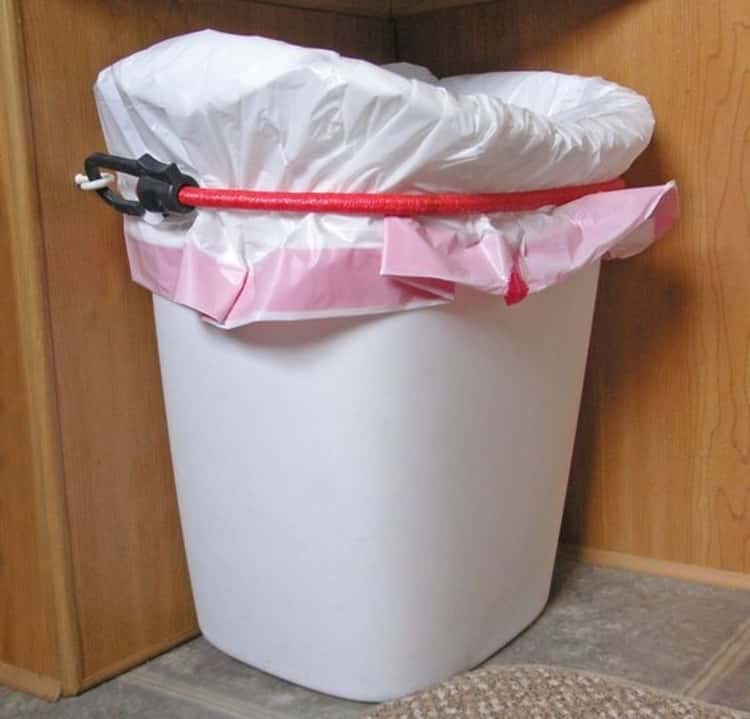 5. Taming Down Flyaway Tablecloths In Clever Bungee Cord Uses
Outdoor dinners are a guaranteed way to have a good time until you remember the last time your tablecloth threatened to fly away and spilled your food and drinks. I don't know about you but for me, it seems that every time we have dinner outdoors, the tablecloth wants to fly away. You can now tame it by anchoring it down using grommets and a bungee cord. No more flyaway tablecloths!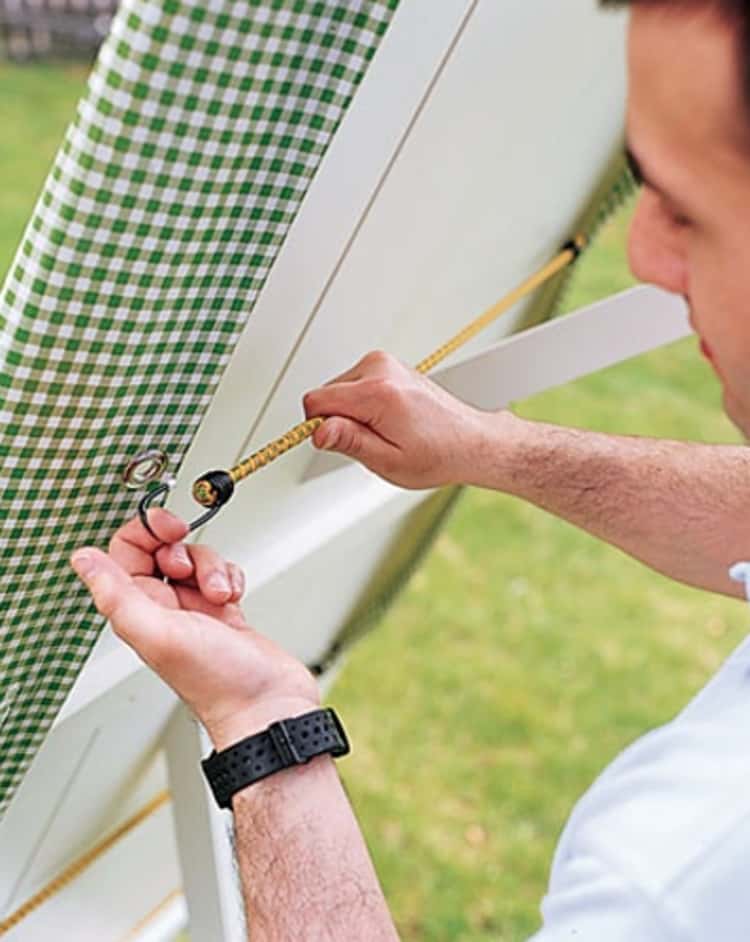 6. Bungee Cord Use In Clever Accessories Organization
Running out of space and ideas to organize your beautiful accessories? Here's a clever way you can use bungee cords to organize all your accessories: Make a few of these handy wooden bungee organizers. (I need at least 3 of these!)
You'll need:
bungee cords (go for multi-colored or not, depending on your preference)
a wood stain in your favorite color
2-foot hobby boards (3 or depending on how many organizers you need to make)
A picture hanging kit
A drill
A lighter
Stapler
A hammer
Tip: It's a messy project and is best done outdoors, to get plenty of ventilation with all the wood staining and dust particles from the drilling.
Steps:
Using a drill bit that's as thick or slightly thicker than your bungee cord, drill 2 holes in each hobby board. (If you pick these at Home Depot, score them at $5 apiece and the best thing about them is they're light, easy to work with, and won't need sanding)
Stain all the pieces of wood and allow them to dry. Drying should take at least 10 minutes.
Since you don't need hooks, cut them off your bungee cords and seal the ends to stop any fraying using the lighter. Remember the holes you created? Pull the bungee cords through them and staple them to the board. Should the stapling not be sufficient, the hammer can step in to secure the cords.
Add a wire to the back of each board using a regular picture hanging kit and simply hang your wooden bungee organizers.
7. Bungee Cord Uses in Time-Saving Hack During Grocery Runs
If there's a pet peeve about grocery runs, it's getting back home and all the groceries are scattered all over the floor of your trunk. Use bungee cords to hang your groceries in the car to keep them from spilling out all over your trunk. It certainly saves time over tying each individual bag.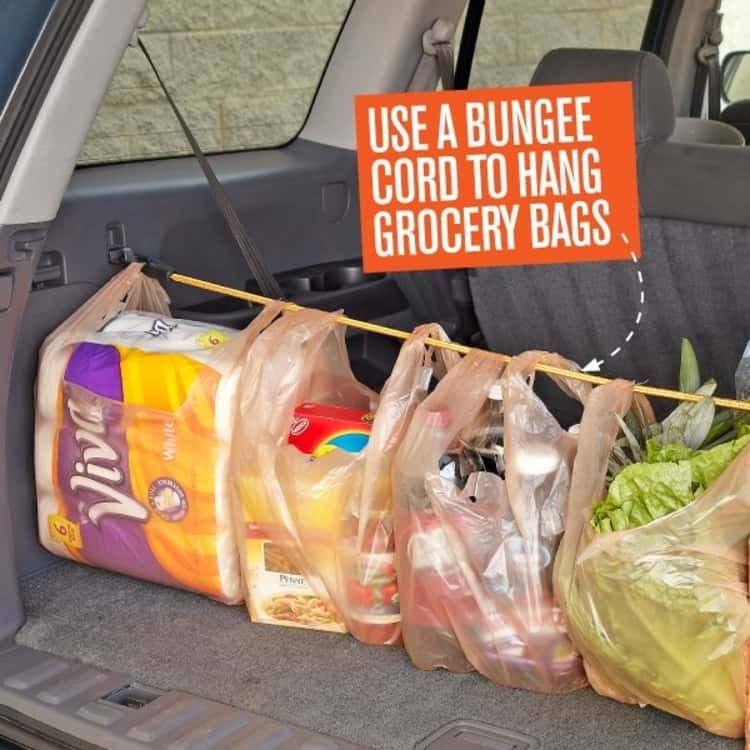 8. Brilliant Bungee Cord Use To Contain Your Little Crawler
Got a crawler in your hands? You've baby-proofed everything but the staircase and if your's is anything like mine, you definitely do NOT want to be drilling into it. Thankfully, you can use bungee cords. Sew two bungee cords into a piece of fabric to make a short-term baby gate and block off dangerous areas. This works best for crawlers since walkers will surely find a way around it.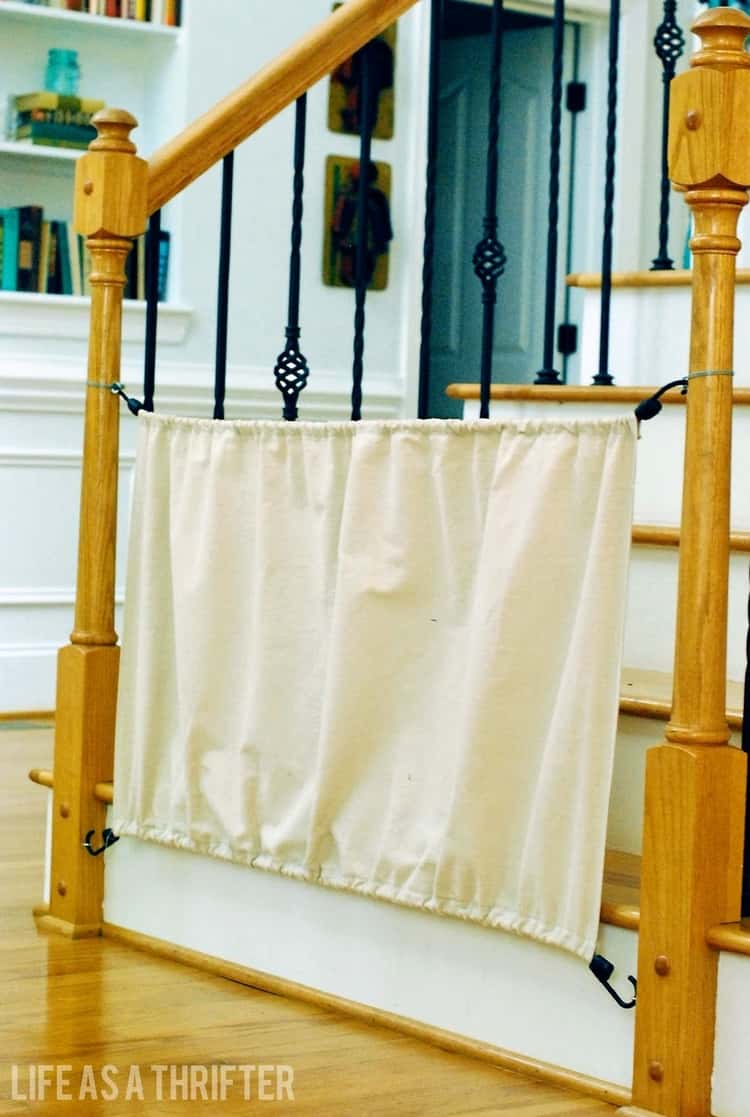 9. Use Bungee Cords For Easy Garage Organization
I don't know if there's something I dislike as much as I do those tangled extension cords, especially those industrial ones. They're so heavy and detangling them is a whole workout session that I'm never prepared for (nor do I think I ever will). Thankfully, here's an awesome way to put those bungee cords into use. I now store those industrial extension cords by combining a bungee cord with a bike hook. Easy!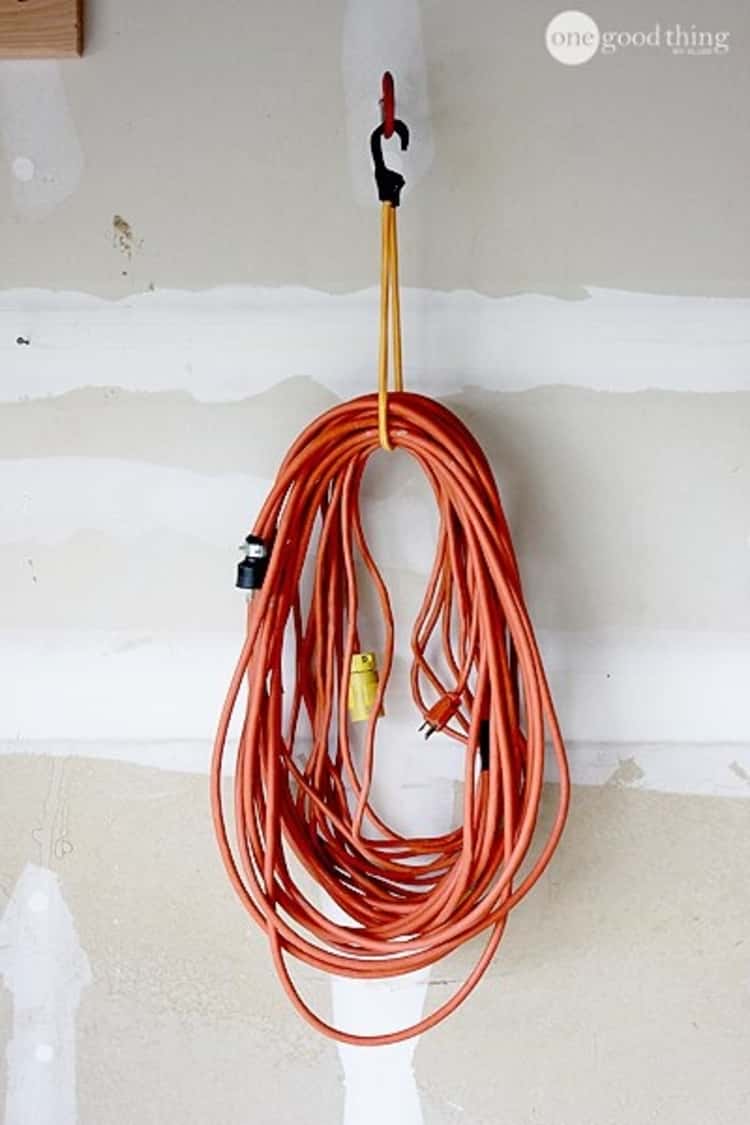 10. More Bungee Cord Uses: A DIY Magazine Shelf
Declutter and organize your home by making shelves above your desk to hold your magazines, notebooks, and planners facing forward. I love love this idea! Especially the fact that at a glance, I can see everything on the shelf, even if I'm a few feet away from the shelf.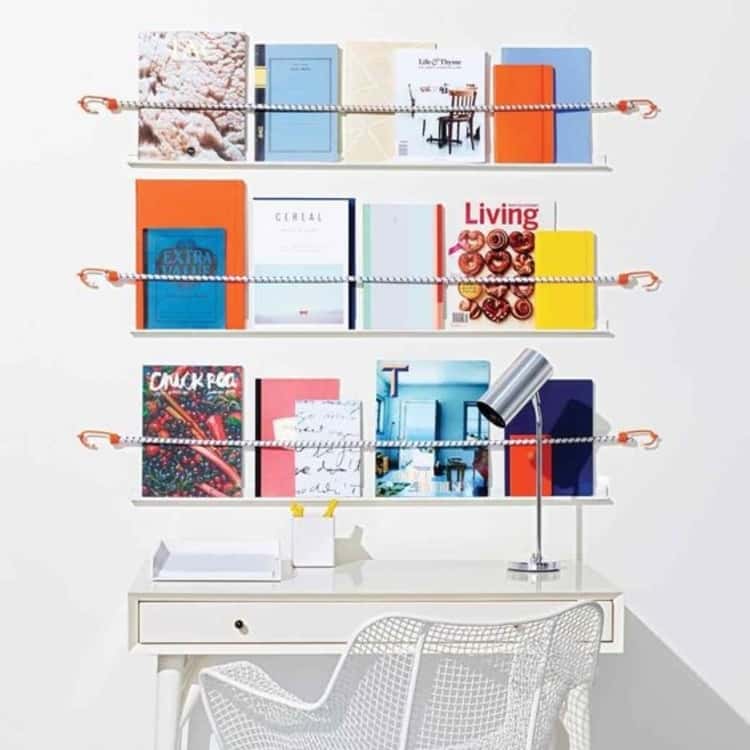 11. Bling Up Your Summer With Funky Bungee Cord Jewelry
Summer's rolling up and you're totally not feeling the jewelry you already own. It's so last season! Why not make some chunky, funky jewelry to add to your wardrobe? In under an hour, you can whip up a whole set of custom-made one-of-a-kind jewelry. How pretty and neat does this new jewelry look? I'm totally loving it!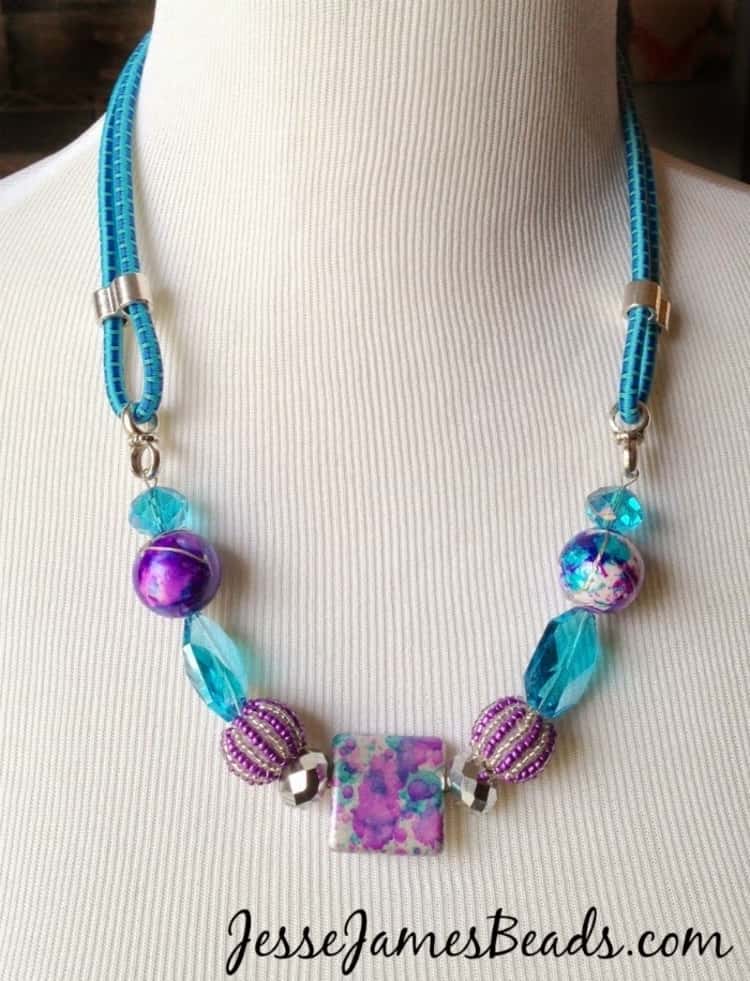 12. Little Hack For Best Tricks In One Of Brilliant Bungee Cord Uses
Do you know those little hacks that end up being the best and most handy of tricks? Bungee cords and wine corks are exactly that! Combine bungee cords and wine corks to make these lovely cord ties. What a neat way to organize cords and wires!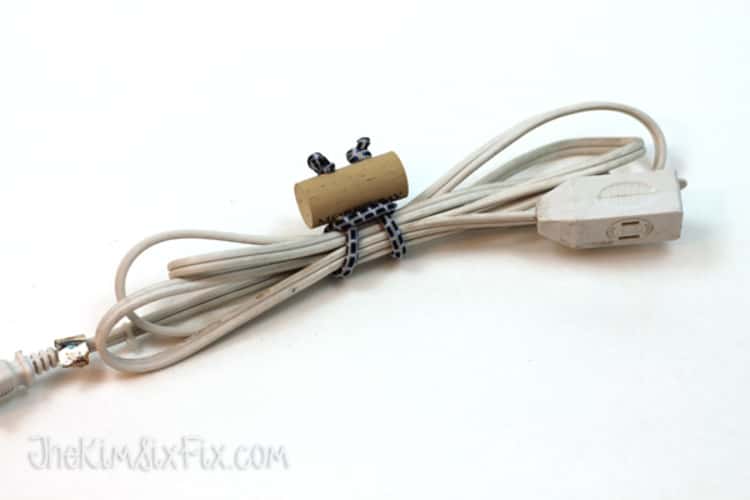 Bungee Cord Uses For The Kids
13. Bungee Cord Use In Clever Toy Organization Hack
We all wish for that day when our kids will pick up and put away their toys without our help. If that is you and you always have wanted your kiddos to pick up and arrange their toys without realizing it, here's a brilliant bungee cord use.
Make your kids a stuffed animal zoo and anytime you want your kids to declutter their rooms even without your help, ask them to put their stuffed animals into the zoo! Clever? You bet it is!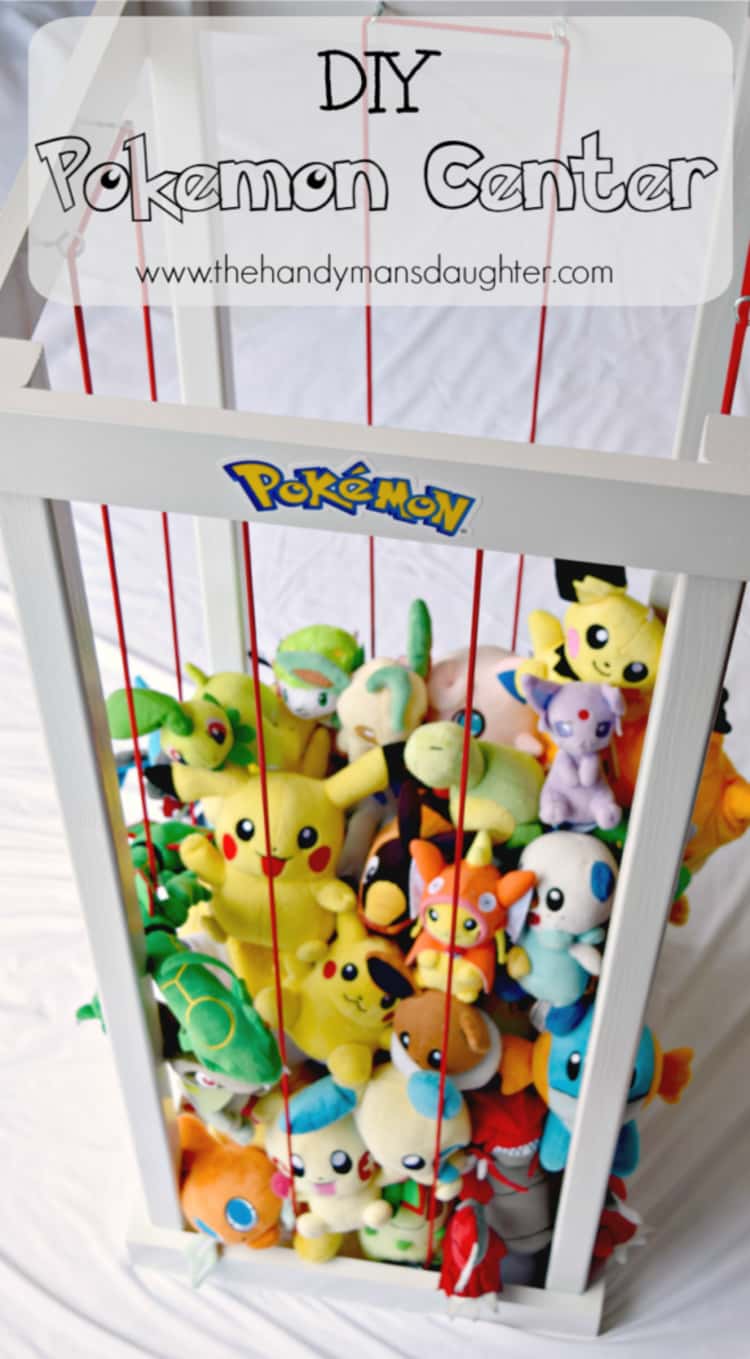 14. Catch And Keep Toddler's Attention With This Bungee Cord Use
Road tripping with kids? Not everyone's cuppa. Let's face it – there's no denying that traveling with kids is challenging, especially toddlers! But it doesn't have to always be a nightmare. This toddler activity center will keep the kiddos entertained for quite some time. Some parents now swear by this toddler activity center made using a bungee cord.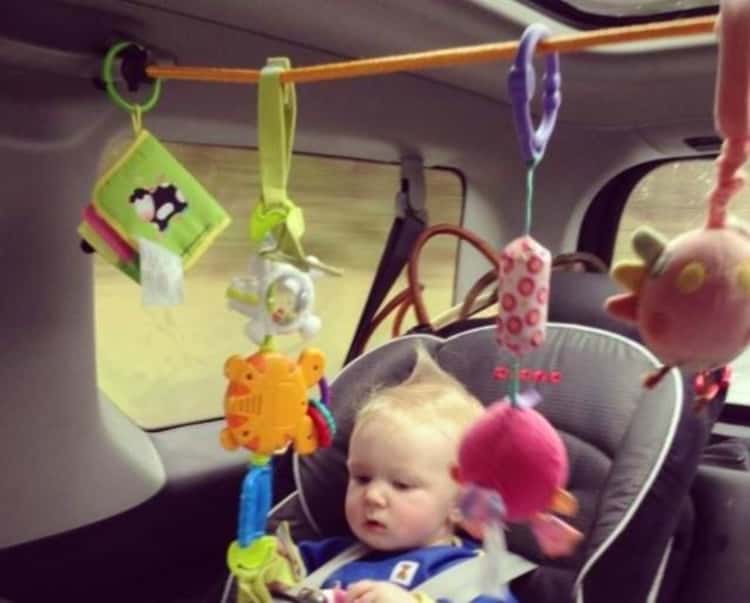 Bungee Cord Tricks For the Kitchen
15. Cheap, Easy Makeshift Paper Towel Holder On The Go
Always on the go? Create a makeshift paper towel holder for just about anywhere. It's cheap, easy to make, and works way better than other expensive solutions. Before going for the latter, try this bungee cord use and you'll find out it's another great idea for RV camping or boating.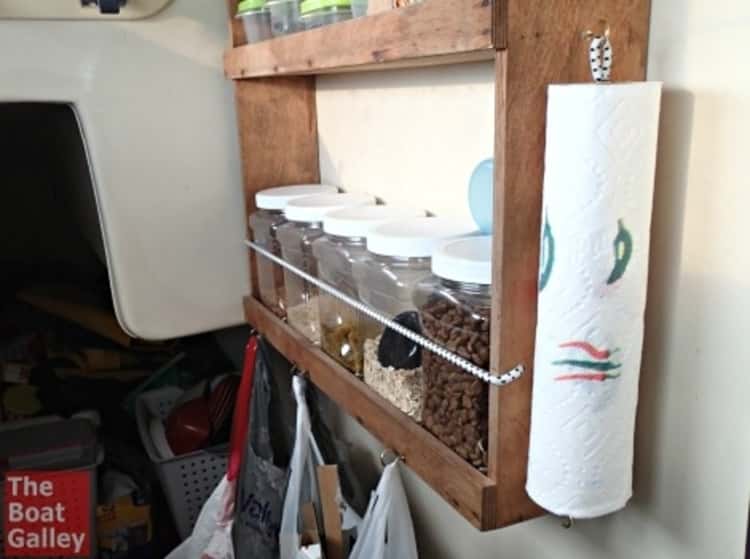 16. Rein In Runaway Canning Jar Rings Using Bungee Cords
Those who can and preserve food know this scenario all too well. Somewhere in your house is this drawer full of bulky canning jar rings that always roll out of your cabinet doors every single time you open your cabinets. Rein in that madness once and for all by getting that canning jar rings out of your drawers. Just loop and hang them using a bungee cord on wire shelves!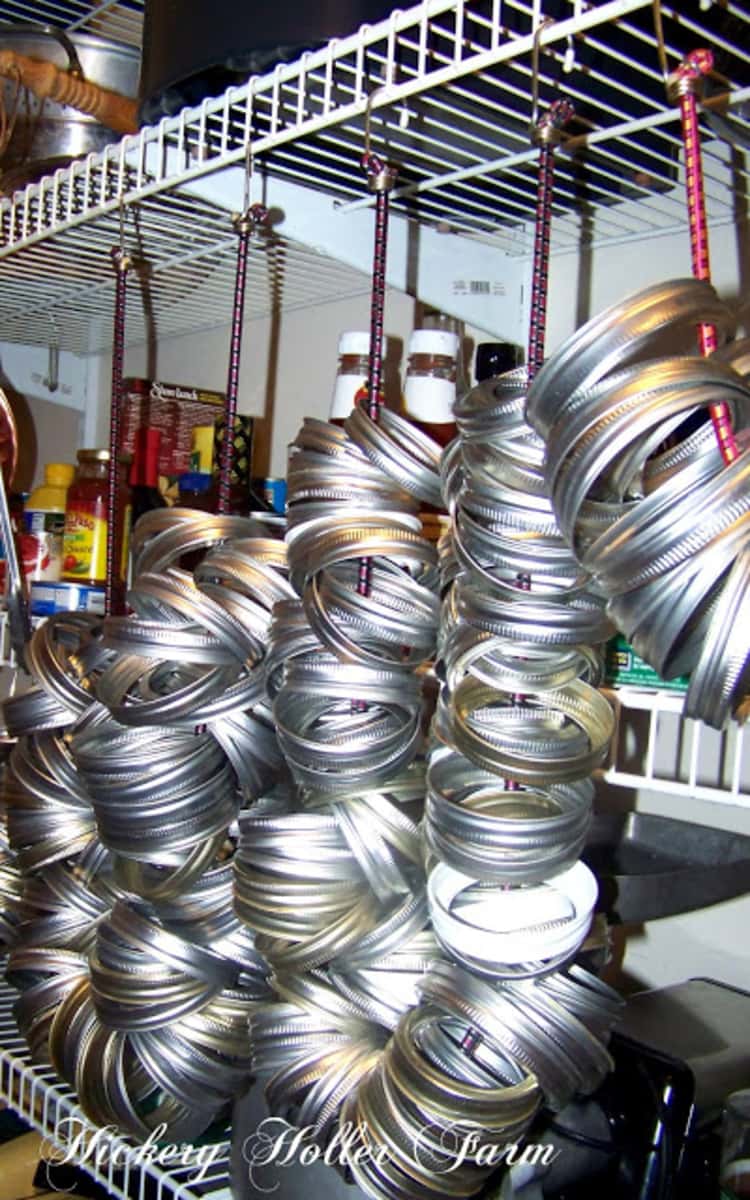 If you loved trying out these bungee cord uses, you might enjoy learning about more ways you can use other everyday items: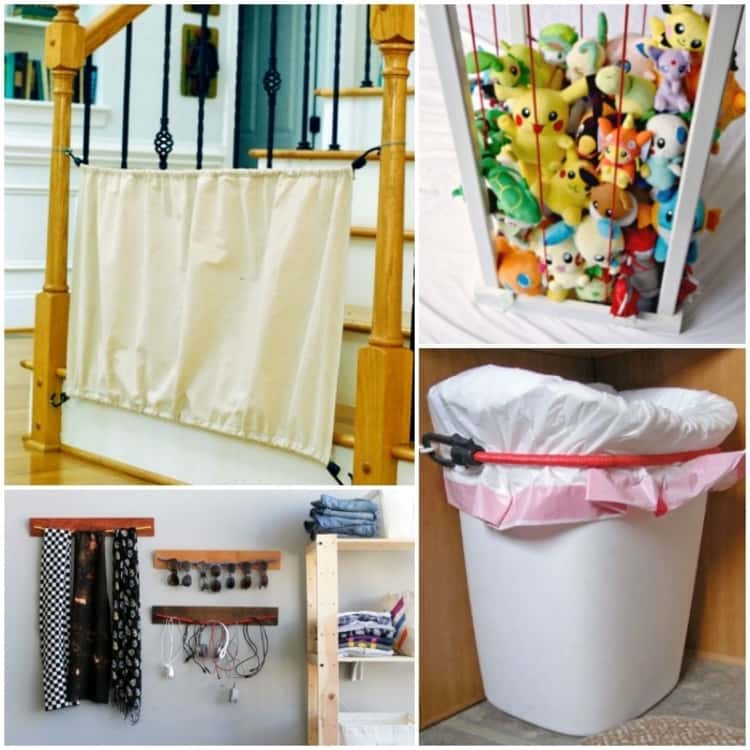 The post 16 Bungee Cord Tricks That Are Borderline Genius appeared first on DIY House Hacks - One Crazy House.