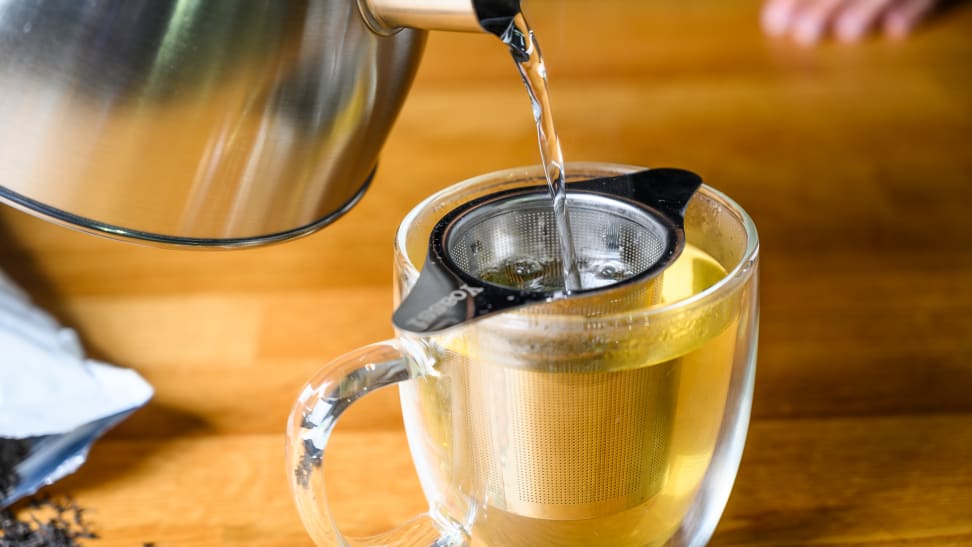 — Recommendations are independently chosen by Reviewed's editors. Purchases you make through our links may earn us a commission.
It's not easy being a tea drinker. We're used to walking into a coffee shop and selecting one of maybe three options, or (true story) having to explain to a barista why simply dropping a tea bag into a cup of ice water does not make iced tea. And at work, where it's common to find a single-serve pod coffee maker at-the-ready, tea lovers often bring their own from home.
Without a teapot, those who prefer using full-flavor loose tea leaves over tea bags need an in-mug tea infuser to get their caffeine fix. But, as someone who has put in years of unofficial trial and error can attest, good ones are hard to find. That's why we spent weeks putting nine of the best tea infusers to the test, throwing ourselves a daily tea party to see which were easiest to use, most effective at steeping evenly, and least annoying at extracting stubborn leaves and washing by hand.
After many caffeine-fueled days of testing, the Fred & Friends Manatea Silicone Tea Infuser (available at Sur La Table), which is as cute as it is functional, earned our Best Overall spot. For those who like an oversized mug or adding extra leaves for stronger flavor, the Yoassi Extra Fine 18/8 Stainless Steel Tea Infuser (available at Amazon) was our favorite, and subsequently finished as our top stainless steel pick.
Here are the best tea infusers we tested, ranked in order:
Fred & Friends Manatea Silicone Tea Infuser
Tilevo Dinosaur Loose Leaf Tea Infuser
Yoassi Extra Fine 18/8 Stainless Steel Tea Infuser
Harold Import Co. 2423c HIC Mesh Snap Ball Loose Leaf Tea Infuser
OXO Good Grips Twisting Tea Ball Infuser
Chefast Large Infuser
Forlife Brew-in-Mug Extra-Fine Tea Infuser with Lid
Finum Reusable Stainless Steel Coffee and Tea Infusing Mesh Brewing Basket
House Again Extra Fine Mesh Tea Infuser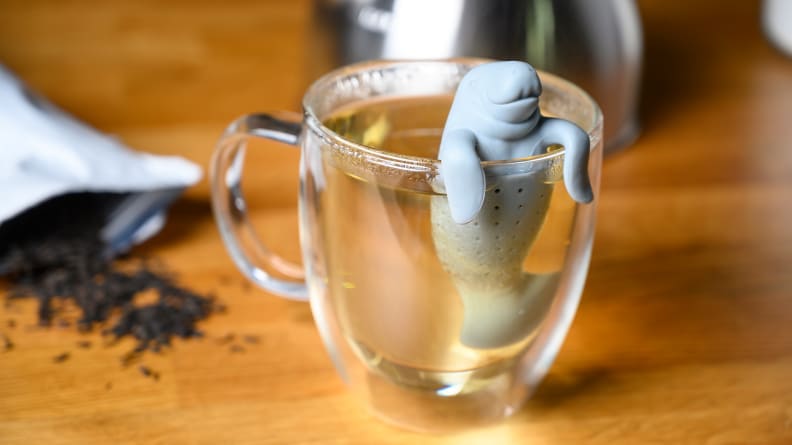 How We Tested
The Tester
Hi, I'm Meghan Kavanaugh. As managing editor of core content here at Reviewed, I'm responsible for making sure stories are scheduled, edited, and sent out into the world each day for our loyal readers. Meeting deadlines means drinking caffeine, and lots of it.
Having never developed a taste for coffee, tea has been my pick-me-up of choice for more than a decade. Hot or iced, it never lets me down. I've been informally conducting my own research of the best tea infusers for my entire adult life, so an official testing assignment for Reviewed was, well, just my cup of tea.
The Tests
For this particular assignment, we only focused on personal-sized in-mug infusers as opposed to those that can be used in larger tea pots or travel mugs, both of which oftentimes have built-in infusers. We used the same amount (2 teaspoons) of the same organic assam black tea in the same 16-ounce mug for all testing, noting how quickly and evenly the tea steeped without our intervention and how easy it was to remove leaves after use and hand-wash (since many homes and offices don't have dishwashers available, even if the infuser itself is dishwasher-safe).
Since portability is more of a factor with in-mug tea infusers than their teapot counterparts, I also tested how convenient it was to go about my workday, carrying them from my desk to various conference rooms and back again. Did they have a dish to catch water upon removal, or did I have to grab paper towels (or just keep steeping and deal with a super-strong brew)? Trust that in drinking enough tea to keep me up with late-night jitters on more than one occasion, I put each of the infusers through the ringer.
What You Should Know About Tea Infusers
What is a Tea Infuser?
Typically made of either stainless steel or silicone, a tea infuser holds loose leaves of tea, keeping them from floating around the hot water in your mug or teapot while you brew. Dating back to the circa-760 A.D. Tang dynasty in China, tea infusers were first used to keep bugs out of Buddhist monks' cups before 17th-century Dutch merchants began using them to keep leaves contained. The 19th century saw the most widespread adoption, especially in Europe, where tea balls were often made of silver.
Think of a tea infuser as having the same basic functionality as a standard tea bag, except that tea infusers are not discarded after use. A tea infuser also provides the leaves more room to expand than traditional tea bags, which can mean a stronger flavor. And since tea infusers are sized for single-person use, users can steep their cup to their individual preferences in a way that making a whole pot of tea for the group wouldn't allow. Tea brewing has never been so easy.
How Do You Use a Tea Infuser?
While exact instructions may vary by infuser and type of tea, most tea infusers are used in the same way. Fill the infuser with 1 to 2 teaspoons of the dry tea leaves and place it in the mug. Pour hot water (exact temperature depends on the type of tea) over the infuser and let the leaves steep for the designated amount of time, typically 3 to 5 minutes, before removing.
Some tea infusers benefit by a bit of dipping or swirling while you wait for the tea to steep or before you remove it, to ensure that the tea is evenly distributed throughout the mug.
The more leaves you use and the longer you steep, the stronger the tea will taste. Half the fun of drinking tea is discovering your personal preferences so you can enjoy sipping something made just for you.
---
Other Tea Infusers We Tested
More Articles You Might Enjoy