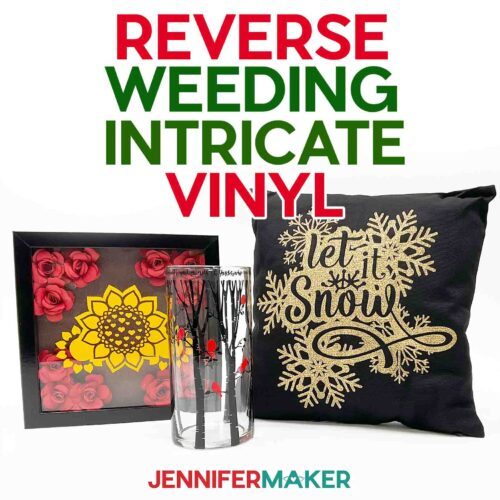 Learn how to reverse weed vinyl and when to use my favorite tips and tools!

Cutting an intricate vinyl project with a Cricut is so exciting! Until you get to the weeding, that is. Weeding is not my favorite part of vinyl projects, and I know some of you feel the same way. That's ok! I'm going to share some of my favorite weeding tips and tools, especially the technique to reverse weed vinyl. This approach works really well for adhesive vinyl. I'll also share some tips for weeding iron-on vinyl with less hassle!
Watch the full step-by-step tutorial on how to reverse weed vinyl premiering soon on my Youtube channel:
This is a Cricut Mystery Box project — it uses items from the Brights Sampler and the gold vinyls that you can get in the "Season of Gifting" mystery box (affiliate link) that came out December 6, 2022. Even if the mystery box is not available when you check, you can still purchase the individual vinyls, which are all linked below in my material list. Learn more about Cricut Mystery Boxes and their contents in my Cricut Mystery Box Guide.
Since weeding is not my favorite part of crafting, I have lots of tricks! One of the best is to reverse weed vinyl, but I'll cover a few others in the video. Some also work for iron-on vinyl!
I like to reverse weed vinyl for detailed designs, especially those with letters and numbers. It's much easier to keep every little bit in place on the sticky transfer tape!
With some preparation, you can make weeding easier before you cut anything. If you're adjusting a file with intricate details– like the sunflowers in my free cut files download — don't make it much smaller than the original. Many designers test cut their files at a certain size before publishing them to make sure the work well. I know I do! But if you shrink it down a lot, the machine might not be able to create the same results for you. If you want to try, use scrap materials to make a test cut. Then you can practice your reverse weeding!
Or if you're editing a design, like adding a name, pick a font that you will be able to weed with my tips. Script fonts are pretty AND most of their pieces flow into each other. That can make words easier to cut so you're not lifting each letter while removing the excess. I'll show you tips for reverse weeding fonts with my cardinal rememberance design. We don't want to lose track of tiny pieces!
And I'll show you more tips in Cricut Design Space, like how to add a weeding box outside of the design.
When it's time to cut, I'll show you how to make my free design files with a Cricut Maker 3, but an original Maker or Explore will also work. Some parts can be cut on a Joy.
One of my best tips is to use high-quality vinyl. Some dollar store supplies work well, but I've seen mixed results for vinyl. I cut mine on a green StandardGrip machine or cutting mat with a clean Fine-Point Blade.
In addition to our usual craft tools, I'll share some of my favorite tools to reverse weed vinyl, especially if you do a lot of intricate vinyl projects. Of course, you'll need transfer tape to reverse weed! I use StandardGrip transfer tape, which has the perfect amount of stick to keep the piece of vinyl in place while letting us remove the excess material. That's the key to reverse weeding, after all!
Magnification and light can really help, even if you've moved the design from the static cling liner to the more secure transfer tape. For example, a light pad helps you see the cut lines, especially on white vinyl.
And once you start weeding, I'll show you the easiest way to keep the small bits from sticking back on the project. It feels very fancy yet functional, so watch closely for that tool!
Let me show you how easy it is to reverse weed vinyl for your next intricate vinyl project! This post contains some affiliate links for your convenience (which means if you make a purchase after clicking a link I will earn a small commission but it won't cost you a penny more)! Read my full disclosure policy.
How to Reverse Weed Vinyl for an Intricate Vinyl Project
How to Reverse Weed Vinyl
Additional Time:
15 minutes
Difficulty:
Easy to Medium
In this tutorial I will show you how to reverse weed vinyl (adhesive and iron-on) and which vinyl projects are the best candidates for reverse weeding.
Answers to Your Questions About How to Reverse Weed Vinyl for an Intricate Vinyl Project
Q: What does reverse weeding mean?
A: Reverse weeding is when a crafter moves a cut but unweeded vinyl decal from its original liner to a piece of transfer tape or paper–which is much stickier–and then uses a weeding to to remove excess vinyl. The stickier surface keeps the design elements in place better than the original backing paper, but still releases the negative space easily.

Q: Can you reverse weed permanent vinyl?
A: Yes, I have tips on weeding permanent vinyl with intricate cuts in my tutorial on reverse weeding.

Q: Can you reverse weed iron on vinyl?
A: Iron-on vinyl (also called HTV vinyl or heat transfer vinyl) is essentially reverse weeded from its clear plastic liner, but you can use many of my tips to make it easier.

Q: How do you reverse weed glitter vinyl?
A: For even more tips on weeding glitter vinyl, see my heart mandala tutorial.
Q: How do you make small letters on vinyl weed?
A: I have a few tips for weeding letters, including one that uses a blade to break the removed vinyl into small pieces, which makes them easier to control. Don't forget the insides of the letters!

Q: How do you reverse weed stencils?
A: Instead of removing the negative area, remove the designs themselves for stencil projects.

Q: How do you weed vinyl?
A: Use a tool like a weeding hook to poke, lift, and remove excess material around a vinyl decal.

Q: What is the easiest font to weed?
A: Fonts with thicker lines and minimal details are easier to weed. And don't make them too tiny. Small vinyl letters are often difficult to weed, apply, and read!

Q: Why is it so hard to weed my vinyl?
A: There are many reasons you might have trouble weeding a vinyl project, and some of my best tips are related to getting better cuts with a Cricut!
Q: How do you store HTV After weeding?
A: I keep some large pieces of leftover clear plastic liner to protect the adhesive side of weeded HTV designs if I need to save them for later.
Q: What is Merry Maker Mingle?
Each day in December leading to Christmas, I present you with a brand new "gift" — a project to craft, make, or do. You can make these projects on a Cricut cutting machine or by hand if you don't have one. Most of our Merry Maker Mingle projects will come with a fun video with yours truly, a step-by-step printable photo tutorial, and a free pattern/SVG cut file. Sign up to get daily updates and prizes!
Get my free SVG files to Reverse Weed Vinyl for an Intricate Vinyl Project
I love seeing what you make with my tips on how to reverse weed vinyl and my designs! Please share a photo of your intricate vinyl project in our Facebook group or tag me on social media with #jennifermaker.
Love,
Want to remember this? Save this Reverse Weed Vinyl for an Intricate Vinyl Project Tutorial to your favorite Pinterest Board!
The post Reverse Weed Vinyl for Intricate Designs! appeared first on Jennifer Maker.