Semlor Cream Lent Buns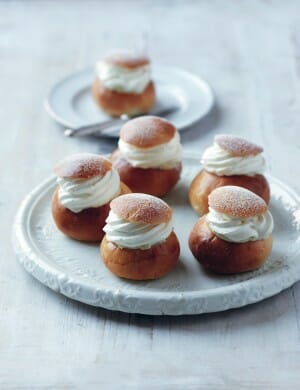 Every January, the excitement builds because our customers know it is almost time for Semlor buns. Scandinavians celebrate the start of Lent in different ways, but all of us like to eat as many of these addictive treats as physically possible (rumour has it there are no calories in a Semla if you eat it with your eyes closed).
13 g dried yeast (or)
25 g fresh yeast (*)
250 ml whole milk (heated to 3637C (9798F))
80 g butter (melted and cooled slightly)
40 g caster sugar
300-400 g white strong bread flour
tsp salt
1 tsp baking powder
2 tsp ground cardamom
1 egg (lightly beaten)
Filling
100 g marzipan (50% almond content is preferred)
good dollop or crme ptissire (or custard)
500 ml whipping cream
1 tsp vanilla sugar
icing sugar (to dust)
piping bag fitted with a plain nozzle
*If using fresh yeast, add it to the finger-warm milk and mix until dissolved. Then pour it into the bowl of a food mixer fitted with a dough hook attachment.

If using dried active yeast granules, sprinkle the yeast granules into the finger-warm milk and whisk together. Cover with clingfilm and leave in a warm place for about 15 minutes to activate and become frothy and bubbly. Pour into the bowl of a food mixer with a dough hook and stir in the melted butter. Add the sugar and stir again. Add half of the flour as well as the salt, baking powder and ground cardamom. Add half the beaten egg (reserve the other half for brushing before baking).

Mix well until all the ingredients are incorporated and then start to add more of the flour, bit by bit, until you have a dough that is only a little bit sticky. Take care not to add too much flour. Knead the dough for at least 5 minutes in the mixer. Cover the bowl with a dish towel or clingfilm and leave to rise in a warm (not hot) place until it has doubled in size about 3040 minutes.
Turn the dough out to a floured surface. Knead again for a few minutes, adding more flour if needed. You want a firmer but not dry dough. Cut the dough into 12 equal-sized pieces. Place, evenly spaced, on a baking sheet. Leave to rise for 2530 minutes.
Preheat the oven to 200C (400F) Gas 6.
Brush each bun with the beaten egg and bake for 810 minutes or until baked through keep an eye on them as they can burn quickly. Remove from oven and cover the buns with a lightly damp dish towel immediately this will prevent them from forming a crust.
When they have cooled completely, cut a lid off the buns about 1.5 cm/12 in. from the top. Scoop out about one-third of the inside of the bun and place this in a separate bowl. Mix it with the marzipan paste until it forms a very sticky mass add a dollop of custard or Crme Ptissire at this point to help it along. You want a spoonable, even mixture. Spoon the filling back into the buns, equally divided.
Whip the cream with the vanilla sugar until stiff, then use a piping bag fitted with a plain nozzle to pipe cream on all the buns. Put the lids back on and dust lightly with icing sugar.
The post Recipe: Semlor Swedish Marzipan Cream Buns appeared first on ScandiKitchen.