by Aimee
A simple recipe for Paska, a traditional Ukrainian bread that is baked in a tin and served during the Easter season.
As some of you may know, my family has a rich Ukrainian heritage. My maternal grandparents were born in Ukraine, but grew up on the Canadian Prairies. My Baba indelibly influenced my homesteading practices, including home canning, batch cooking, gardening and more.
As this horrible war on our motherland unfolds, my family and I are advocating, praying, donating and believing for a peaceful end soon. Each day I continue to bear witness to the war on Ukraine – I feel it is the least we all can do.
Even with all the sufffering, we still have Hope: Easter is just a few weeks away. I have so few words these days, just a crushing weight of emotions, which is why I bake and cook. Today's recipe is very special to our culture; read on to learn about Paska.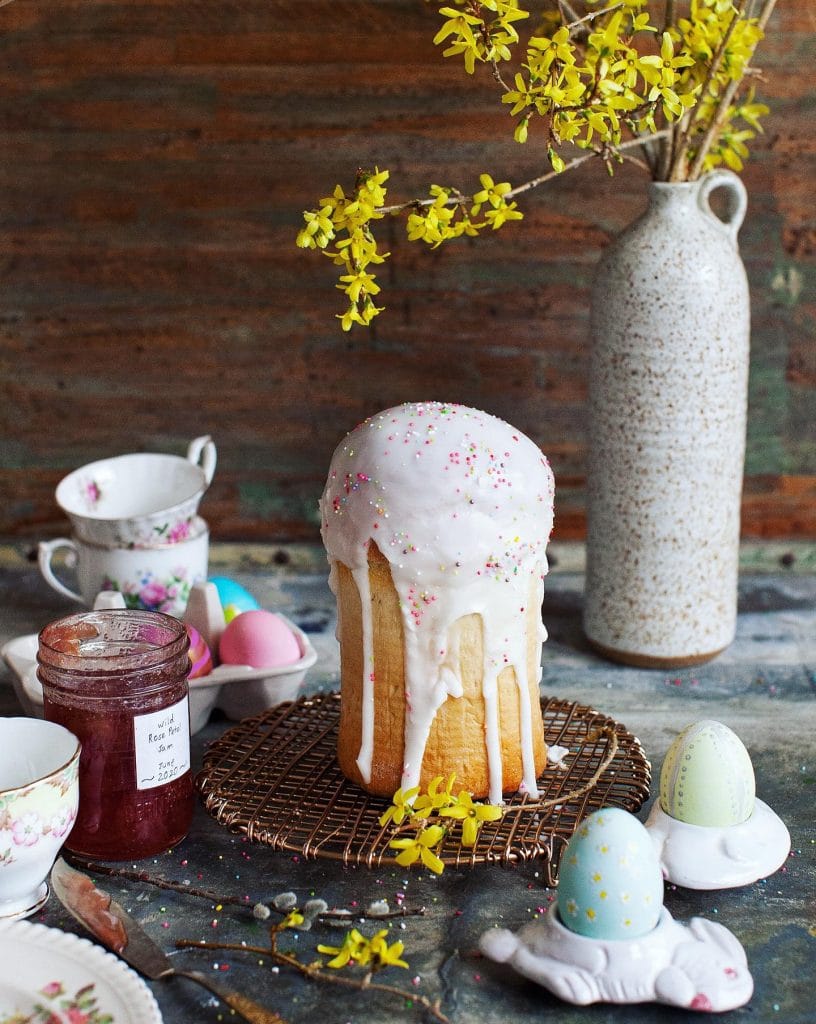 What is Paska?
Paska is a traditional Ukrainian bread enjoyed in the weeks leading up to Easter, the country's biggest religious holiday. It's a heftier version of the Italian Panettone, and not to be confused with the Russian Kulich. There are as many variations of Paska as there are regions in Europe's largest country.
My Baba's Paska would be the Easter table centrepiece, surrounded by a beautiful ring of pysanka, or Ukrainian painted eggs. Her recipe for Paska made an enormous batch, with enough celebration bread to give away to friends and family.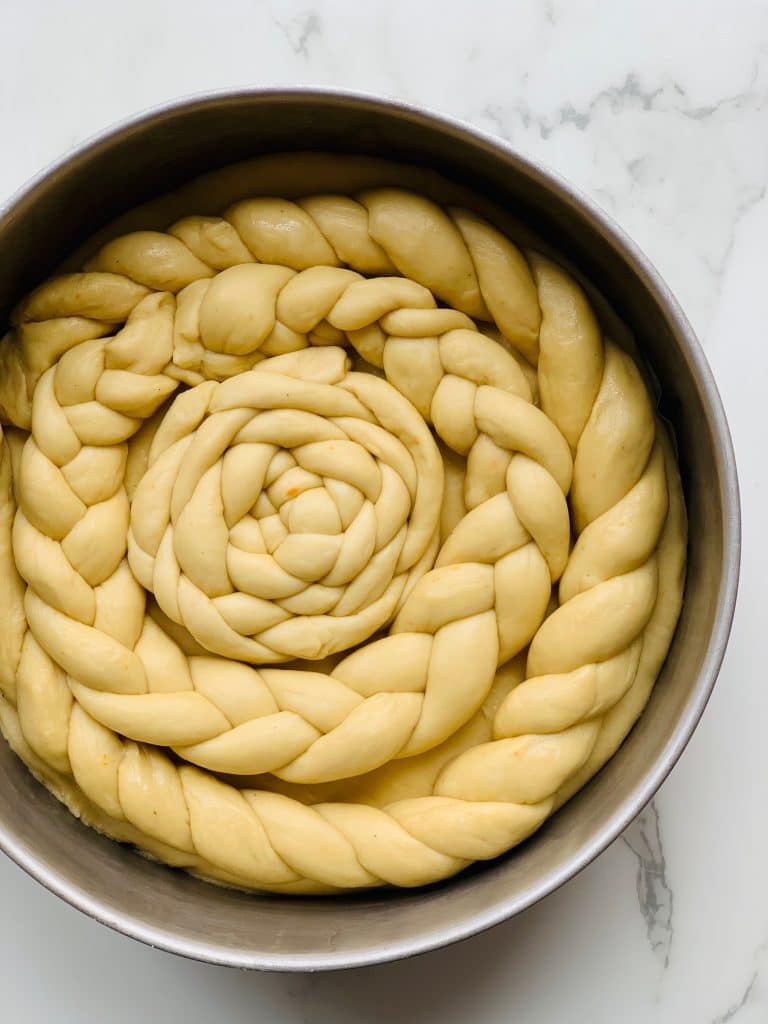 She braided the top of her loaves, and affixed curls and swirls. I've chosen to decorate mine with a simple orange glaze and Clara finished them with a flurry of sprinkles.
It's also so very fun to bake them in tins (cans repurposed from pantry staples) just like they do back in Ukraine.
What You Need to Make this Recipe for Paska
If you bake Hot Cross Buns every Easter, then you already have the basic ingredients like flour and yeast needed for this recipe for paska. Here are a few more:
Potatoes – This very traditional recipe uses a mashed potato starter which gives the dough an incredible texture. It's not as light and fluffy as a brioche-style loaf, but with the price of butter these days…this recipe is the way to go.
Eggs – Just the yolks are used in this recipe for Paska, which brings a richness to the dough. Zero Waste Tip: Save those egg whites for our favourite Easter treats: Chocolate Swirl Meringues with chopped mini chocolate eggs folded in.
Tin Cans – You all know I love a repurposing moment in the Simple Bites kitchen. Save a bunch of tin cans from your pantry staples (796ml tomato cans work well), wash them well and use them for Paska. It's fun to play around with different sizes.
Do-Ahead, Substitutions and Other Useful Information
This recipe for Paska is adapted from the beautiful Mamushka cookbook by Olia Hercules. You can read her original recipe which omits the butter and salt (oddly) and incorporates golden raisins.
Raisins: It's typical to see a recipe for Paska that calls for raisins, however I leave them out for a more versatile loaf. I'll often turn leftover Paska into french toast or bread pudding, and my kids want nothing to do with raisins! Feel free to add 1/2 cup of golden raisins to the dough in the recipe for Paska below.
Do-Ahead: Like with my Spiced Stollen Swirl Buns and Hot Cross Buns, I like to mix up this dough the night before baking and let it rise in the fridge. Then I can easily bake my Paska fresh and hot for my Easter Brunch.
Milk – I use 2% milk, but if you want to make this recipe dairy free, use any nut or seed milk in it's place. And omit the butter. It's still a delicious loaf, and more traditional, too. Olia's original recipe in the Mamushka cookbook does not call for any fat at all.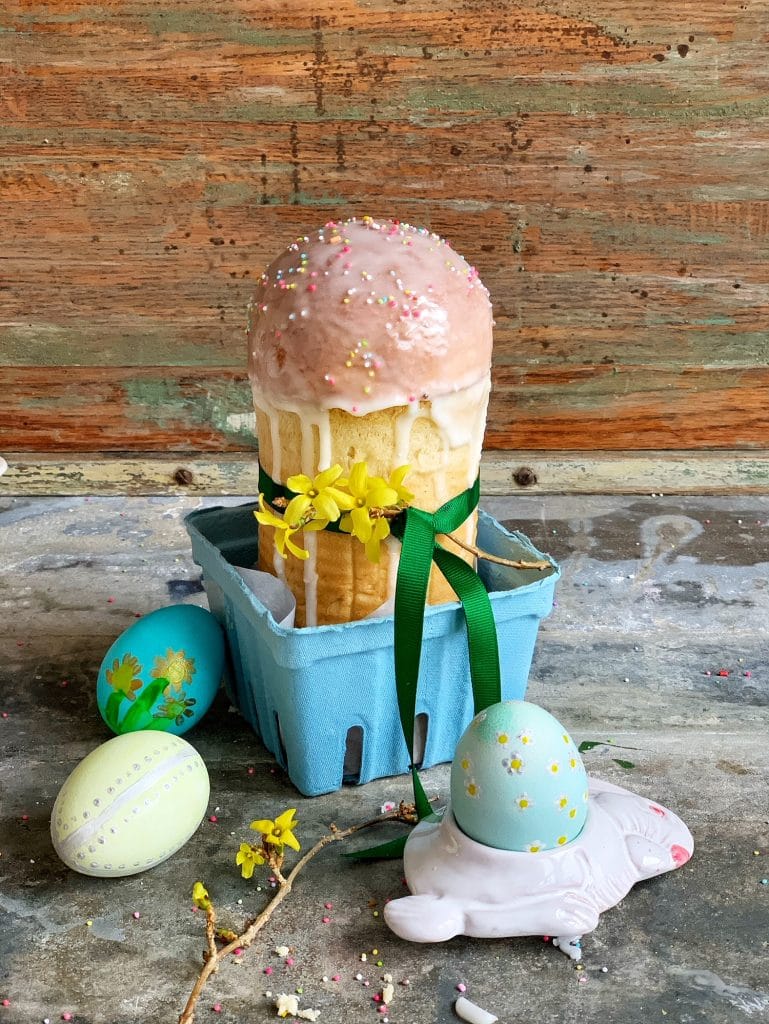 Cook for Ukraine Fundraiser
I respectfully ask that if you use this recipe for Paska, and are able to spare some money, please make a donation to our fundraiser on my behalf. Today I am partnering with Olia Hercules, Alissa Timoshkina and hundreds of cooks and bakers around the world in their Cook for Ukraine movement.
All proceeds will be directed to UNICEF UK's Ukraine appeal, supporting children and families.
Before she passed away, my Baba wrote her early life story out for us kids. This past month, as a way to reconnect with our roots, we have been revisiting those pages.
Her words contain tales of unimaginable hardship and family separated by war, and yet stories of joy and accomplishments, too. The Ukrainian people are incredibly resilient, but they need our support. Please donate what you can.
A Recipe for Paska: Ukrainian Easter Bread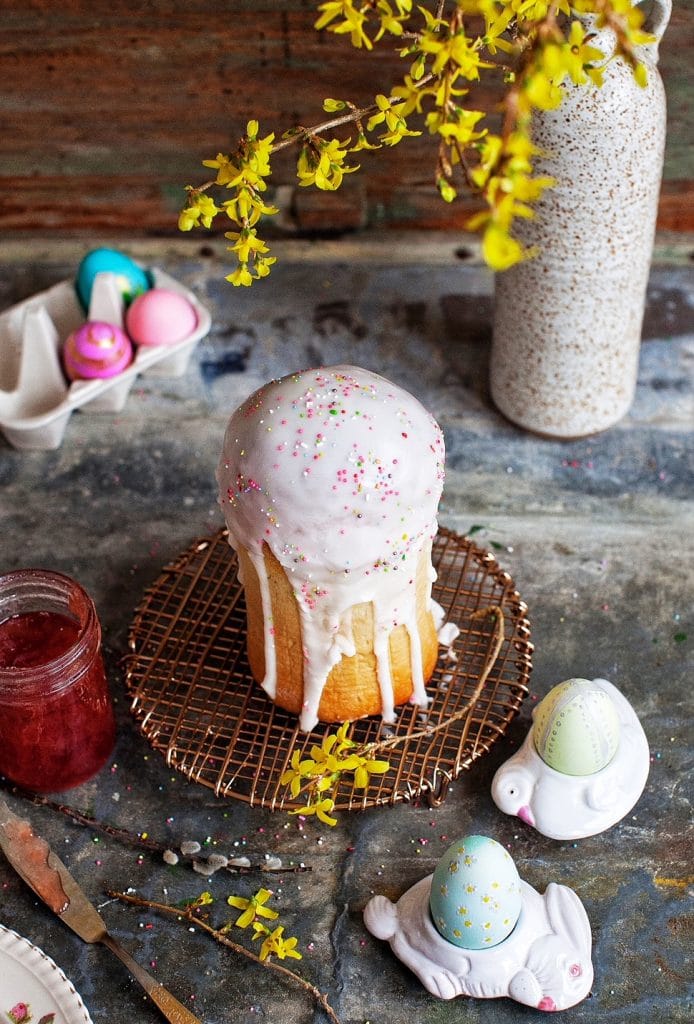 Print
Paska Easter Bread
A traditional Ukrainian sweet bread, baked in a tin and glazed on top. Note that the recipe calls for a simple potato starter to be made the evening before. Adapted from Mamushka by Olia Hercules.
Essential Ingredient
Eggs, Potatoes
Total Time
4
hours
15
minutes
Equipment
3 tin cans 796ml tomato cans or equivalent
Ingredients
Potato Starter*
3

medium

potatoes

peeled, chopped

3

Tablespoons

all purpose flour
Dough
1

cup

2% milk

warmed

2

teaspoons

active dry yeast

4

large

egg yolks

2/3

cup

white sugar

1

orange

zested, juice reserved

1

teaspoon

fine sea salt

5 1/2 -6

cups

all-purpose flour

1/4

cup

unsalted butter

softened
Glaze
2

Tablespoons

fresh orange juice

1

cup

Powdered sugar

1/2

teaspoon

pure vanilla extract

sprinkles
Instructions
Starter
Make this starter the evening before you wish to bake. Place the potatoes in a medium pot and cover with an inch of cool water. Bring to a boil and cook until soft. Reserve 3/4 cup of the cooking water.

Drain the potatoes and mash until smooth. Add the potato water and flour and mix into a smooth paste. Transfer to a bowl and cool. Cover, and leave this starter in a warm place for 12 hours.
Mix the Dough
In a small bowl, whisk together the warm milk and the yeast. Set in a warm place to proof, about 7 minutes.

In the bowl of a stand mixer fitted with the paddle attachment, beat the egg yolks and sugar until pale yellow. Zest in the orange.

Scrape in 1 1/2 cups the potato starter and mix well. Tip in the proofed yeast, add the salt and mix gently.

Switch to the dough attachment and add 5 1/2 cups of the flour, 1 cup at a time. Mix until you have a rough, shaggy dough. Drop in the butter and mix well.

Remove the dough hook, cover the bowl with a tea towel and set in a warm place to rise for 1 hour.

After rising, return the bowl to the mixer and add the dough hook. Knead the dough on low for 10 minutes until smooth and elastic. Gradually add in the remaining flour. Again, set the dough to rise for an hour in a warm place.
Shape the Dough
Generously oil the clean tomato tins. Divide the dough into 3 pieces. Roll them into balls and tuck into the tins. Tins should be filled halfway with dough. If you have extra dough, fill a smaller tin or mini loaf pan. Cover the tins with a towel and set to rise in a warm place for one hour.

Preheat the oven to 350°F and set the oven rack on the bottom shelf. Place the tins on a baking tray and pop in the oven. Bake for 40-50 minutes until dark golden on top.

Cool the bread for 5 minutes in the tins (any longer and they will get soggy), then run a knife around the edges and pop them out to cool on a wire rack.
Glaze the Paska
In a small bowl, whisk together the orange juice, powdered sugar and vanilla until smooth. It should be runny and drip from the whisk. Brush or spoon over the tops of the cooled paska, letting the glaze drip down the sides. Garnish with a few sprinkles.
More Easter Cooking and Baking Inspiration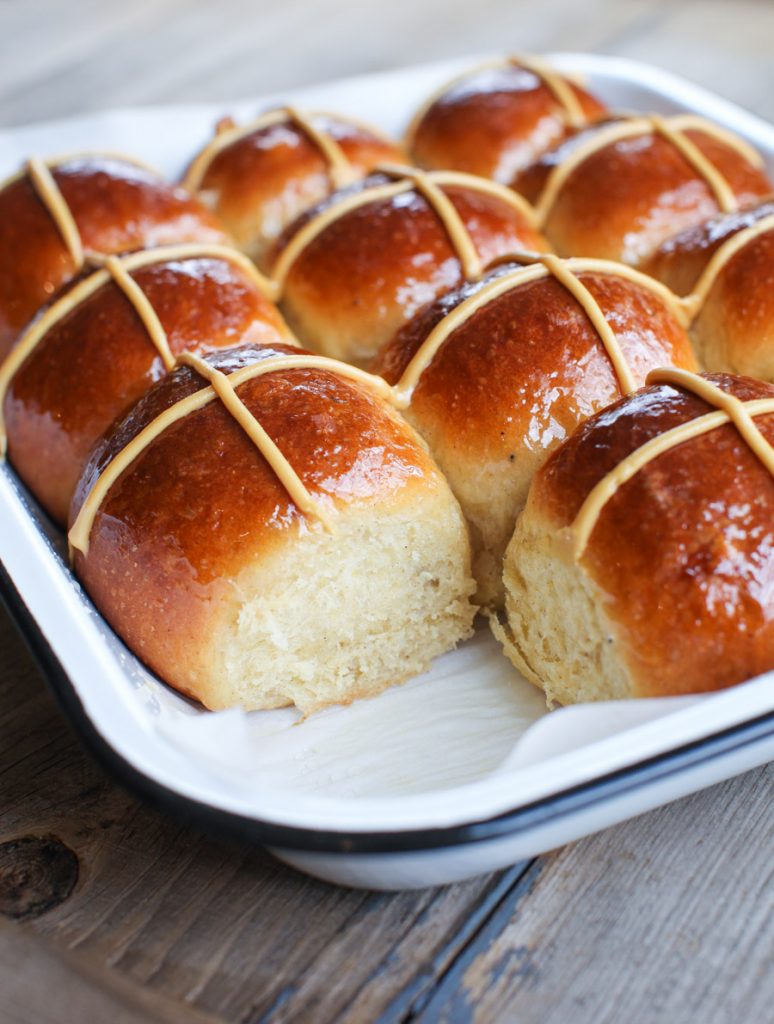 You may also enjoy these posts from the Simple Bites archives: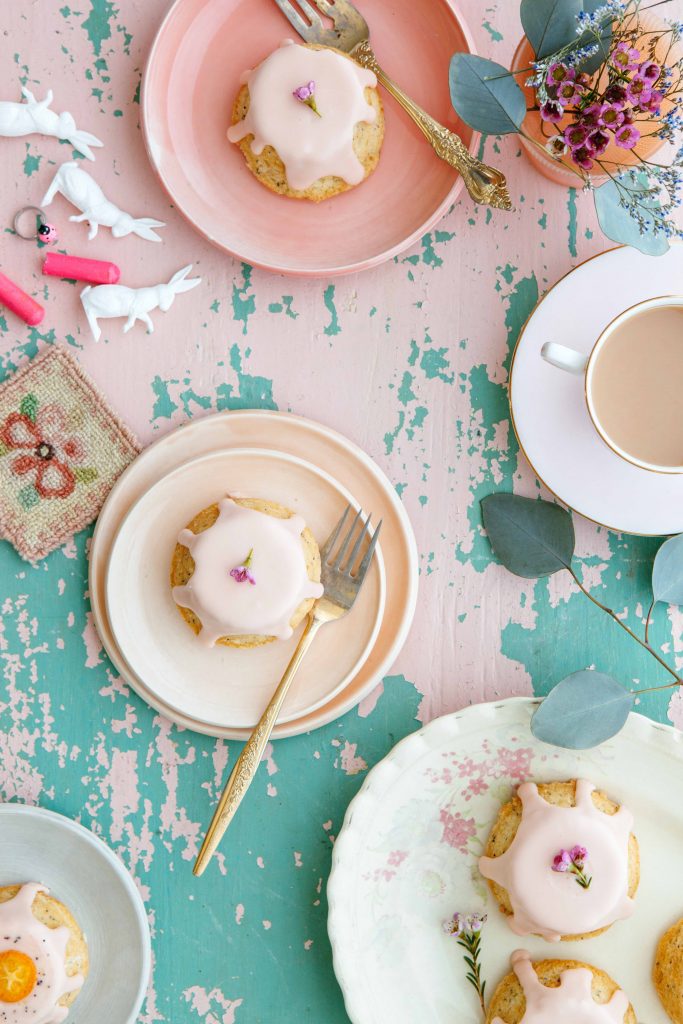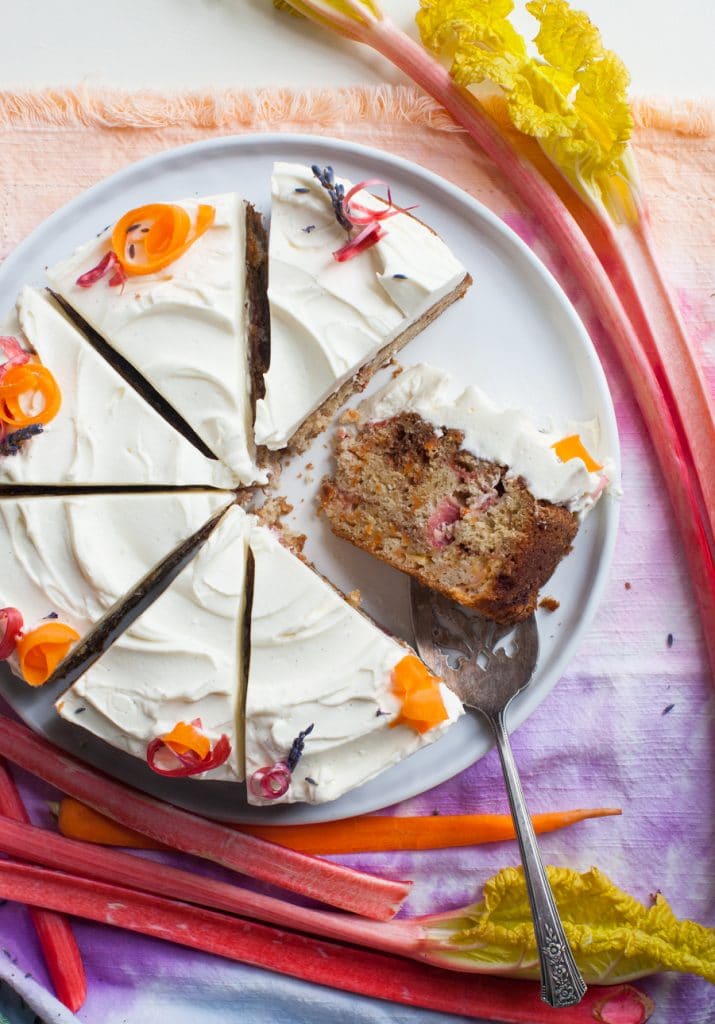 Rhubarb Carrot Cake with Vanilla Mascarpone Frosting
Wishing you all a special Easter season.
Original article: Recipe for Paska: Ukrainian Easter Bread.