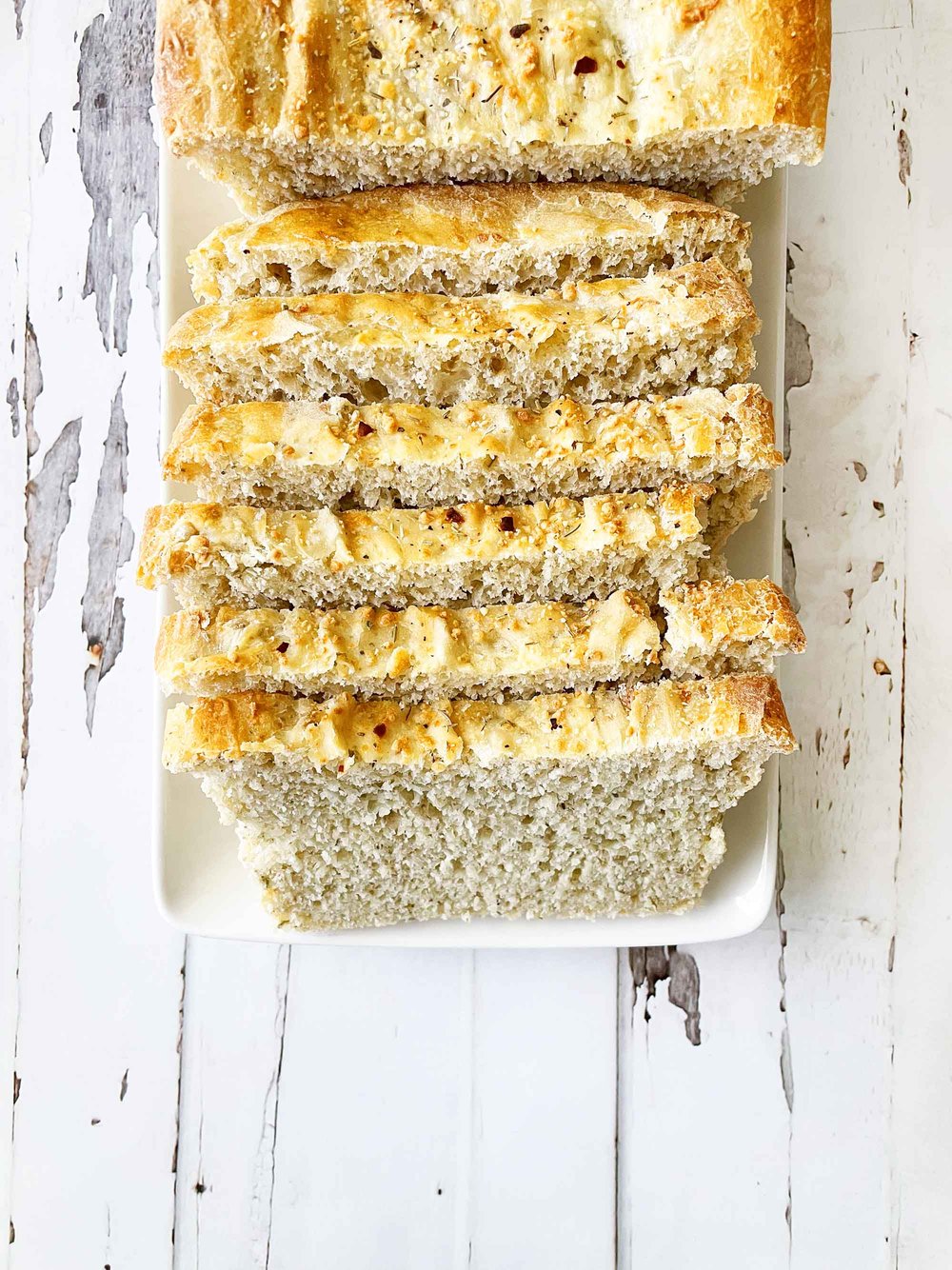 Sometimes you just need a really good bread to go with dinner to sop up the leftovers of a good soup or stew. And this Parmesan Rosemary Bread is perfect for that. It's got rosemary and parmesan baked right into the bread so there's that bump of added flavor for whatever you happen to pair this bread with. Though if we're being honest, this bread would also make a really good sandwich!
The bread dough is most easily made in a bread machine, but I also included the directions for making it if you don't have a bread machine. Either way you go about it, this is a great yeast bread recipe whether you're new or experienced with working with yeast dough.
There are two whopping tablespoons of rosemary in this loaf of bread and plenty of parmesan cheese to go with it! Towards the end of the dough rising, I topped mine off with a light egg wash and a sprinkle of more parmesan cheese, but its completely unneeded.
I served my bread with a nice bowl of sweet potato chowder and had the most perfect dinner for a chilly Fall evening!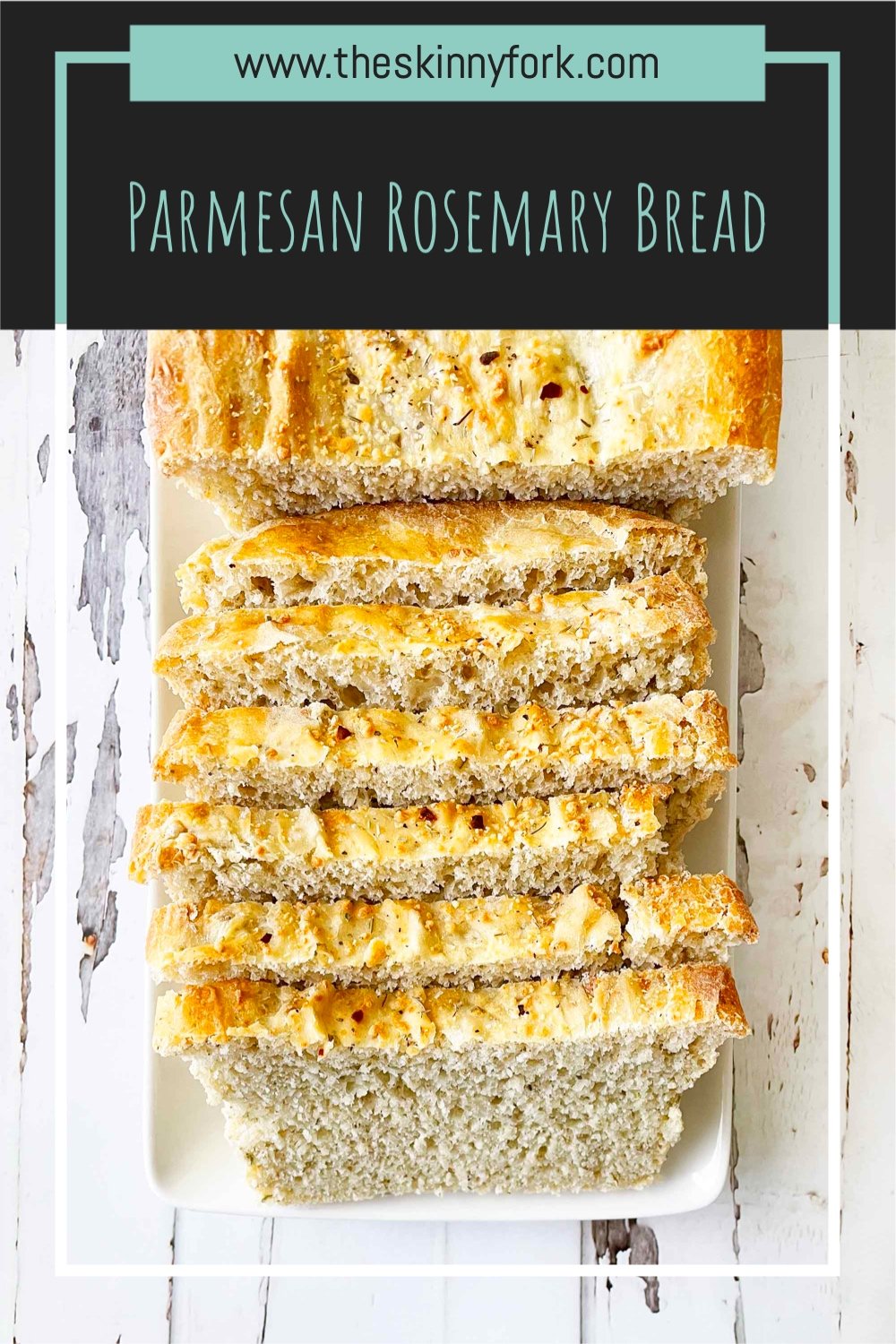 Parmesan Rosemary Bread
Yield:
12
Author:
The Skinny Fork (Amanda Plott)
Prep time: 10 Min
Cook time: 25 Min
Inactive time: 2 Hour
Total time: 2 H & 35 M
Homemade bread made with parmesan and rosemary baked right into it. Make it in a bread machine or not. Perfect for mopping up soups and stews!
Ingredients
11.5 Fl. Oz. Hot Water
3 Tbsp. Oil
1 1/2 Tsp. Salt
3 Tbsp. Sugar
1/4 C. Grated Parmesan Cheese
2 Tbsp. Dried Rosemary
490 G. Flour
1 Tsp. Active Yeast
Instructions
Bread Machine: Place the ingredients for the dough into a bread machine in the order listed (or according to your machine manual) and set it to the 'dough cycle' setting.
No Bread Machine: If you do not have a bread machine, you can combine the hot water and yeast into a bowl and allow the yeast to activate and foam up. Once the yeast is active you can combine the remaining ingredients in the bowl of a stand mixer with the hook attachment or knead by hand. Spray a large bowl with non-stick cooking spray and place dough inside. Cover with plastic wrap and allow it to sit for an hour until doubled in size.
Once the dough has risen, lightly coat the inside of a 9x5" loaf pan with non-stick spray and set aside.
Turn the dough out onto a lightly floured surface and lightly shape into a loaf before placing into the prepared loaf pan.
Cover lightly with a tea towel and set in a warm place to rise for about an hour or until it has doubled in size.
Once the dough has risen, preheat the oven to 375 degrees F.
Place the bread in the oven to bake for about 25-30 minutes or until golden brown and baked through.
Remove from the oven when done and allow to cool for at least 15 minutes before cutting and serving as desired!
Nutrition Facts
Calories
202.50
Fat (grams)
4.53
Sat. Fat (grams)
0.62
Carbs (grams)
35.05
Fiber (grams)
1.43
Net carbs
33.62
Sugar (grams)
3.24
Protein (grams)
4.91
Sodium (milligrams)
326.94
Cholesterol (grams)
1.61
Nutritional Claims: Sugar Conscious • Low Potassium • Kidney Friendly • Vegetarian • Pescatarian • Egg Free • Peanut Free • Tree Nut Free • Soy Free • Fish Free • Shellfish Free • Pork Free • Red Meat Free • Crustacean Free • Celery Free • Mustard Free • Sesame Free • Lupine Free • Mollusk Free • Alcohol Free • Kosher
Similar Recipes
Cheesy Garlic & Herb Pull-Apart Bread (Bread Machine)
Halloween Bread
French Bread
Did you make this recipe?
Tag
@theskinnyfork
on instagram and hashtag it #theskinnyfork
Step-by-Step Photos: