Manti is a dish that originates from the Middle East and is both delicious and comforting. The dish is made up of small dumplings that are filled with spiced ground meat and served with a creamy garlic yoghurt sauce. While preparing requires some effort, the result is well worth it.
To make Manti, you'll need a few ingredients such as ground beef or lamb, onions, garlic, tomato paste, flour, eggs, and yoghurt. The dough is rolled out thin and cut into small squares before being filled with a spoonful of the spiced meat mixture. Each dumpling is carefully folded and pinched closed, creating a small pocket of flavour.
Once the dumplings are cooked, they're served with a tangy garlic yoghurt sauce that perfectly complements the savoury flavours of the meat filling. It's a satisfying and comforting meal that's perfect for a cosy night with loved ones.
Manti has many variations across the Middle East and Central Asia, with each region putting their own unique spin on this beloved dish. Here are some of the most popular variations of Manti:
Turkish Manti: This is perhaps the most well-known variation of Manti. Turkish Manti is typically smaller in size and often served with garlic yoghurt, tomato sauce, and melted butter.
Armenian Manti: Armenian Manti is similar to the Turkish version but often includes additional ingredients such as chickpeas and red pepper flakes.
Uzbek Manti: This variation of Manti is often larger in size and served with a savoury broth made from lamb or beef.
Georgian Khinkali: While not technically Manti, Georgian Khinkali are similar in shape and often filled with spiced meat, onions, and herbs. They're typically served with hot sauce and eaten by biting off the top and slurping the broth inside before consuming the rest.
Afghan Mantu: Afghan Mantu is a larger variation of Manti. It is typically served with a tomato-based sauce and sprinkled with dried mint.
These are just a few examples of the many variations of Manti found across the world. Each one offers a unique twist on this classic dish, making it an exciting and delicious culinary experience no matter where you try it.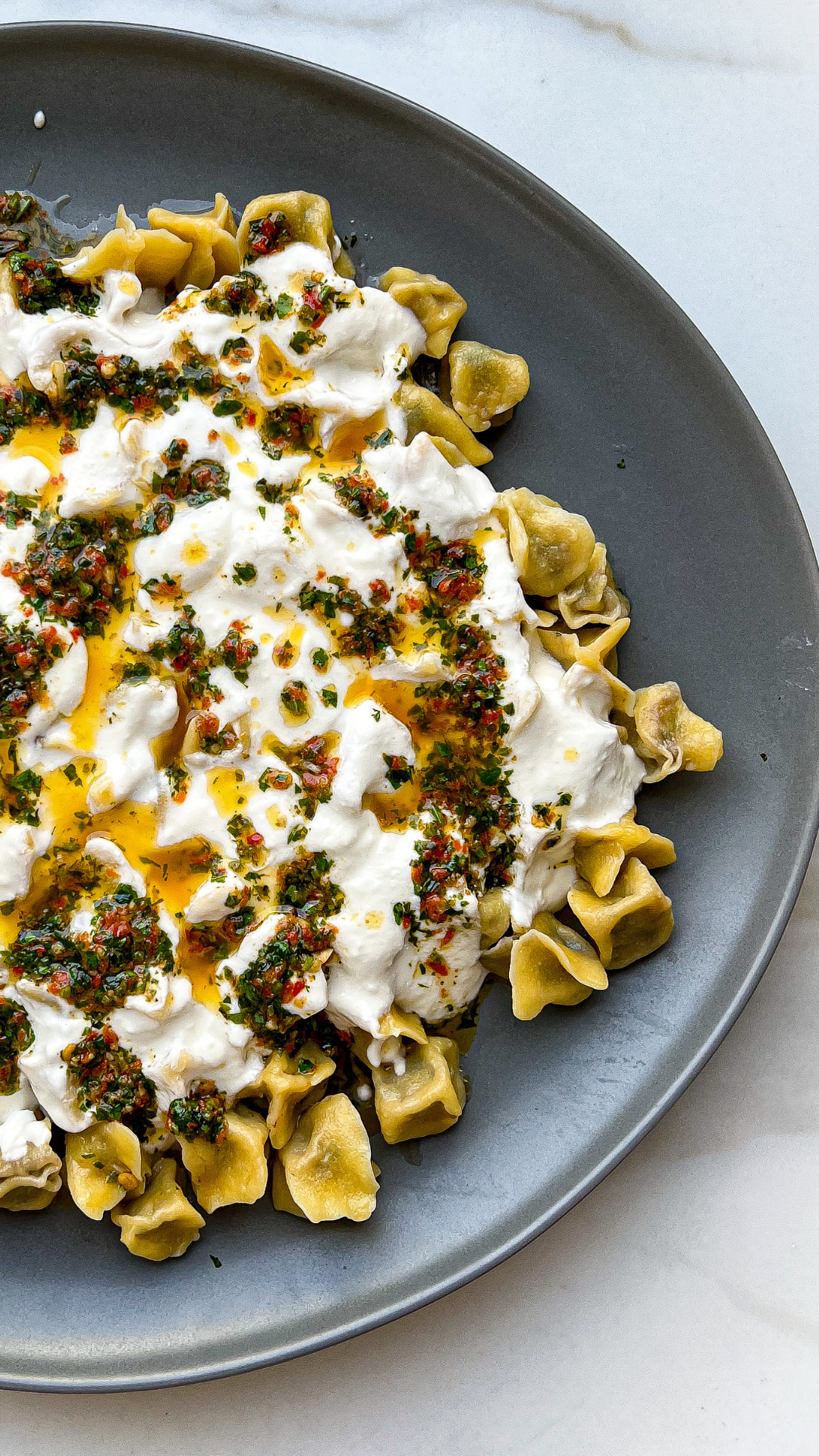 Basic Ingredients for Manti
Ground beef: The main ingredient of the filling. It provides protein and flavour to the dish.
Onion: Adds sweetness and texture to the filling.
Parsley: Adds freshness and flavour to the filling.
Harissa paste: A spicy paste made from chilli peppers, garlic, and other spices. It adds heat and flavour to the filling.
Arabic Spice mix: A blend of spices commonly used in Middle Eastern cuisine, which adds complexity and depth of flavour.
Yoghurt: The base of the sauce. It provides a creamy and tangy flavour that complements the spiciness of the filling.
Garlic: Adds a pungent flavour and aroma to the sauce.
Tahini paste A paste made from ground sesame seeds adds a nutty flavour and creaminess to the sauce.
Lemon juice: Adds acidity and freshness to the sauce.
alternative ingredients
Ground lamb or a mix of beef and lamb can be used instead of ground beef.
Coriander or mint can be used instead of parsley.
Aleppo pepper or paprika can be used instead of harissa paste.
Ras el hanout or garam masala can be used instead of the Arabic Spice mix.
Sour cream or labneh can be used instead of yoghurt.
Lime juice can be used instead of lemon juice.
PREPARATION TIPS for Manti
Drain any excess liquid from the onion before adding it to the filling to prevent the dumplings from becoming soggy.
Mix the filling well to ensure that all the ingredients are evenly distributed.
Prepare the different elements of this recipe in advance and assemble them before serving.
SERVING TIPS for Manti
Serve the manti hot with the yoghurt sauce on top.
Garnish with chopped parsley, chopped nuts, or Aleppo pepper flakes.
Serve with a side salad or roasted vegetables.
storage tips
Store any leftover manti in an airtight container in the refrigerator for up to 3 days.
Reheat the manti in the microwave or oven before serving.
The yoghurt sauce can be stored in the refrigerator for up to 1 week.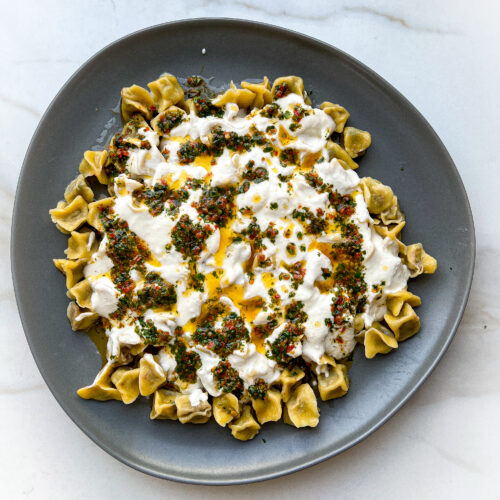 Print
Manti
Ingredients
Dough
1 cup whole wheat flour

1 egg

1 tsp salt

¼ cup hand-warm water
Filling
300g ground beef (lean)

1

onion, chopped minced, excess liquid drained

¼

cup parsley,finely chopped

1

tsp harissa paste

1

tsp. Arabic Spice mix

½

tsp salt

¼

tsp blackpepper
Yoghurt Sauce
1

cup yoghurt

½

tsp garlic, finely minced

2

tbsp tahini paste

2

tsp lemon juice

Salt
Butter Sauce
2

tablespoons butter

1

tablespoon olive oil

2

tsp shata sauce

½

tsp

minced garlic

A handful of coriander leaves, finely chopped
Instructions
In a stand mixer bowl with a hook attachment, combine flour, eggs, salt and water, and knead the dough together for 5-10 minutes until it is smooth and elastic.  Cover the bowl with a damp kitchen towel and rest for 30 minutes.

Prepare the filling. Combine ground meat, finely minced onions, parsley, harissa paste, Arabic spice, salt and pepper in a medium bowl. Put it aside.

On a very lightly floured surface, roll the dough into a rectangular shape until it is 2mm thick.  Cut the dough into 2 cm strips, then squares.Place about ½ teaspoon of fillingon each square, pinch and sealall the opposite corners of the dough in the centre.  Place the dumpling ona baking sheet lined with parchmentpaper.

Bring a large pot of saltedwater up to a boil. Add the dumplings and boilthem for 6–8 minutes, till the pasta is tender. Drain the dumpling and place them on a servingplatter.

To prepare the yoghurt sauce, combine yoghurt, tahini sauce, minced garlic, lemon juice and salt in a small bowl.  Pour the yoghurt sauce over the mantil dumplings.

In a medium size pan, melt butter and add olive oil. Add in shata sauce, minced garlic and chopped coriander.  Drizzle the sauce over the yoghurt and serve.
The post Manti appeared first on Cooking with Zahra.