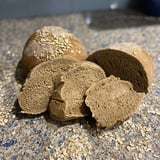 Of all the restaurants that serve bread as a free appetizer, The Cheesecake Factory's brown bread is THE best. It has that fluffy, warm, and savory aspect that you get from any delicious bread, but it's also got a little bit of sweetness (thanks, honey and molasses!). It goes great with savory options like soup, cheese, and butter, but it's also amazing with a drizzle of honey. And, of course, you can just eat it plain as I shamelessly did about 10 minutes after it came out of the oven. Seriously, it's SO good, and if you haven't tried to re-create it at home yet, you really need to.
With just a few essential ingredients and a couple hours time (and a little bit of patience!), you'll can make this delicious brown bread without having to step foot outside. And, honestly, I find the bread a little more satisfying when I know that I made it completely from scratch. And if you're worried that baking bread is hard, I think this sentiment is both true and untrue. I've made bread before, and I love to bake in general, so I do have a little more comfort working with the ingredients. That being said, you can be a beginner and totally nail this recipe! The key is making sure you're working with good yeast.
In the first step, you'll activate the yeast by making a mixture. It's important to get your water to just the right temperature. If the water is too hot, the yeast will die. If it's too cold, the yeast won't get foamy enough, and you'll want your initial yeast mixture to be nice and foamy (that's how you'll get your bread to rise). From there, patience is your best friend. In this recipe, the bread will need two-plus hours to rise before it ever bakes, and this is really important to get that fluffy texture. So, by ignoring your stomach's grumbling just a little bit longer and giving this bread plenty of time to rise, you're already nailing one of the hardest parts! See ahead for the full recipe.
The Cheesecake Factory's Honey Wheat Brown Bread
Hunger Thirst Play
Notes
The original recipe uses a standing mixer, but this recipe is totally doable without one - you'll just have to knead the bread by hand. While I was mixing the dry ingredients into the yeast mixture to form the dough, I added about 3 additional tablespoons of water as the dough got firmer and tougher to knead. Adding this extra water did not affect the turnout, it just made it easier to mix and knead the dough.
If you don't have molasses on hand, you can simply use all honey. Molasses does help by adding that brown, rich color to the bread, however.
Ingredients
1 cup warm water (105°F)
2 tablespoons molasses
2 1/4 teaspoons dry active yeast (1 packet)
4 tablespoons honey
2 cups bread flour
1 2/3 cup whole wheat flour
1 tablespoon cocoa powder
1 tablespoon granulated sugar
1 1/2 teaspoons espresso powder
1 1/2 teaspoons salt
3 tablespoons unsalted butter, softened
1/4 cup rolled oats (optional)
Directions
Combine warm water and molasses into mixing bowl. Sprinkle your yeast packet on top and let it sit for about 5 minutes. The yeast should be foamy on top of the mixture; once it is, add the honey.
In a large mixing bowl, combine bread flour, whole wheat flour, cocoa powder, salt, espresso, and granulated sugar. Whisk dry ingredients until evenly combined.
Gradually add dry ingredients to yeast mixture. If you have a standing mixer with a dough hook, then you can keep slowly adding the dry mix to the yeast mixture until everything is combined. If you don't have a standing mixer, you can knead the dough with your hands.
Once dry ingredients and the yeast mixture are fully combined, add the butter and mix (or knead) until a soft and smooth dough forms.
Lightly grease a large bowl with cooking oil spray. Put your dough into the bowl and cover with plastic wrap or a towel. Place the bowl in a warm area to allow your dough to rise for about 1 hour, or until it doubles in size.
Sprinkle some flour onto a clean surface and put your risen dough onto it. Shape your dough into two large loaves (you can do smaller loaves like I did, as long as they're even in size).
Place your loaves onto a greased baking sheet (or one with parchment paper) and sprinkle the oats onto the top of the loaves.
Allow your loaves to sit for another hour, until they've doubled in size again. Once they're nearly done rising, set the oven to 350°F.
Bake your bread for about 20-25 minutes. If you're doing bigger loaves, you may want to let them go for about 5 minutes more.
Once your bread is done cooking, transfer the loaves to a wire rack and allow them to cool.
Information
Yield

2 large loaves

Total Time

2 hours, 59 minutes, 59 seconds