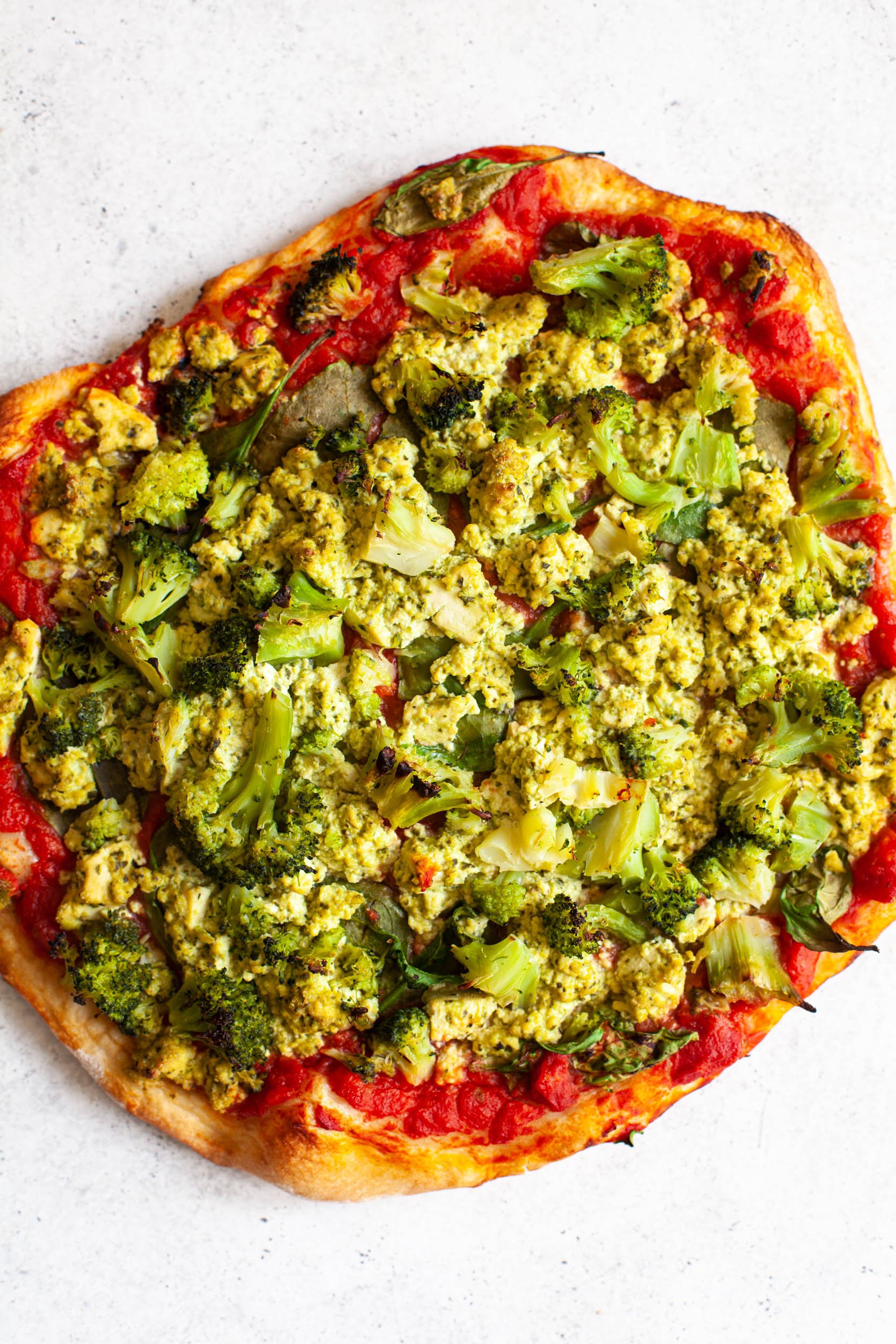 I love pizza, especially homemade pizza. But with many awesome vegan pizza options available in my hometown, at least under normal circumstances, it's all too easy to avoid making my own. I've been wanting to institute some sort of semi-formal Friday night pizza tradition for a while now, but I often end up skipping it and treating myself to a slice made by a pro instead.
Since I'm home pretty much constantly now, and many of NYC's eateries are re-opening slowly or delivering only outside of my neighborhood, I'm much more motivated to make my own vegan pizza pies. In the last two months, I've mostly used store-bought vegan mozzarella and tomato sauce. Nothing fancy, but always very welcome and satisfying. I've tried a few variations with vegan sausage and veggie toppings, too.
This week, with warm weather finally sticking around, I wanted to make something a little fresher and greener. In spite of the fact that I was DIY-ing, I took inspiration from the vegan-friendly pizzeria that's closest to me, Cafe Viva.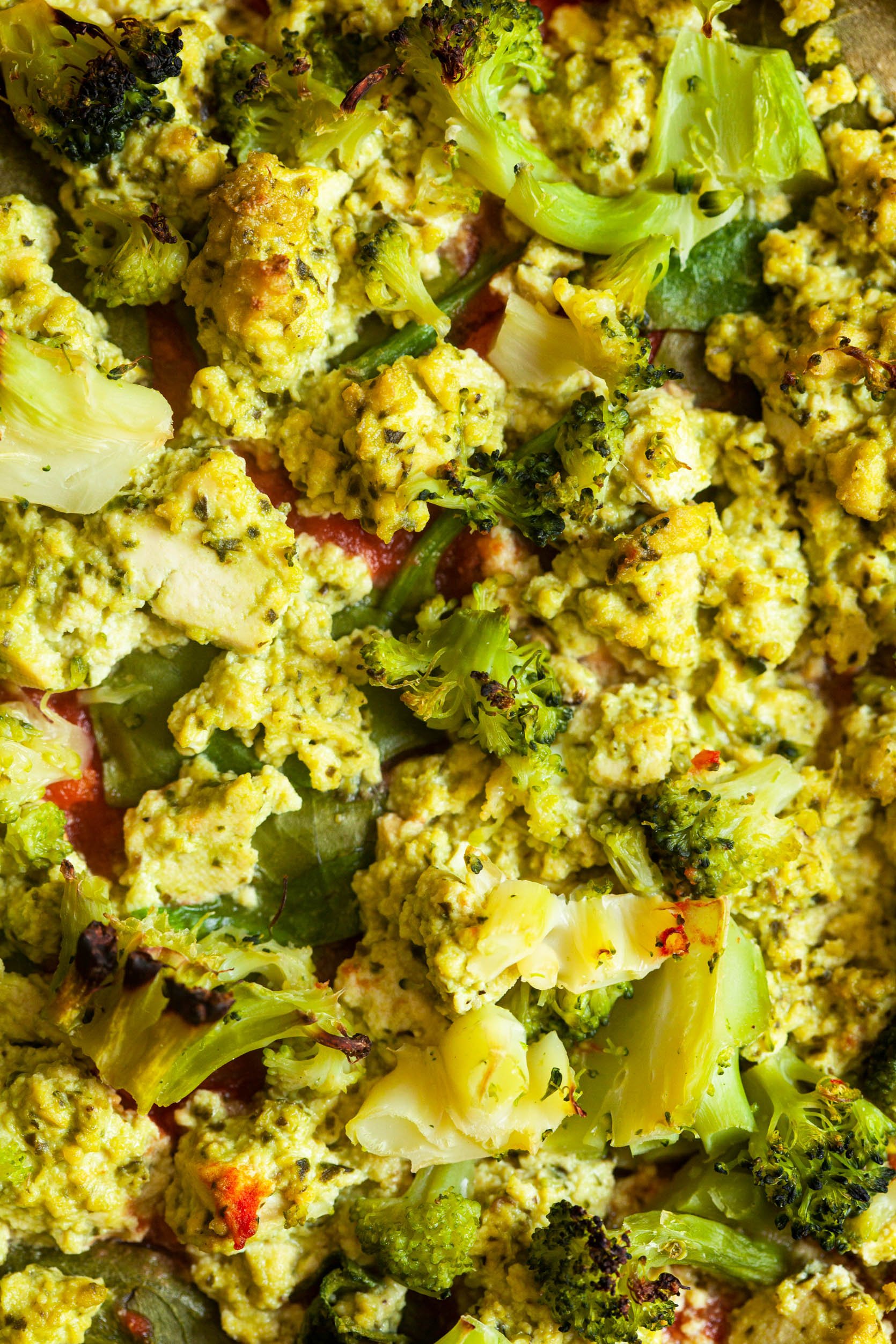 Viva used to have two locations, one uptown and one downtown, until it became an uptown-only eatery in the last decade. For a while, it was one of the first few dedicated vegan and vegetarian pizza places in the city, and while that's no longer the case, I have loyalty to Viva because it's been around for so long, and it's always been yummy.
Viva has traditional slices aplenty, but I've always enjoyed it's more creative offerings, too. For a while, my favorite was the Mother Earth (soy meatballs, mushroom, peppers, broccoli, sautéed onions, and tomato sauce). Then I fell in love with the Zen (green tea herbed miso tofu, pesto, shiitake mushrooms, caramelized onions, sun-dried tomatoes, and roasted garlic on spelt crust). The pizza I'm sharing today isn't a replica of either, but it draws inspiration from both. I'm calling it a "green goodness" pie, because it's both of those things: good to eat and very, very green.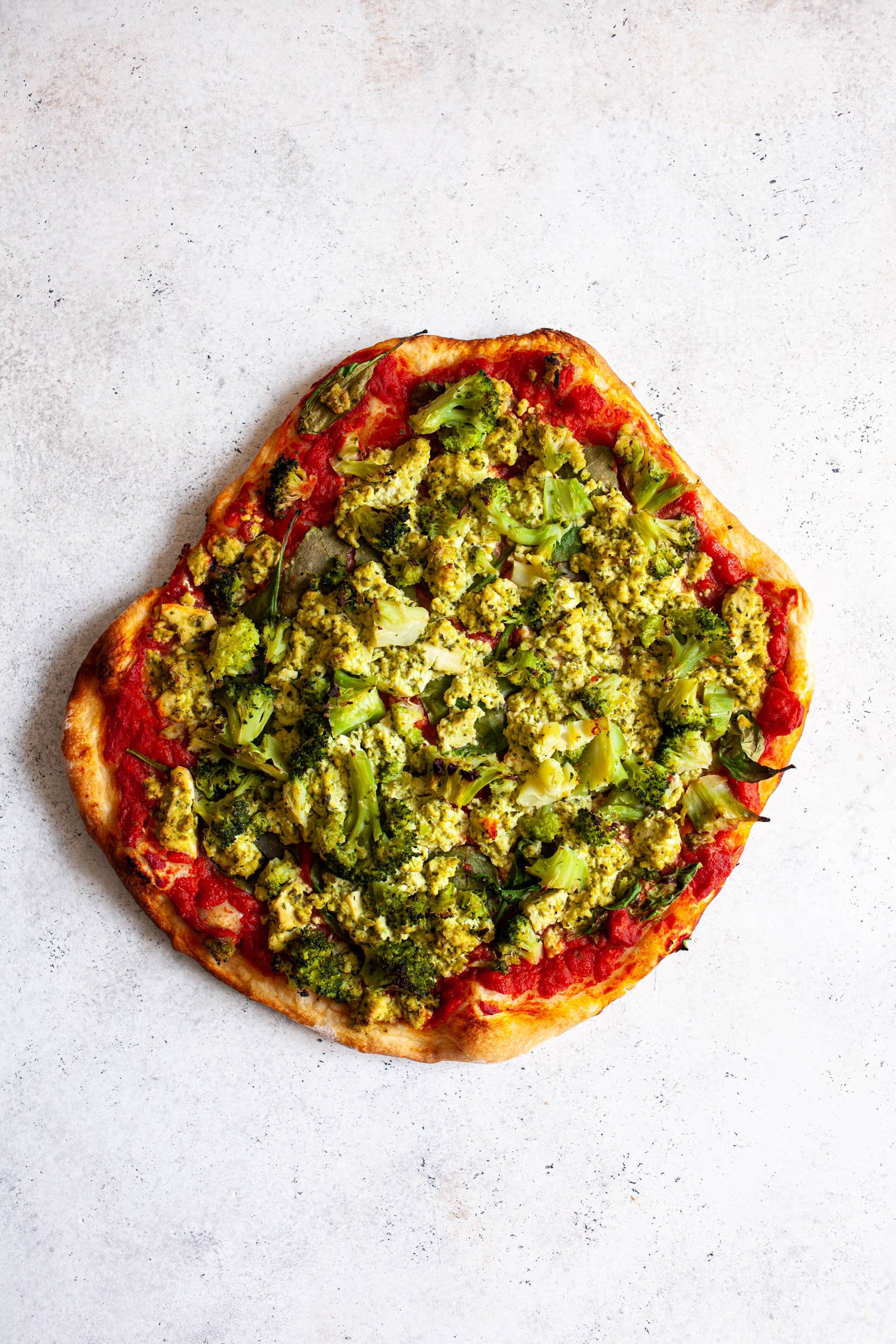 In place of a vegan cheese, I made a really tasty, pesto-marinated tofu. The pesto in question is my tahini pesto, which is great on pasta, but also really good as a spread for sandwiches or wraps. It's denser and richer, I think, than regular pesto, and I suspected it would work really well as a tofu marinade. I'm a big fan of folding tahini into tofu scramble for creaminess, and the same principle applies here.
The rest of the pie is unfussy: just broccoli (I used frozen and defrosted florets) and spinach. Of course, you could use all sorts of other vegetables here: thinly sliced asparagus, sautéed mushrooms, peppers, and caramelized onions would all taste good. And if the pesto tofu on its own doesn't quite do it for you, the addition of vegan cheese wouldn't hurt one bit 🙂
The crust here is my go-to. I use 00 flour when I can get it (I had some in my pantry pre-quarantine, so I used it here), and all-purpose the rest of the time. Sometimes, when I'm craving a nuttier flavor, I use a 1:1 combination of all purpose and white whole wheat or whole wheat. I can vouch for all three, and if you're not in the mood to make crust from scratch, store bought is A-OK, too. Here's the recipe.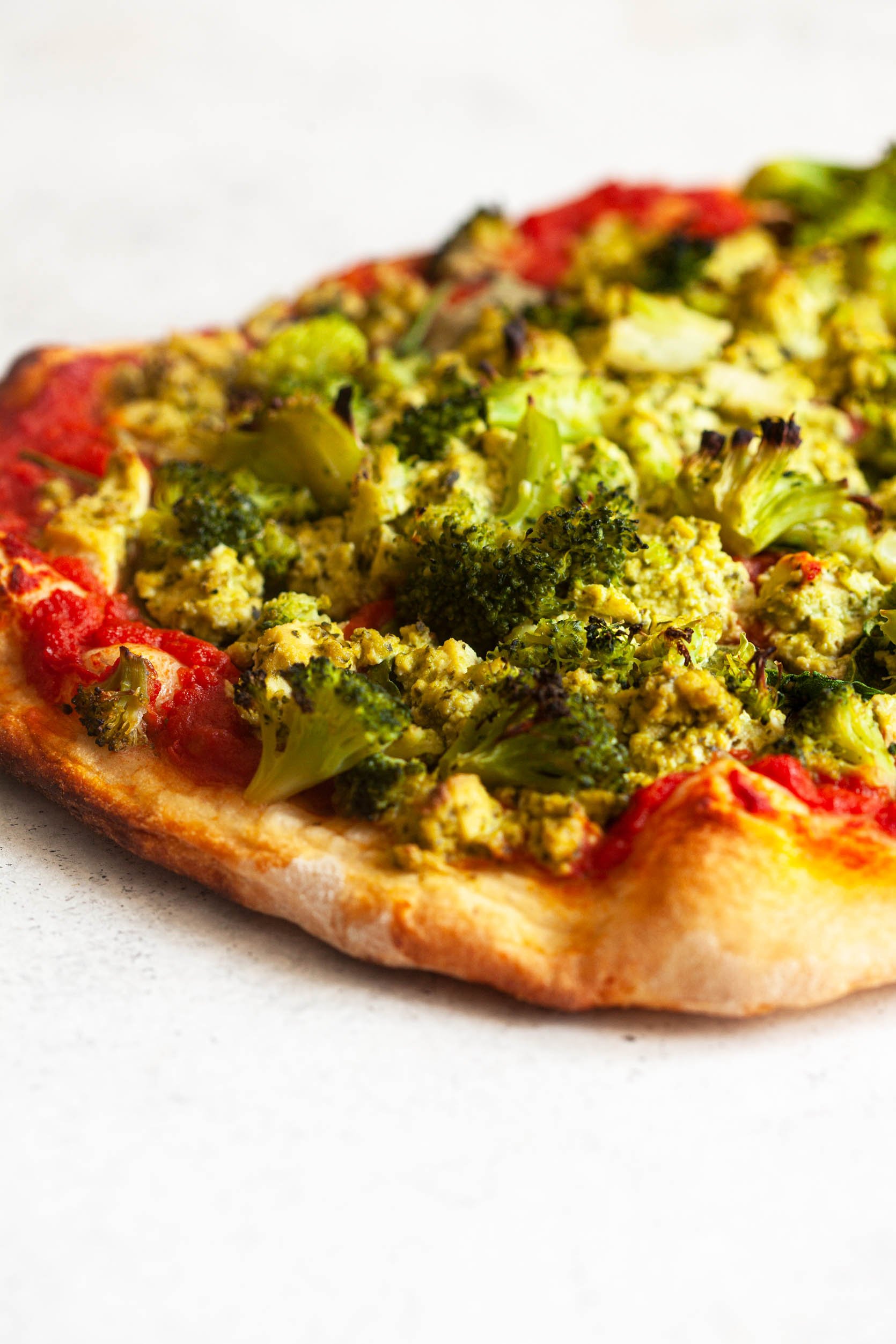 Print
Green Goodness Pizza
Ingredients
Pizza crust (makes approximately 2 12 or 14-inch round pizzas or 3 8 or 10-inch square pizzas, depending on thickness of crust)
3

cups

(360 g) 00 or unbleached, all-purpose flour

1 1/2

teaspoons

fine Kosher salt

2

teaspoons

(7 g) instant yeast*

1 1/8

cups

(255 g) warm water (about 110F)
Herbed tofu
15

ounces

firm or extra firm tofu, pressed gently to remove excess moisture

3

tablespoons

tahini

1

tablespoon

white miso

1/4

teaspoon

fine salt

2

tablespoons

nutritional yeast

1

tablespoon

freshly squeezed lemon juice

1

small clove garlic, chopped (optional)

1/4

cup

water
Pizza assembly
2 1/4

cups

tomato sauce

couple handfuls baby spinach

3

cups

(10 ounces) broccoli florets (fresh or frozen and defrosted according to package instructions)
Instructions
To prepare the pizza crust, mix together the flour, salt, sugar, and yeast in a mixing bowl. Add the water. Use a spoon to mix everything into a shaggy dough ball. Cover the bowl with a damp dish towel and let it rest for 5 minutes.

Turn the dough out on a floured surface and knead it a few times. You can continue to knead by hand for 8-10 minutes, or until smooth, pliable, and resistant to tearing when stretched. Alternately, you can knead the dough in a stand mixer with a dough hook for 5 minutes on medium speed. Transfer the dough to an oiled bowl, turn once to coat, and cover.

At this point, you can transfer the dough to your fridge and let it ferment for up to two days prior to using. Or, you can let the dough rise at room temperature for 1 1/2 hours, or until roughly doubled in size.

To make the herbed tofu, combine all of the ingredients except for the tofu in a food processor fitted with the S blade. Process until you have a smooth, thick sauce. Crumble the tofu into a mixing bowl, then add the sauce. Use your hands to combine everything until the tofu crumbles are well coated and light green throughout.

45 minutes before you're ready to assemble your pizza, place a pizza stone or an inverted sheet pan in your oven. Preheat the oven to 500F. If you've refrigerated your dough, you can remove it from the fridge now and allow it to warm up a little while the oven preheats.

Divide the dough into 2 or 3 pieces (about 200 g each) on a floured work surface. Use a floured rolling pin to roll each into a circle. If you make 2 pizzas, they'll be 12-14 inches in diameter each, depending on how thick or thin you'd like your crust to be. If you make 3 pizzas, they'll be 8-10 inches, once again depending on thickness. As you roll the dough, you can also pick it up and stretch it gently a few times to help it widen into a circle.

Place each circle of dough onto a round or square piece of parchment. If you have a pizza peel, place the parchment onto the peel (otherwise, you'll use gloved hands to very carefully transfer the parchment into the oven). Spread about 3/4 cup of sauce (a little more is fine) around the pizza, leaving about 3/4-inch of bare crust at the edges. Cover the sauce with a small handful of baby spinach leaves. Sprinkle one half or one third of the herbed tofu and broccoli (depending on how many pizzas you're making) over the spinach. Wearing gloves, use your peel to transfer the parchment and pizza onto your pizza stone or baking sheet. Alternatively, carefully transfer the parchment and pizza into your oven.

Bake your pizza for 12-15 minutes, or until the crust is starting to brown around the edges, the pizza is puffy, and the tomato sauce is starting to thicken. The broccoli should be slightly crispy. Assemble your remaining one or two pies and bake the same way. Slice and serve!
Notes
Leftover pizza slices will keep for up to 4 days in an airtight container in the fridge. They can be reheated in a 350F oven or air fryer for 10 minutes, or until warm and crispy.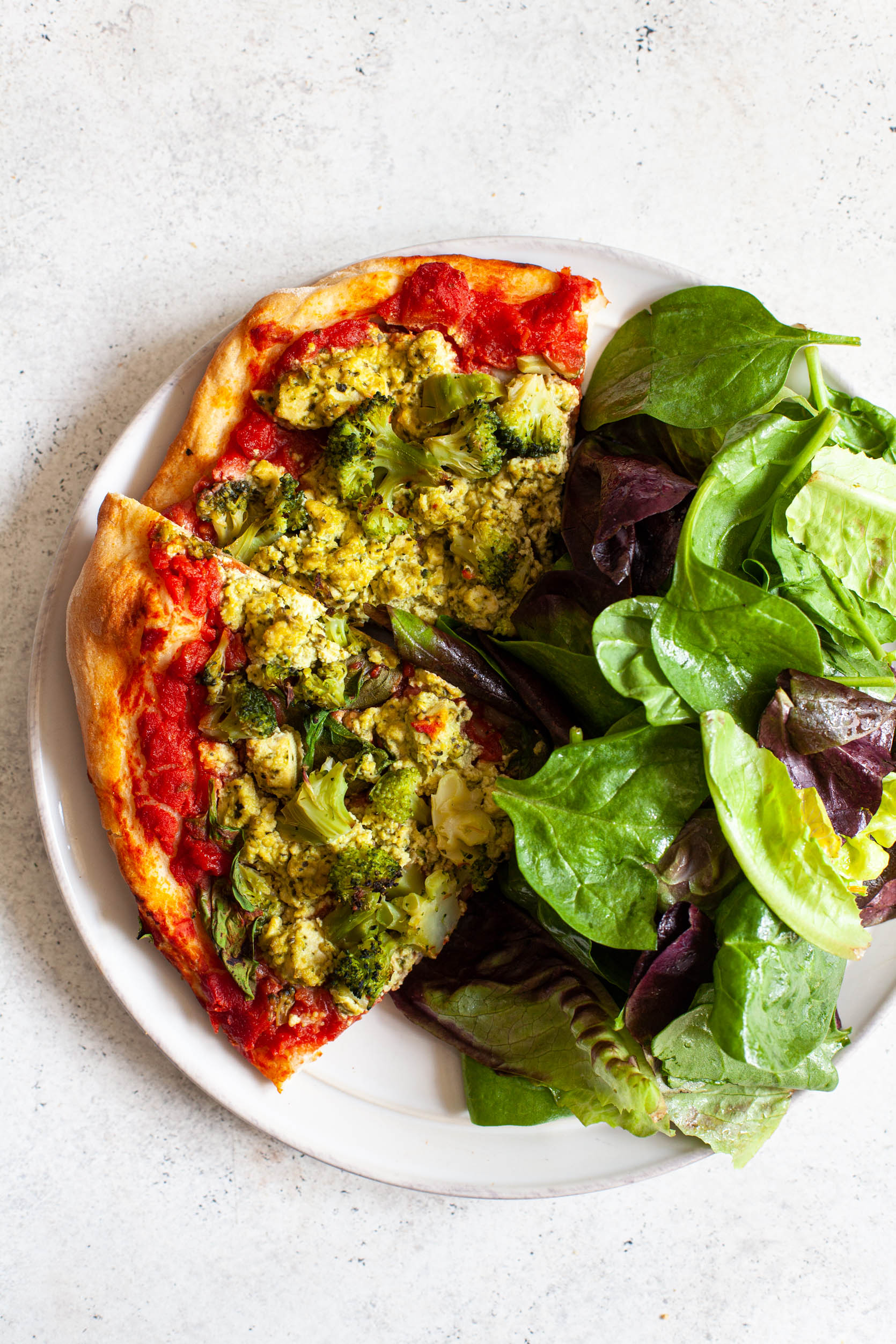 The pizza recipe makes between 6 and 8 servings (two or three smaller sized pizzas). If you're cooking for one or two, you can cut the recipe in half or simply treat yourself to the gift of leftover pizza! I love my slices with a simple green salad and lemony vinaigrette, or with some sautéed leafy greens. And FYI, the herbed tofu is a nice little topping for toast or a tortilla pizza, if you're not in the mood for the whole shebang.
Pizza is one of those quintessential comfort food meals that seems particularly welcome right now. This version is a little different—a little greener and more herbaceous, a little more nutritious and slightly less melty. A friend of mine, whom I've taken with me to Cafe Viva, would call it "hippie pizza." But it's got the tender crust, the acidic and slightly sweet taste of tomato, and—thanks to miso, nutritional yeast, and lemon—the saltiness and umami of cheese.
For me, it satisfies the need for comfort and the desire for something wholesome and earthy all at the same time. Hope you'll get something like that from it, too. Happy Hump Day, friends, and I'll be back this Sunday.
xo
The post Green Goodness Pizza appeared first on The Full Helping.