One of my all-time favorite pastries is cinnamon rolls! I just love how fluffy, sweet, and soft they are, I always order them whenever they're available at a restaurant or cafe I'm at. But when I found this recipe by The Stay At Home Chef on YouTube, I've been baking them at home since. I just love the flavor of the apple combined with the gooey caramel sauce.
Ingredients:
Dough
1 cup warm milk
1 tbsp instant dry yeast
2 tbsp white granulated sugar
1 tsp salt
3 tbsp salted butter, softened
1 large egg
3 cups all-purpose flour
Filling
½ cup salted butter, softened
½ cup brown sugar
1-2 tbsp ground cinnamon
2 medium apples, cored and finely chopped
½ cup caramel sauce
Glaze
½ cup caramel sauce
¼ cup chopped pecans, optional
Directions:
Step 1
In a stand mixer, add in the warm milk, yeast, sugar, salt, butter, and eggs, beat them together until well combined. Add in the flour and use a dough hook to mix them together at low speed. Once the flour starts turning into a dough, increase the speed to a medium setting. Add more flour as necessary, do this until the dough pulls away from the sides of the bowl. The dough mixture should be soft and tacky but doesn't stick to your hands. Add more or less flour until the dough reaches the desired consistency.
Step 2
Transfer the dough to a lightly greased mixing bowl, then cover it with a towel and let rise until it doubles in size. Transfer the dough into a lightly greased baking sheet, then punch down the dough and flatten it with a rolling pin into a 12 x 18-inch rectangle. Spread half a cup of softened butter onto the dough evenly, and leave about ¼ inch space around the edges. Sprinkle a mixture of cinnamon and sugar on top of the butter, then sprinkle the finely chopped apple on top of the sugar mixture evenly. Drizzle ½ cup of caramel sauce on top.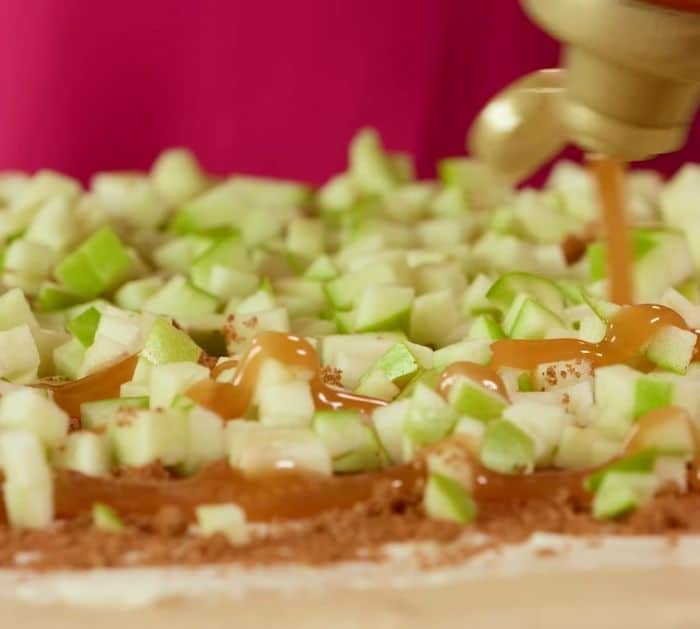 Step 3
Start rolling up the dough tightly lengthwise so you have one long roll, then cut the dough into 12 slices with about 1-inch size each. Place the slices onto a lightly greased 9×13 pan, then cover it and let rise for another 30 to 45 minutes. Bake the rolls in a preheated oven at 350°F  for about 18 to 22 minutes until it is brown on top and the apples are soft. Drizzle the remaining ½ cup of caramel sauce on top of the rolls while still warm. Sprinkle with chopped nuts (optional), then serve.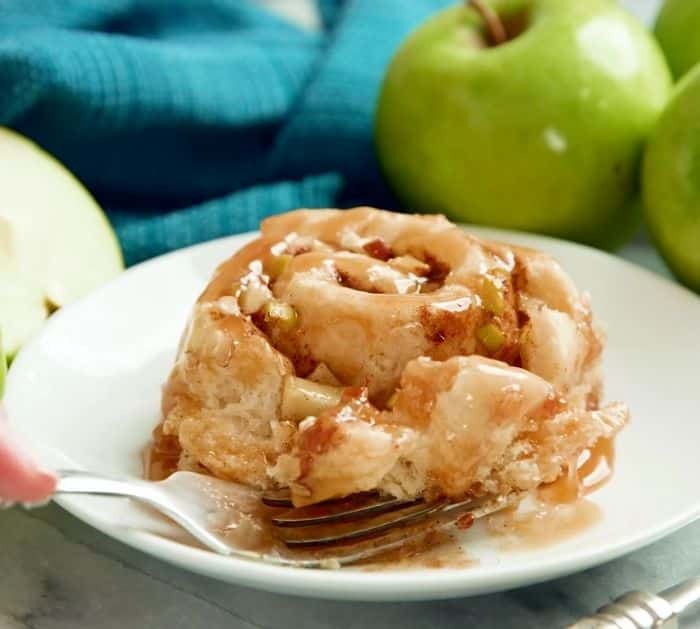 *All image credit belongs to The Stay At Home Chef via YouTube and their official website. Follow and subscribe to her channel for more!
Easy Caramel Apple Cinnamon Rolls Recipe
The post Easy Caramel Apple Cinnamon Rolls Recipe appeared first on DIY Joy.