There are those people that crave over the top, bright + bold environments to live in, and then there are those that prefer their spaces to be classic and timeless, i.e. black and white. Black and white spaces are dramatic, modern and sleek, never going out of style, instead living through trends as they come in and out of favor. The contrasting color scheme makes any room feel clean and dynamic, whether you're living in a modern home or a traditional farmhouse. Layer in smaller elements like black and white textiles or go big with a graphic, black and white wall mural – either way, you'll love living with this classic palette.
Jaws Black + Ivory Throw by Happy Habitat \\\ $165
Dress up your living space or bedroom with the Jaws Throw by Happy Habitat. The eye-catching modern throw features a geometric shark fin pattern that's bold and playful, yet sophisticated thanks to the timeless black and white colorway. If the mere thought of cozying up with this throw while watching a movie doesn't make you feel warm and fuzzy inside, then knowing that it's ethically produced using recycled materials certainly will.
Switch Bowl by Fors Studio \\\ $40
We'll never get tired of the smooth modern design of the Switch Bowl by Fors Studio. The convertible bowl can be used as a bowl with a lid for sugar or small bites or flipped as a dome covered dish. The switch bowl's versatile functionality makes it a perfect addition to any space in your home – from kitchen organization and serve ware to an entryway catchall and bathroom storage for small objects. It's even made of a beautiful hand-glazed bone china, so its polished elegance will stand the test of time.
Candle with Tea Towel Furoshiki Wrap by Studio Stockhome \\\ $58
We're not sure which we love more, the sophisticated scent of this Studio Stockhome candle, or the black and white tea towel it's wrapped in. Inspired by the Japanese wrapping tradition of furoshiki, this candle's beautiful (and reusable) packaging eliminates the need for gift wrapping altogether. Plus, the candle jar features a simple striped pattern that's a minimalist's dream. There are a variety of scents to choose from, but Santalum – with notes of sandalwood, cardamom, vetiver and amber – is our favorite.
BRISTOL Candleholder Small – Black by MARdiROS \\\ $65
The BRISTOL Candleholder by MARdiROS is an easy way to bring balance and modern sophistication to your table setting. Designed to symbolize warm gatherings among friends, we can't think of a better piece of decor to grace our tables during the approaching holiday season (hint hint!). The Bristol's chic black textured base ensures that it won't compete with existing decor and leaves ample room for personalization when it comes to styling.
Delta White Composite Clock by Lawa Design \\\ $158
A modern take on a sundial, the Composite Clock by Lawa Design features artful surface folds to indicate the passage of time. As the clock interacts with light throughout the day, shadows are cast on its architectural folds creating a beautiful display. The structural innovation of the Composite Clock coupled with its minimalist modern design make it functional art that's a joy to live with.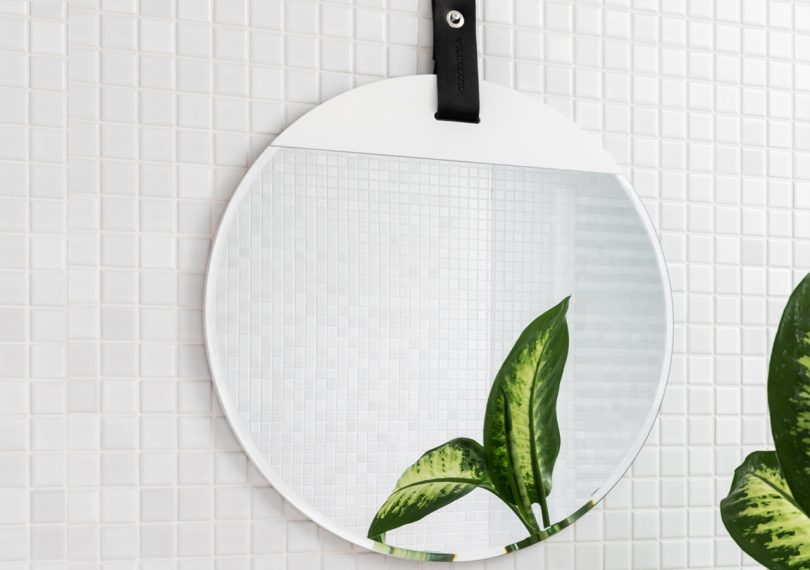 Reflect Mirror in White by cloudnola \\\ $65
The Reflect Mirror by cloudnola takes a minimalist modern design and makes it approachable. The sleek white base at the top adds a graphic element, and the functional leather hook makes hanging it in your space so easy. Inspired by cloudnola Creative Director Reneé's experience with fashion, the Reflect Mirror delivers on style – it's also available in black and pink.
Beekman Aluminum Bird Feeder by Shift \\\ $135
Far from your average birdhouse, the Beekman Aluminum Bird Feeder by Shift is a mid century modern oasis for the birds. Designed with architecture in mind, the bird feeder features a roomy interior that's sure to bring all the birds to your yard. The Shift bird feeder's simple modern shape and the classic white colorway is sure to make a statement amid outdoor greenery.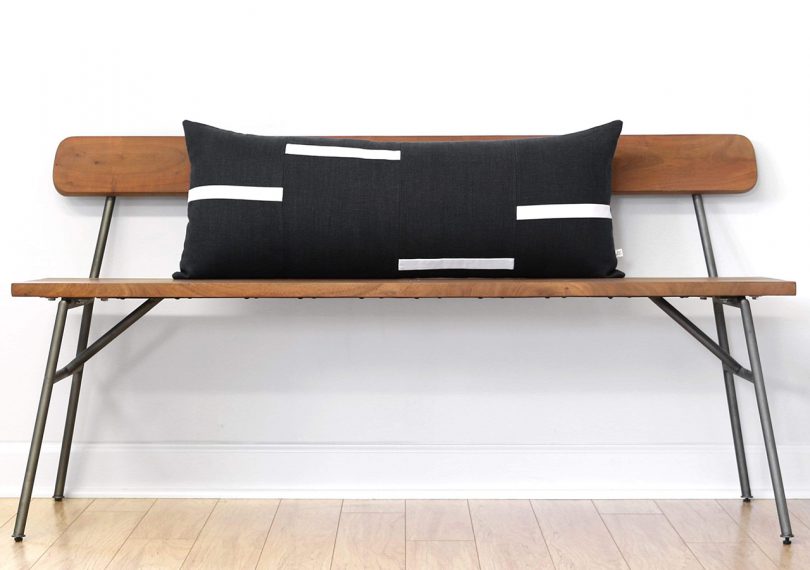 Interconnection Pillow – Black and Cream Dashes by Jillian Rene Décor \\\ $175
The Interconnection Pillow by Jillian Rene Decor is a stylish way to connect other design elements in your space. The black linen colorway layered with crisp white dashes is a prime example of a black and white textile that won't ever go out of style. Plus, its long rectangular shape is a perfect fit anywhere in your space – bench, bedroom, living room – you name it. The only thing we love more than the Interconnection Pillow cover is the fact that it's meticulously hand-crafted for your order, so you can delight in a handmade creation made just for you.
Speckled Black Half Circle Mat by Slash Objects \\\ $120
We love a multipurpose product – and the Speckled Black Circle Mat by Slash Objects is multipurpose in a way you wouldn't expect. Use it on the floor at your entryway to stand up to foot traffic, or use it on surfaces as an accent or centerpiece. Before you freak out about the germs, breathe easy knowing the mat is made of post-consumer recycled rubber, making it easy to clean and transition from the outdoors in.
Drum Table by Bend Goods \\\ $450
If you're still not quite sure how to feel about the black and white aesthetic, feast your eyes on the Drum Table by Bend Goods. Now it may come in a variety of bold colorways, but the black and white versions elevate the intricate wire patterning – bringing even more drama and personality to your space. The only thing better than the juxtaposition of the Drum's simple shape and unique wire construction? You can enjoy it both indoors and outdoors.
>>> For more modern black and white accessories, visit the Design Milk Shop here! <<<