Salmon is one of the most well-loved seafood, and there are tons of recipes you can do with it. One of those is this easy pan-seared salmon with lemon butter by Natashas Kitchen. It's a very simple dish loaded with amazing flavors that you will surely love. Go for this recipe whenever you have a busy week ahead or just want a quick meal for dinner or lunch. The brown sauce is just perfect and does not overpower the fish! You can pair it with pasta, green beans, potatoes, or rice. Read on or watch the video below for full instructions.
Ingredients:
1 1/4 lb skinless boneless salmon fillets (cut into 4 fillets, 5 oz each about 1″ thick)
1/2 teaspoon of salt
1/8 teaspoon of black pepper
4 tablespoons of unsalted butter
1 teaspoon of grated lemon zest
4 tablespoons of freshly squeezed lemon juice (from 2 lemons)
1 tablespoon of freshly minced parsley
Instructions:
Step 1:
Season both sides of the salmon with 1/2 teaspoon salt and 1/8 teaspoon black pepper.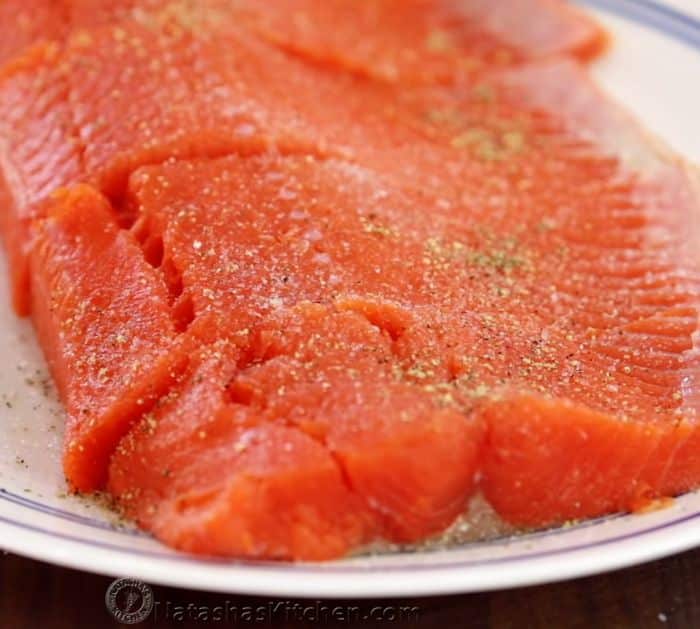 Step 2:
Grate 1 lemon peel to get 1 teaspoon of fresh zest. Next, squeeze two lemons to get 4 tablespoons of lemon juice.
Step 3:
In a large light-colored pan over medium heat, add 4 tablespoons of unsalted butter. Stir and swirl the pan often. Cook it until it starts to brown for about 5 minutes. You will notice bits of milk solids sink to the bottom of the pan and turn dark brown.
Step 4:
Add the salmon filets and cook for 3 to 4 minutes. Flip then cook the other side for another 2 to 3 minutes. In the last 2 minutes of cooking, add 1 teaspoon of zest and 4 tablespoons of lemon juice. Spoon the sauce over the fillets as it cooks. Just as the salmon is cooked through, transfer it to a plate and drizzle the sauce on top.
Step 5:
Garnish the salmon with freshly chopped parsley and thin lemon slices. Serve and enjoy!
Easy Pan Seared Salmon Recipe with Lemon Butter
The post Easy Pan-Seared Salmon Recipe with Lemon Butter appeared first on DIY Joy.