Shrimp Pesto Pasta Salad is unbelievably easy and fast recipe. Hardest part of this recipe is cooking the pasta!!! We prefer to use homemade pesto but a good quality purchased pasta will also work.
Pesto Pasta Salad
The key ingredients for this Shrimp Pesto pasta Salad is: Pasta, Pesto, Shrimp, Tomatoes and Ricotta Cheese.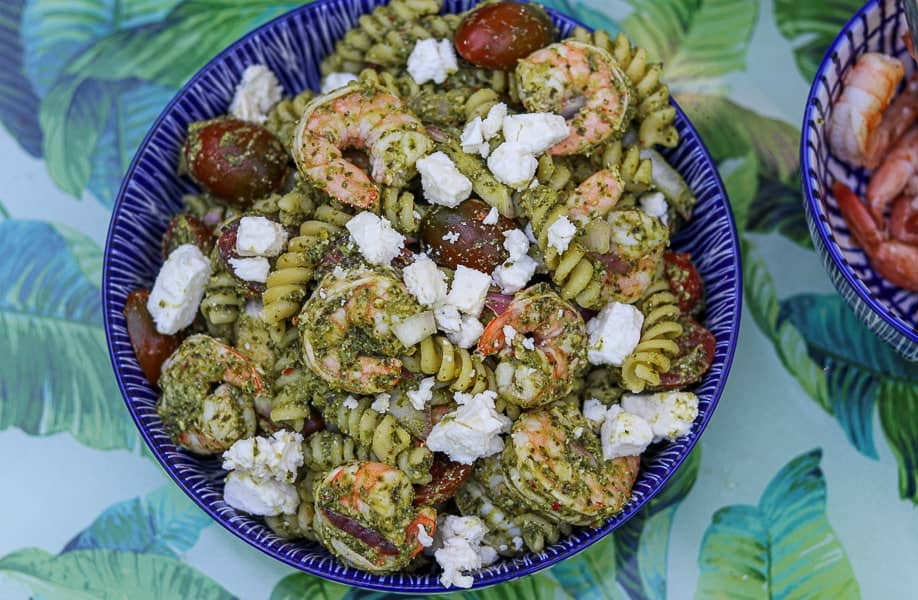 Homemade Pesto!!!!
Homemade pesto is so easy to make, has the best flavor and you can control the amount of oil in the pesto. Now you do need to have Basil. The flavor is so fresh and so much sharper than what you can purchase in a sore. But if you can't get fresh basil or you don't have the the time to make the pesto make sure to purchase the best pesto you can find.
Making Homemade Pesto.
It's actually hard to believe how easy it is to make Pesto. When we make Pesto we do it in several batches. It is very rewarding when the pesto is finished. The hardest part of making Pesto is picking the Basil leaves off the stems and zesting the lemons. We get all the ingredients ready and then we start making each batch of Pesto.
Once we make all the pesto we freeze what we don't plan on using within a week. Pesto freezes very well. We freeze them in Ziploc baggies for up to 9 months. It usually can be stored in the refrigerator for a week.
We always make our Pesto Spicy but this recipe is great mild. Just leave out the peppers and it is a nice mild pesto.
Spicy Basil Pesto
Spicy Basil Pesto that's lower in calories and so enjoyable on Pizza, salad, or crusty bread. Makes 1 1/2 cups of pesto.
Check This Out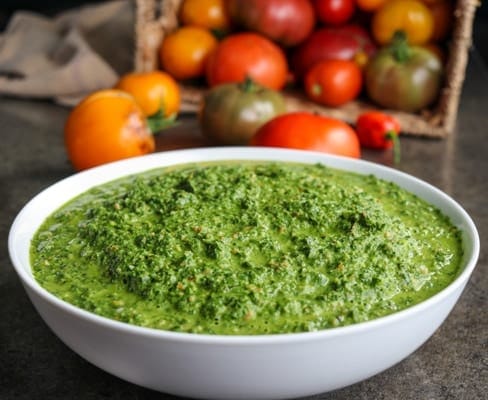 How to Prepare the Shrimp
More than likely the Shrimp will be frozen. If you are lucky enough to get fresh shrimp skip this step! For most of us the Shrimp is frozen. In order to thaw the shrimp it can be thawed overnight in the refrigerator. Or if you are like me and this meal was a last minute decision to make this dish. So the shrimp will need to be thawed quickly. It is so easy to thaw the shrimp. Place the shrimp in a bowl and run cool water over them. Stir the shrimp around so they don't stick together. In just a few minutes the shrimp is thawed and ready to be peeled.
After the Shrimp is thawed if it has a shrimp smell. Here's an easy tip to get the smell out of the shrimp. Sprinkle one teaspoon of salt on the shrimp and stir for one minute. Rinse the Shrimp. Repeat this step of salt and rinsing for two more times.
I like to Dap the shrimp dry with a paper towel. This isn't necessary but it does ensure the shrimp doesn't have excess water.
To make this recipe even faster use already cooked shrimp. A couple of tips for cooking shrimp. 1. Always use the same size shrimp or if your are using different sizes cook them separately. What I mean by this is don't mix small shrimp and jumbo shrimp when cooking them! 2. Shrimp cooks quickly and take different time depending on the size of the shrimp.
I like to sauté shrimp on high heat. It will only take three or four minutes to cook a medium to large shrimp. I think by sautéing on high gives the shrimp a better texture that is juicy and tender. When Shrimp is perfectly cook it is firm enough to curl and it has an opaque pinkish color. We grilled the shrimp for this recipe on a salt block. But the Shrimp can be Sautéed in 2 Tablespoons of Olive Oil.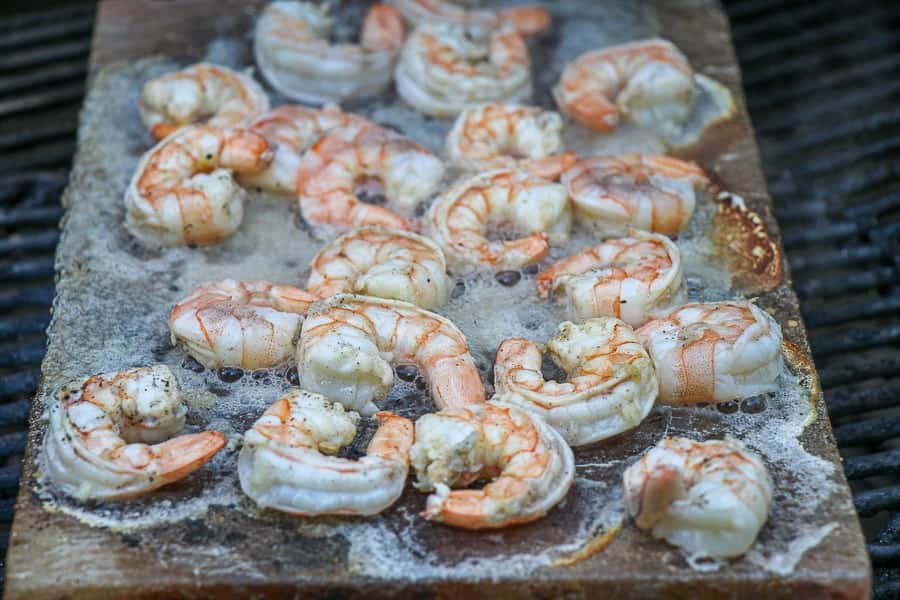 NOTE: While the Shrimp is thawing start the water for the Pasta.
Building the Shrimp Pesto Pasta Salad
Let the Pasta cool. Marinade the Shrimp in Lemon juice and Garlic. Mix together the Pesto and Ricotta Cheese. Rinse off the Cherry Tomatoes. Cook the Shrimp in Two Tablespoons of Olive Oil. Mix together the Pasta, Shrimp, Onions, Tomatoes and Pesto/ Ricotta Cheese.
Mix together and Enjoy this Shrimp Pesto Pasta Salad!!!!!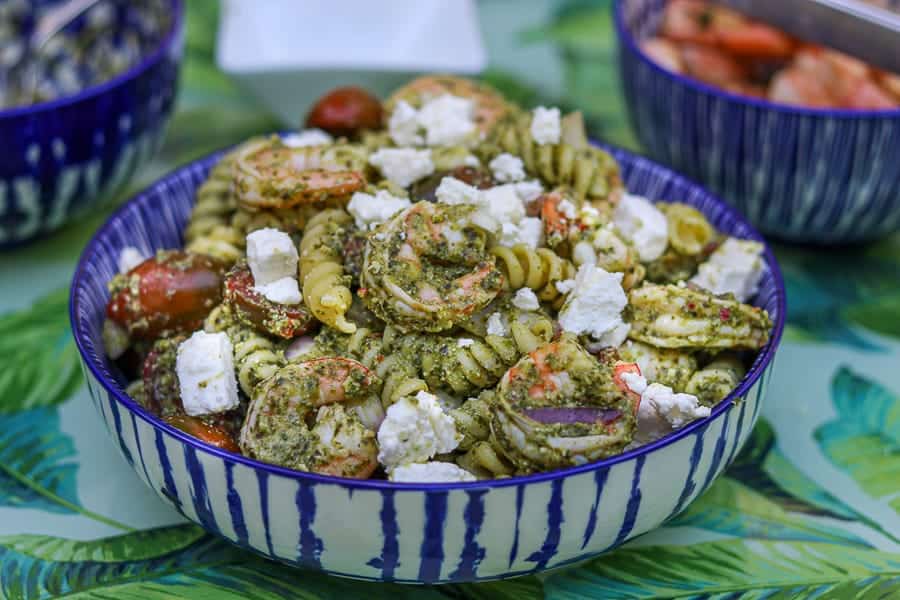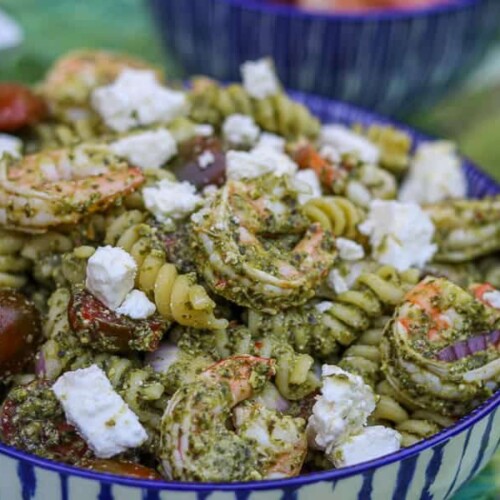 Shrimp Pesto Pasta Salad
Print
Pin
Course:
Dinner, Main Course, Pasta
Cuisine:
American, Italian
Keyword:
Pasta, Pasta Salad, Pesto, Shrimp
Author:
Belly Laugh Living
Ingredients
12

Ounces

Shrimp

1/2

Lemon

2

Tablespoon

Olive Oil

1

Clove

Garlic

8

Ounces

Pasta

2

Tablespoons

Salt

1

Cup

Pesto

1/3

Cup

Ricotta Cheese

1/2

Cup

Onion

1

Cup

Cherry Tomatoes

1/3

Cup

Feta Cheese

Optional
Instructions
Marinade Shrimp in Lemon Juice and Chopped Garlic for 15 minutes. Saute Shrimp in Olive Oil

Cook Pasta (Bring Water to Boil and add 2 Tablespoons Salt to water after it starts to boil).

Mix together the Pesto and Ricotta Cheese

Cut Cherry Tomatoes in Half

Add Cooled Pasta, Shrimp, Onions, Tomatoes and Pesto Mixture to a large Bowl

Gently Mix everything together to coat the Pasta. Add Feta Cheese. Enjoy!!!!
Nutrition
Calories:
330
kcal
|
Carbohydrates:
27
g
|
Protein:
13
g
|
Fat:
19
g
|
Saturated Fat:
4
g
|
Polyunsaturated Fat:
1
g
|
Monounsaturated Fat:
3
g
|
Trans Fat:
1
g
|
Cholesterol:
67
mg
|
Sodium:
2357
mg
|
Potassium:
192
mg
|
Fiber:
2
g
|
Sugar:
3
g
|
Vitamin A:
866
IU
|
Vitamin C:
9
mg
|
Calcium:
139
mg
|
Iron:
1
mg
Pin Recipe
The post Shrimp Pesto Pasta Salad appeared first on Belly Laugh Living.