Over the past year or so, I've tried to make fresh bread. And whether it's figuring out altitude, or using old yeast, baking fresh bread is a baking challenge I have yet to master. Fortunately, I've just discovered a new way to enjoy freshly baked bread at home in the new year – without having to deal with measuring, kneading, or rising. Wildgrain is an amazing delivery service that sends fresh bread, pasta, and pastries right to your door. In this Wildgrain review, I'll unbox my first Wildgrain subscription box and share my thoughts on the entire bread delivery experience. I also have an exclusive Wildgrain coupon code to help you save on your first box.
This is a sponsored post for Wildgrain and contains affiliate links. All opinions are my own.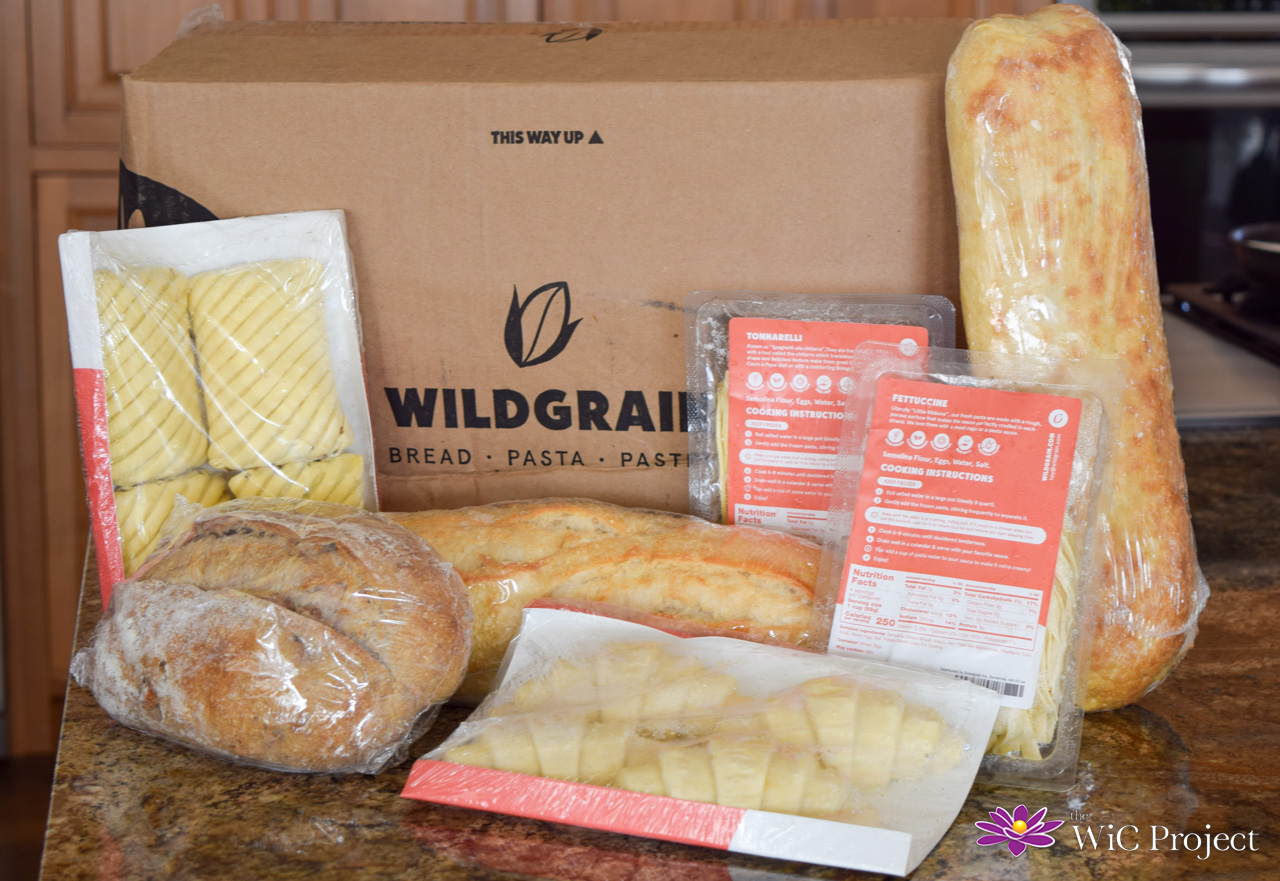 Wildgrain Box Unboxing
This was my first Wildgrain Box and I was excited to see the types of bread in the box. I can be a picky eater at times, so I wondered whether any of the breads would be too exotic for me. My December Wildgrain Box contained:
1 Sourdough Bread
1 Sourdough Walnut Bread
1 Slow Fermented Olive Oil Ciabatta
4 Chocolate Avalanche Croissants
1 package Fettuccine
1 package Tonnarelli
+ 4 Free Croissants (Sign-up by December 31st to get free croissants in each box for life!)
All of the items are bake-from-frozen, so I stored everything in the freezer until I was ready to prepare it. The breads are par-baked, so you just finished them up in the oven. Each package provides recommended cooking temperatures and times, along with nutritional information and the ingredients list. The bread bakes in under 25 minutes, so it's easy to throw a loaf in the oven as you prepare the rest of the meal.
3 Ways to Use Your Wildgrain Box
There are a variety of ways to use the items in your Wildgrain box – from sides to sandwiches to snacks. Here's how I used the items in my Wildgrain box.
Serve Freshly Bake Bread as a Side
I can't tell you the number of times I've tried to cook fresh bread as a side dish for dinner and failed. Wildgrain offered a foolproof way to serve freshly baked bread with meals. Just heat up the oven, put the loaf directly on the rack, and bake. I did notice that my oven seemed to bake things a little on the faster side, so make sure you periodically check on your bread as it bakes.
Bake Fresh Pastries for Breakfast
We usually have toast or pancakes with breakfast. After weeks, both can become a little boring. With Wildgrain, I was able to bake up amazing artisan pastries for breakfast. Again, you just keep them in the freezer and pop them in the oven when you're ready for freshly baked pastry.
The chocolate avalanche croissants were rich and filled with smooth chocolate filling. I ate these for both breakfast and evening dessert.
Cook Fresh Pasta for Dinner
In addition to their breads and pastries, Wildgrain offers fresh artisanal pasta for delivery. Just as the varieties of breads swaps out, Wildgrain sends you differen fresh pasta each month. I cooked up the fresh Tonnarelli pasta and served it with a hearty meat sauce. I also baked the Slow Fermented Olive Oil Ciabatta and served it on the side with some olive oil and balsamic glaze.
Wildgrain sends your frozen, fresh pasta. Even though the pasta is frozen, it still cooks faster than dry pasta – in just 6 to 8 minutes.
Wildgrain Box Review
Wildgrain impressed me. Every single item was delicious and full of flavor. With golden, flakey layers of pastry, the croissants had a wonderful butter flavor. Each loaf of bread baked up to perfection, with a crispy crust and soft texture.
Wildgrain introduced me to new bread flavors and varieties of pasta. I hadn't ever tried Walnut Sourdough bread before and I was surprised at how much I liked it. I found myself seeking out the little bits of Walnut, which provided pops of crunchy flavor. Wildgrain changes its box offerings each month so you'll have the chance to try new flavors throughout the year.
The fact that everything is kept frozen makes Wildgrain very convenient. This meant I could bake or cook them at my own pace without worrying whether something would go stale or moldy.
As we head into the New Year, you might find yourself looking for ways to easily add some variety or pizzazz to your meals. With a Wildgrain membership, you can easily elevate your favorite dishes and have everyone thinking you're a star baker!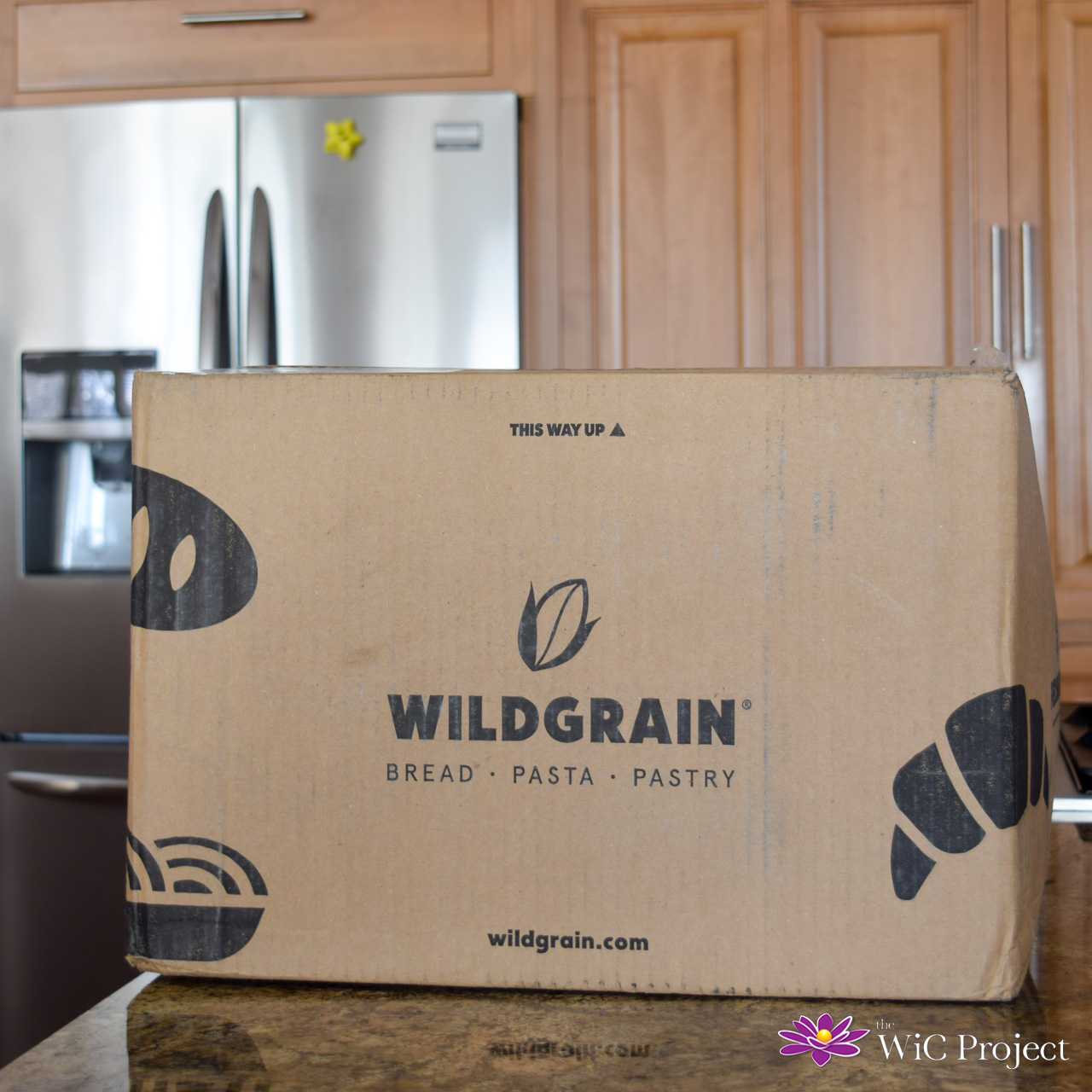 How to Buy Wildgrain
Wildgrain is a membership or subscription-based delivery service. Simply sign-up on the Wildgrain website – www.wildgrain.com – to get a bread, pasta, and pastry box delivered to your door.
Wildgrain Coupon Code
I'm excited to share an exclusive Wildgrain coupon code just for The WiC Project readers! For a limited time, take $10 OFF Your First Wildgrain Box with code WIC10. This promo code expires March 31, 2023.
About Wildgrain – FAQs
What is Wildgrain?
Wildgrain is a membership service that offers bake-from-frozen sourdough breads, artisanal pastries, and fresh pasta. Based in Bostom, MA, Wildgrain freshly bakes its products using high-quality, clean ingredients. Their sourdough breads take 26 hours to make!
How much does Wildgrain cost?
A Wildgrain subscription costs $89 per box and includes free delivery. (For a limited time, get your first Wildgrain box for just $79 when you use code WIC10.)
What types of bread are in a Wildgrain box?
Wildgrain offers Mixed Box and Baker Box options. The Mixed Wildgrain Box includes sourdough bread, hand-cut pasta, and artisanal pastries. The Wildgrain Bakery Box features sourdough bread, pastries, and breakfast baked goods. After your first box, members can substitute items in upcoming Widlgrain boxes as well as add on additional loaves for $8-$12 per loaf.
How often will I get a Wildgrain box?
You can choose to get a Wildgrain box delivered every 2 weeks, every month, or every 6 weeks. Members can easily control their box delivery frequency and subscription through their online accounts.
If you're looking for more gourmet baked goods you can have shipped to your door, check out our Gourmet Food store on Miriam's Boutique!
Keep reading on The WiC Project Lifestyle Blog & Miriam's Boutique: Home Goods, Beauty, & Fashion Store