by Aimee
My simple method shows how to make easy poached chicken for meal prep. The post includes tips for keeping it moist and recipe ideas for shredded chicken.
This won't be the most alluring recipe I've posted here, but it just might be in the top ten most practical!
Our family tends to go pretty full tilt over the summer. I take a break from work and we get busy making memories. When you live in an ocean province, it's practically mandatory to pack a picnic and head for the beach as often as possible.
During the day, I try to limit my time in the kitchen so I can be the lifeguard on duty. I meal prep in the evenings, and this easy poached chicken is a favourite life hack!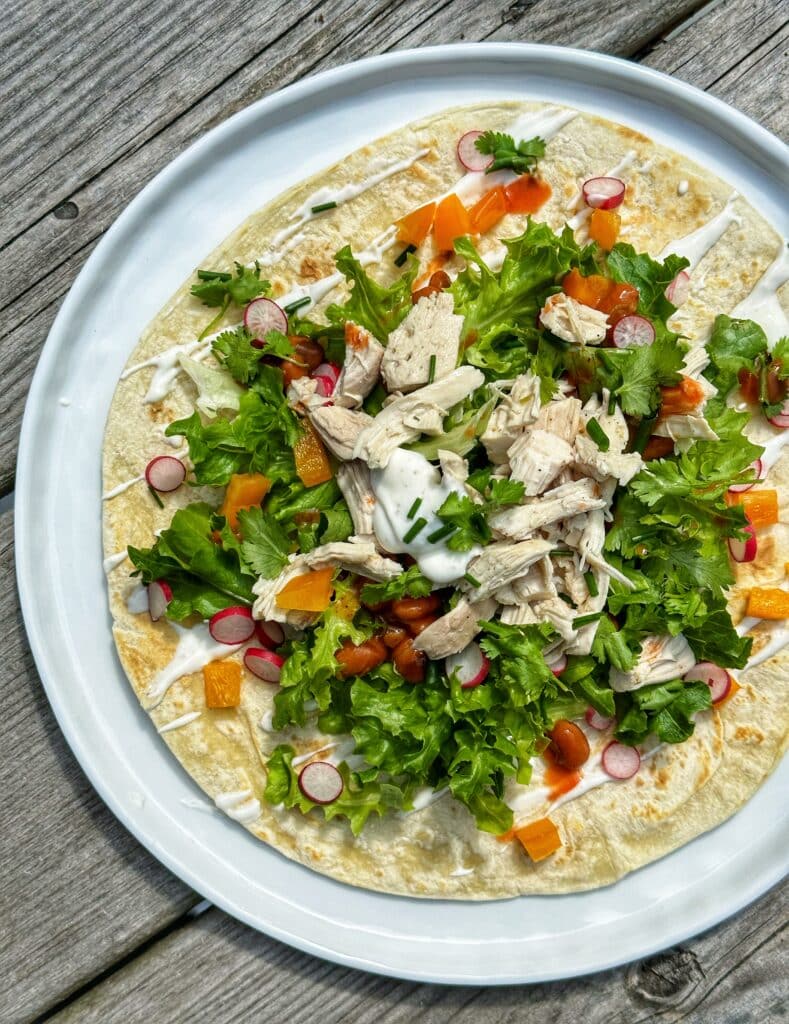 Poached Chicken is Practical
Why poached instead of roasted? There's no need to turn on an oven. My kitchen warms up very quickly in the summer and I gravitate to the stove top or the grill.
Sidebar: In winter months, I do prefer cooking a roast chicken for shredding.
As an added bonus, poached chicken leaves us with a wonderful aromatic broth. It can be used in a myriad of ways, such as Early Summer Risotto, Tortilla Soup or quick pasta recipes.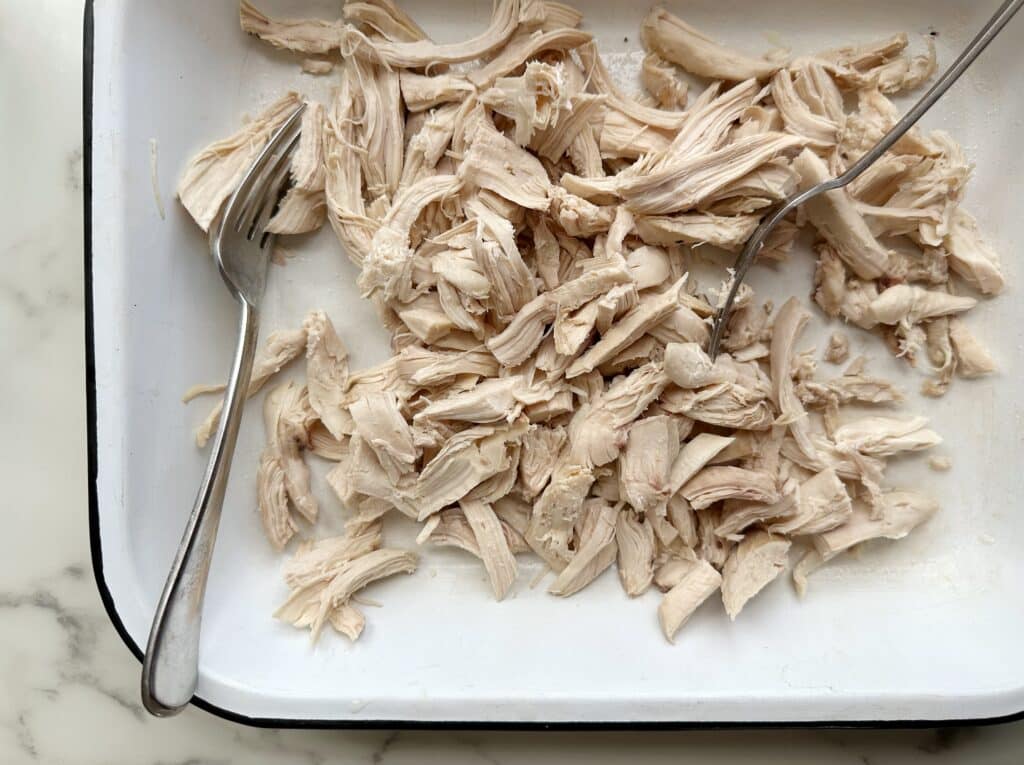 Cooking for Leftovers
You're cooking for leftovers here, much like any standard meal prep. Cooked grains, salad dressings, grilled vegetables…now poached chicken joins the line-up of extremely useful do-ahead foods.
Once I have chicken poached, cooled, shredded and in the fridge, the possibilities are endless. Read on, as I share some recipe ideas!
DIY tip: Love the idea of ready-to-eat proteins in the fridge or freezer? Make these Greek-Inspired Sheet-Pan Meatballs and freeze them by the dozen in bags. Bring them on picnics or camping trips, or serve them on your next mezze board.
Tips for Perfect Poached Chicken
Yes, this is a simple method, but there's a few tricks to the trade for absolutely tender chicken.
Bone-in and skin on yields the most tender, flavourful poached chicken. However boneless breasts are very handy. Use what you have.
Take it slow. Don't rush the process and NEVER let the water boil.
Use a meat thermometer to get that perfect internal temperature of 160F.
Cool the chicken OUT of the poaching liquid; you don't want it to over cook.
Store the chicken IN the poaching liquid. This keeps it from drying out in the fridge or freezer.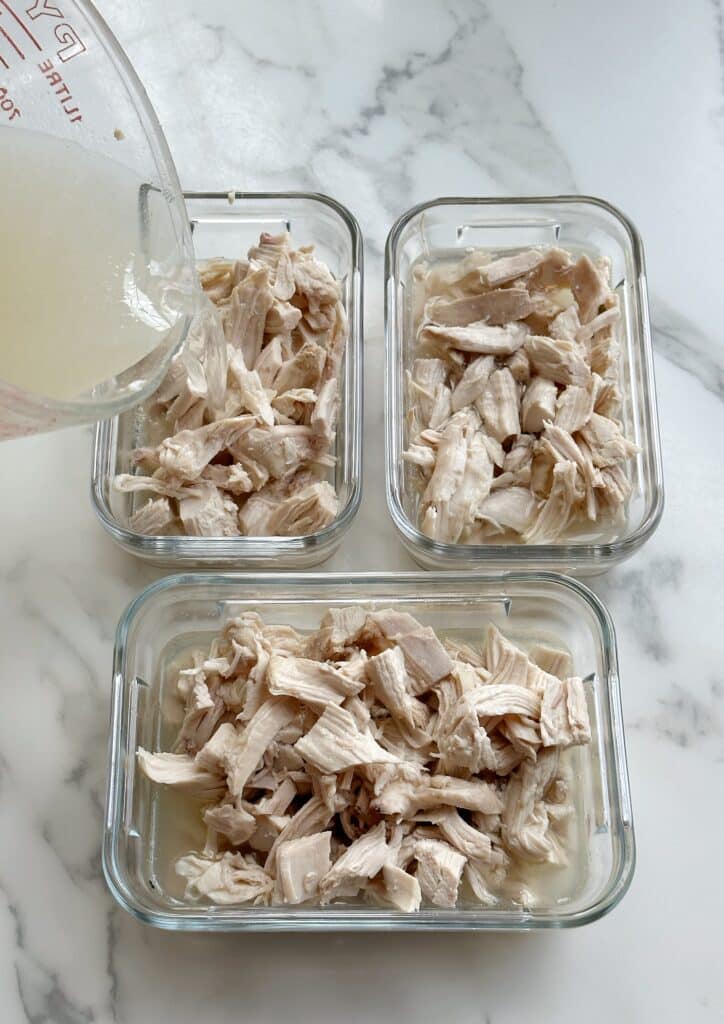 Uses for Easy Poached Chicken
Poached, shredded chicken is endlessly versatile, as I demonstrate below! It's great for tucking into wraps, topping grilled pizza, bulking up a salad or finishing off a pasta.
And my Montreal-born children would agree, poached chicken is perfection on a homemade poutine. Here are some more ideas: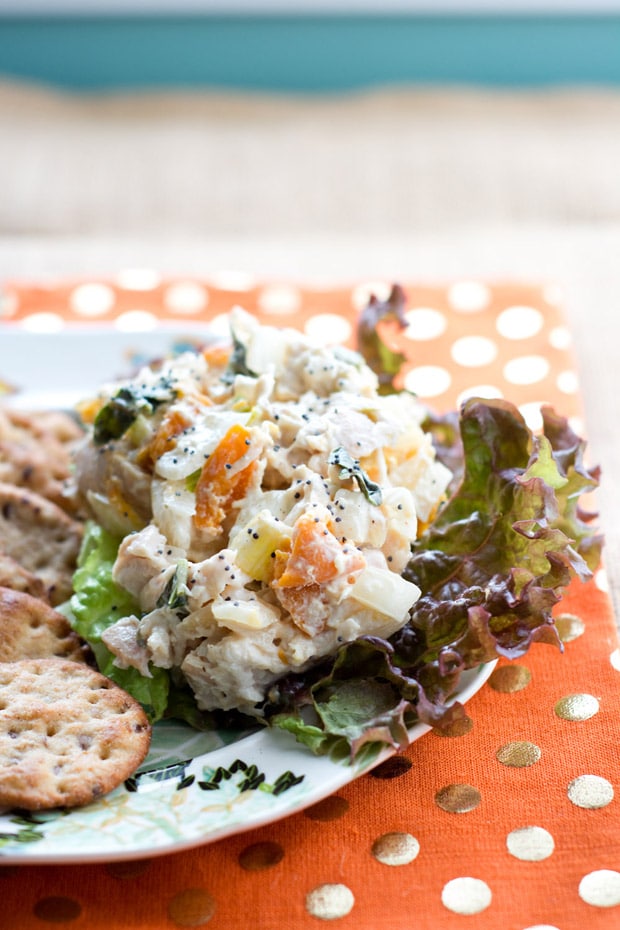 Chicken Salad – this has to be the most obvious! I like mine open faced. Apricot Basil Chicken Salad is a fun twist on this sandwich favourite.
Taco Salad – we love this Middle Eastern Taco Salad with Roasted Chickpeas & Tangy Avocado Dressing
Chicken Tortilla Soup – Soup on a rainy day is a comfort, especially when it is full of seasonal vegetables. This Harvest Tortilla Soup is a summertime favourite, especially when fresh corn and zucchini abound.
Chicken Power Bowls – Top my Quinoa Power Bowl Base with shredded poached chicken for a nourishing, well-rounded meal. This is a great picnic meal.
Layered Salads in Jars – I make these year-round, but spring/summer salads in jars are a favourite. Start with the chicken on the bottom and build from there.
Tossed with Pasta & Pesto – For a quick dinner, I toss poached chicken with pasta and homemade pesto for a quick hot or cold meal.
Wraps/Burritos: With flour tortillas and this easy poached chicken on hand, you're minutes away from enjoying a delicious wrap or burrito. Add in lettuce, salsa and cheese for a quick lunch.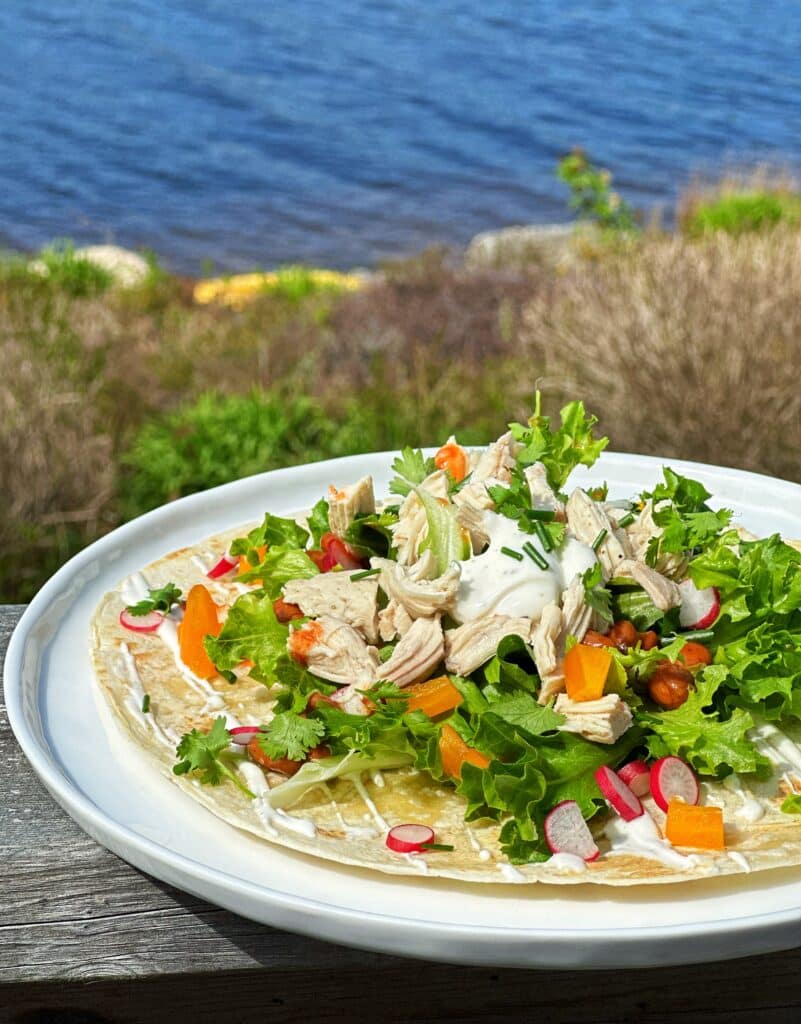 Easy Poached Chicken for Meal Prep
This is life hack because it is SO simple and SO practical. See my suggested alternative flavourings for poached chicken below this recipe.
Print
Poached Chicken
A practical staple for quick, nourishing meals. Simple to prepare and ready in just 20 minutes.
Ingredients
2

large

chicken breasts

bone-in, skin-on

2-3

cloves

garlic

skin on

4

whole

peppercorns

1/2

teaspoon

kosher salt

2

small

bay leaf

1

medium

carrot

peeled and chopped

1

stalk

celery

optional

1

bundle

herb stems

optional
Instructions
Place all of the ingredients in a medium pot. Cover with one inch of cool water.

Place the pot over medium heat and bring to a LOW simmer – look for tiny bubbles to form around the edges of the pot and white foam to float to the top. You want between 170°F (77°C) and 180℉ (82℃). Measure it! When you are at 170℉, reduce the heat to low.

Maintain this low 170℉ poaching temperature for about 18-20 minutes. Keep an eye on the pot (I multitask in the kitchen), keeping it low and slow.

With an instant-read thermometer, measure the chicken breast in the thickest part. It should read 160℉ (70℃). Poach for a few minutes longer if it's not quite there yet.

Remove the pot from the heat and carefully lift out the chicken, transferring it to a dish to cool. Let the breasts rest for a bit, and when cool, remove the skin and shred the meat off the bone with a fork.

Strain and reserve the poaching liquid. Divide the poached chicken among reusable container and top with poaching liquid to help it stay moist. Cool completely, then cover and refrigerate.

Poached chicken will keep, refrigerated, for up to 4 days. And up to 6 weeks. frozen.
Notes
Use bone-in, skin-on for the most juicy and tender poached chicken.
Don't boil the chicken! Keep an eye on it and don't let the water ever bubble.
Use a meat thermometer to achieve the perfect temperature.
Flavourings for Poached Chicken
The Classic
Salt, pepper, garlic, bay leaf – a great all-purpose chicken.
The Mediterranean
Oregano, thyme, white wine, shallots or leeks…add a splash of white wine if you have a bottle open. Use this chicken for gyros or pita wraps, pesto pastas, and European-style sandwiches.
The Southeast Asian
Lemongrass, ginger, scallions – so delicious for flavouring chicken to add to rice noodle salads or soups.
How would you use poached chicken? Share a favourite meal hack in the comments.
Original article: Easy Poached Chicken for Meal Prep