Healthy comfort food is here! Make this kid-friendly one-pot chicken and rice dinner for a deliciously creamy and balanced meal full of whole grains, protein, and veggies.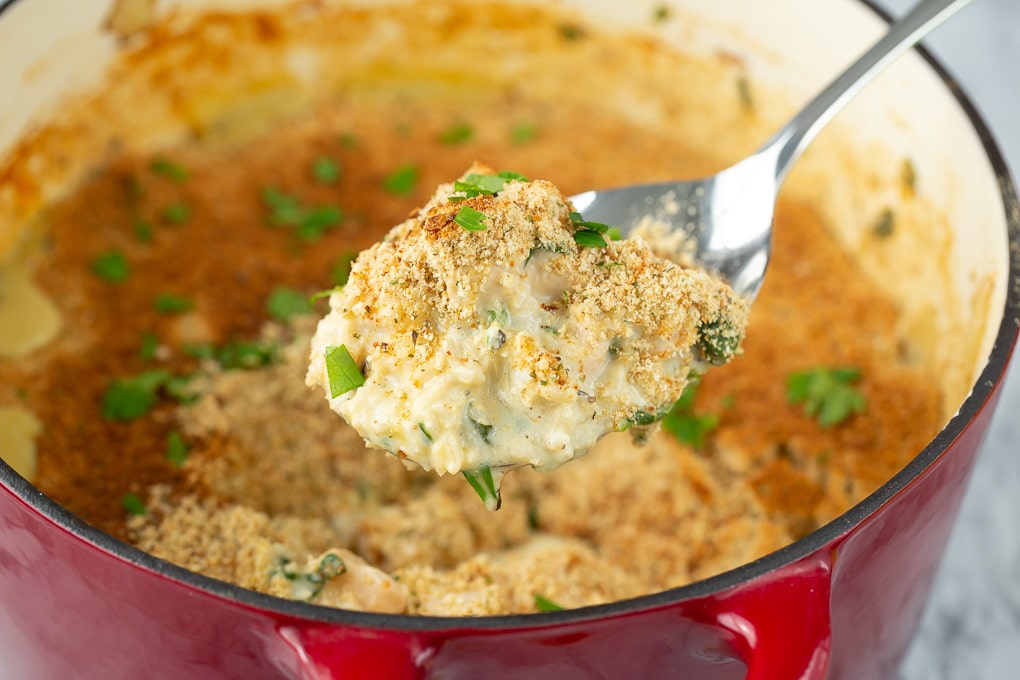 Its a definite yes.
Its like a party in my mouth!

These are actual quotes from my kids during dinner when I served this cheesy chicken and rice. And I have to agree!

This comforting one-pot meal has everything we look for in a dinner recipe. Its easy to make, super yummy, and it has a balance of veggies, protein, whole grains, and fat.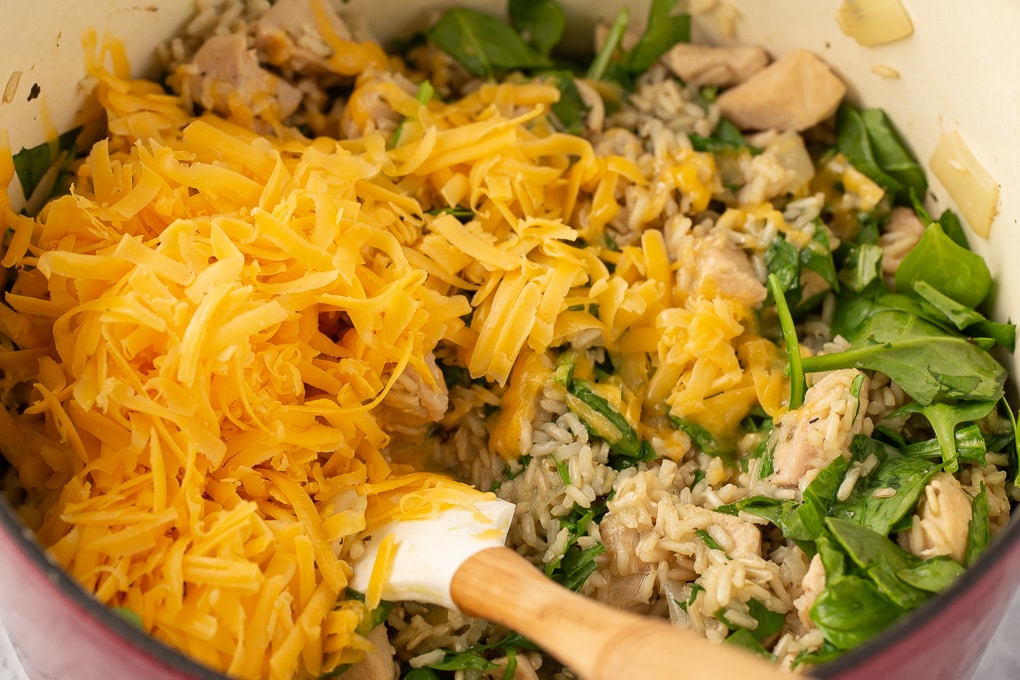 How to Make Cheesy One Pot Chicken and Rice
To start, get yourself a 12-inch deep-sided oven-safe skillet with a lid. (A pot like the one pictured will work, but Ive found youll get better toasty breadcrumbs with a skillet. Just choose a deep-sided skillet so you have room for the whole meal!)
Cube two chicken breasts and cook them in the skillet with a tablespoon of olive oil. Turn them every couple of minutes so they brown nicely on all sides.
Then, add the onion and saute a few minute more, until they start to turn golden. Toss the garlic in for 30 seconds.
Next youll add the broth, rice, and dried herbs. Cover the skillet and let it simmer to get the rice cooking.
While the rice is simmering, grate your cheese and roughly chop the spinach leaves. (I like to chop the leaves even when I buy baby leaf spinach. It helps my picky eaters get on board with the green stuff in their dinner!)
When the rice is just cooked, stir in the baby spinach, cheddar, and sour cream. Spread the one pot chicken and rice mixture flat in your skillet, and sprinkle some bread crumbs on top.
Pop the whole skillet under the broiler for a few minutes so you get a toasty, crunchy topping. Then serve!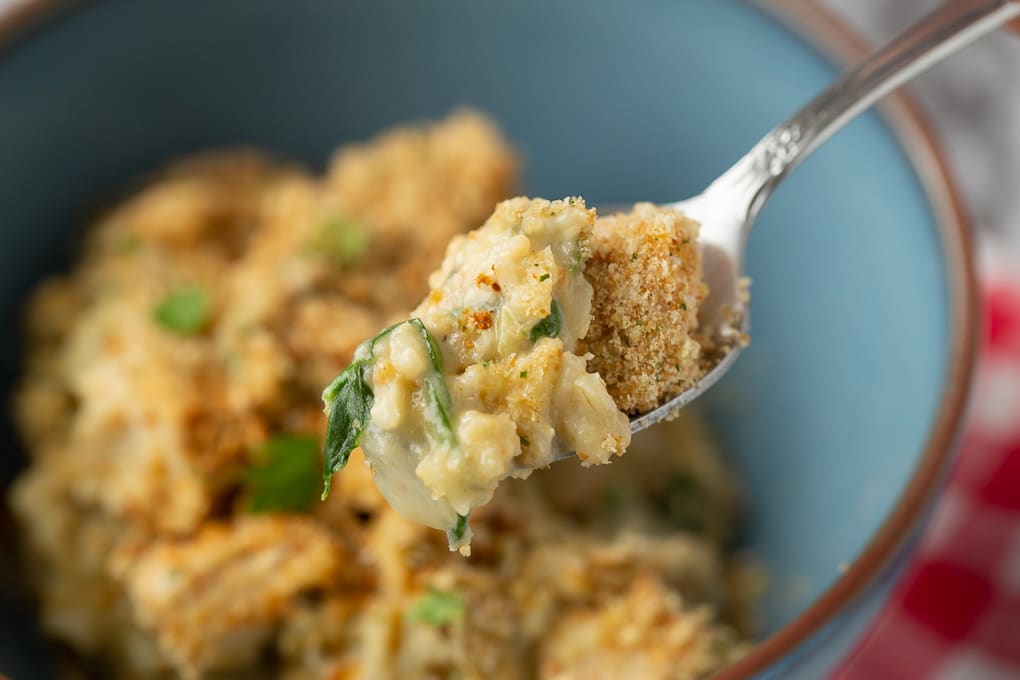 What to Serve with One Pot Chicken and Rice
Since this dinner is filling and rich, we like to serve it with a crisp green salad and/or fresh fruit on the side.
Tips for Storing and Serving Leftovers
This dish keeps well in the fridge or freezer! If youd like to keep the crispy topping, reheat in the oven at 375 for about 20 minutes, or until heated through.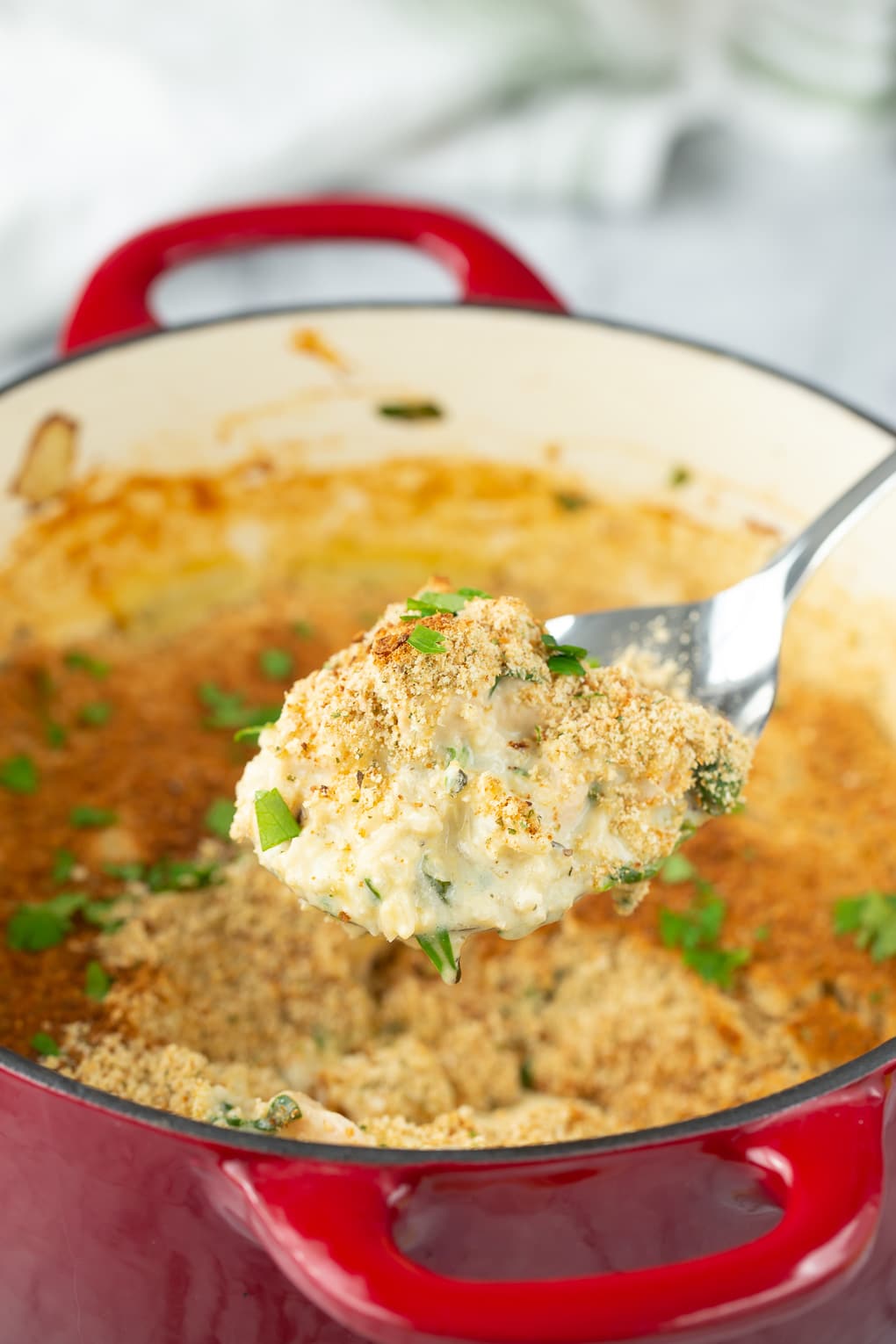 More Tasty One Pot Meals
One Pot Lentils and Rice
Tangy One Pot Chicken and Veggie Pasta Dinner
One Pot Mexican Quinoa
Print
One Pot Cheesy Chicken and Rice (with Spinach)
Ingredients
2

chicken breasts

1/2

onion

diced

2

cloves

garlic

minced

1

cups

brown rice

raw

3

cups

chicken broth

teaspoon

dried basil

teaspoon

dried oregano

teaspoon

dried thyme

4

cups

fresh baby spinach

tightly packed

2

cups

grated sharp cheddar

1

cup

soup cream

1

cups

whole wheat bread crumbs
Instructions
Cube the chicken breasts. In a 12-inch deep sided skillet, drizzle a tablespoon of olive oil and set it over medium-high heat. Cook the cubed chicken, turning occasionally, until starting to turn golden on all sides.

Add the diced onion and saute 5 more minutes over medium-high.

Add the minced garlic and saute 30 seconds.

Add the brown rice, chicken broth, and dried herbs. Stir once, then cover and reduce the heat to a simmer for 30 minutes or until rice is done, or nearly so.

Roughly chop the baby spinach, and stir into the cooked chicken and rice mixture until just wilted.

Stir in cheddar and sour cream, then use the back of your spoon to spread the mixture flat.

Sprinkle bread crumbs on top of the dish and broil 4-7 minutes until toasty brown on top. Serve hot.
The post Cheesy One Pot Chicken and Rice (with Spinach) appeared first on Super Healthy Kids.