When and from whom did you learn about cooking? Do you have any early memories of something you enjoyed cooking?
I started cooking when I was 12 years old and it all started because as a family we used to watch Jamie Oliver once a week. We didn't watch a lot of TV but it was one of those awesome moments when we all discussed things about recipes and ideas. Dad came up with the idea of wanting us to learn the life skill of cooking and so he created a roster for us to take it in turns to cook for each other. My cooking adventures never started from someone showing me what to do, rather i was self taught. Looking at recipes working with flavours… I loved it and I loved what it created… it brought people closer together… i then decided to write my first self published cookbook and thats when things in my food life started to do its thing

Where did it all begin? What was your first job in a professional kitchen and how do you think this helped get you where you are today?
To be honest it took me a number of years to actually work in a professional kitchen and I was technically running it hahaha. When i was younger I wanted to be a chef but then as a grew into the understanding of the job i didn't like the idea of the long days of cooking the same things over and over again out the back of a kitchen. I loved being creative and thought it was awesome to be calling myself a cook

but then I got to the point where i wanted people to be tasting my food as i loved the thought of making people happy and their stomach of course

So I got involved with a friends place who wanted to start doing food and I created the menu and worked every day

So in short i went from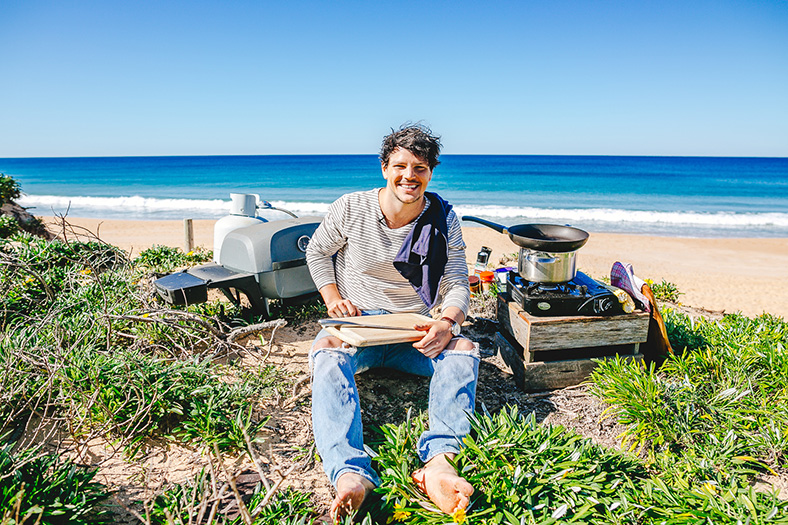 What is one of your favourite ingredients to use in your dishes and why?
Oh wow i seriously have so many for plenty of different reasons… I love cashews for the richness and texture they can add to things… Sweet potato for their versatility and depth of flavour, lemons for their freshness and ability to draw out flavour on the palette, cacao because it simply tastes like chocolate… despite a lot of my cooking being predominantly gluten free i am very much inspired by the culture of Italy and love getting my hands dirty so working with flour is something I really enjoy… Coconut milk is so refreshing yet it can add richness and that comfort epicness we all love… To be honest if you go into my pantry and fridge you will always see an array of ingredients. I am a kid in a candy store at markets as i love learning about all the produce and what you can do with it

What is your favourite dish to cook? Do you have a favourite that you like to eat yourself?
This is like asking an italian Nonna who her favourite grandchild is…. There are sooo many dishes i love to create, I get up early as I have a lot do to in my day and the reason I can get out of bed so easily is that I am really excited to eat breakfast

I think if i had to say to cook it would have to be of sentimental value and growing up I loved cooking a traditional spaghetti bolognaise from scratch for the family (yes it is a simple dish but it means so much to my family and I)… I would make the pasta and use fresh herbs for the sauce and then there would be absolute silence around the dinner table

What regional dish stands out to you and should represent your region of the UK? What do you think makes dishes in your region unique from others?
Being from Australia i havent been fortunate to really learn much about the regional dishes of the UK, you have the obvious in Haggus from scotland, or guiness pie from Ireland. Yorkshire pudding is always going to be a well known one but its something i really want to get out and experience when I travel and do a show there. One of my fondest memories of the UK is Borough Markets.. honesty one of my favourite places in the world… i could stay there for days looking at local produce seeing visionary techniques from across the world, smell the aromas of amazing ingredients. To me this is the UK in that it takes on a strong multicultural understanding. I loved Brick Lane and the curry you can find there… I can't wait to come back and show the world

Have you ever cooked for any celebrities or famous faces?
Yeah I have but these ones are probably best kept under wraps

Do you have any funny or embarrassing kitchen stories to tell?
hahah Yeah i was doing a demonstration for a morning show on Channel 10 in Australia…I was showcasing the awesomeness that is Corn Fritters… but after checking with the production crew on getting ingredients and lay out sorted they forgot to turn the stove on and as morning TV is live my batter just stayed as corn batter. It was all good though as I explained what you get how it all works and it was a lot of fun and games hahahah
Is there a celebrity chef who inspires you or has inspired you from the beginning of your career? Why does this person inspire you so much?
I would be lying if I didn't refer to Jamie Oliver in this light. To date he still inspires me like no other. A serious legend. I started cooking because my family and I loved watching him do his thing. There are so many ways he showcases what food is… Simple. From the first thing i ever saw him create has always made cooking fun and for that reason it got me kick started with my love for food. What is super cool is the fact that with what he has achieved you can see him turning towards education and getting those to understand how to live a happy healthy life. I have completed a Masters in Exercise Science (Strength & Conditioning) as well as being a health coach for a number of years, so its great to see someone with such respect to be talking about an approachable away of looking at achieving a happier life. I am here to be me and inspire the world to be happier, but for me I will always look up the legend that is Jamie Oliver
Do you have any final advice for someone just starting to cook? 
People are often intimidated by the understanding that cooking is too hard or too time consuming, but to be honest cooking is seriously simple and anyone can do it. Not to mention the time it can take to do things are that quick. My advice would be to use resources such as books, online, social media to find things that interest you… Keep it basic early on and pick up the techniques of controlling the heat, which is just as simple as saying if its too hot just turn it down or remove the pan from the heat. The resources should be looked as a guide and a lot of people are different but start out by reading and practicing whats in them, from there adjust the recipes to your liking and never feel like you cant deviate off a path to what that suits or interests you. As you get better at understanding on how to cook with certain produce you can learn to shop without a recipe and go off the back of your experience. Then you can start to play awesome games with yourself and take $10 to the shop and see what you you can cook up for 3 people, or you can only cook things that are green or that are on special… its amazing what we can do in this world 
Website: www.danielchurchill.com.au
Instagram: @dan_churchill
Youtube: www.youtube.com/danchurchillcooks
Twitter: @churchill_dan
Facebook: www.facebook.com/danthehealthycook