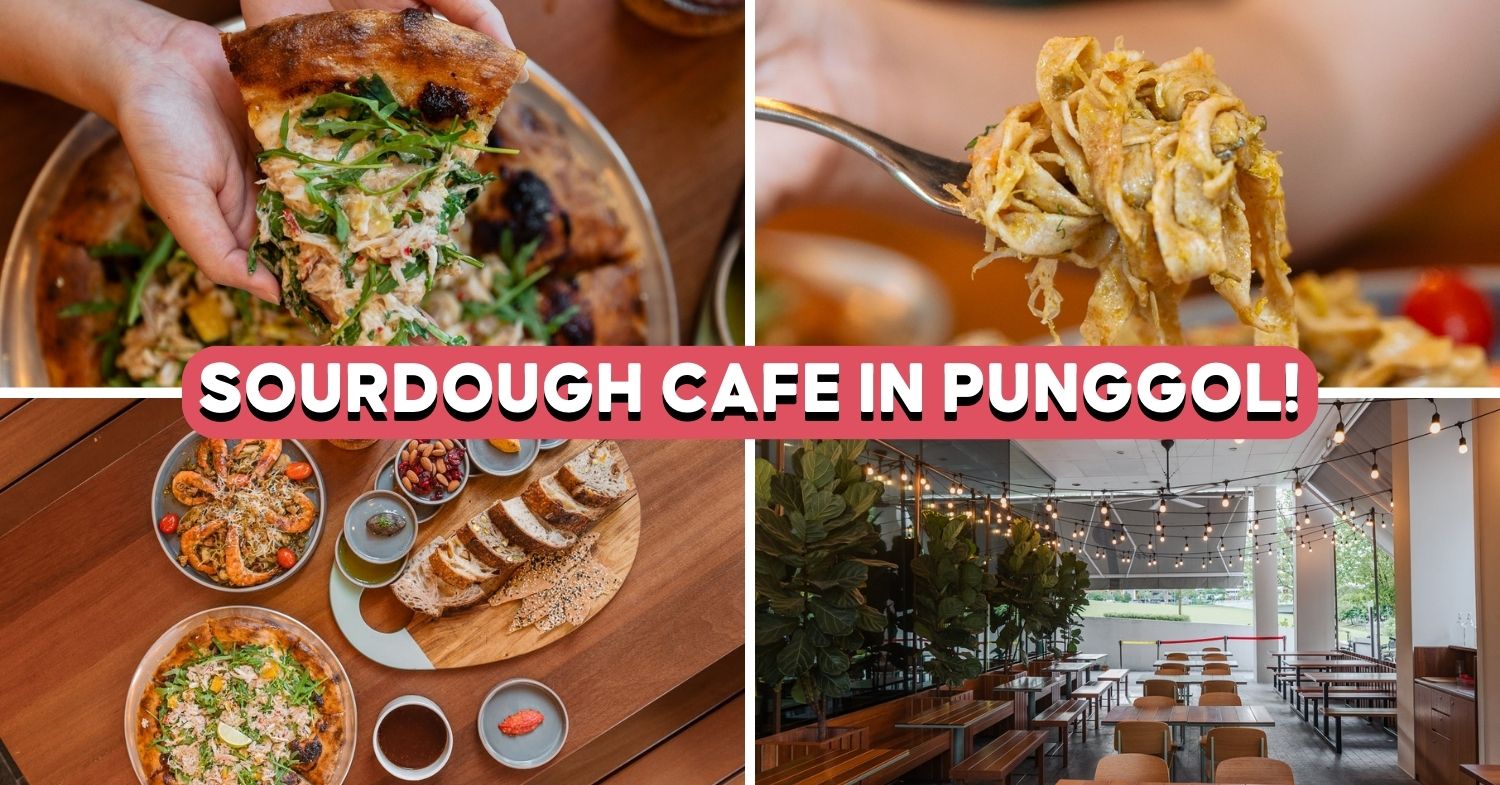 Anna's Sourdough is a sourdough specialty cafe in Punggol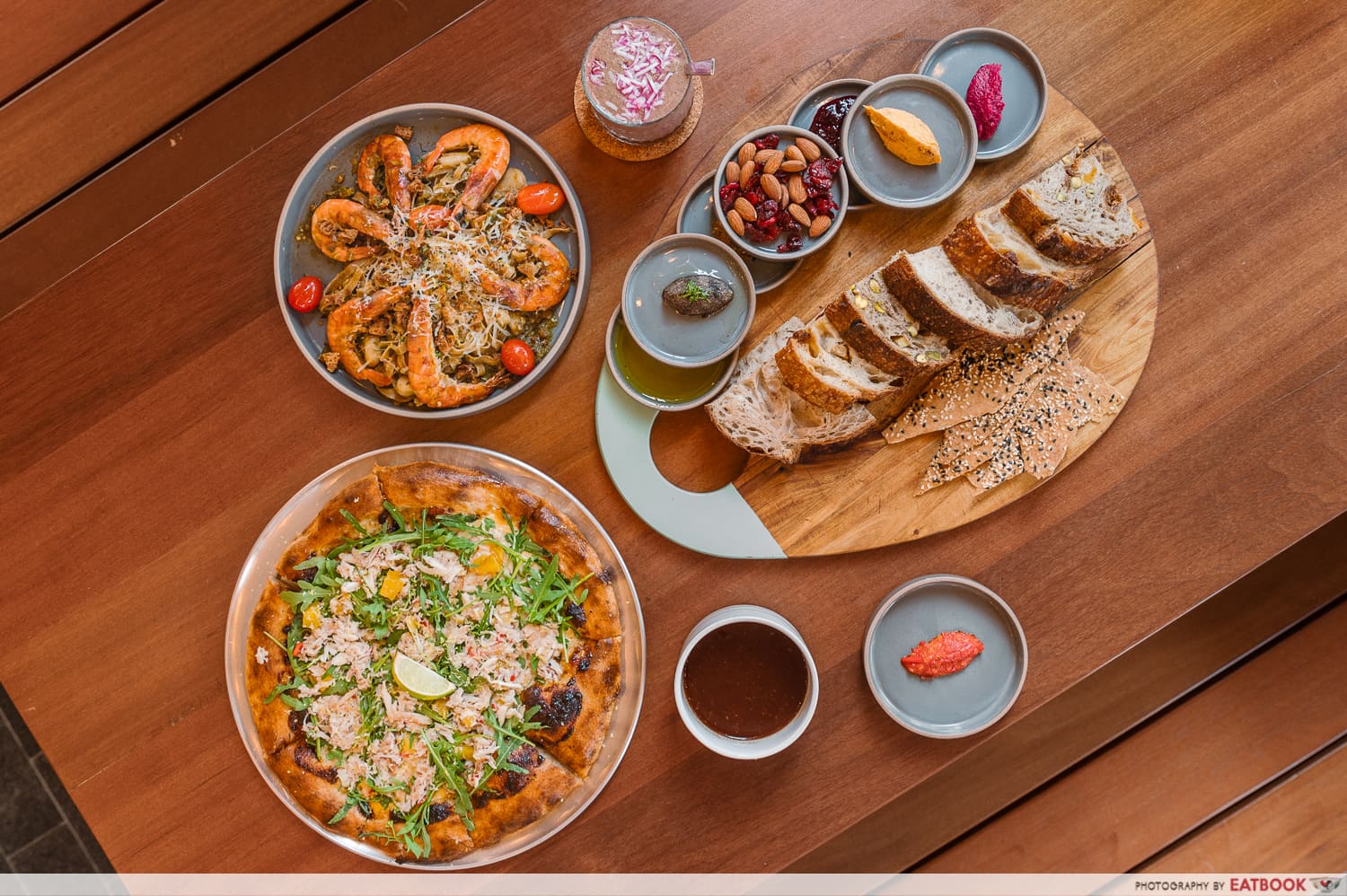 My colleagues know me for my catchphrase, "I love carbs." So when I was tasked to visit Anna's Sourdough, a cafe in Punggol that's known for their sourdough-based dishes, I was pretty psyched. I'd been there before, and enjoyed their brunch offerings; this time, I was excited to give their dinner menu a shot.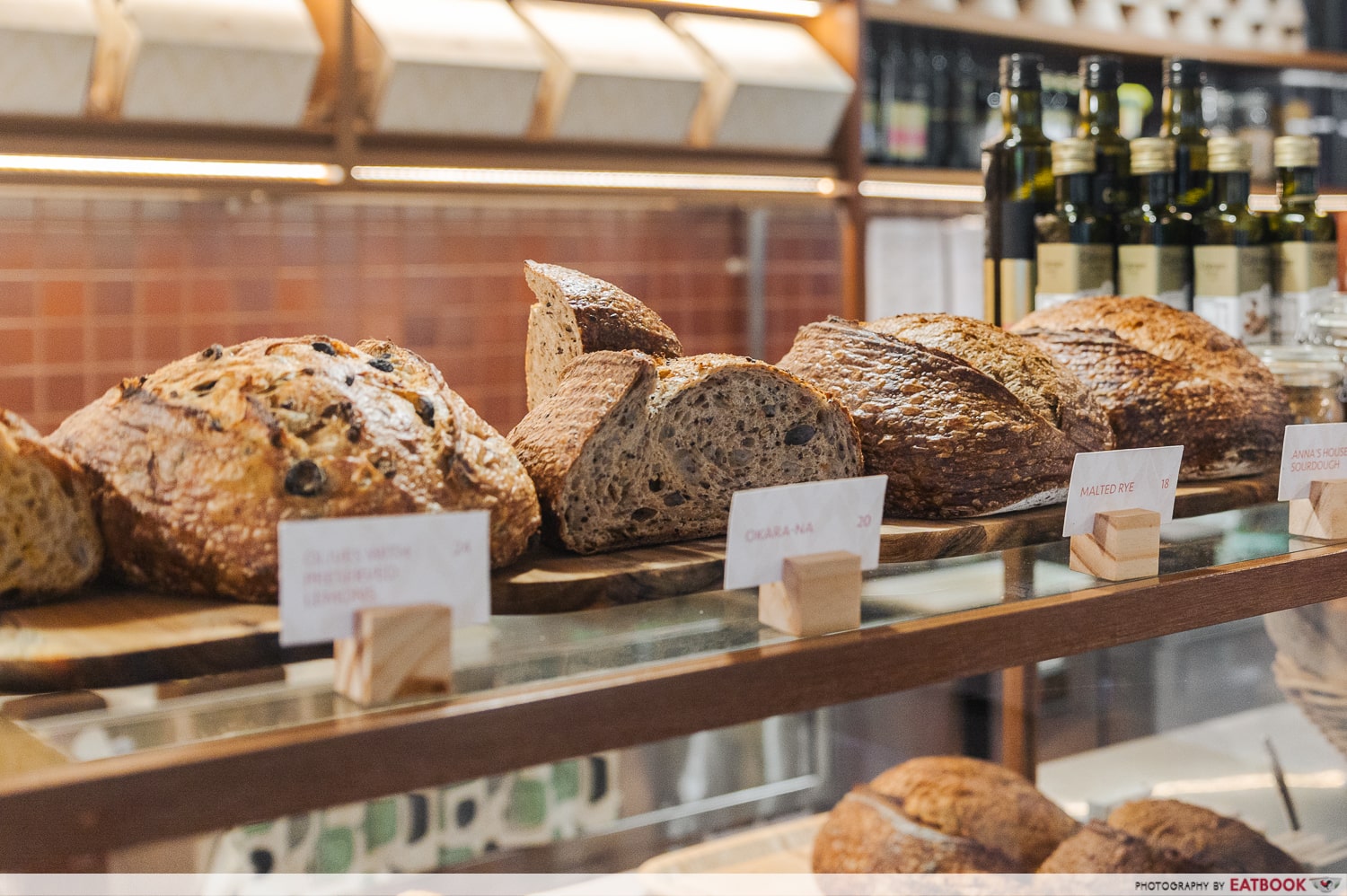 To be clear, Anna's Sourdough doesn't just sell sourdough bread—that very bake that everyone and anyone was trying their hand at during the Circuit Breaker two years ago. Their menu also features pastas, pizzas and drinks that are made with their house-made sourdough starter━which is essentially a fermented blend of freshly milled flour and water. 
These sourdough foods are said to retain good bacteria and nutrients that promote gut health, and thus are meant to be preferable to the non-sourdough versions. 
All the bread here is freshly baked, as you might expect. You'll also find different butters and dips that are either prepared in-house or supplied by an external kitchen. Since the cafe is owned by Anna Lim, co-founder of Soup Spoon, you'll also get to enjoy the chain's comforting and tasty soups here. 
Food at Anna's Sourdough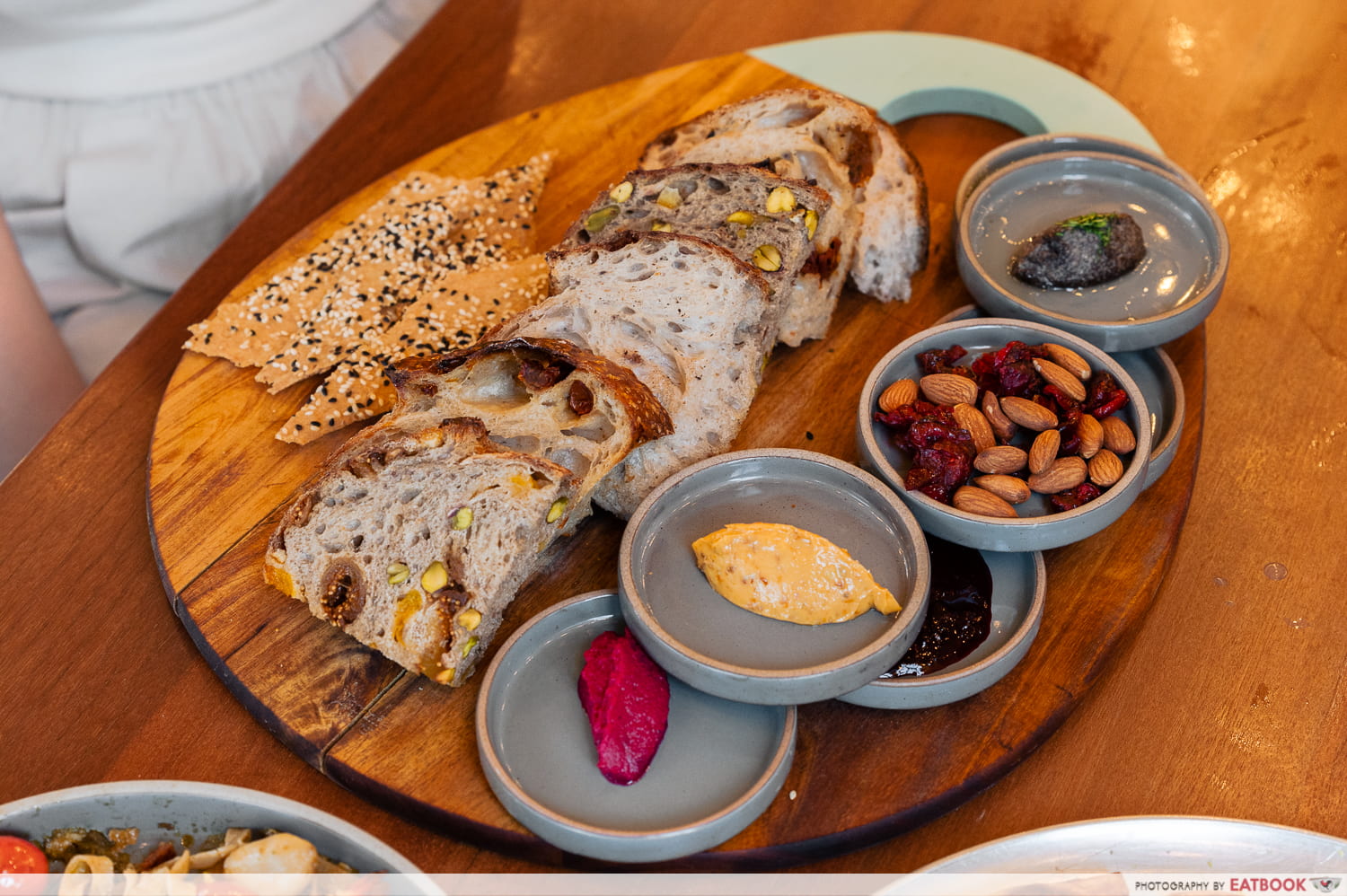 We ordered the Dribs and Drops Diversity Board ($20++), which is available till 4:30pm daily, so we could try the various breads on offer. The six slices of sourdough toast come with sourdough crackers, six different dips, and a mix of dried fruits and nuts.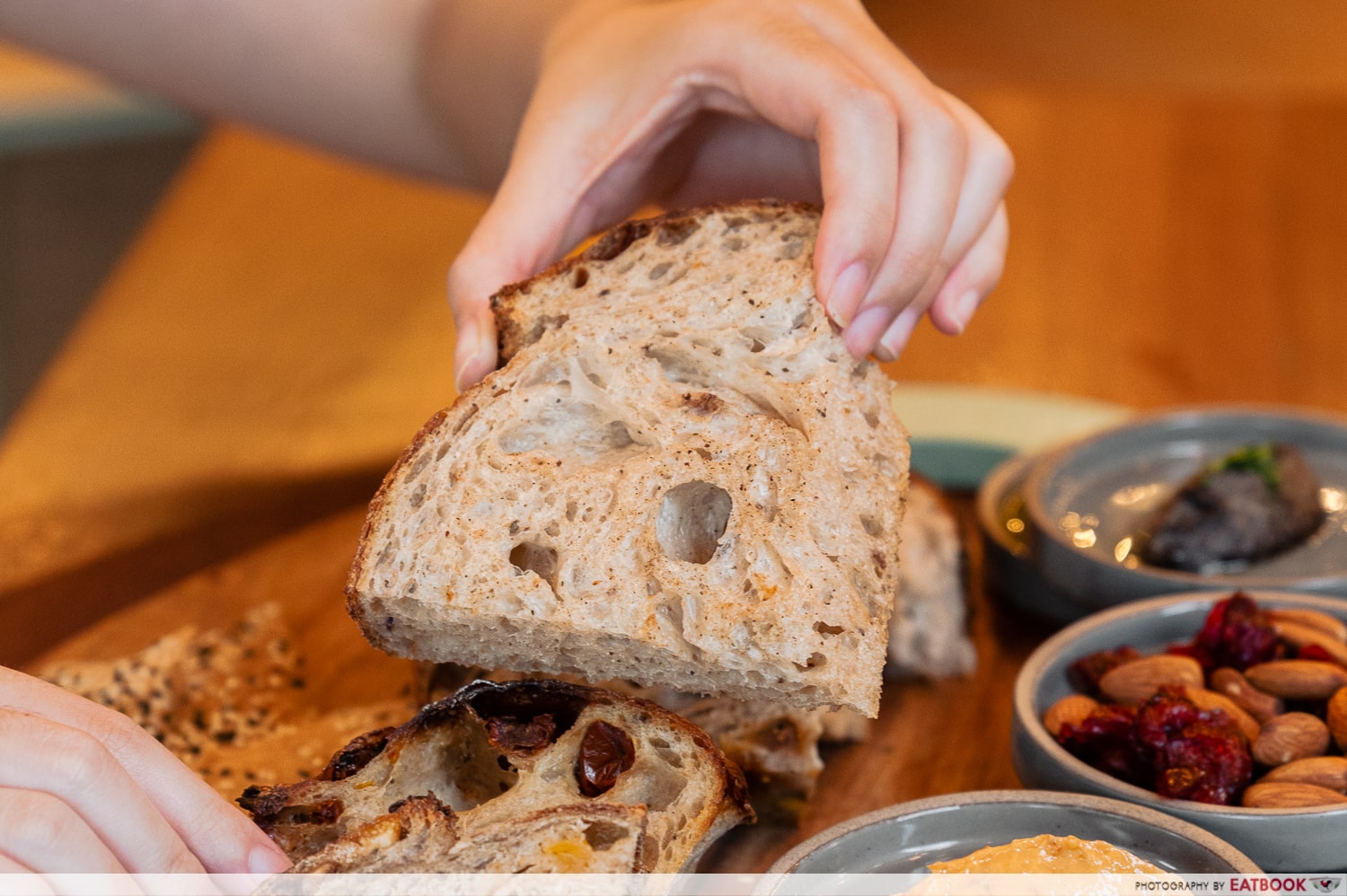 The sourdough variety typically includes Anna's House Sourdough, Malted Rye, and Sourdough of the Day. Perhaps it was because we ordered off the dinner menu, but we had a combination of House Sourdough, Sunburst Sourdough and Turkish Delight Sourdough instead. 
We started with Anna's House Sourdough, which is made with 20 types of grains and dried botanicals. As with the other sourdough slices, I found it chewy and lightly nutty, with a hint of that typical sourdough tanginess.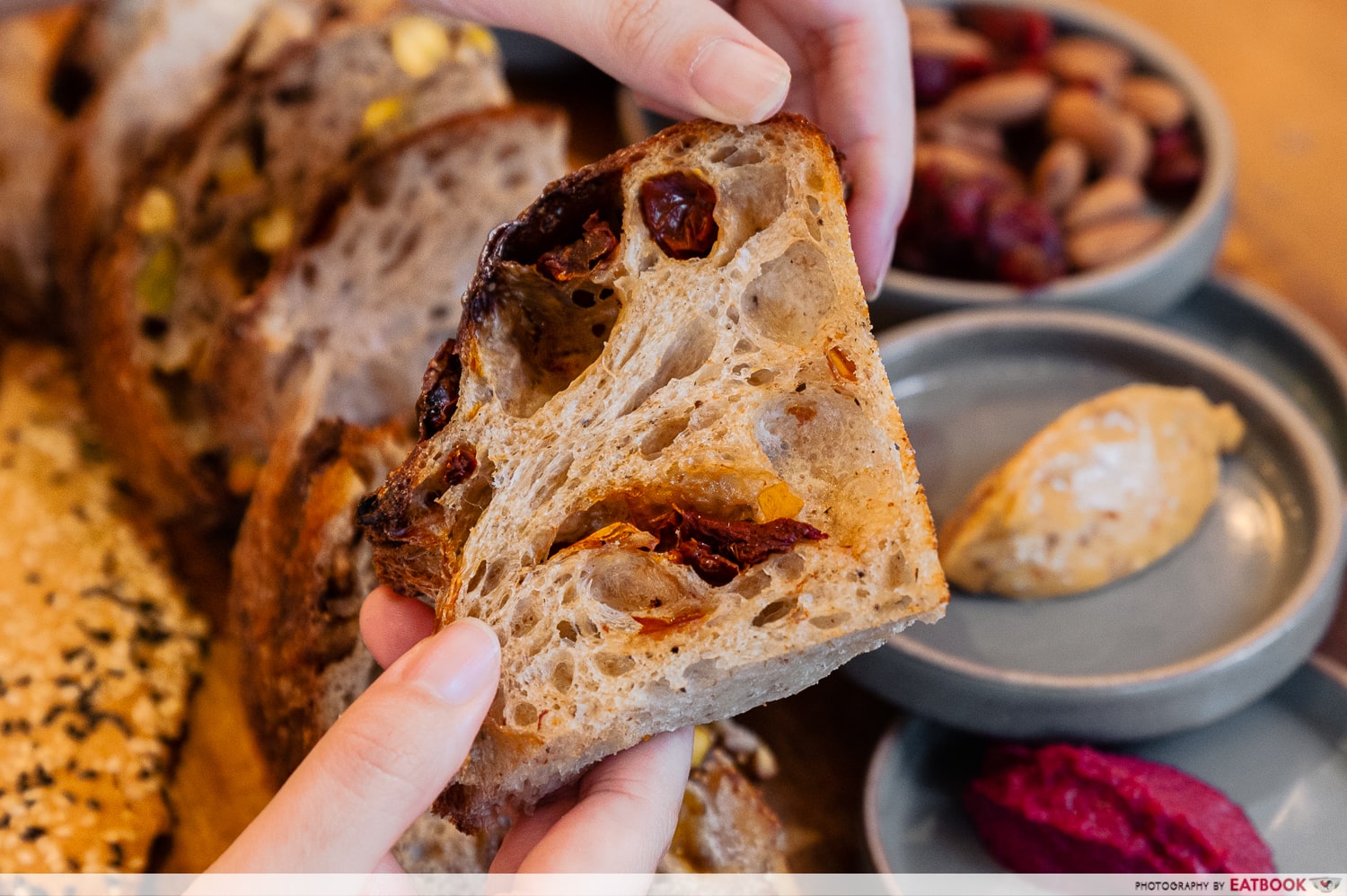 Meanwhile, the Sunburst Sourdough is studded with sun-dried tomatoes, rosemary, and garlic confit, making for savoury, umami flavours.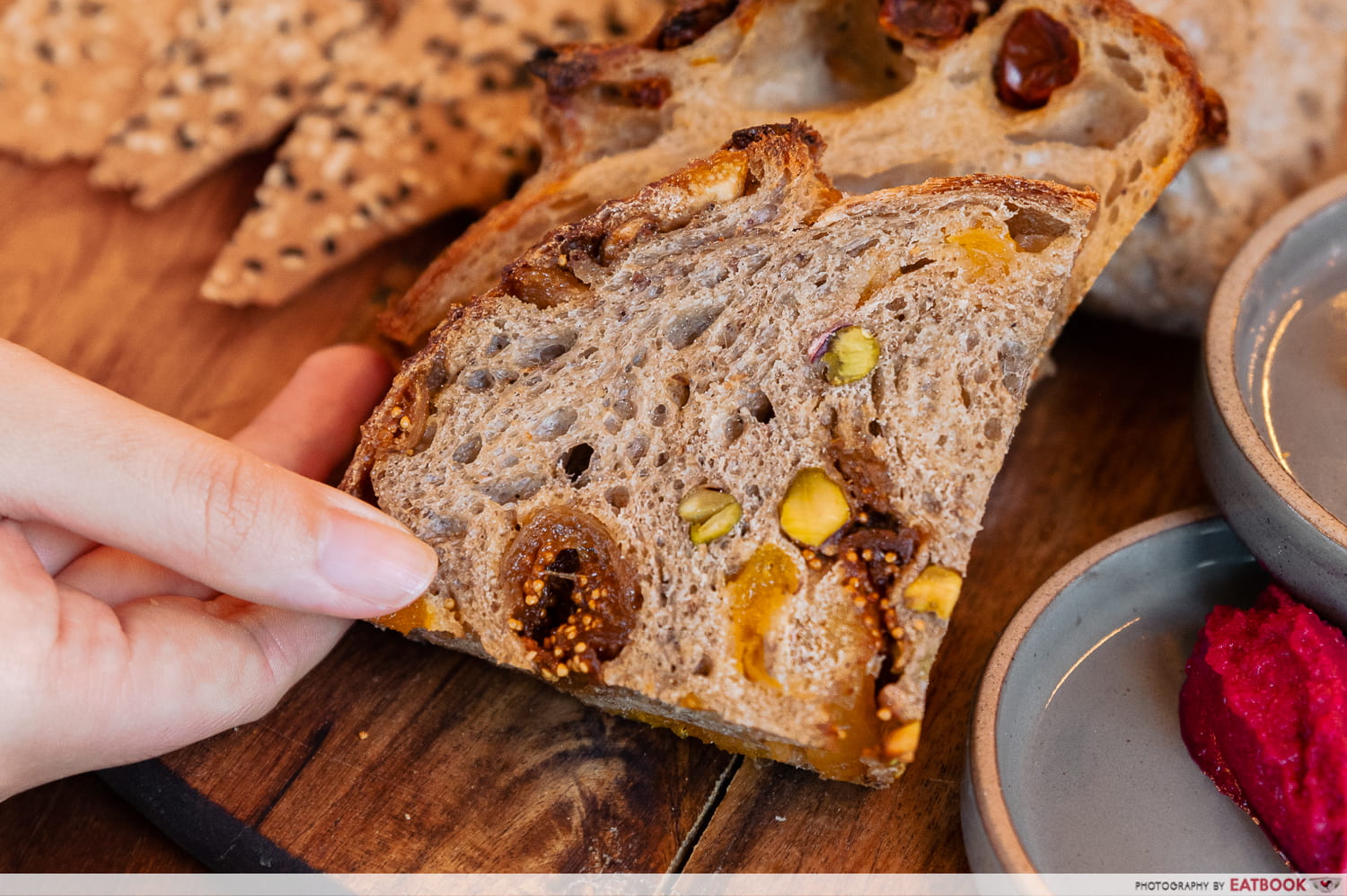 I'm not a fan of sweet dried fruits and nuts, but I see how others would enjoy the Turkish Delight Sourdough slices, packed with figs, apricot, and pistachio for an interesting mix of sweet, nutty, and earthy notes. I was particularly intrigued by the use of pistachio, rather than the typical walnut, in this bread.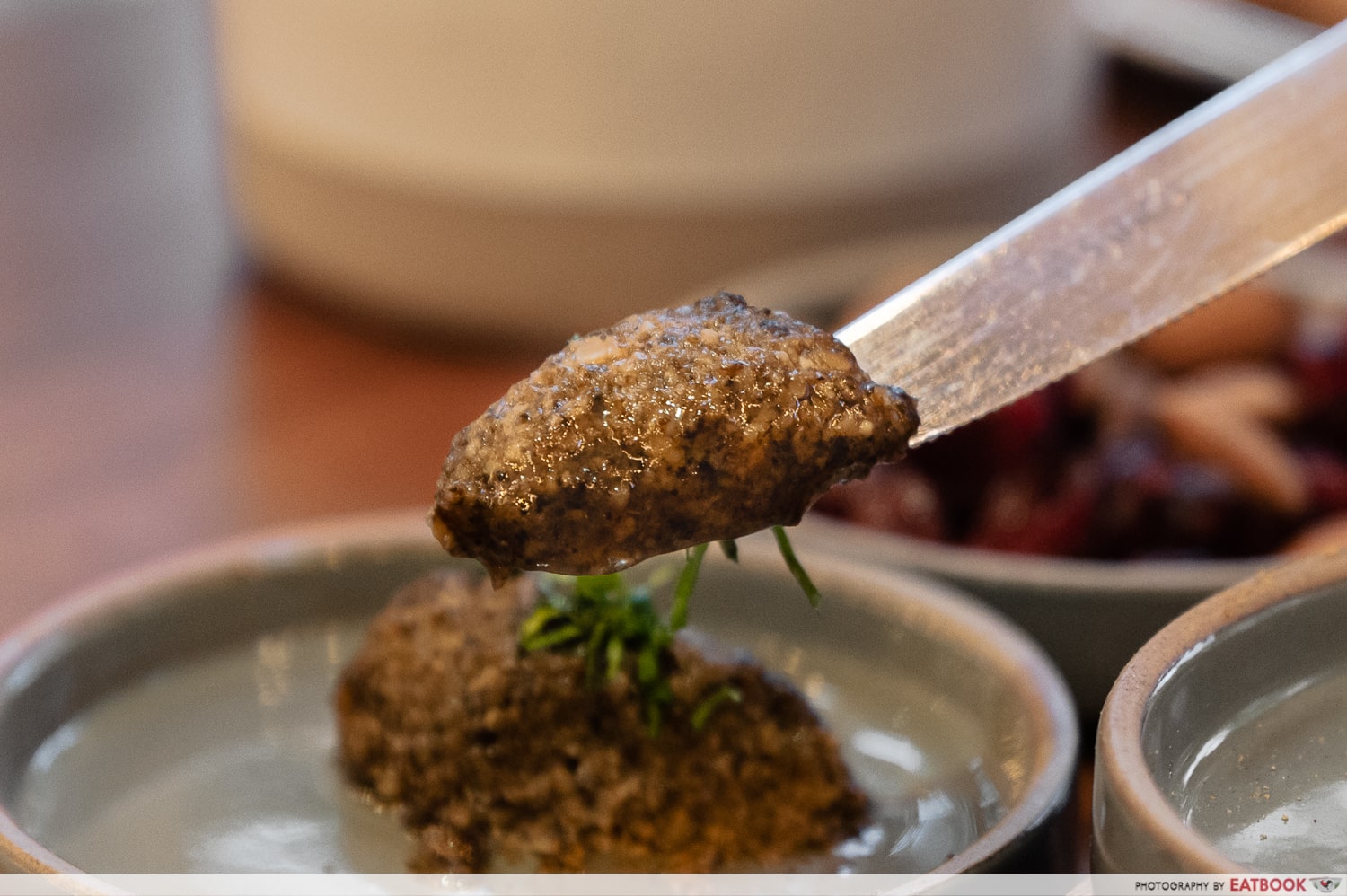 Pairing the bread with the dips was rather fun too, since you could mix and match to play around with the flavours. There's mushroom parfait with smoked maple syrup, cultured butter infused with sun-dried tomatoes, beets infused with miso hummus, berry compote, olive oil, and a house-made dukkah.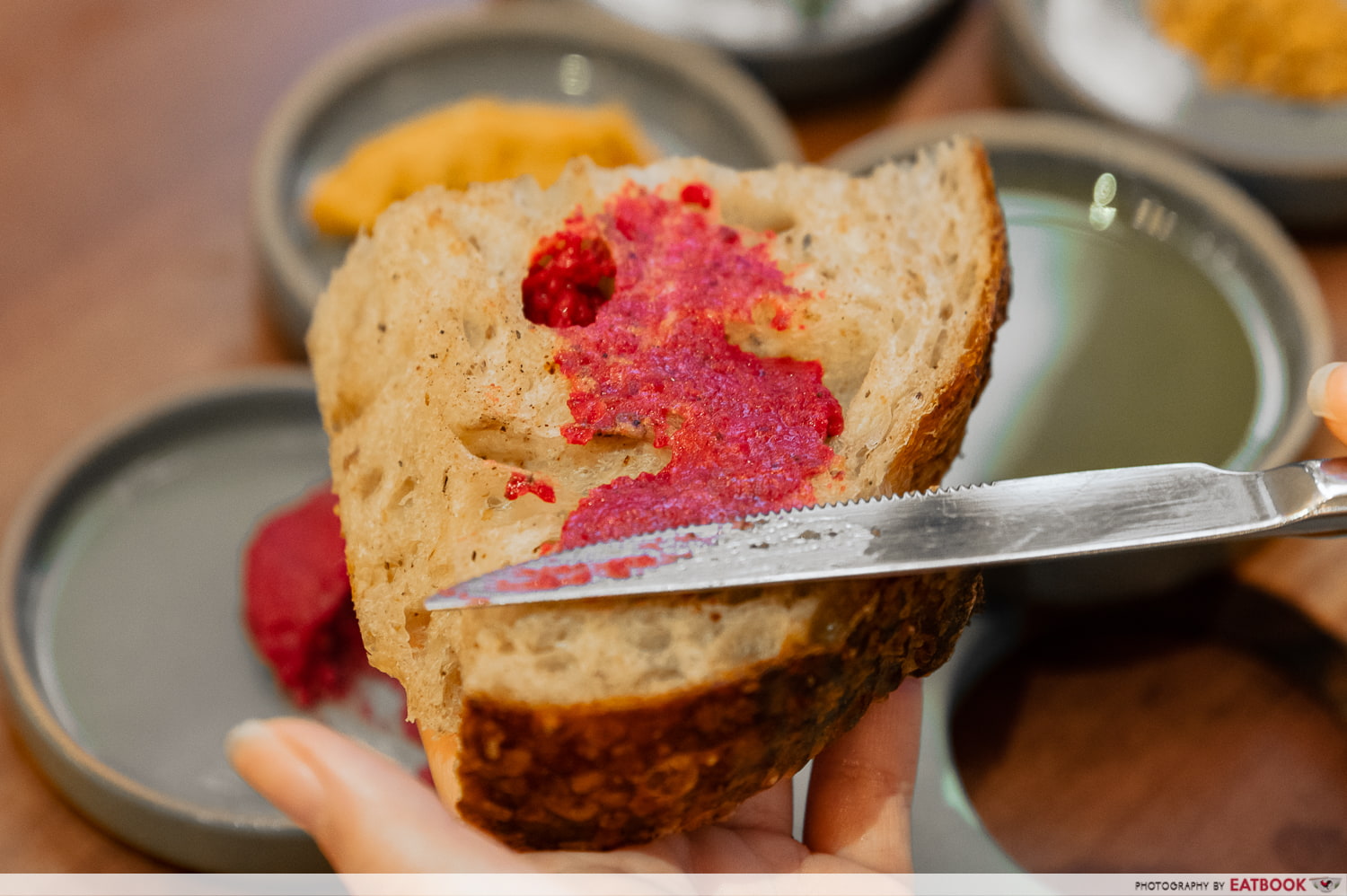 My colleague and I enjoyed the mushroom parfait, which had tasty umami notes combined with the sweetness of maple syrup, the best. Second place goes to the beets dip that was rich and tart. I'd even be happy to eat these by the spoonful!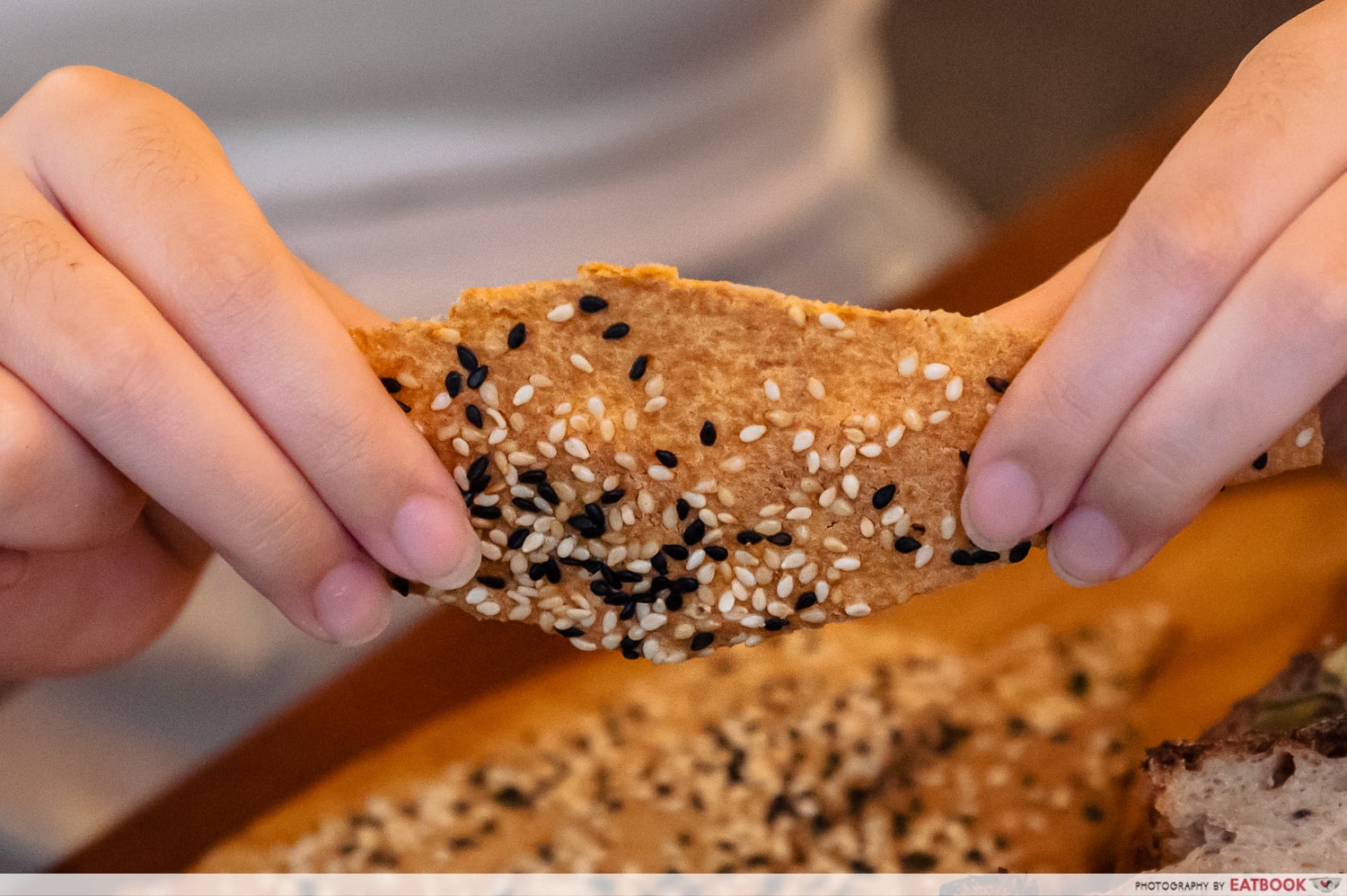 The crisp sourdough crackers deserve a shoutout too, for their nutty toastiness━I could have finished a jar of these super light, crisp thins.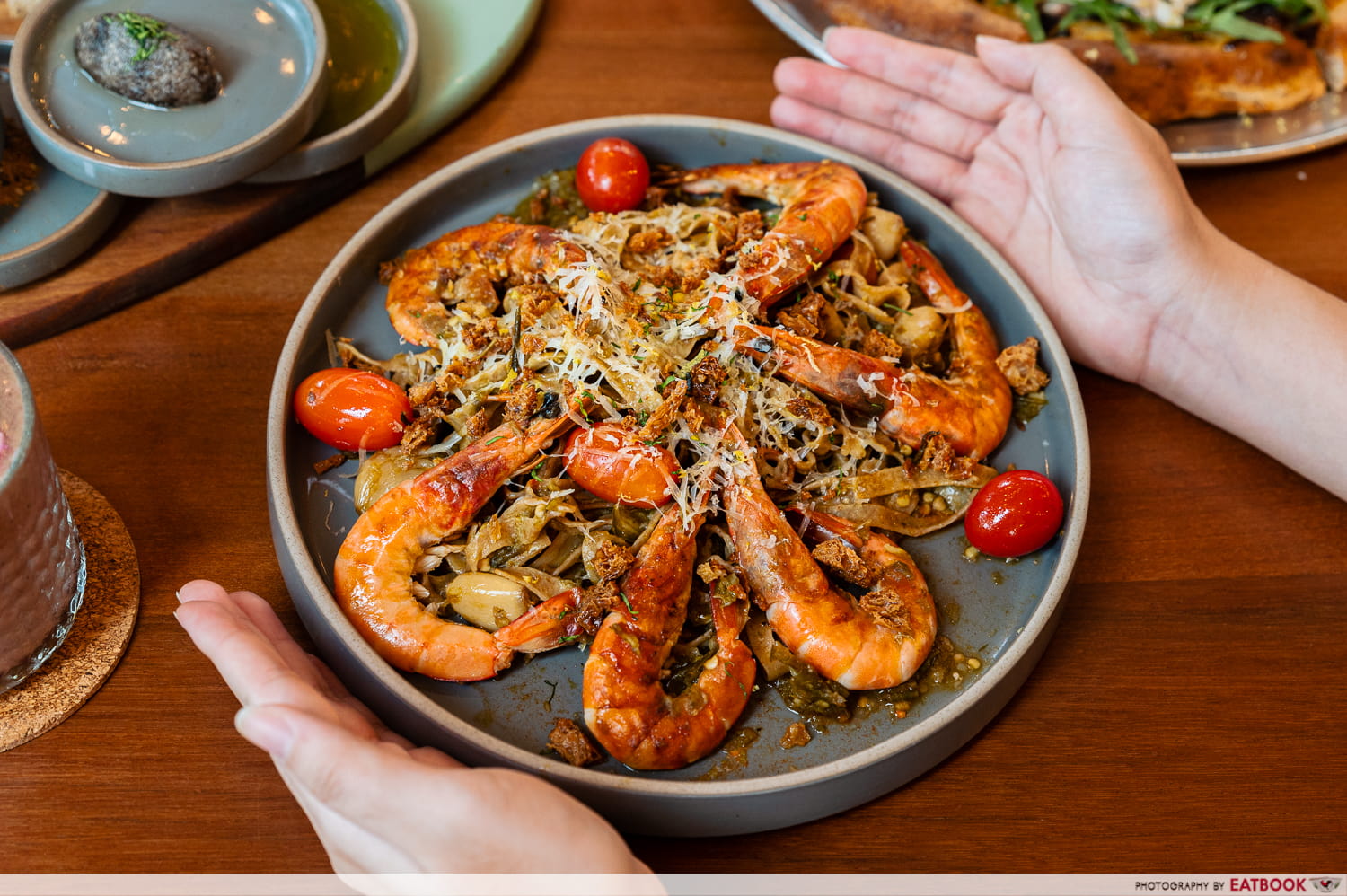 Next, we had the Green Chilli Prawn Aglio Olio ($32++). This dish stars handmade sourdough pasta that's tossed with green chilli pesto and garlic confit. It's dashed with sourdough cracker crumbs, lemon zest, and Parmesan cheese, while on the side you get whole cherry tomatoes, and the finishing touch of grilled prawns, marinated with green chilli.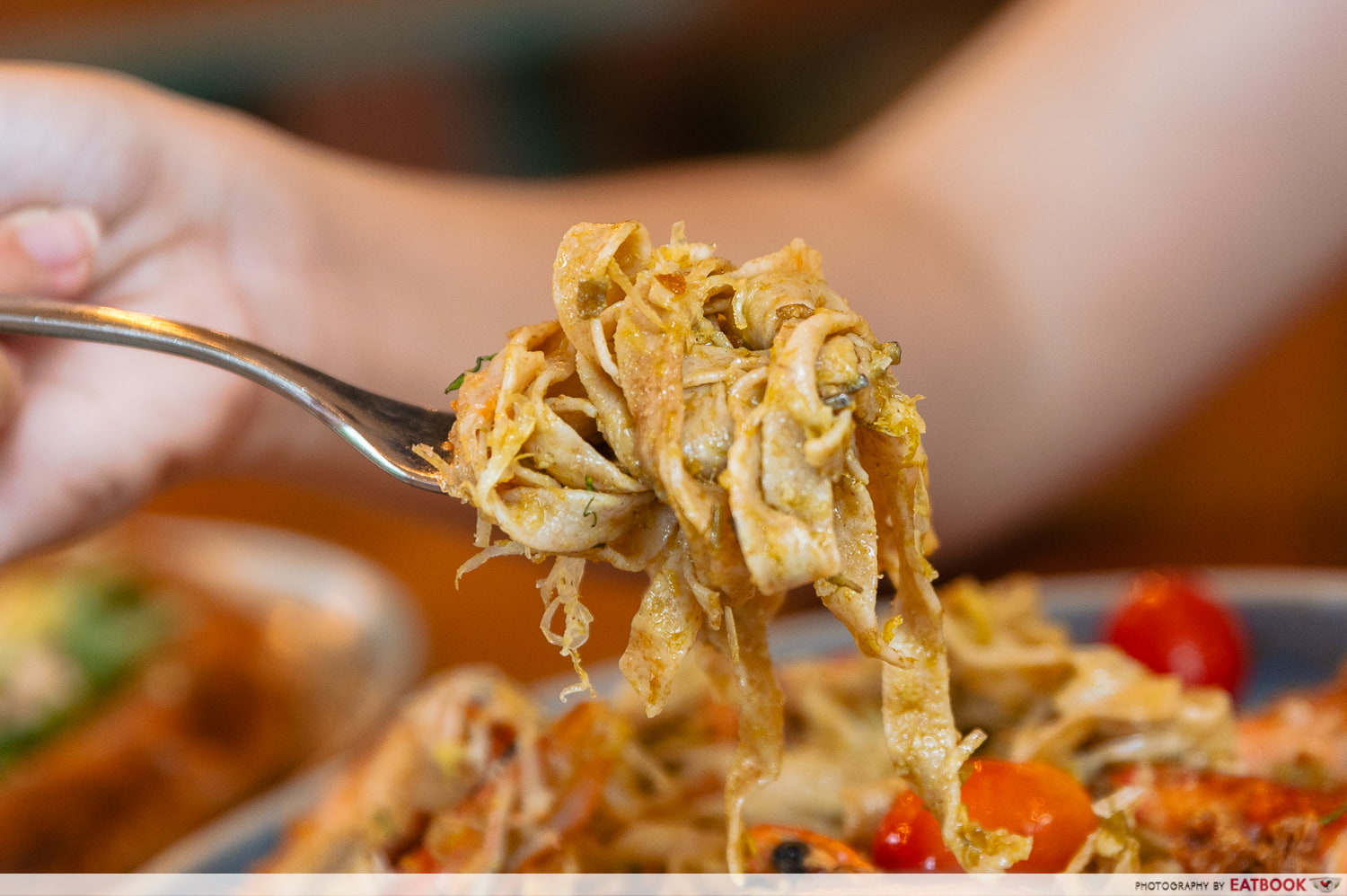 The flat, thin handmade tagliatelle had been cooked till al dente, which I appreciated. However, they had a coarse finish and tasted slightly doughy and nutty, which I didn't love. The sauce was spicy for sure, and only after we had stopped coughing from the spice did we manage to suss out the seafood and garlic notes in the dish. 
There's also a certain freshness and fragrance in the dish from lemon juice and lemongrass bits that have been mixed into the pasta, making for a unique flavour profile. I honestly felt that it was a little too pronounced with the spice, though, and wished the other flavours had been allowed to shine through more.
My favourite part of the dish was definitely the prawns. Even though they didn't come de-shelled, that didn't stop me from enjoying the super fresh, sweet-tasting prawns. The marinade enhanced these flavours, without making them too spicy too.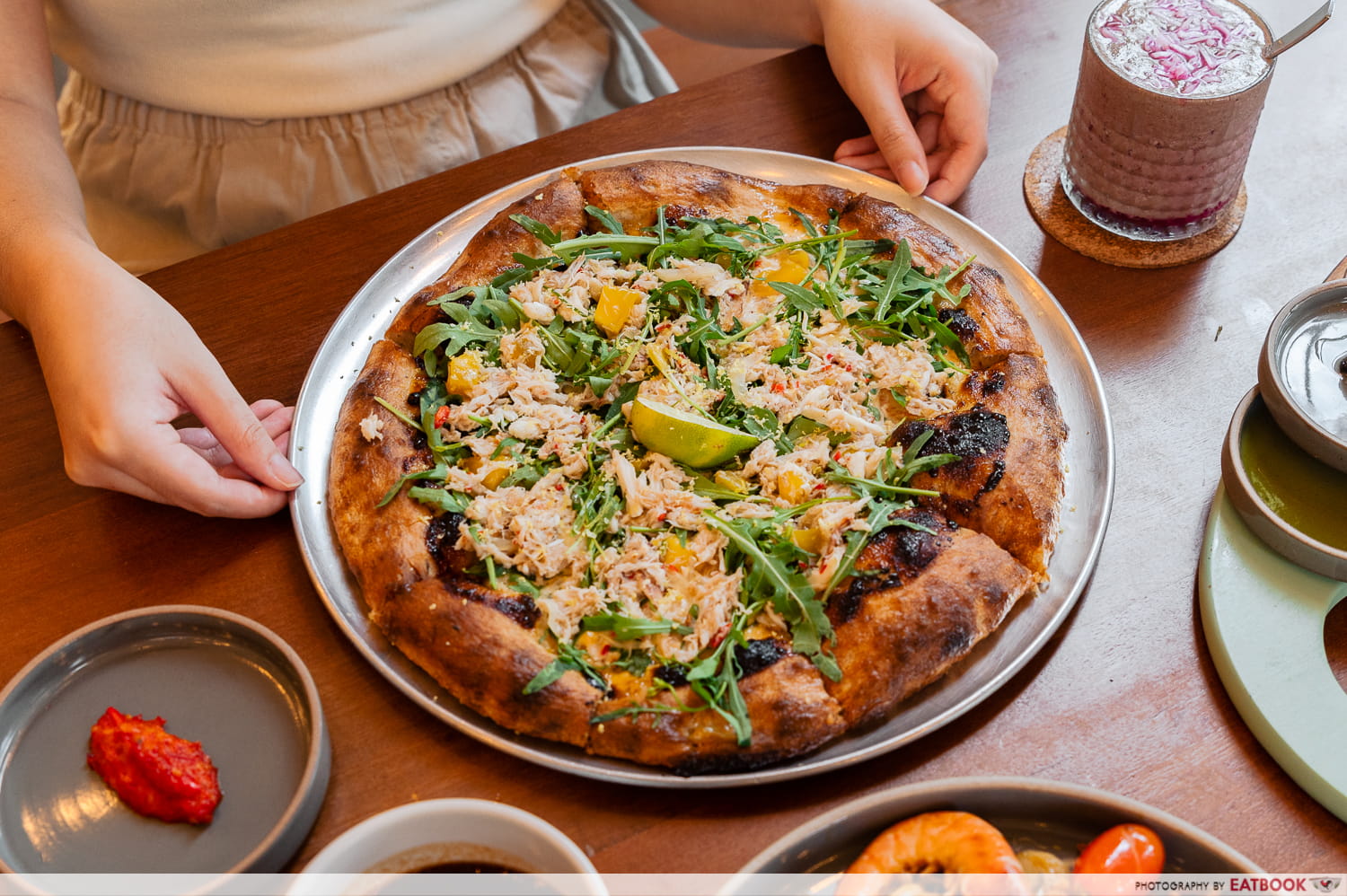 Our last dish was the Crab and Mozza ($35++) pizza. This 12-inch sized sourdough pie was spread with a kaffir lime aioli sauce, and scattered generously with blue swimmer crab meat, Thai green mango slices, mozzarella shreds, and arugula. According to the staff, the crab meat had also been marinated with kaffir lime leaves, red chillies, and lime juice. This dish comes with two dips: a house-made red chilli pesto dip and a chicken stock-based gravy.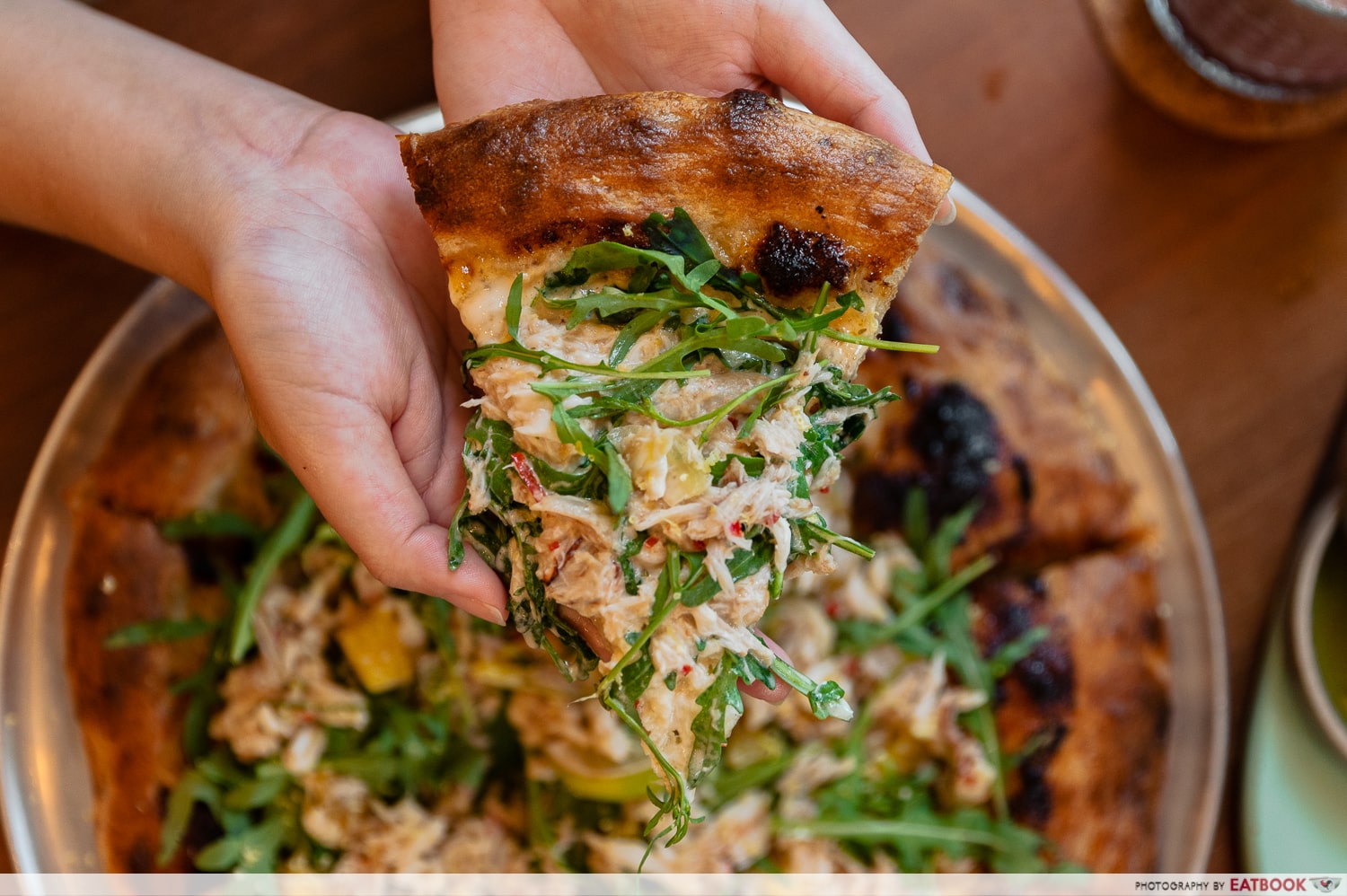 This pizza turned out to be absolutely delightful. The sourdough crust was fluffy and sported a nice char, without being too doughy. I loved how the light sourness of the crust was enhanced by the savoury, creamy, and tangy kaffir lime aioli too. 
Then, there was the fresh crab meat, livened with the slices of mango, and tartness of the lime that you're meant to squeeze over the pizza. The fresh, peppery arugula also cut through the rich flavours of the dish for a really, really great balance of flavours.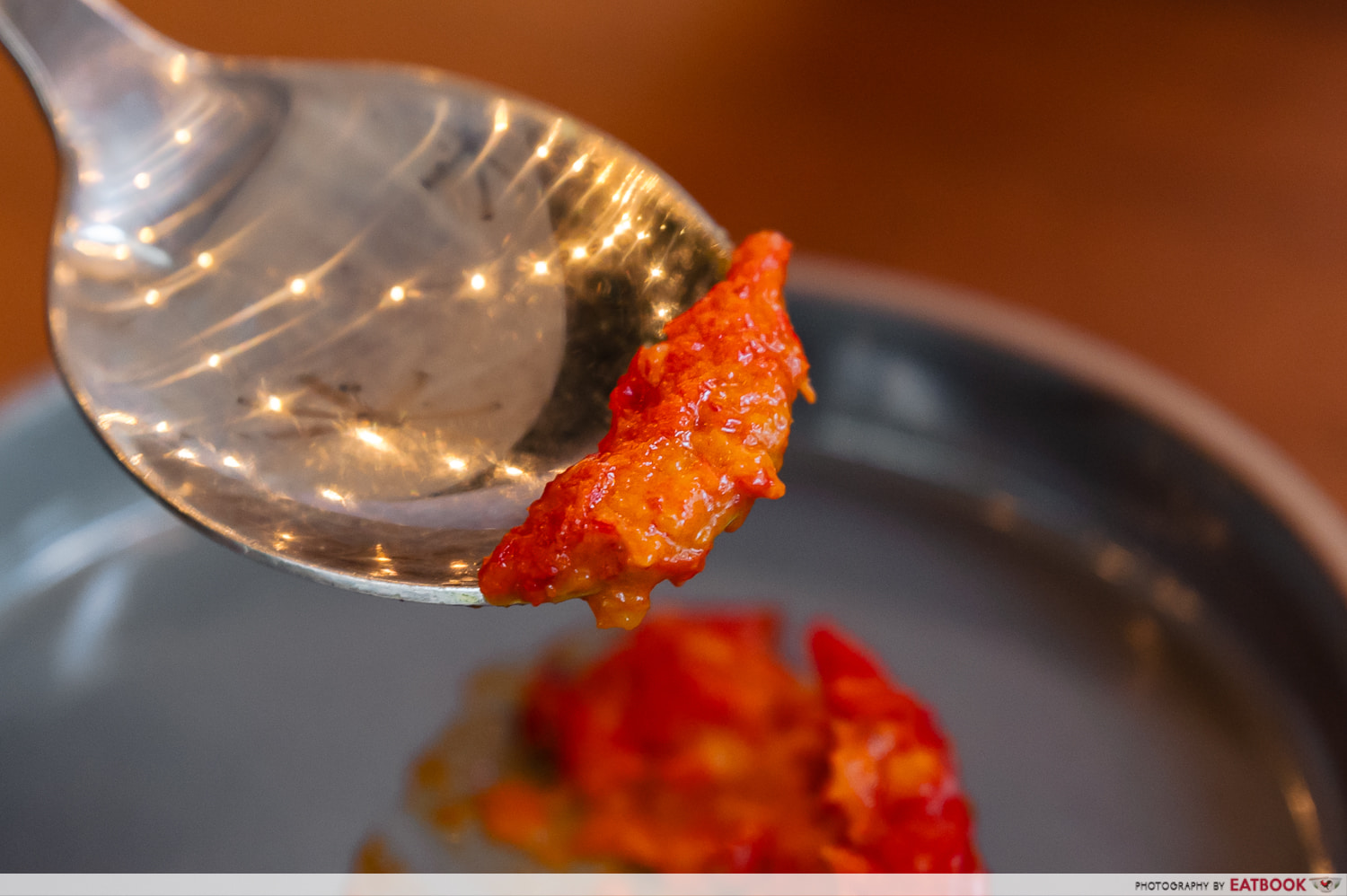 For a spicy-sour kick, you can enjoy this pizza with the red chilli pesto. Alternatively, dip the slices into the savoury, meaty gravy for a nice change mid-way. I personally thought it made the pizza too soggy, and the chicken gravy overpowered the fresh flavours of the crab and toppings, but it was still a tasty combination.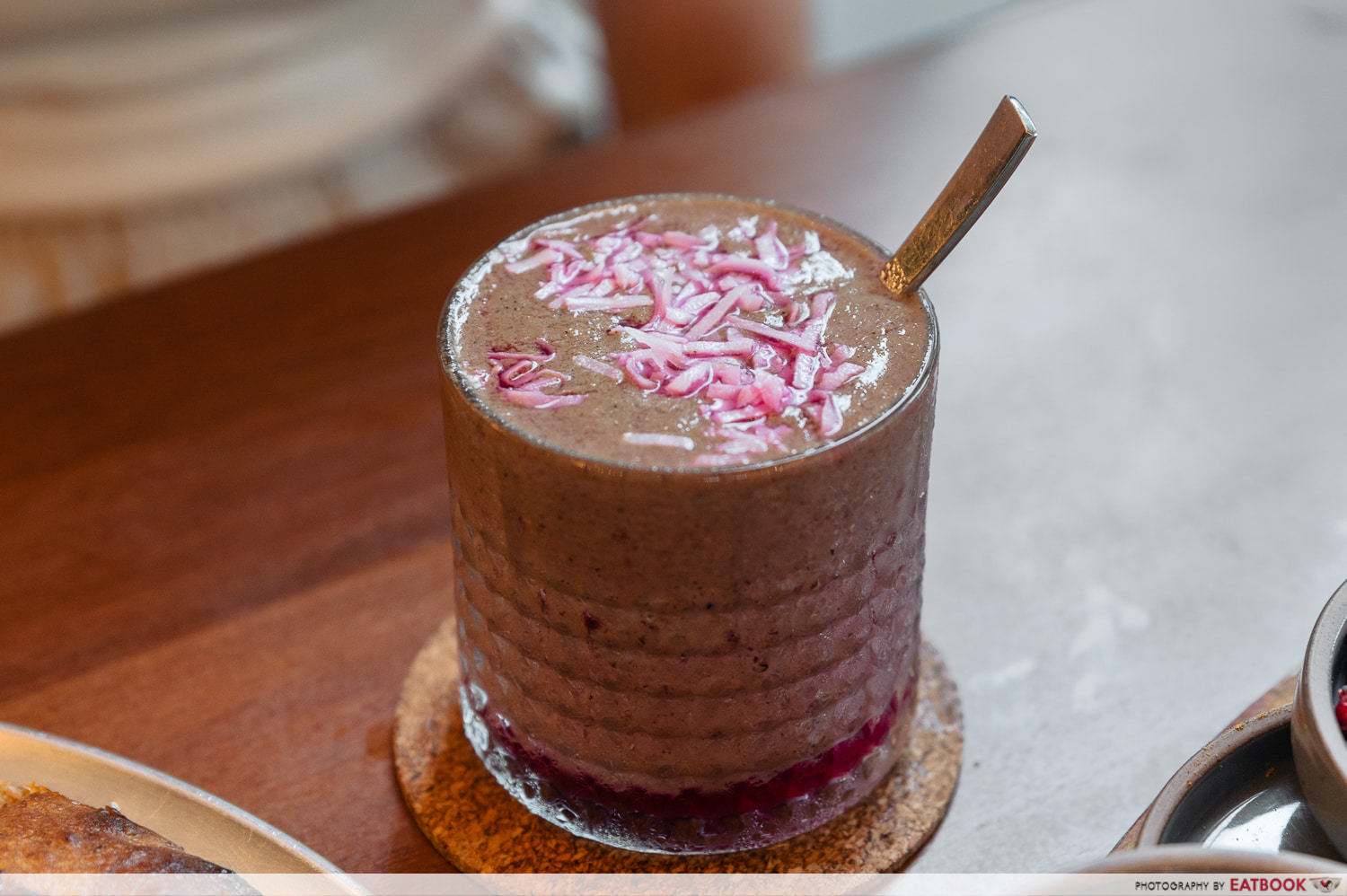 We washed it all down with a glass of Heart Beat ($8++): a smoothie that boasts a blend of soymilk, yoghurt, Granny Smith apples, kale, celery, dragonfruit, flax seeds, dates, and Anna's Sourdough's very own sourdough starter━again added for supposed health benefits. The drink is also topped with coconut flakes.
This was a creamy and robust drink, laced with the sweetness of the fruits and a hint of nuttiness from the sourdough starter. On my previous visit, I'd tried the Queen Green ($8++) and actually preferred that for the buttery and grassy notes from avocado. 
Ambience at Anna's Sourdough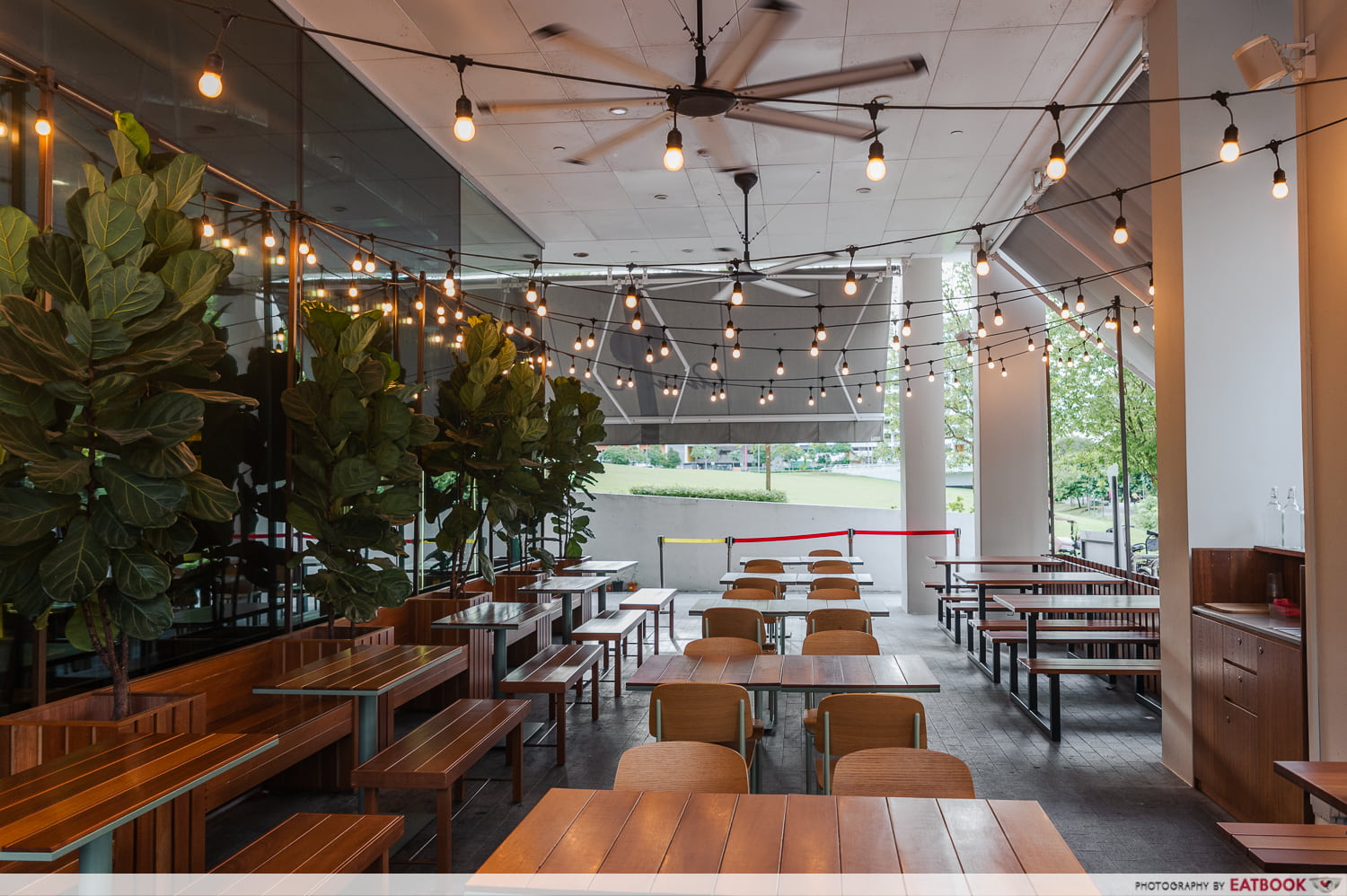 Anna's Sourdough is located at Oasis Terraces, which is a three-minute walk from Oasis LRT Station. This is, in turn, two LRT stops away from Punggol MRT Station. The cafe is a dream to dine at, and would make an ideal date spot. The outdoor area is graced with warm lights, lush plants, and wooden furniture. The indoor space is also really cosy, and best of all, air-conditioned, so don't worry if you drop by on a hot day. 
We arrived here at 5pm and there wasn't much of a crowd even when we left at 8pm. This made for a peaceful dining experience, but we did get a lot of flies.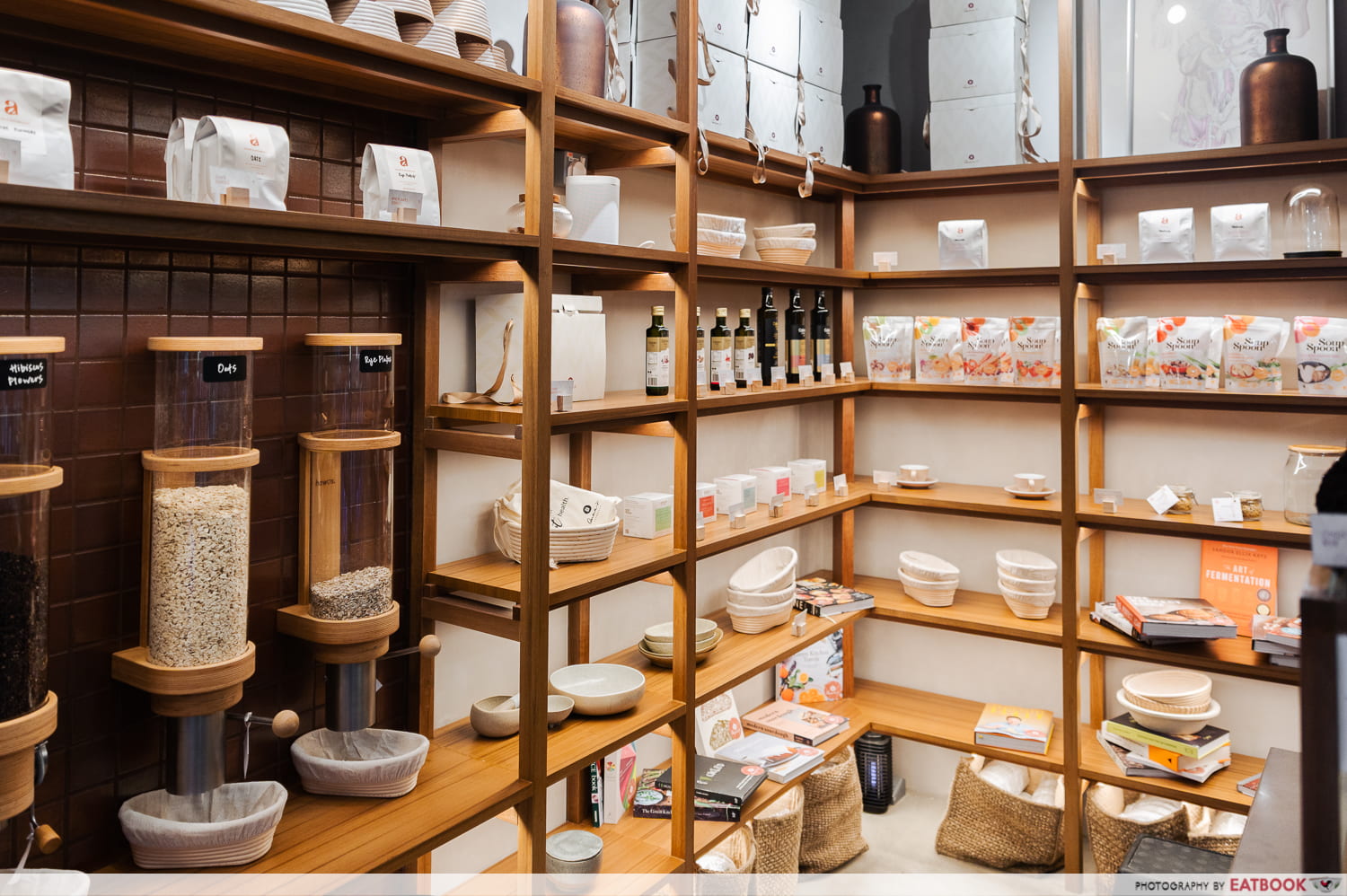 The store also doubles up as a grocer; stock up on flour, teas, olive oils and more here! 
27 Punggol Food Places Including Salted Egg Yolk Zi Char And Korean Smashed Burgers
The verdict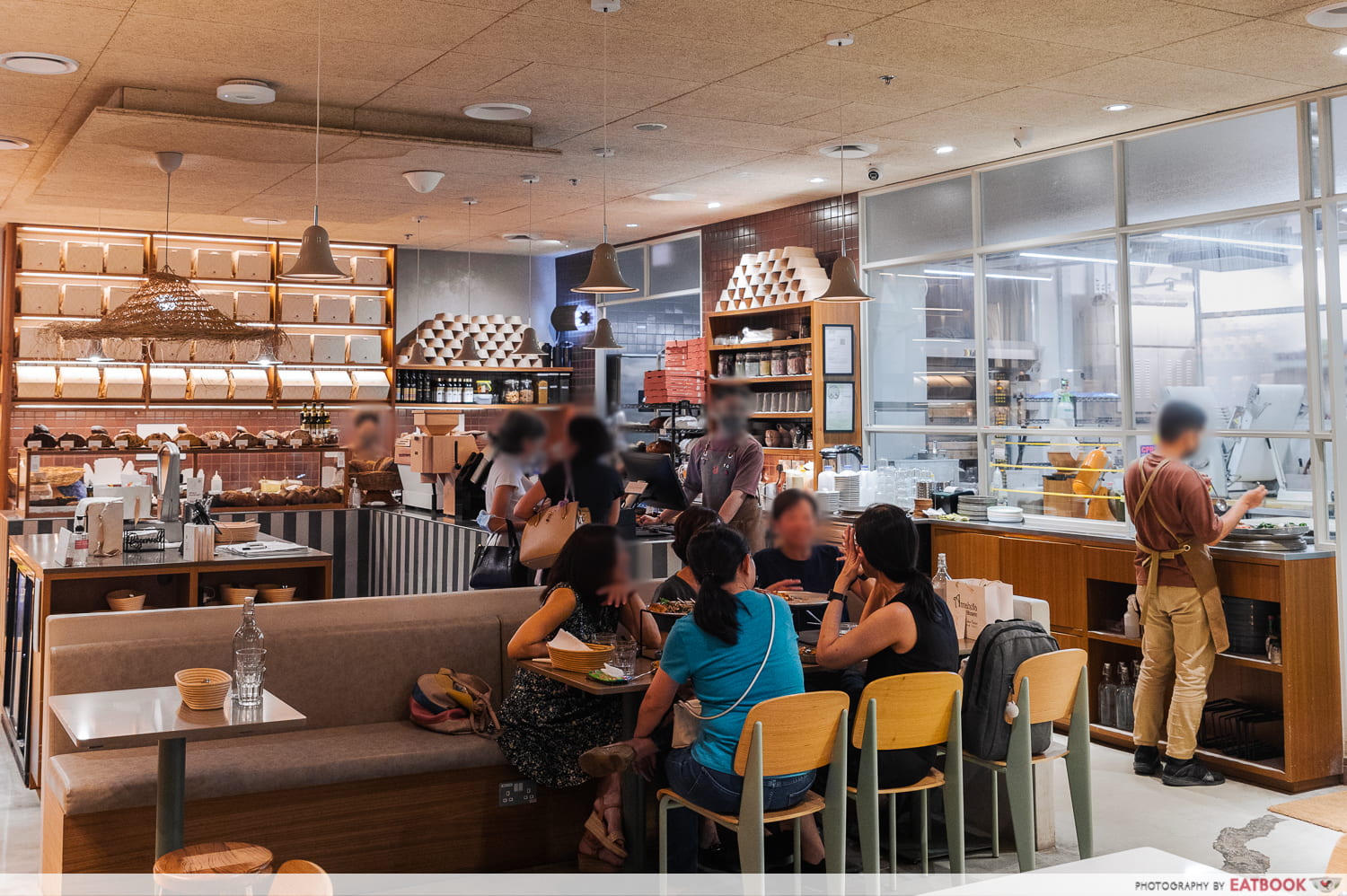 My colleague and I enjoyed our time here with the great food and ambience. If you'd like a cafe experience with the picturesque view of Punggol Waterway Park, this place is for you. The tasty pizza was especially memorable, and I'd highly recommend you have the same one we had. 
If you wish to explore Punggol further, check out our Punggol food guide, with a whopping 27 eateries to visit! Alternatively, for more cafe options up your sleeve, read our guide to the best cafes in Singapore. 
Address: 681 Punggol Drive, #01-04, Oasis Terraces, Singapore 820681
Opening hours: Sun-Thurs 8:30am to 9:30pm, Fri-Sat 8:30am to 10pm
Tel: 6966 7503
Website
Anna's Sourdough is a halal-certified eatery. 
Photos taken by Ke-ian J Leong.
This was an independent review by Eatbook.sg
The post Anna's Sourdough Review: Handmade Sourdough Pasta, Crab Pizza And More In Punggol appeared first on EatBook.sg - Local Singapore Food Guide And Review Site.