I've had an increase in requests for pantry staple recipes over the past week, mostly due to fears over coronavirus and COVID-19 quarantines, or possible shortages in the food supply. Whether this situation gets to that level or not, I figured it was a good idea to round up some pantry recipes because they are also useful for people who aren't able to get to the grocery store often, or those who just prefer to shop less often. Use the printable grocery list below to keep the ingredients stocked for these 15 recipes, and you'll always have something ready to cook no matter the situation!
Stock Up with Staple Ingredients for These 15 Pantry Recipes – Grocery List Included!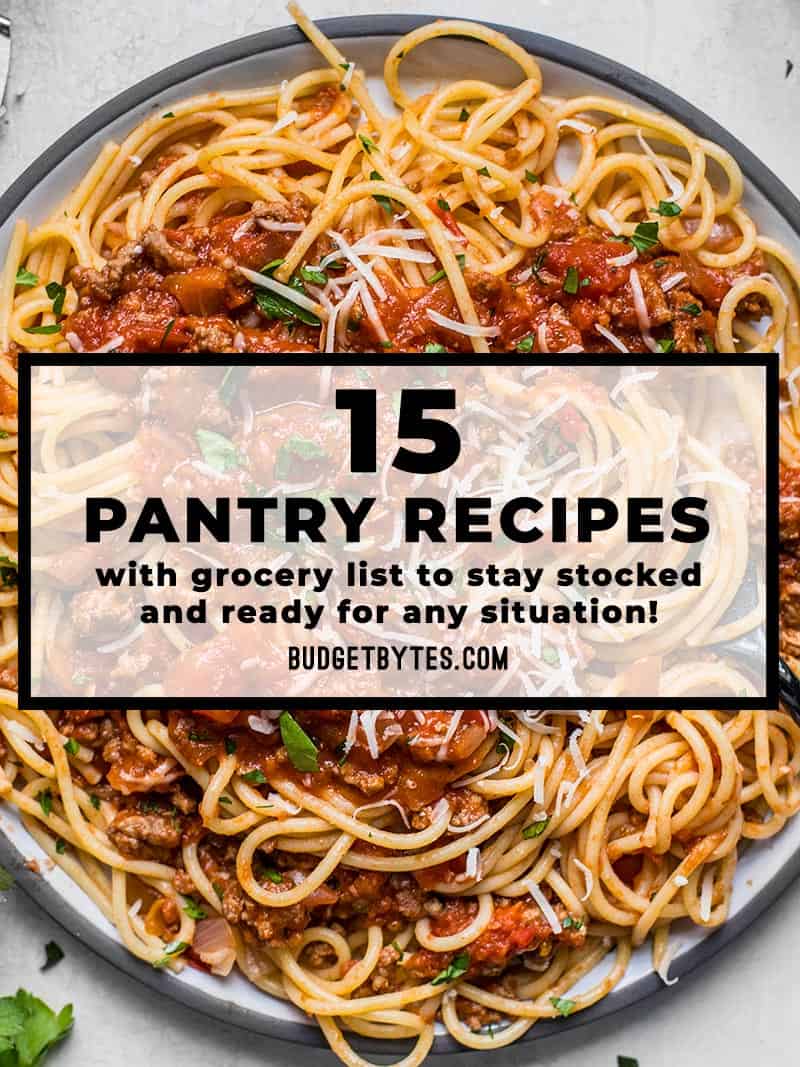 What is a Pantry Recipe?
There are a lot of different opinions about what counts as a "pantry recipe" so I'm going to quickly define my criteria here. I've chosen to include recipes that call for both room temperature stable ingredients and frozen or freezable foods. This allows more variety of ingredients (and vegetables!) while keeping a long storage life for the ingredients. Because of that, this recipe list is most useful for situations where electricity is still running, but fresh ingredients may not be easily accessible.
What Ingredients are Included in This Emergency Plan:
The recipes in this round up include ingredients in these three categories:
Shelf stable at room temperature: oils, vinegars, flour, sugar, spices, herbs, rice, pasta, beans, and canned goods
Frozen goods: frozen vegetables
Fresh items that can be stored frozen: meat, cheese, butter, onions, ginger, jalapeños, and garlic
Freezing Fresh Ingredient Staples
Here are some general tips for freezing fresh items to extend their storage life:
Onions: dice the onions, separate them into 1 cup portions (about one onion-worth), and freeze in quart-sized freezer bags. Frozen onions can be added to most recipes straight from the freezer. For green onions, simply slice and place in a freezer bag, or empty jar, then stash in the freezer.
Jalapeños: Slice, freeze flat on a baking sheet covered in parchment, then transfer to a freezer bag once solid.
Garlic: peel and freeze in freezer bags. The garlic's appearance will change slightly after thawing, but the flavor will still be great.
Ginger: Wash the ginger well, then freeze in a freezer bag. The frozen ginger can be easily grated into your recipe using a small-holed cheese grater, while still frozen, no need to peel. If you prefer to peel your ginger, simply peel before freezing.
Cheese: Cheese can be frozen either in block form or shredded. Make sure to wrap tightly to reduce air exposure. 
Meat: I prefer to divide meat into ½ lb. portions before freezing, since most of my recipes use about ½ pound of meat per recipe. Again, make sure to wrap tightly to prevent air exposure, which leads to freezer burn.
And always, always label and date everything you put into the freezer! :)
How Long Will The Ingredients and Recipes Last?
Because these recipes include some frozen goods, the minimum amount of time the ingredients can be stored before using is about 3 months. After that amount of time frozen ingredients slowly dry out, but may remain usable. For a more detailed list of the recommended freezer storage time is for different foods, check out this Refrigerator and Freezer Storage Chart from the FDA.
This pantry recipe list includes 15 recipes, so depending on how often you cook and how many people you're feeding, purchasing all the ingredients in the list can last you for two weeks or more. For a single person who may only need to cook once every few days, stocking these ingredients can feed you for a month or more.
Notes About the Recipes
Next to each recipe, I'll include notes about what ingredients, if any, to substitute in order to make this a "pantry recipe". I'll also indicate recipes that make freezer-friendly leftovers with an asterisk, so you can further stock your freezer and delay your next shopping trip.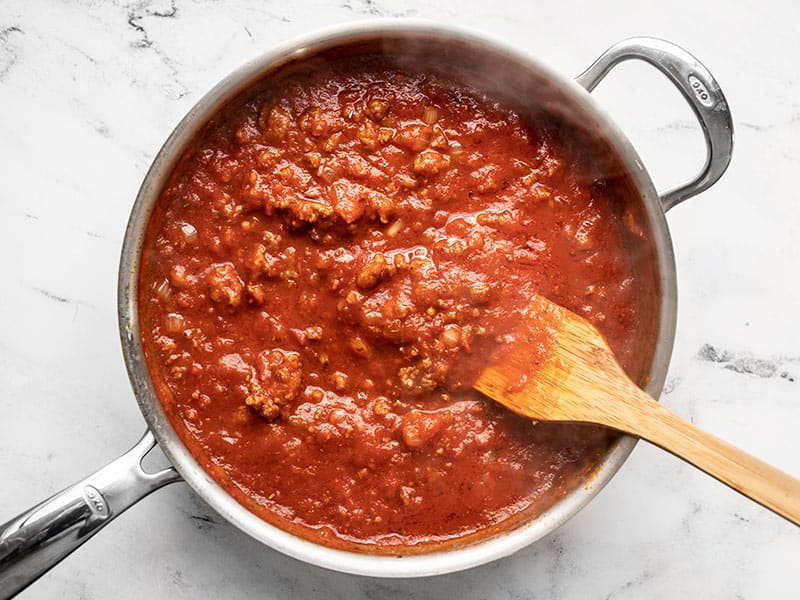 Pantry Recipes:
>>Click here to download the grocery list<<
One Pot Chili Pasta* or Cheesy Vegetarian Chili Mac* – These two recipes are essentially the same, one containing beef, the other containing extra beans. They meal prep well and freeze well for later!
Poor Man's Burrito Bowls* – Rice, beans, salsa, and cheese is one of my favorite pantry meals. It's so incredibly simple, yet it never gets old. There is a lot of room for customization here, as well. So check the post for a list of other ingredients you can add, if you have them on hand.
Curried Red Lentil and Pumpkin Soup* – This incredibly simple soup only requires a few ingredients, yet it still has big flavor. Serve with crackers or homemade bread (recipe below). 
Skillet Cheeseburger Pasta* – Stretch a half pound of ground beef over four servings of this classic American comfort food.
Skillet Pineapple BBQ Chicken – Serve over a bed of rice for an easy and quick meal. If you want more green, you can also serve it up with a size of oven roasted frozen broccoli.
Weeknight Pasta Sauce* + Spaghetti – Nothing is more comforting than a big plate of pasta, and this simple sauce is incredibly easy. If you're looking for a vegetarian version, check out my 5-Ingredient Butter Tomato Sauce.
Simple Homemade Chili* – A lot of options for variations listed in the blog post. You can either make your own homemade chili seasoning (included in this recipe) or use a packet of store-bought seasoning if you don't have a well stocked spiced cabinet.
Sweet Chili Chicken Stir Fry Bowls – Use frozen broccoli florets in place of fresh. You can use regular white rice in place of jasmine, if you prefer. Use either a store-bought sweet chili sauce, or make a homemade sweet chili sauce.
Cauliflower and Chickpea Masala – Substitute the heavy cream with full-fat canned coconut milk, and serve over rice.
One Pot Teriyaki Chicken and Rice* – Frozen stir fry vegetables make this recipe not only easy, but totally pantry ready! 
Easy Rosemary Garlic White Bean Soup* – Canned beans for the win! Serve with homemade focaccia rolls listed below.
Garlic Noodles with Beef and Broccoli – If you can't get out to pick up your favorite take out, make it at home! This easy and indulgent noodle stir fry will give you your fix.
Slow Cooker White Chicken Chili* – If you don't have a slow cooker, let the chili simmer over low heat for one hour on the stove top, or until the chicken is shreddable. 
Turkey Taco Skillet* – Serve witch corn tortillas (freezable) and shredded cheese.
And in case you want some bread to serve with your soups or chilis:
No Knead Focaccia Rolls – the overnight fermentation means you don't have to spend a lot of time or effort kneading this dough by hand!
The post 15 Pantry Recipes for Emergency Preparedness appeared first on Budget Bytes.