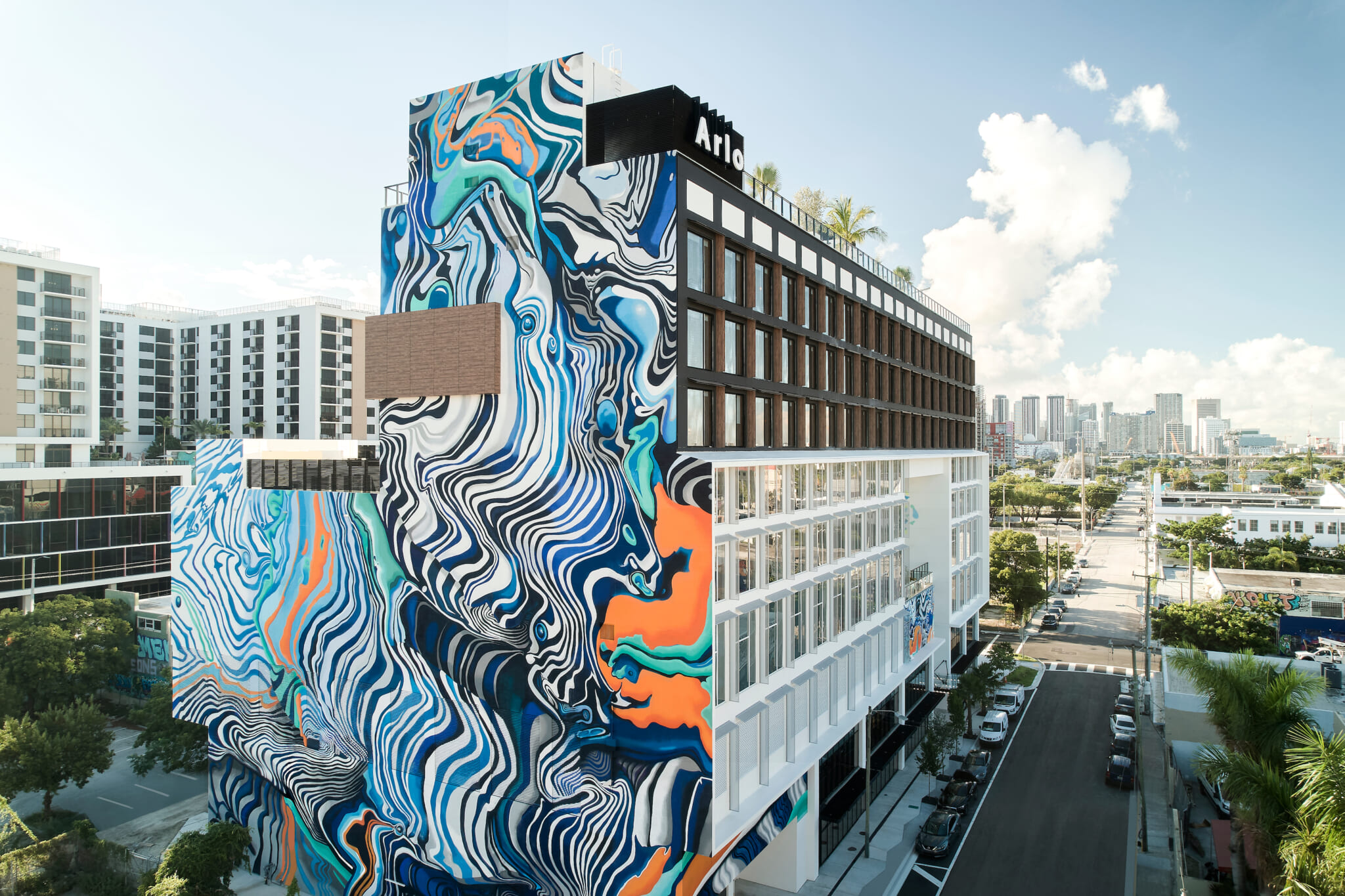 This past November the Arlo Wynwood became the first-ever hotel in Miami's super-hip Wynwood neighborhood, which is now home to the largest concentration of street art in the world. An "experience-driven" boutique hotel, Arlo Wynwood is also designed to serve as a "cultural hub" for locals and visitors as the burgeoning brand, which also operates Arlo SoHo, Arlo NoMad and Arlo Midtown in New York City, and Nautilus by Arlo in Miami Beach, puts it.
Designed by Meyer Davis, an award winning, globally recognized New York City–based design firm with major hospitality industry cred, the property "draws on the neighborhood's bold and curated artistic nature while embracing an eclectic industrial aesthetic where organic meets modern."
"Eve since our pre-opening, we sought to embrace the creativity and diversity of the neighborhood in every detail, from our design and architecture, to our artwork and partnerships with lifestyle, wellness and food & beverage brands," Jennifer Hiblum, Arlo Wynwood's General Manager tells us.
"Wynwood has embraced us, too. We're honored to serve our community as the only hotel in the district, and welcome both visitors and locals to enjoy our public spaces and experience something different and memorable each time they come." So far that definitely seems to be the case.
Chief among its attractions is MaryGold's, an eclectic restaurant from James Beard alum Chef Brad Kilgore that's already winning rave reviews, described as a Florida brasserie. "For me, a brasserie is a restaurant with quality service, great food and a little bit for everyone," Kilgore tells us. Handmade pasta, steak, roasted chicken, we have all of that," and then some.
"We also wanted to to represent Florida, not the Florida of decades ago but of today," he says. "Florida is a melting pot with so many different cultures and influences and that's reflected in our menu at MaryGold's. We work with the local fishmongers, farmers and purveyors to make sure we get incredible Florida ingredients like Royal Red Shrimp and Florida-grown grits."
He adds that, "The feedback has been phenomenal and we've already got people coming in regularly, sending their friends and sharing it with people who are coming to visit. It's wonderful to see such a positive response to what we're doing." Many celebrities and A-listers have been making it a point to stop in and sample the first-rate cuisine.
Some of the heartier current menu standouts include a peach wood-smoked bone-in pork loin with candied hazelnuts, mustard greens, and preserved peach jus; and a 48-oz. Strube Ranch wagyu tomahawk ribeye served with Wagyu fat garlic, smoked tomato butter, and Hen of the Woods mushrooms. Equally inventive cocktails and a great wine list only enhance the dishes.
Meanwhile Bar Lab, the cool culinary and cocktail collective behind three-time "Top 50 Bars in the World" award-winner Broken Shaker, is seeing to the drinks side of the business, not only at the restaurant, but also a cocktail-centric third-floor indoor/outdoor lounge called Higher Ground, and a rooftop pool deck that have added a new dimension to the neighborhood's nightlife.
As Time Out reports, "The third-floor rooftop bar and cocktail lounge draw from outdoor setups in Sao Paolo, Brazil, filled with pockets of greenery and a large seagrape tree as its central seating area. Not unlike Broken Shaker with its menagerie of lawn sofas, Adirondack chairs and various loungers, Higher Ground invites folks to kick back" and enjoy the flawless mixology.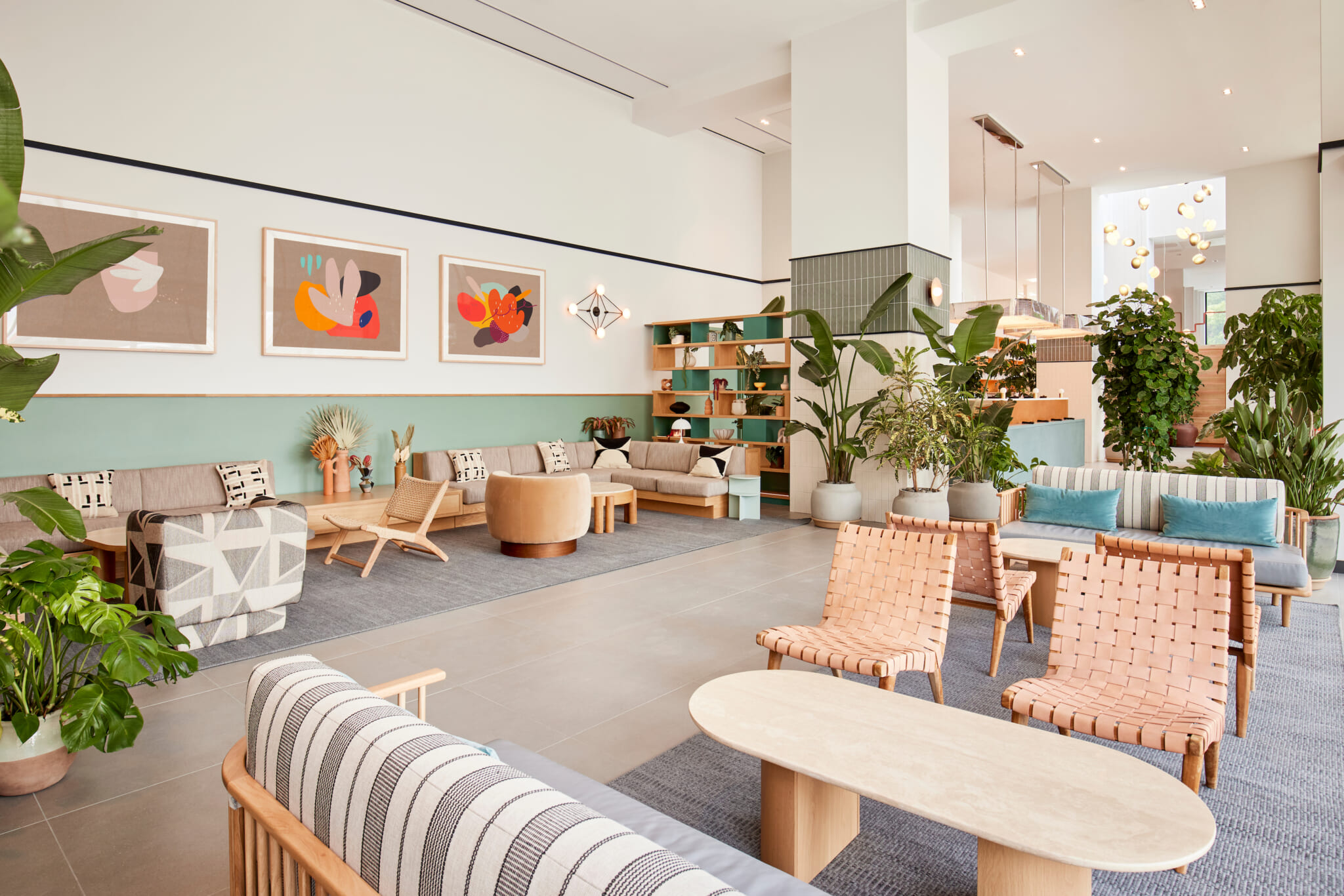 According to Meyer Davis' design brief, Arlo Wynwood celebrates "the perfectly balanced tension between the natural and the man-made, where warm, earthy materials are juxtaposed with fresh, contemporary finishes and vivid accent details that create understated richness through a playfully inviting palette."
The modern, airy guest rooms with white-oak furnishings will serve as a cozy refuge in the heart of the city. In-room amenities include tech-friendly features, such as bedside wireless charging stations, Bluetooth radios, 55″ LED TVs featuring Staycast capabilities, and complimentary WiFi, as well as mini fridges, Nespresso coffee machines, and Pharmacopia bath products. Massive windows let you look down on the art and the action in the surrounding streets.
The sprawling rooftop with panoramic neighborhood views, a picture-perfect pool, private cabanas, and a bar and café, is the spot to be on sunny days. It definitely makes up for not being next to the beach. There's also a yoga deck and a pool table in the indoor lounge at Higher Ground if you prefer to hang indoors.
Reflective of its community, Arlo Wynwood will moonlight as a living canvas for a curated group of artists that spark curiosity from art connoisseurs and novices alike. Arlo Wynwood's interiors will display more than 250 works of art from a range of artists, including Alain Castoriano, Coruna Luna, Jessica Poundstone, Joe Geis, Lauren Williams, Matthias Lupri, Ryan Coleman, and Tom Abbiss, among others.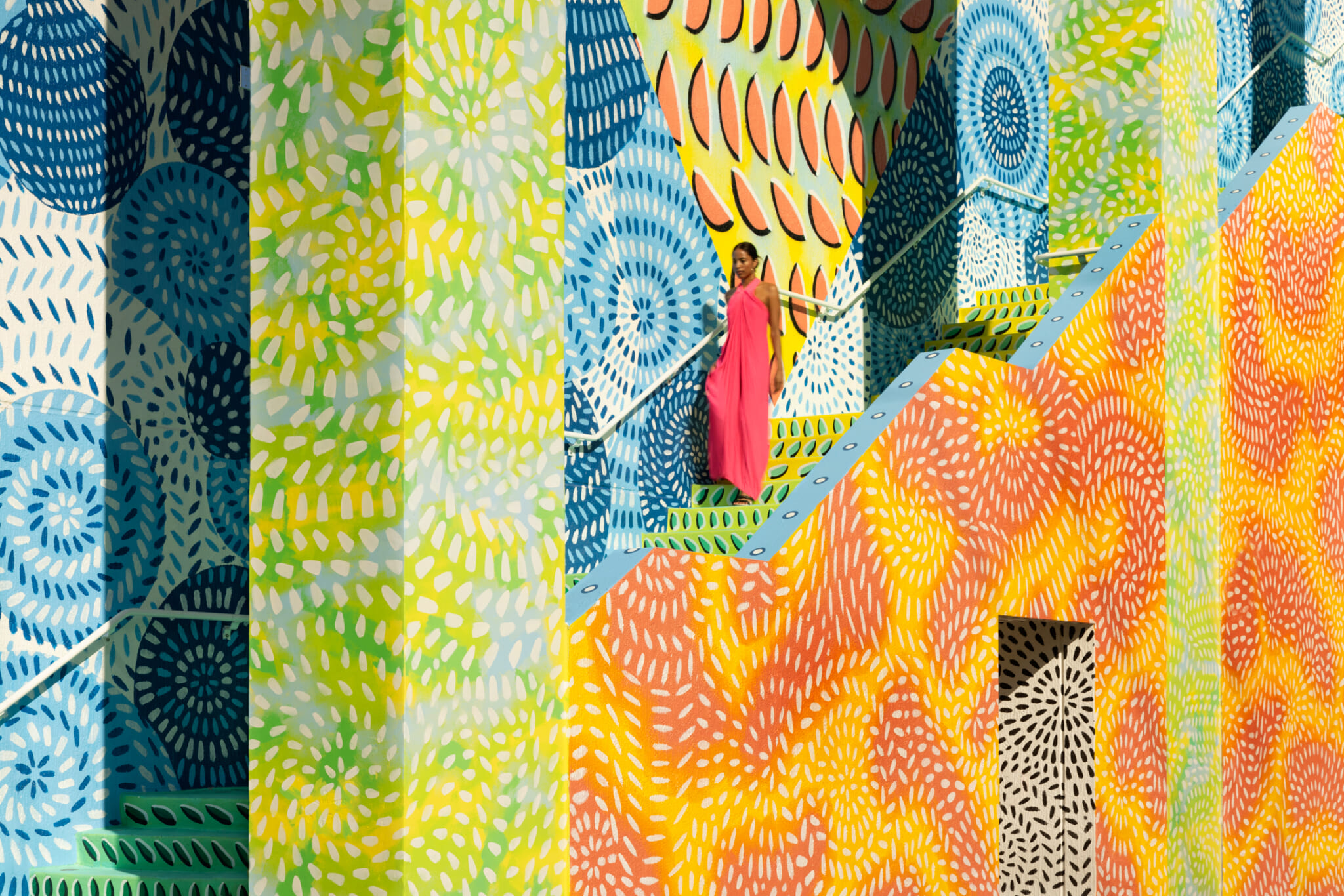 The property's exterior walls will feature works by Miami-based artist Hoxxoh, known for his "spheres of life" that illustrate the motions of space and time, and from MILAGROS Collective, whose co-founders Felici Asteinza and Joey Fillastre will create site-specific work, exploring the history of the community through striking arrangements of color and lines.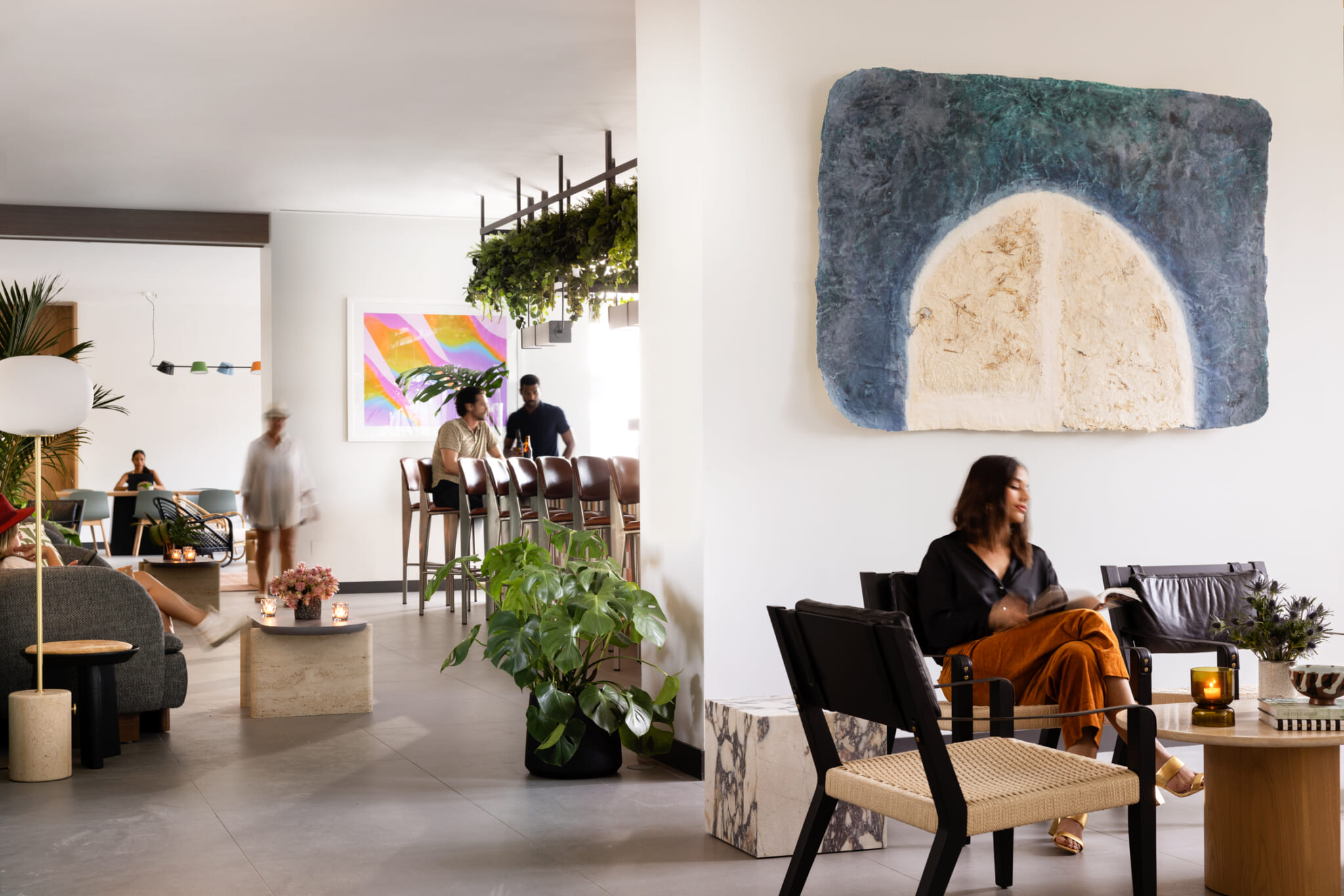 "It is hard to believe that despite attracting more than 10 million visitors annually, we are just now getting ready to open the first hotel in Wynwood," said Manny Gonzalez, Executive Director of the Wynwood Business Improvement District.
"We are thrilled Arlo Hotels is the first hotel brand opening in the district. We are attracting a new generation of creatives and entrepreneurs who want to live, work, eat, play and learn in our community, and Arlo will serve them well as their home away from home or remote workspace where inspiration awaits."