As an Amazon Associate I earn from qualifying purchases. This post may contain affiliate links. Click here to read my affiliate disclosure.
If you're looking for a quick and easy dinner that has a kick of spice in it, look no further. This Thai Curry Coconut Soup is gluten free, meatless, vegetarian, and even vegan if you use a vegetable stock instead of chicken stock. One of the best parts is though that it's all made in one pot and in less than 30 minutes too. It's rich and full of flavor while also being completely guilt-free.
I found this soup to be perfectly filling without making me feel overly stuffed and it's light enough and yet hearty enough to be enjoyed at any time of year, spring, summer, winter or fall. You can change up the veggies in it too. I went with peas because I had some that I needed to use up, but edamame, zucchini, anything really would work here.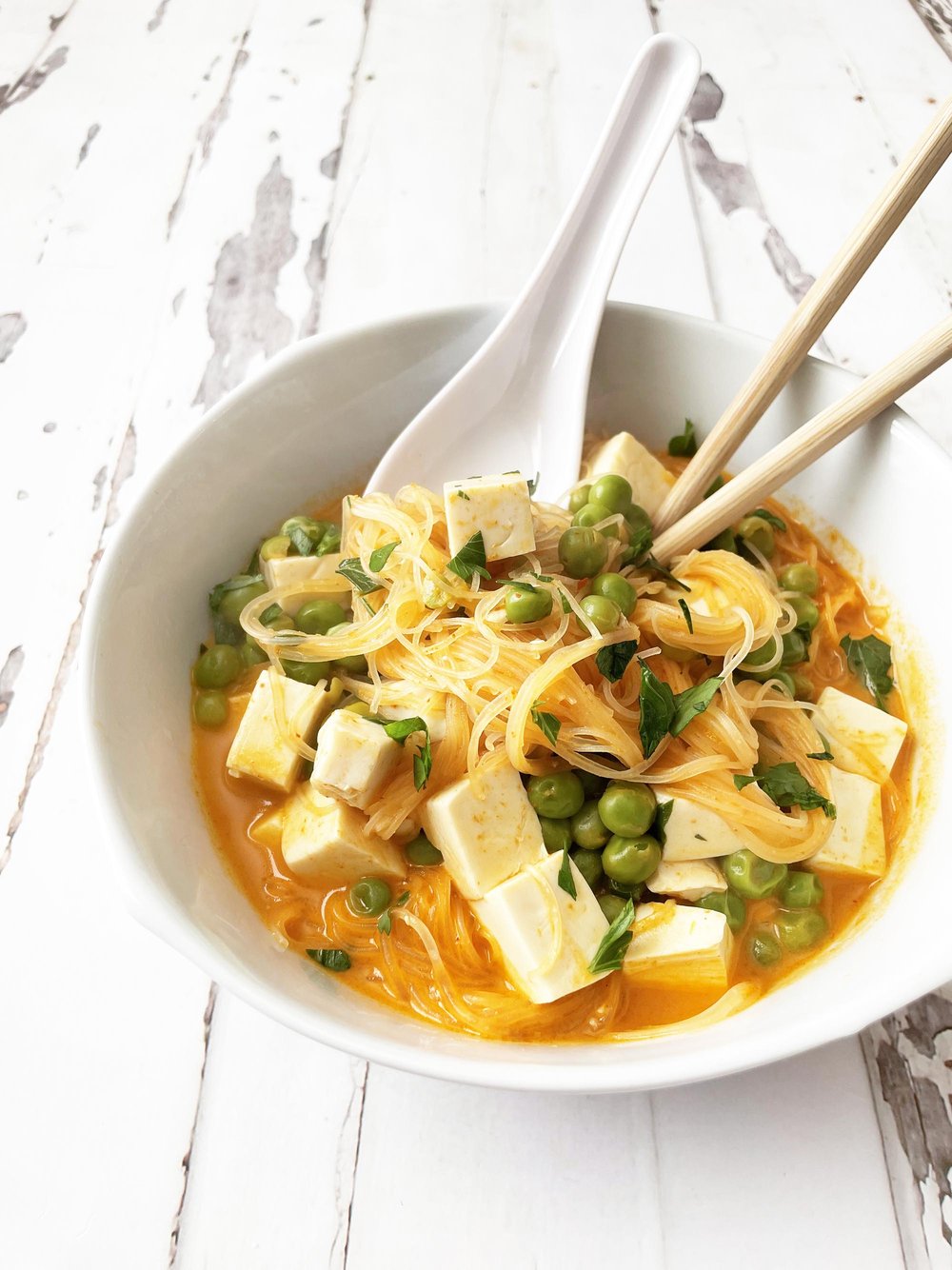 This soup does take a WHOLE jar of red curry paste. You are reading that correctly. A whole jar. But it's a small jar and it's not very spicy at all but has just a bit of a kick and depth of flavor to it that the curry paste.
I would say that this soup is the very best when it's served right away. Leftovers aren't the best. That isn't saying that it's terrible as leftovers, just that it's BEST right away. Otherwise you lose a lot of the broth to being soaked into the noodles.
Thai Curry Coconut Soup
Yield:
4
Author:
The Skinny Fork (Amanda Plott)
Prep time: 5 Min
Cook time: 3 Min
Total time: 8 Min
A quick and easy to make coconut curry soup that's full of Thai inspired flavors and made all in one pot!
Ingredients
1 (4 Oz.) Jar Red Curry Paste
1 (13.5 Oz.) Can Light Coconut Milk
4 C. Low Sodium Vegetable or Chicken Stock
1 C. Frozen Peas
12 Oz.

Extra Firm Tofu

, Cubed
4 Oz. Rice Noodles
1/4 C. Chopped Fresh Parsley
Instructions
Place the 1 Jar Red Curry Paste into the base of a large stock pot and heat over medium-high heat for a minute or two until it becomes fragrant.
Add in the 13.5 Oz. Can Light Coconut Milk, 4 C. Low Sodium Vegetable or Chicken Stock, 1 C. Frozen Peas, and 12 Oz. Tofu.
Bring it all to a simmer then add in the 4 Oz. Rice Noodles to cook for 3-5 minutes or until the noodles are cooked through and done.
Once done, remove from the heat and add in the 1/4 C. Chopped Fresh Parsley.
Divide evenly among bowls and enjoy right away.
Recommended Products:
Yondu Vegetable Umami – Premium Plant-based Seasoning Sauce
Thai Kitchen Gluten Free Red Curry Paste
Thai Kitchen Gluten Free Thin Rice Noodles
Nutrition Facts
Calories
257.48
Fat (grams)
8.43 g
Sat. Fat (grams)
6.91 g
Carbs (grams)
35.25 g
Fiber (grams)
2.71 g
Net carbs
32.53 g
Sugar (grams)
2.44 g
Protein (grams)
8.4 g
Sodium (milligrams)
206.17 mg
Cholesterol (grams)
0 mg
Nutritional Claims: Balanced • Dairy Free • Gluten Free • Wheat Free • Egg Free • Milk Free • Peanut Free • Fish Free • Shellfish Free • Pork Free • Red Meat Free • Crustacean Free • Celery Free • Mustard Free • Sesame Free • Lupine Free • Mollusk Free • Alcohol Free • Kosher
Similar Recipes
Vegetable Curry Laksa
Turkey Thai Curry Meatballs
Vegetarian Green Curry
Did you make this recipe?
Tag
@theskinnyfork
on instagram and hashtag it # theskinnyfork
Step-by-Step Photos: