Following is an edited version of my article, "10 of the Best Italian Restaurants in New York City." The article was featured on 11/23/22 on Mamablip, a media company based in Florence, Italy, devoted to Italian wine, cooking, cuisine and food.
---
New York City is arguably the Italian restaurant capital of the country. Every night and day, big bowls of red-sauced pasta, baked stuffed clams, perfectly-cooked ossobuco, truffled risotto, and cheesy eggplant Parmigiana are devoured by New Yorkers and visitors alike who can't get enough of traditional Italian and Italian-American cuisine. From no-frills red and white-checkered tablecloth joints to vintage wood-paneled throwbacks, chic trattorias, and high-end ristoranti, here are ten of the best Italian restaurants in New York City right now.
32 Withers St, Williamsburg, Brooklyn
Looking for an old-school, red-sauce Italian classic? Bamonte's is just that: white tablecloths, dark wood, red and gold decor, and male servers in black suits and bow ties. The restaurant was even featured in an episode of The Sopranos.
The food matches the decor with specialties like rigatoni with vodka sauce, and classic spaghetti and meatballs. Other favorites include baked clams, pork chops with pickled peppers, and veal Valdostana. If you have room, go for the sublime cannoli, an off-menu treat. Like the atmosphere, the wine list is old-school, with reasonably priced selections. 
8620 3rd Ave, Brooklyn, NY 11209
Since 2019, Chef Thomas Perone has been dishing out old-school Italian favorites at this buzzy, casual restaurant in Bay Ridge. If you are looking for authentic American Italian food like your grandparents made, this is your place—regulars say they've never had a bite that was less than great.
Best options include Caesar salad, burrata, and meatball appetizers. For mains try the chicken Marsala or Scarpiarelo, or any of the fresh seafood dishes. The restaurant is small, so make sure to reserve ahead of time by calling (718) 333-5122, as they don't offer online reservations. 8620 3rd Ave, Brooklyn, NY 11209
103 Greenwich Avenue, Manhattan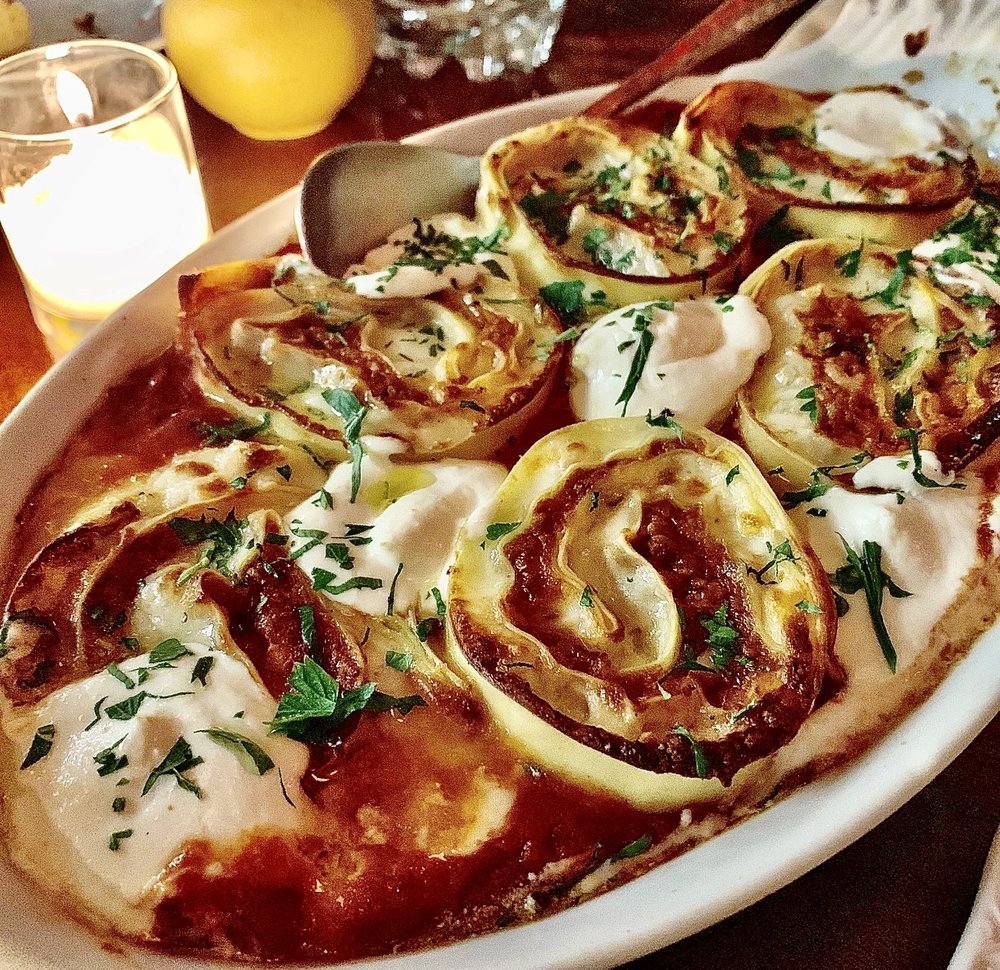 This cozy, modern Italian-American gem in the West Village has been a shining star in the New York restaurant scene since its opening in 2017. Owned by chefs Scott Tacinelli and Angie Rito, a husband and wife team formerly with Quality Italian, Don Angie was awarded a Michelin star in May of 2021. 
Don't miss the famous pinwheel lasagne for two, a light-as-a-pillow rendition of the classic Neapolitan staple. Other favorites from regulars include the chrysanthemum salad, spicy cantaloupe, coppa prosciutto, and stuffed cheesy garlic flatbread.  The all-Italian wine list offers plenty of off-the-beaten-path delights, including a Veneto orange wine made from Garganega grapes.
55 East Houston Street, Manhattan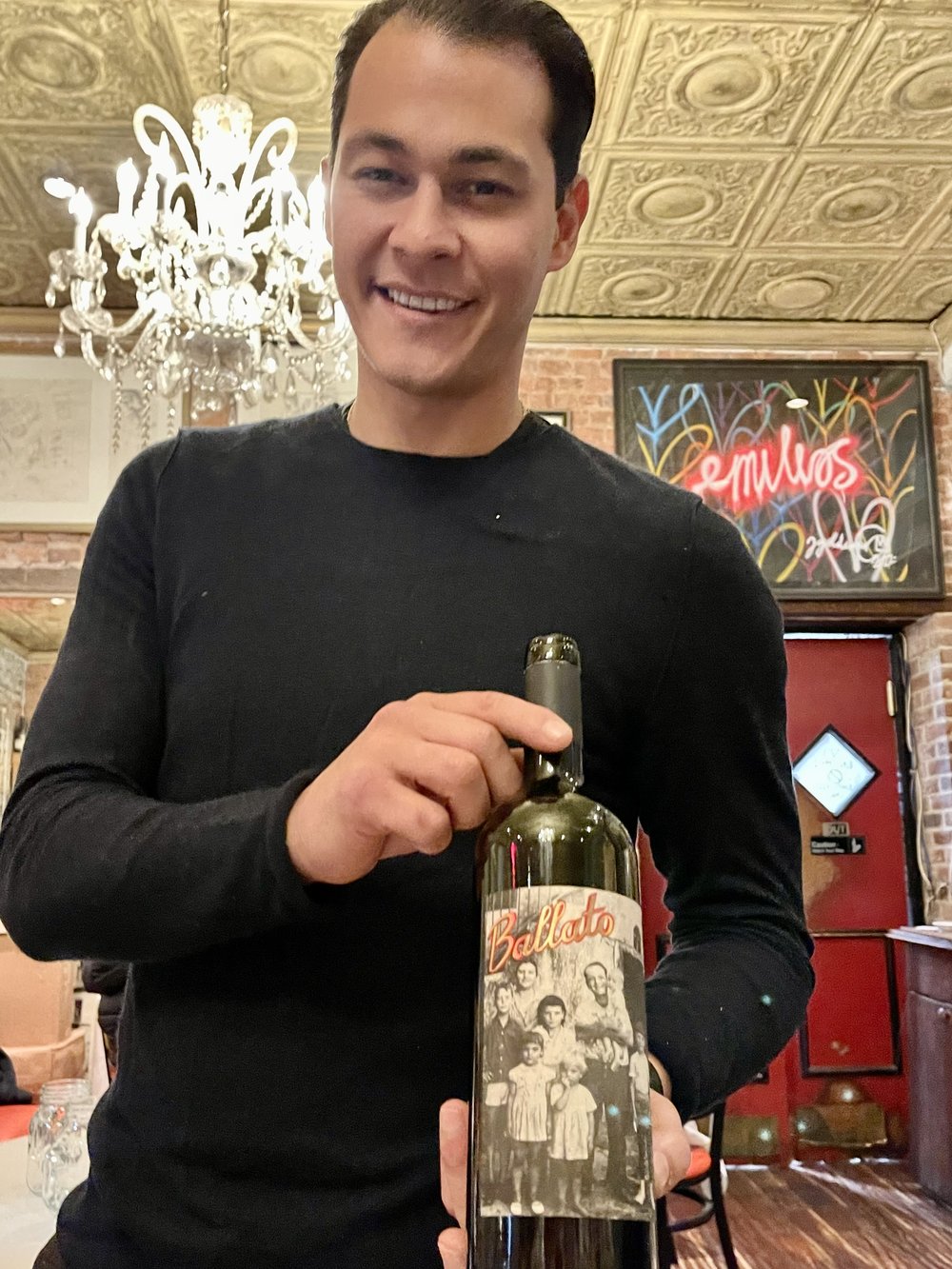 Founded in 1956, the restaurant's old-time ambiance feels like the neighborhood Italian restaurant you've always dreamed of—crystal chandeliers adorning the ceiling, framed vintage photos and magazine and album covers lining the walls. You can't do much better when you want that classic Little Italy night out.
Longtime favorites include the famous "Veal Chop Antonio," a double-cut pork chop prepared with pickled cherry peppers, pasta fagioli, spaghetti with shrimp in a creamy mushroom sauce, and a hearty breaded bone-in veal cutlet, smothered in vodka sauce and topped with crispy prosciutto. And the tiramisu dessert is out of this world. Keep in mind that there are no reservations, so it's best to walk in for an early lunch or during an off time to avoid a long wait.
9 Stanton Street, Manhattan
This welcoming spot offers an authentic taste of Rome on the Lower East Side. Opened during the pandemic as a pop-up, Forsythia quickly developed a strong following for its seasonally-driven dishes, including housemade pasta. The menu features an $89 prix-fixe offering with an optional wine flight for $61. The a la carte menu, available at the bar daily, is only offered on Tuesdays to the entire restaurant. Dishes like cacio e pepe suppli, fried balls of creamy risotto sprinkled with Parmesan, and short rib-stuffed agnolotti are better than your grandma used to make. Another winning combination is hot-from-the-oven focaccia served with pillowy whipped ricotta and butter.
The menu frequently changes to reflect seasonal availability and freshness; when the honey cake is available, do not hesitate to order it. And for wine lovers, there's a well-curated list offering the perfect Italian wine to complement your meal. 
228 West 10th Street, Manhattan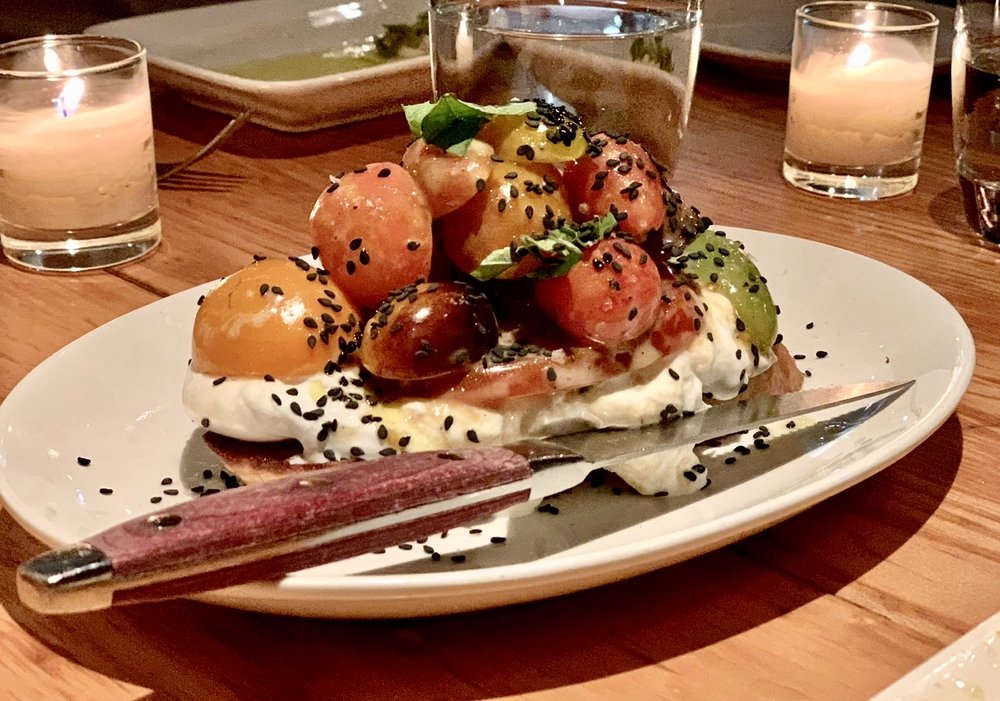 After thirteen years in business, this bustling, candlelit West Village spot is still going strong thanks to its outstanding food and elegantly upscale ambiance; it is the perfect spot for date night or simply catching up with friends. You can't go wrong with the roasted mushrooms or creamy burrata appetizers, or any of the amazing house-made pasta, like spaghetti with garlic breadcrumbs and bucatini with pecorino cheese and pancetta. Another standout is the olive oil cake—a superbly fluffy rendition of this classic Italian dessert served with golden raisin marmalade and crème fraîche mousse.
The restaurant's serious wine list is full of pleasant surprises in all price ranges, including a 2011 Trebbiano from one of Abruzzo's most famous producers, Emidio Pepe ($260), a Sangiovese Reserva from Romagna, Villa Venti 2016 "Longiano" ($90), and a 2020 Aglianico del Vulture from Grifalco winery ($64).
567 Union Ave, Williamsburg, Brooklyn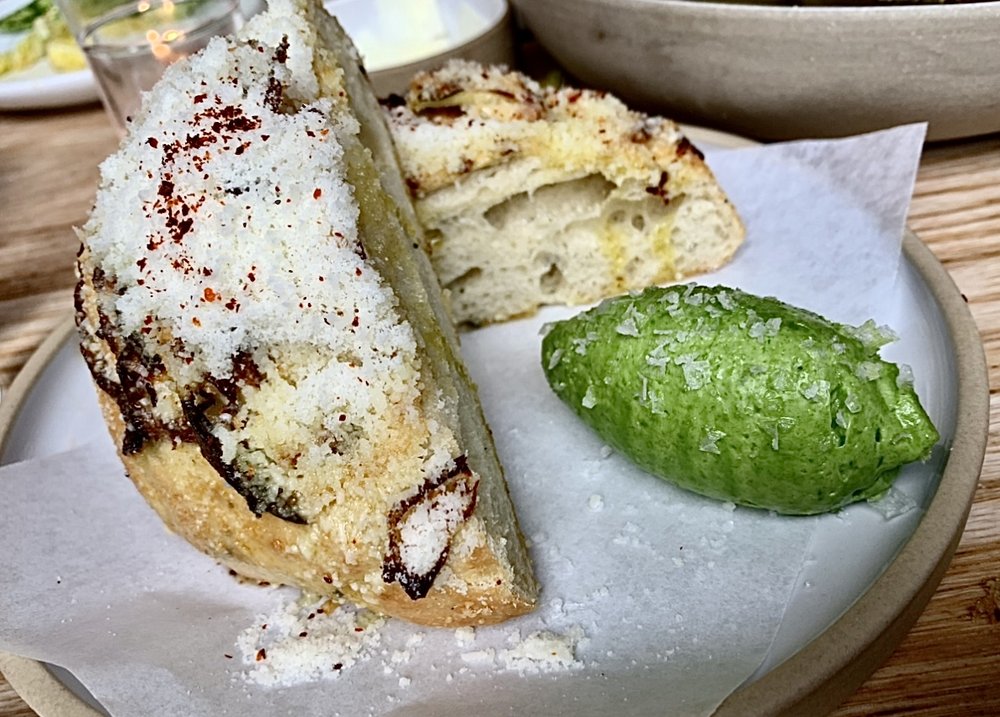 One of the brightest stars of the Williamsburg restaurant scene, this former auto-body shop turned casual-chic dining room has been dishing out some of the city's best Italian fare since 2016. Chef Missy Robbins, awarded "2018 Best Chef, NYC" by the James Beard Foundation, thrills diners with creative house-made pasta like sheep milk cheese agnolotti with saffron, dried tomato and honey, and mafaldini with a pink peppercorn Parmigiana sauce. Other must-try dishes include focaccia with green garlic butter, herb-infused mussels, and grilled leg of lamb cooked on the huge wood-fired grill.
For wine lovers, the well-curated all-Italian list sparkles with many off-the-beaten-path gems like the Paltrinieri 'Radice' Lambrusco and the Foradori 'Sgarzon Cilindrica' Teroldego. Make room for "The Italian Job," an off-menu item of creamy vanilla gelato sprinkled with fennel pollen and sea salt, then drizzled with olive oil and honey. Mama Mia! 
30 East 30th Street, Manhattan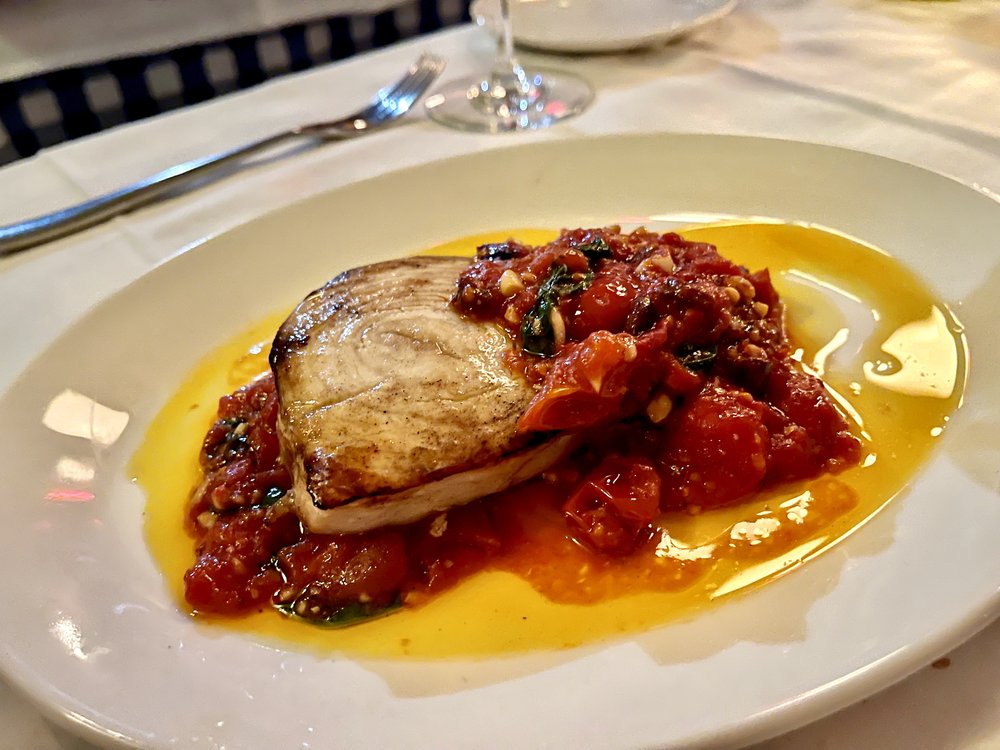 Danny Meyer's Maialino (vicino)'s new location in the Redbury Hotel continues to please with familiar Roman classics in a relaxed but elegant setting. Pasta dishes like the rich and cheesy Cacio e Pepe or the off-menu Spaghetti Carbonara are worth the carb overload. And for the secondi, don't miss swordfish with roasted tomato, pine nuts, basil, and raisin, or the tender, crispy-skinned suckling pig with rosemary potatoes. 
The well-crafted all-Italian wine list includes many interesting choices, such as a crisp Sicilian white wine, I Custodi Etna Bianco, as well as a large selection of Piedmont reds. Pop on over to Maialino's comfortable wine bar next door for a glass of Italian vermut on ice and a plate of salumi or one of the many delicious panini.
27 East 27th Street, Manhattan
Since 2019, Rezdôra has been serving elevated home cooking in an intimate, warmly-lit ambiance. This Flatiron hotspot celebrates the food of Emilia-Romagna and its name translates, in the local dialect, to "head of the household," or perhaps "queen of the kitchen," a nod to the region's Grandmas who have perfected the art of pasta-rolling.
The pasta is indeed the star of a kitchen that offers a $98 pasta-tasting menu as an option from the excellent à la carte lineup. Don't miss the uovo (egg) raviolo pasta or bistecca per due, steak for two. Reservations are hard to come by (you may need to book a month in advance) but snagging one is well worth the effort. 
235 Mulberry Street, Manhattan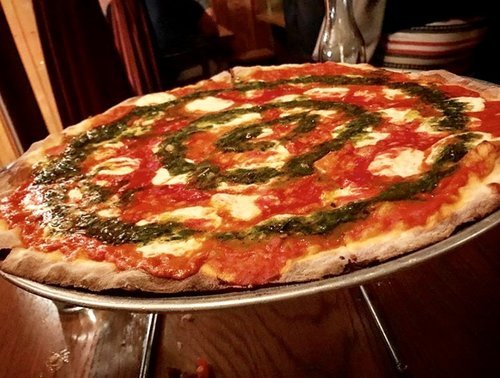 A Nolita staple since 2009, Rubirosa has a strong following among food-savvy New Yorkers and visitors alike. Diners come here for the wide array of excellent soups, antipasti, fritti, secondi, pasta, and signature pizzas, especially the thin-crust tie-dye pizza, a flavorful combination of tomato sauce, basil pesto, and fresh mozzarella.
Pair the meal with one of the fine selections from the all-Italian wine list, like the COS Cerasuolo di Vittoria from Sicily. Reservations can be hard to secure, but space is reserved for walk-ins, usually with a wait, so plan ahead.