Is Walmart's ketchup just as tasty—for less cash—as Heinz? Is Costco's yogurt as creamy as Chobani? Here, how 70 grocery store brands compare with the iconic staples you've bought for years.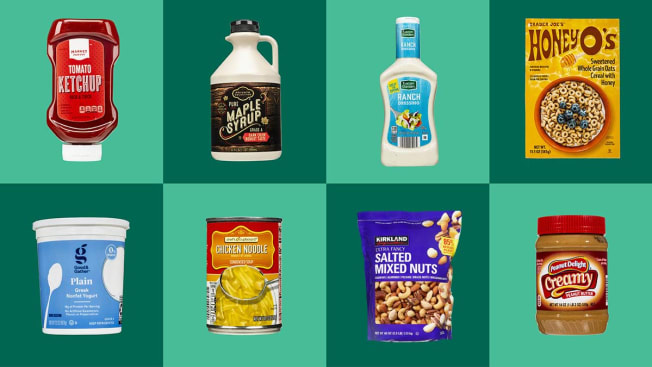 By Trisha Calvo
Loyalty to name-brand foods can run deep. Forty-three percent of Americans buy the less pricey store-brand versions of well-known brands only occasionally or not at all, according to a September 2022 CR nationally representative survey of 2,519 U.S. adults (PDF). But our latest tests reveal that they're making a big mistake by leaving store brands on the shelf.
A CR panel of expert tasters blind-tested leading name-brand versions of 10 pantry staples—ketchup, frozen organic mixed vegetables, ranch dressing, whole-wheat bread, peanut butter, plain nonfat Greek yogurt, mixed nuts, maple syrup, condensed chicken noodle soup, and honey Cheerios-like cereal—alongside their store-brand counterparts. The products were from nine stores: Aldi, BJ's, Costco, Dollar General, Kroger, Target, Trader Joe's, Walmart, and Whole Foods. (Some stores didn't have their own version of every name-brand product. Costco doesn't have its own ketchup, for example.)
What CR found is that many store brands taste just as good as—or even better than—the well-known brands.
"Of the 70 store-brand products in our test, 76 percent tasted just as good as the name brand," says Amy Keating, RD, who led the testing. Just as important: That good taste came at a great price. We compared the average amount we paid for all the products and found that the store brands typically cost 5 to 72 percent less per serving than the name brands. For example, the house-brand ketchup sold at Aldi, Target, and Walmart were judged close to the flavor of Heinz but cost about 70 percent less. In the salad dressing category, we found that Kroger Creamy Ranch Dressing tasted better than Hidden Valley Ranch and was about half the price.
As far as taste is concerned, there were some store brands that didn't measure up to the name brand (although most were still cheaper). And in a few cases, the store brand cost more. So read on for all the intel on the brands you'll most enjoy eating—and pay a lot less for.
Ketchup
Iconic Heinz Ketchup—by far the best-selling brand of ketchup in the U.S.—is a unique blend of tangy, sweet, and salty tomato flavor seasoned with onion and other spices. The Aldi and Kroger ketchups were a bit less tangy and didn't have as much seasoning. Walmart's version was mildly seasoned, with a dominant tomato flavor. Our testers thought these three, along with versions from Dollar General and Target, tasted very good. And because they'll save you 62 to 72 percent per serving, a Heinz fan might be just as happy with any of them. The ketchups from Trader Joe's and Whole Foods were also good but tasted markedly different. Unlike Heinz, both had strong flavors of brown spices (such as allspice and cloves) and tasted more like a cross between ketchup and Worcestershire sauce. Most of the store brands had 20 to 30 mg less sodium than the 180 mg in a tablespoon of Heinz but a similar amount of added sugars as the name-brand ketchup.
Ranch Dressing
With tangy buttermilk and dill, onion, garlic, and black pepper flavor, Hidden Valley is the classic ranch dressing. Kroger's version was all that but with a decidedly cheesy vibe that our tasters thought might perk up your salad a little more, for half the price. The flavor and texture of most of the other store brands were similar to Hidden Valley, if a little less tangy and seasoned. Whole Foods' dressing was thin and had a sour flavor that overpowered the buttermilk and ranch spices. Trader Joe's version didn't taste much like ranch dressing; it had slight mustard and relish flavors. Both Whole Foods' and Trader Joe's dressings were slightly lower in fat and calories than the other dressings. All had 240 to 290 mg of sodium—which is a lot for 2 tablespoons—so be careful how much you add to your salad.
Organic Frozen Mixed Vegetables
Over 8 in 10 of the people in our survey who buy frozen vegetables said they had purchased a store brand—more than any other food we asked about. And it looks like that's a good move. All the organic frozen veggies we tested were at least as good as those from national brand Cascadian Farms. They all offer more variety, too, adding green beans to the carrots, corn, and peas you get from the name brand, and most of them cost significantly less. The veggies from Whole Foods tasted better than the name brand, with a slightly crisp texture and nice sweetness to the corn and peas—but they cost more. Kroger's veggies were similar in quality to Whole Foods' but tasted a bit fresher than typical frozen veggies and cost 21 percent less than the name brand.
Whole-Wheat Bread
All the store-brand breads we tried tasted on a par with established brand Nature's Own, though they all had slightly different flavors and textures. Nature's Own bread is slightly chewy and moist. Aldi's is slightly less dense. Kroger's and Walmart's breads are less moist than Nature's Own; Kroger's whole wheat is also a tad sweeter. Target's is a good choice for whole-wheat lovers who prefer the airier texture of white bread. For a denser whole-wheat bread, opt for Trader Joe's or Whole Foods' loaves. The nutrition values vary from product to product, but all have at least 2 grams of fiber per slice, and none of them have more than 2 grams of added sugars. The Aldi, Target, and Walmart versions have the least sodium (110 to 115 mg); Whole Foods' has the most (170 mg per slice). That's not a lot, but bread is a top source of sodium in the U.S. diet because we eat so much of it.
Peanut Butter
If you like to eat peanut butter from a spoon, you may be able to taste subtle differences between classic brand Skippy and a number of store brands. Aldi's and Walmart's were a bit thicker, and Kroger's tasted a touch less sweet, but all had a similar roasted peanut flavor and level of saltiness. Trader Joe's was thick and stickier, and had a stronger peanut flavor. On a PB&J, you probably wouldn't notice any of these variations. BJ's and Whole Foods brands are natural-style, so they're thinner, a bit runny, and not as smooth. They also have zero added sugar, so they're less sweet than the name brand, and BJ's had less roasted peanut flavor. BJ's also costs 37 percent more than Skippy, probably because it's organic. Two brands we tasted didn't measure up: Dollar General's and Target's, which had a less roasted peanut flavor; Dollar General's also tasted less fresh.
Greek Yogurt
CR's survey found that about 4 in 10 yogurt shoppers skip right past store brands to seek out names like Chobani instead. But they may want to reconsider that decision. Our testers determined that most store-brand yogurts are as good as Chobani—and you might not notice any difference, especially when enjoying them served with toppings or using them in a smoothie. The name brand was creamy and had a nice balance of dairy flavor and natural sourness. Whole Foods' yogurt came the closest to tasting like it. (Whole Foods' yogurt does cost 6 percent more, but it's organic.) Most of the other brands tended to be a bit more sour than Chobani or Whole Foods' yogurt, and some—Costco's and Amazon's—were slightly thicker. Skip Kroger's version unless you like a really sour yogurt. All were close nutritionally, with most having about 100 calories, 17 grams of protein, and 15 percent of the daily value for calcium (1,300 mg) per 6-ounce serving.
Mixed Nuts
The packages of all the nuts here, even name-brand Planter's, had 70 percent or more almonds and cashews with other types sprinkled in. For Planter's, those were hazelnuts, pecans, and pistachios. The name brand was very good, but a few nuts were bitter and over-roasted. You'll get the tastiest assortment—and save a lot of money—by choosing Costco's or Walmart's brand. Costco's nuts had fewer broken pieces and a nicely roasted flavor. The mix contained large cashews and macadamia halves, plus almonds, pecans, and Brazil nuts. Walmart's nuts, priced 21 percent below Planter's, were similar but included hazelnuts instead of macadamia nuts. Trader Joe's, with pecans, hazelnuts, and Brazil nuts, offered the same savings and had the least sodium (20 mg) but also more broken pieces. Some of the nuts in the Aldi packages were bitter, and BJ's were less fresh-tasting.
Condensed Chicken Noodle Soup
This famous name-brand soup by Campbell's has a nice chickeny broth and plentiful noodles. So does Aldi's version, which our testers found to be better because the thinner noodles were firmer—and it costs 47 percent less than Campbell's. Walmart's chicken noodle soup tasted close to Campbell's, and at 22 cents per serving was the least expensive in our tests, but the noodles were slightly mushy. As with many canned soups, sodium is a concern, with most brands we tested hovering around 900 mg per 1-cup serving. Kroger's has 650 mg, but our testers thought the broth was "bland," and some of the chicken pieces had a soft, spongy texture.
Maple Syrup
Our tasters found all the syrups they tested to be delicious, but there were subtle differences in flavor and texture, and there were two standouts. The name-brand syrup by Butternut Mountain Farms was thick and buttery with a robust maple flavor. But BJ's and Target's syrups tasted better, according to our testers. Butternut had a hint of molasses, while those other two had more complex flavors, such as caramel (with just a little coconut in the BJ's version). Target's cost our shoppers 3 percent more, but BJ's was 17 percent cheaper and is organic to boot. For those who like a thinner, more delicate-tasting syrup, organic Costco's, which is 25 percent less than the name brand, was the best deal. Most of the other store brands cost about the same as Butternut.
Honey Oats Cereal
Can you fill your morning cereal bowl with a Cheerios knockoff that tastes like the real thing but costs a lot less? The answer is a qualified yes. Our trained tasters detected slightly less intense toasted oat and honey flavors in Trader Joe's Honey O's, but it was close enough—and cost 25 cents per serving vs. 48 cents for Cheerios, although it's slightly higher in added sugars. Walmart's also came close, while Amazon's and Kroger's were just as tasty but a bit thicker and crunchier. The sweetness of Target's was more fruity than honeyed. Skip the Dollar General and Whole Foods cereals, which had a less distinctive oat flavor than Cheerios. And Dollar General's had a slightly soapy taste. Whole Foods' cereal is organic and cost 14 percent less per serving, but our testers found its O's to be slightly hard with little toasted-grain flavor.
Editor's Note: This article also appeared in the January 2023 issue of Consumer Reports magazine.
Consumer Reports is an independent, nonprofit organization that works side by side with consumers to create a fairer, safer, and healthier world. CR does not endorse products or services, and does not accept advertising. Copyright © 2022, Consumer Reports, Inc.