On a quaint corner in Bernal Heights in San Francisco lies Marlena. A cozy neighborhood spot with culinary ambitions that rise beyond your regular neighborhood spot. We dropped by on a recent Wednesday evening to check out their four-course menu.
Talk about crappy timing. Opening up an ambitious restaurant in the middle of a global pandemic must be one of the most unlikely challenges a hospitality professional could ever face. Nevertheless, that's what happened to Marlena, the brain child of husband-and-wife chef team David Fisher and Serena Chow Fisher, which opened it's doors late summer of 2020.
But judging from our visit, pandemic or not, locals have already taken this cute space that sits on a lovely corner across from Precita Park to their hearts. While not crowded (both indoor- and outdoor tables are well spaced out), it gradually got busier as our early reservation matured into the evening. It's easy to picture the restaurant buzzing with energy, conversations and laughter once the pandemic restrictions are fully lifted, and happy diners spilling out into the street and the park across it (maybe carrying one of the picnic kits the restaurant sells).
The weekday menu is a prix-fixe 4 course menu for $65, which is a little higher than the restaurant's initial ambition of featuring a $40 menu. The wine list is short, but good, and features a variety of whites, reds and sparklers from France, Italy and the West Coast. Prices are more than reasonable, and the servers are all ready to give recommendations that pair well with the food.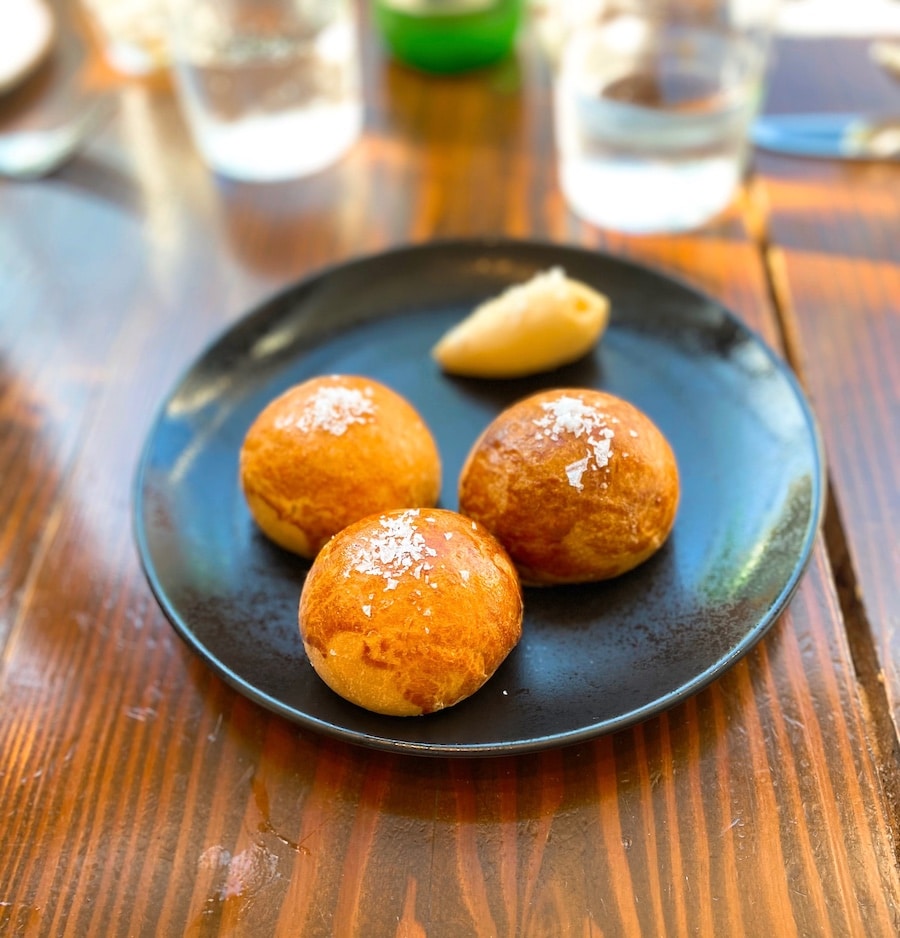 You can add Parker rolls and cultured butter to your meal, and you definitely want to take that opportunity. Not only is it only $2.50 per person, but the bread is lovely, accompanied by vibrant butter and sea salt. Don't miss.
A beautifully plated kampachi with pink honey melon, Armenian cucumber and lovage kicked off our meal for real. With a whiff of a dashi broth, the kampachi itself had wonderful structure, and paired well with the sweetness of the honey melon.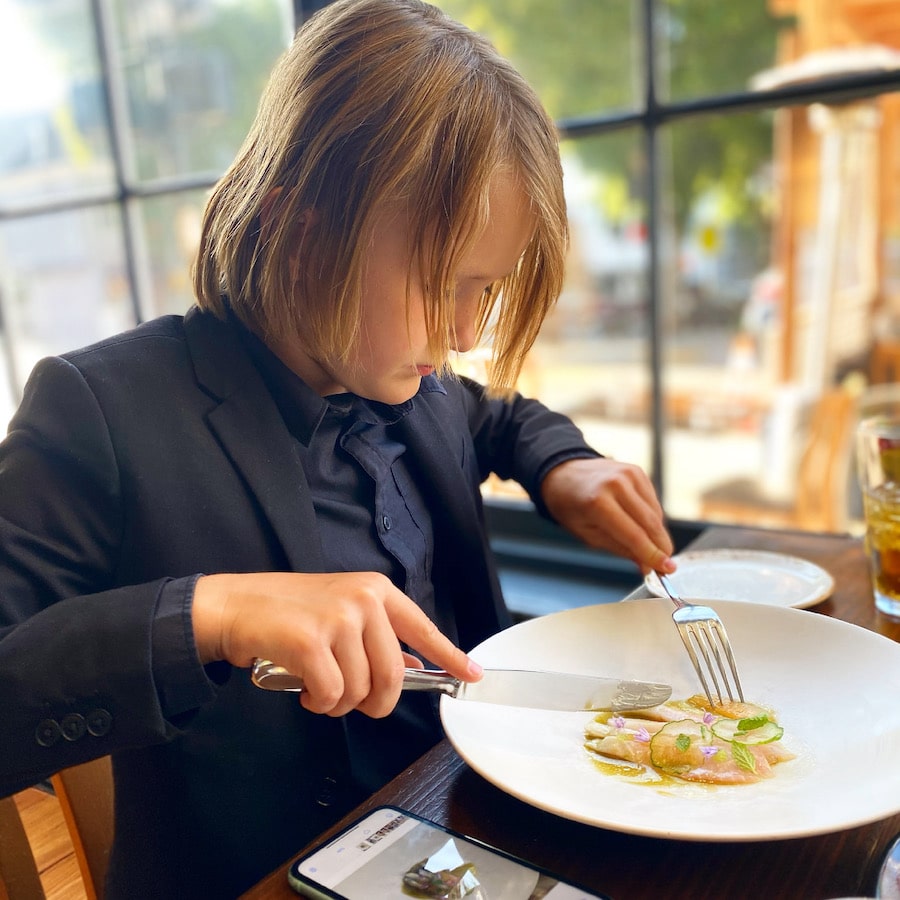 The other starter, grilled little gem with eggs, nori cream and green strawberries also carried a slight asian flair, and was a fresh way to get the dinner rolling. The nori cream added a layer of creativity to the dish, and took it from "grilled salad" to interesting appetizer.
Next up was a taleggio cappelletti with hazelnut, maitake and aged balsamic. The pasta was luscious, decadent and rich, and while the maitake perhaps felt a little off on the dish as a whole, the hazelnut and balsamic added texture and sweet acidity that took the pasta from good to great.
The green asparagus with smoked hollandaise, roasted onion and farro verde split the table. Yours truly, an avid lover of anything edible with lots of fat and smoke, was in heaven, as the hollandaise married perfectly with the asparagus. My dining companion, however, found the smoke overwhelming.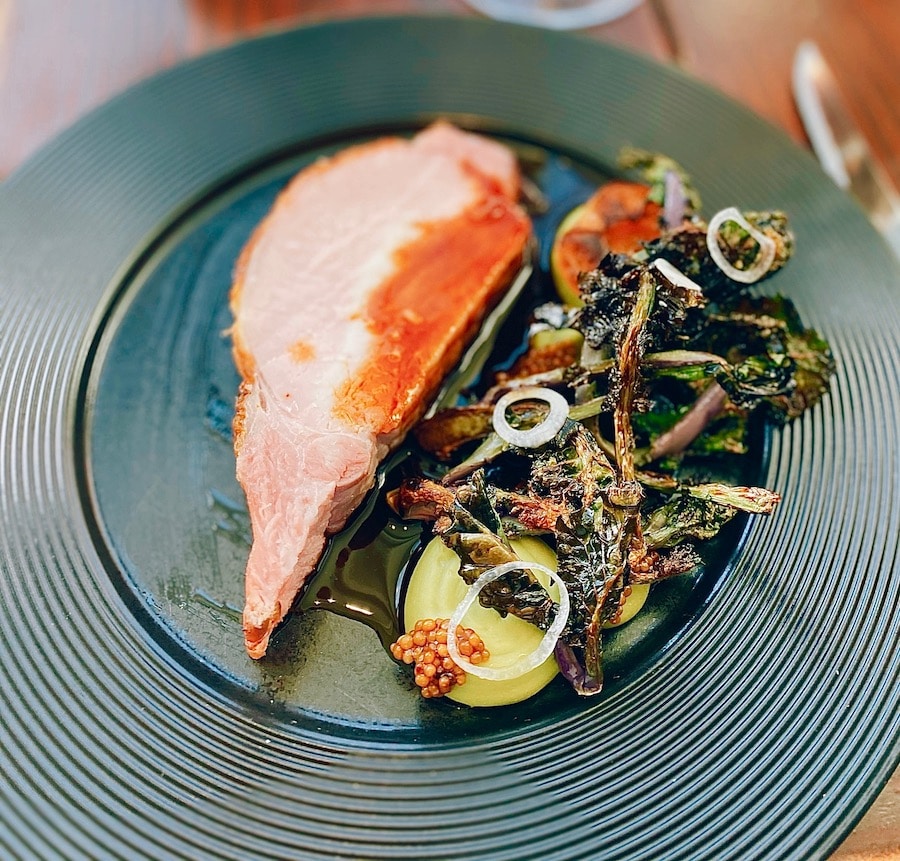 On to the mains, where a sakura pork loin with golden spring apricot, kale and garbanzo puree impressed immensely. The pork was a perfect light pink, and had wonderful texture throughout. The apricot pairing was of course an instant hit, but the garbanzo puree added a level of hearty earthiness to the dish that really tied it together well.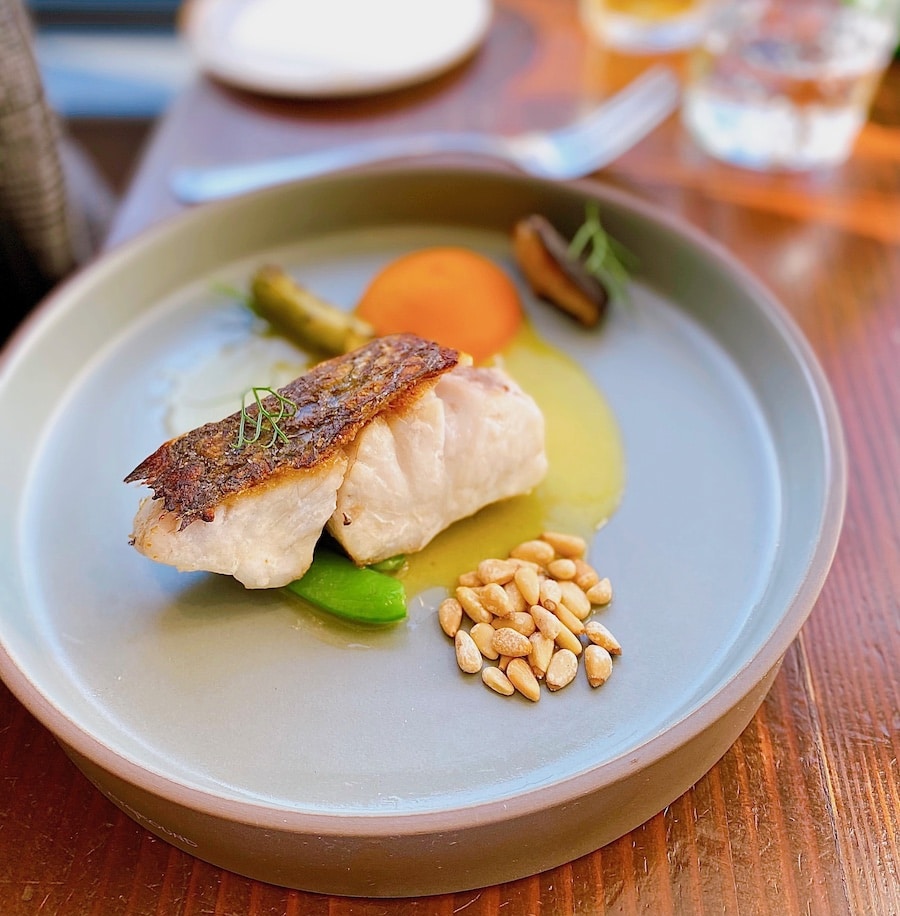 The fish was a lovely, lightly cooked corvina, served with baby fennel, sugar snap, pine nuts, and a saffron infused carrot puree. And while we didn't quite catch the saffron in the puree, the dish as a whole was highly successful. Fresh, vibrant and light, but still pleasing.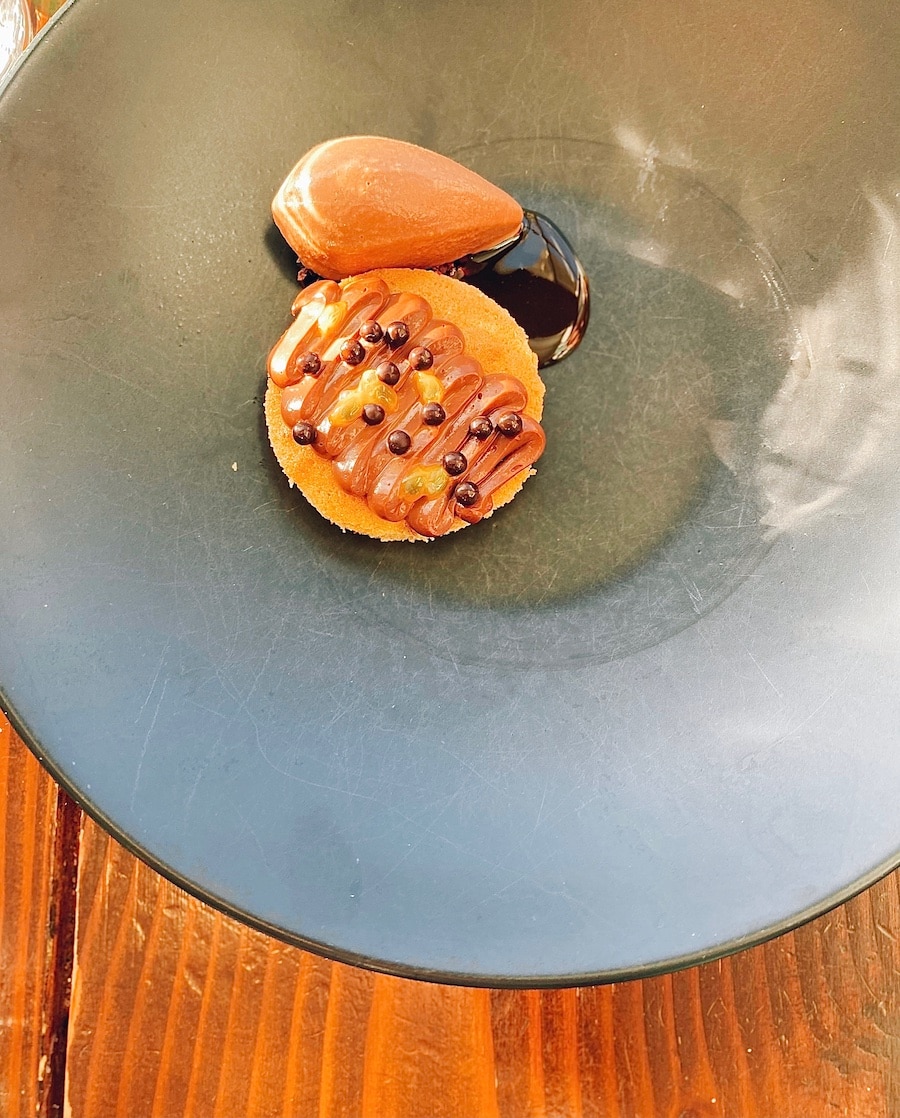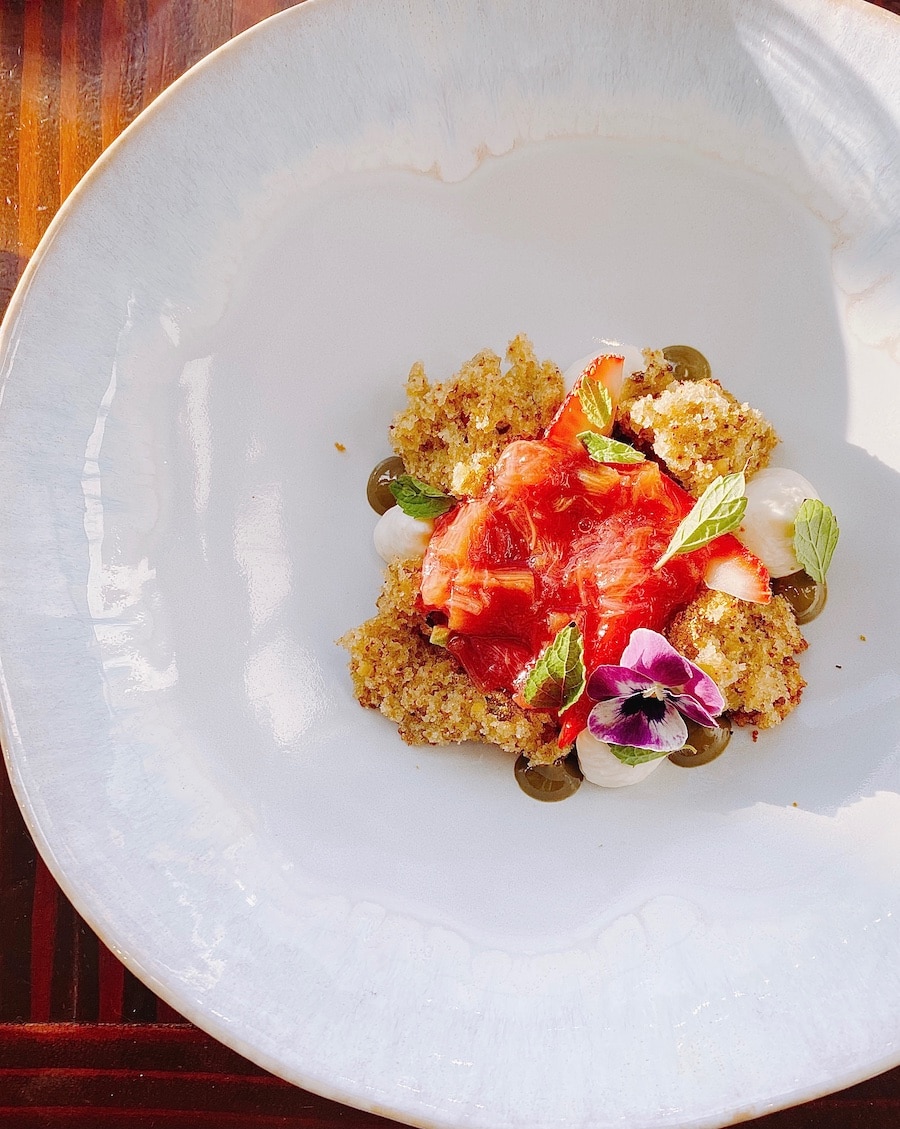 Finally, dessert time, where an airy pistachio cake, served with rhubarb, jasmine bavarois and strawberry combined flavors that reminded us of both Scandinavia and the Middle East at the same time. The double chocolate cake with brown sugar caramel, cocoa nibs and passion fruit was as delicious as it was pretty, and rounded out the meal in the sweetest possible manner.
With a couple of well matched wines, the bill for three people including tip came to about $380, which obviously isn't cheap in any way – but considering the ambition of the kitchen, I'd still say it was high value for money. So while this might not become your three-nights-a-week local restaurant anytime soon, it certainly is worth more than one visit. The ambience is friendly, airy and cosmopolitan without being snooty, the service attentive and knowledgeable, and the kitchen delivers ambitious food at a price point not many ambitious restaurants in SF do.
Marlena Restaurant
(415) 400-5997
300 Precita Avenue, San Francisco, CA 94110
The post Review: Marlena Restaurant, San Francisco – Not Your Average Neighborhood Restaurant appeared first on Honest Cooking.