More than 160 new Utah restaurants – how many have you tried so … – Gastronomic SLC
We're gonna need a bigger boat. Maybe two. Clocking in at somewhere close to 20,000 words, and recapping the unveiling of more than 160 bars and restaurants that opened across Utah this year – I give you our end of year monster. Enjoy fireside with brandy is my personal recommendation.
Please do note that this Frankenstein is cobbled together from a variety of odds and ends, taped up from numerous roundups we undertake through the year; so apologies in advance for the rough edges. At any rate, save this one for next time you're stuck in a dining rut.
P.s. if that's not enough to get you inspired for the new year, here's 195 more from last year.
140B Cafe / Ellerbeck Walk Up Cafe
Local blog SLC Eats was the first I saw to break news on this Avenues coffee shop. The new walk up is part of an existing B&B operation, as Ryan of SLC Eats writes:
"For those familiar with the Avenues neighborhood, you're well aware of the beautiful pioneer-era Victorian at the corner of 3rd and B Street. The mansion now holds a bed and breakfast and was purchased two years ago by Tyler and Kara, who have been making serious efforts to rejuvenate this Avenues jewel."
Check out the full write up here. Menu over on our sister site SLC Menu too. Picture above also courtesy of SLC Eats.
99 Thai Fusion Restaurant
Layton (768 W 1425) is the home for this new Thai spot, which also has a number of Japanese dishes amidst it's menu pages – not least an intriguing looking lobster dish cooked in red curry. More lobsters in things, let's make this a 2023 goal.
Abaadir
At this new SLC spot (145 E, 1300 S) East African cuisine is served alongside more immediately recognizable Middle Eastern and South Asian dishes – shawarma, tandoor roasted meat, biryani and more. Want to dive face first into the Abaadir menu and try it all? Abaadir also offers a buffet, though I can't quite locate the details on what that entails.  Hit me up if you know.
ACME Bar Company
Coming to the heart of Sugar House, plenty of fire and flame and tiki flare with this one. The latest effort from the Water Witch team, I wrote about their recent plans and what they have in store for 2023 in this article. It'll be one to watch in 2023 for sure.
Afghan Baba
Recently opened in downtown SLC (268 S State), this new Afghan option finds itself in the space once upon a time home to the likes of Kabuli Cafe, Curry N Kabobs and House Of Kabob to name three. The restaurant is located upstairs, atop the market that greets you out front. The menu features a wallet-friendly looking mix of kabob, rice dishes and more; all overseen by chef Zahara who hails from Mazar E Sharif.  Baba – apparently named after Ahmad Shah Durrani, father of modern day Afghanistan – is presently open Mon-Fri 11.00 – 3.00 for lunch, with a solo dinner service on Friday nights from five.
Alpha Coffee
This new coffee shop along downtown's Main Street is "female and veteran owned", and, "is proud to donate more than 10 percent of their profits to the planet, veterans, and community through their Grounds for Good program." Also according to the Downtown Alliance's Joshua Jones on this post, "the sausage croissant and bacon burrito are legit." Open weekdays only for now.
Angry Korean Cottonwood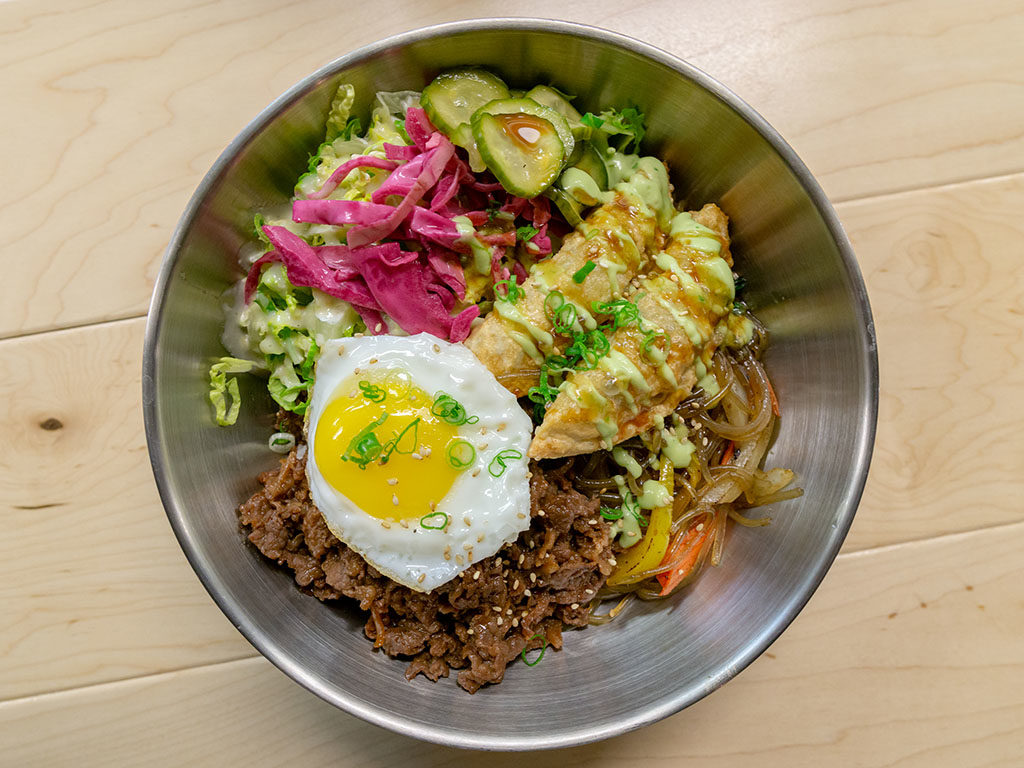 I'd been tracking the second coming of this American-Korean fusion joint for quite some time; but had impressively failed to detect the final opening. Sigh. A keen eyed reader helpfully dropped me a note to confirm that the Cottonwood Heights location is indeed now open. Angry Korean (a kinda play on Seinfeld's soup nazi if you will) has been a favorite of mine since they opened. 
Starting life in South Jordan – the work of Peter Kim and Young-Ho Kang, two Korean chefs with strong backgrounds out of state. Kim's includes a stint at Momofuku under David Chang – NYC's king of umami – before moving onto Michelin starred Korean eatery Danji. Kang – a seasoned sushi chef himself across the US and Korea – met Kim here in Utah. If you want to dive right into the fusion don't look any further than the Korean cheesesteak pictured above which is loaded up with marinated Korean bulgogi beef.
Antica Roma
Towards the end of the year Michelangelo's On Main, the downtown SLC Italian staple, become Antica Roma. This post confirmed the change a while back, but I've year to hear what that means in principle. New owners? New menu? If you know, lemme know…
Ascent Kitchen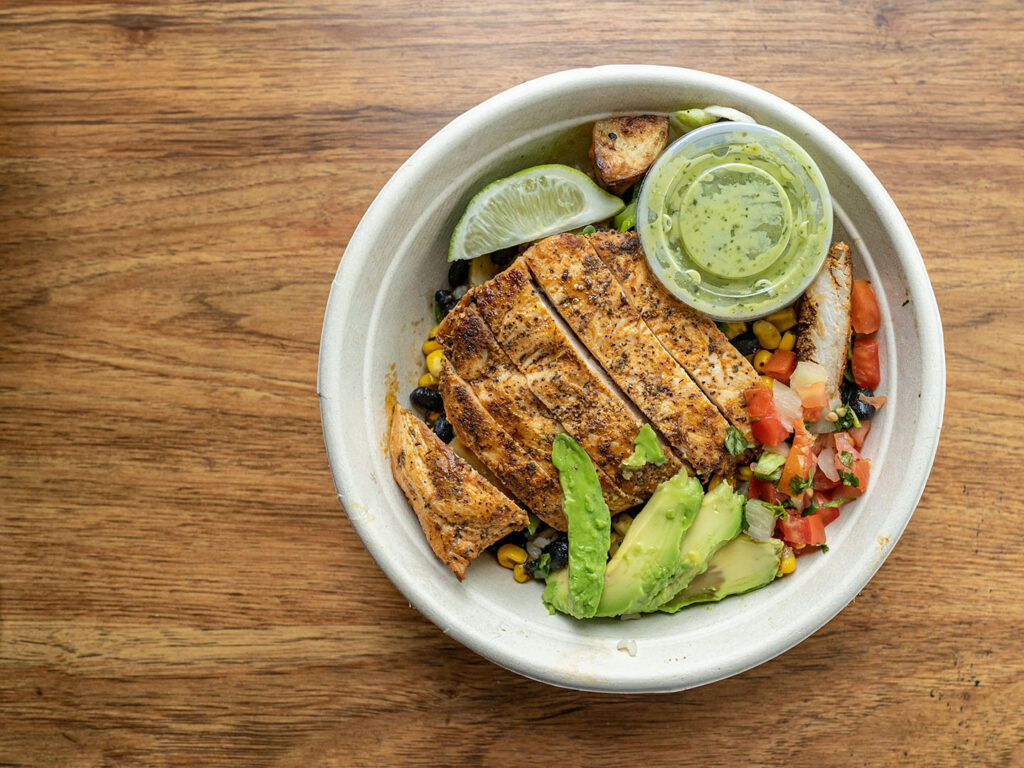 Sadly, Ascent didn't make it to the years end, closing in the Fall.
For those last few of you, belligerently clinging to new year resolutions – or those just arterially kaput from yet another fried chicken sandwich – check out this new healthy option with a trio of locations across the valley. The business moves seamlessly into the former Pulp Lifestyle spots (Downtown, Liberty Park, Sandy), with a focus mainly on breakfast and lunch. It's not clear whether the business is an all new setup; notes on the Downtown Alliance blog suggest this is the same Pulp operators rebooting under a new concept. Breakfast wraps, toasts and bowls run $8-$10 with a lunch lineup of sandwiches and bowls coming in at $10-$16.
Aunty's Hawaiian Kitchen 
Open in Riverton, Monday through Saturday, this new Hawaiian spot. The menu features plenty of familiar protein favorites such as teriyaki BBQ chicken, kalua pig and chicken katsu, at some appealingly low prices; prices run around the $12 mark for most entrees, served along with rice and mac salad. Keep an eye out of the loco moco, a fabulous amalgamation of a dish that plonks a teriyaki burger over rice, then crowns the festivities with a fried egg and smothering of gravy. If I could, I'd order it by the bucket.
Azucar
More coffee, this time over in West Valley City, and with Mexican flair. The menu features a recognizable roster of drinks, as well as plenty of Mexican pastries from a local bakery.
Baby's Bagels
This bagel-bearing-business sprang to life in 2022, and started taking weekly orders. In case you missed my initial preview here's the full story. It's started life as a strictly blink and you'll miss it weekly ordering window but grew into a farmer's market staple as the year went by. The business is even now doing popups, most recently seen at Arlo offering a special breakfast bagel menu.
Banbury Cross Centerville
A second location of the popular donut shop is now open in Centerville (330 W Parrish Ln). P.s. you'll need to bring your own peaches if you want to recreate that pictured plate. Read more on that in our recent peaches story here.
Beehive Distilling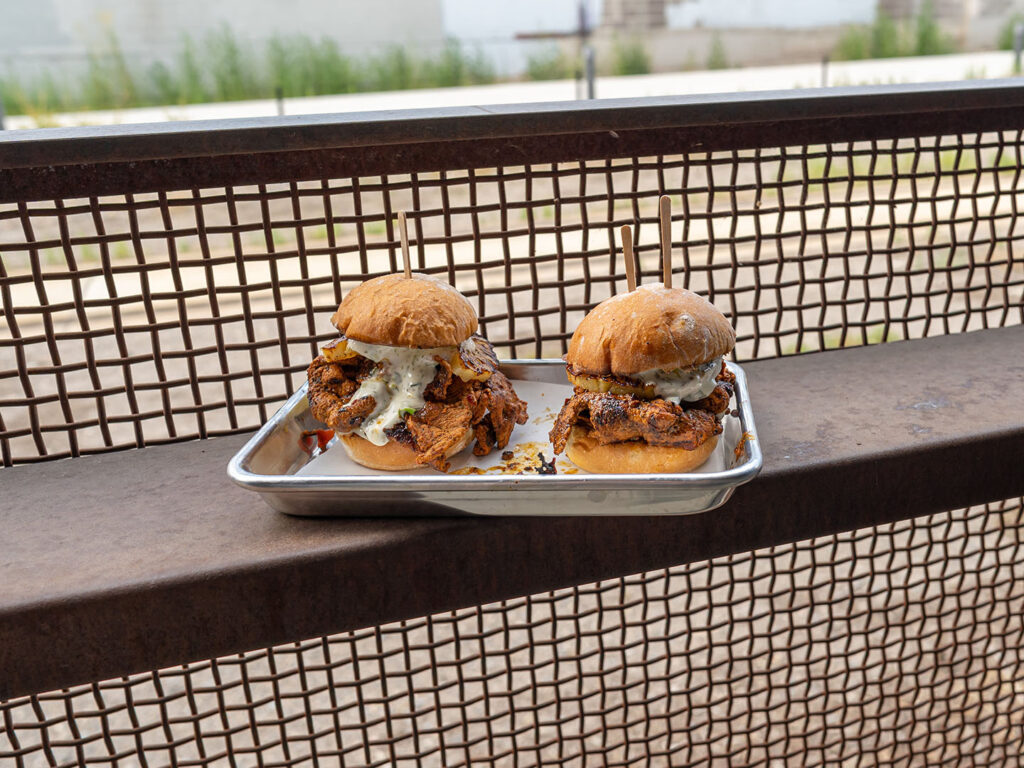 Not a new opening but certainly a big new update – one of the best distillers in Utah now has food. South Salt Lake's Beehive Distilling now offers a food menu, offered roughly four till nine while the bar is open. You can check out the menu on our sister site here. More info as and when we swing by very soon…
The Best Brothers Mexican Grill
This new Ogden Mexican eatery serves up everyting from classic tacos with hand made tortillas through burritos, menudo, pozole, quesadillas and tortas (themselves with daily fresh baked teleras; and of course, the darling of many a menu right now, Quesabirria – $12.99 for a trio. Dig into the menu a little deeper and there's even pizza birria…
Bistro Provenance
Providing French-flair in Utah County is Bistro Provenance. Owned by Chad Pritchard of Oregano Italian Kitchen and Fat Daddy's Pizza, the menu looks set to scratch an itch for many a Francophile; French onion soup, charcuterie, steak frites, duck a l'orange – you name it – the whole gang is here. There's even (finally after years of me banging on about it) trout almandine with local Utah trout.
Block Party 2700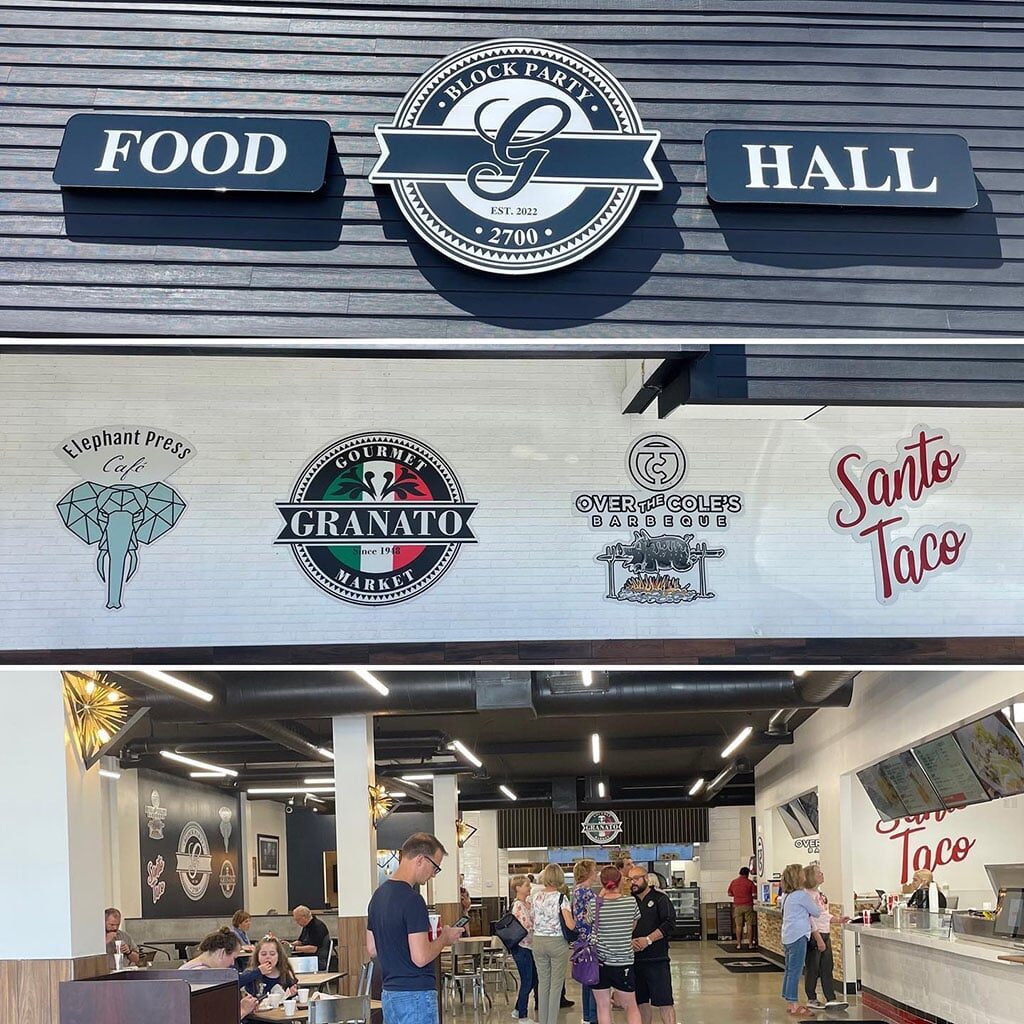 It's been a long time coming, but the national embrace of food halls is finally starting to catch hold here in Utah. As with most trends, our big-city cousins are typically five to ten years ahead of us. If you're still new to the party, here's the quick 101 on food halls: a big space, chopped up into unique kitchens, each focused on a specific type of food. Grab one of this, two of that, sit in and enjoy in a communal dining room.
Speaking of parties then, residents of Holladay this year toasted the opening of what you might argue is SLC's first true food hall. HallPass was for sure the first to hit the Beehive, but Block Party is the first in Salt Lake county to really champion a mix of disparately owned vendors. 
Anyway, the food hall at 4044 S 2700 E on the site of the former Granato's Deli in Holladay is home to several options if you swing on by:
Elephant Press Cafe – pastries from Fillings & Emulsions, hot and cold drinks
Santo Tacos – Mexican cuisine
Over the Coles – BBQ with a variety of in-house smoked meats, fresh sides, and sauces
Granato Gourmet Market – hot pizza and pasta, sandwiches, salads, and dessert
Self-serve Marketplace
You can see the full list of menus here. Block Party is the first of many food halls you can expect in these parts over the next 12 months. I've rounded up everything you can expect here.
Boba Guru
The bobaning continues across the valley with the latest bubble tea shop opening up in West Valley City (2927 S 5600 W). Milk teas, fruit drinks, brown sugar drinks, it's all here. Prices run $5-$8 for drinks. Their menu doesn't presently list food options.
Boiling Bowl
Brand new in the South Salt Lake Chinatown complex, this Asian hot pot restaurant. Select your broth, add your toppings, dig in. The menu offers a continent hopping range of broths, Japanese Tonkotsu through to Korean kimchi inflected bowls. As it's a matter of state law now, the restaurant also serves poke bowls.
Brocheta
This one appears to be a new food option inside one of Shades Brewery locations; either the South Salt Lake tap room, the new downtown location, or perhaps both? The brewery itself mentions the newer downtown location, reviews cite SoSL. At any rate the interesting new food option is the work of Ida Villasana, who has partnered with the brewer to offer a range of Latin flavors to pair with the unique suds at Shades. Think chimichurri crowned chorizo dogs and sweet corn cobs doused with cotija and pico. Certainly beats the boring old brewery burger.
By The Bucket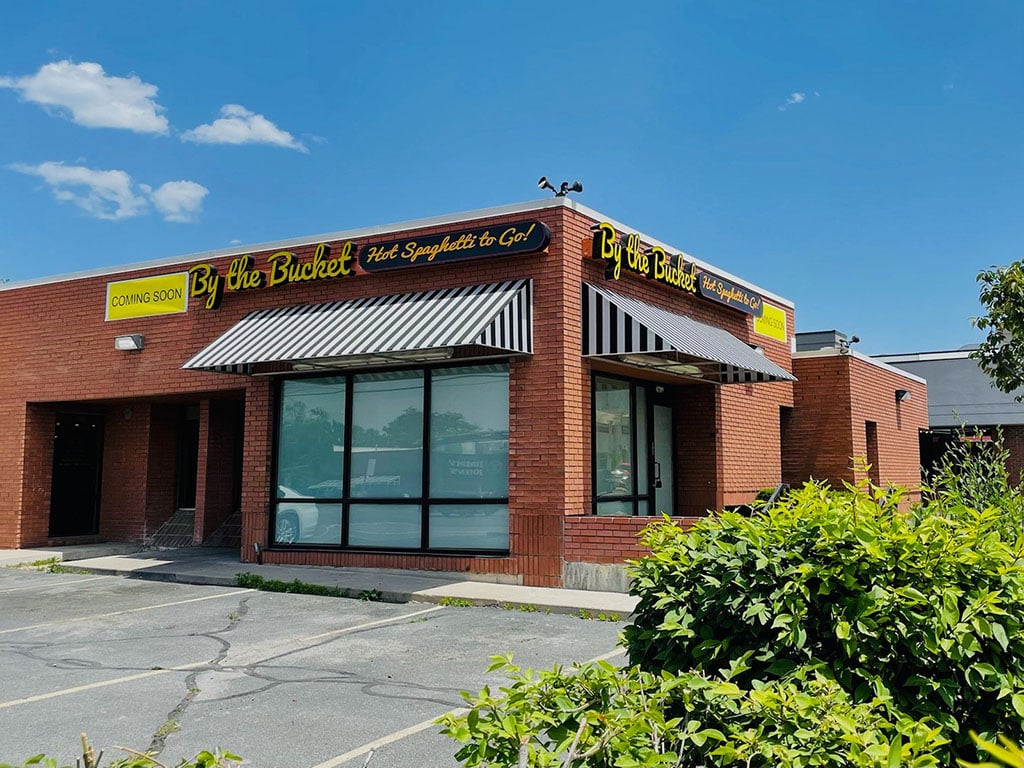 Is it a portent of the end times? Is it simply a way to feed a famished family on an increasingly stretched thin budget? You decide.  This Arizonian fast casual has been simmering away in the pot for a while but I am told by passers by that it's now open. Check out our initial preview and profile of the business here. Then rejoice or weep, it's your call.
Caffe D'Bolla
John Piquet's mad science coffee lab has new digs. The boutique roaster that notably specializes in siphon coffee can now be found over at 299 S. Main after skedaddling down the road from 4th South. If you're obsessive over your coffee, d'Bolla is the start and end of your journey in Utah. Coffee is serious business here. Word to the wise for newbies: don't ask for flavored creamer.
Capital Grille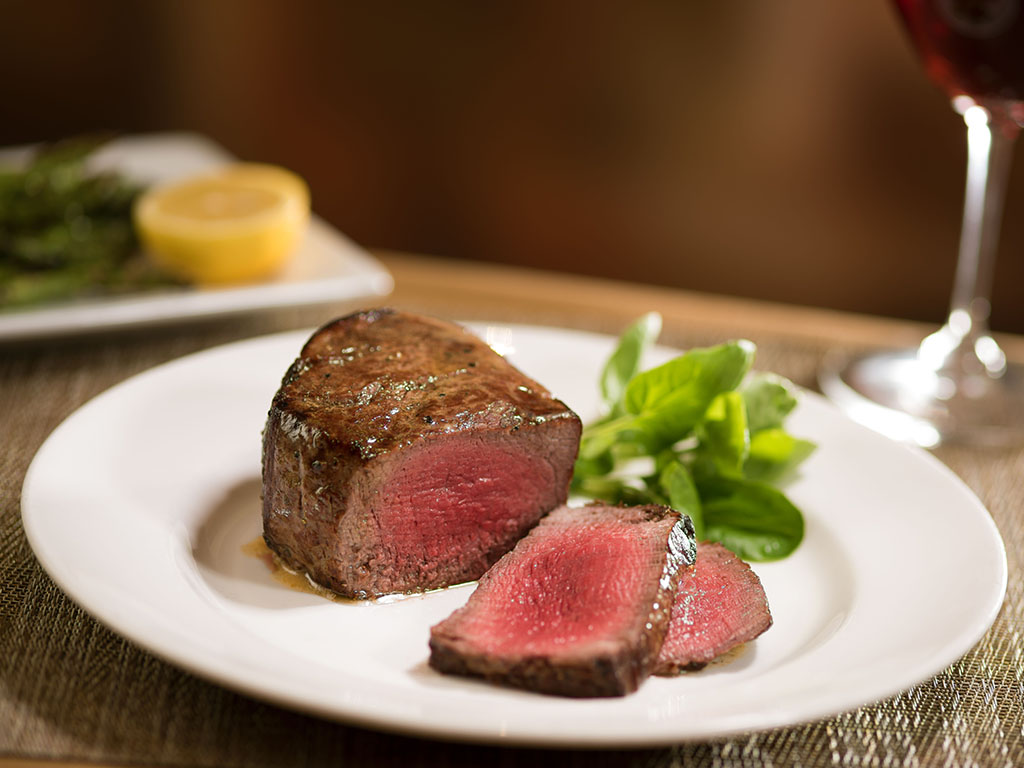 Get the expense account ready, downtown SLC added another upscale steak house to the roster. This is the first Utah excursion for Darden's fancy pants steak and spuds outpost and as the Downtown Alliance's Joshua Jones notes, "we hope this opens the door for more of their platforms to our market, including Seasons 52, Eddie V's, and Yard House." 
Some will no doubt roll their eyes, point out Darden operate Olive Garden, and bemoan the homogenization of cityscapes – but – you can guarantee the steak will top quality and cooked to spec. And that's the point of these places; reliable pit stops for out of state travelers not willing to roll the dice on an indie-restaurant, a well oiled-machine that can host the company Christmas party etc. Steak groupies will want to know Capital Grill dry age in house, which immediately marks them a notable destination in these parts. Anyway, here's the full press release from Capital Grille on the opening of their Utah venture:
The Capital Grille, known for dry-aged steaks, fresh seafood and a world-class wine list, is bringing its take on luxury dining to Salt Lake City. Opening Friday, March 25, the restaurant emphasizes personalized and anticipatory service in a relaxing, yet elegant atmosphere. 
The Capital Grille is best known for expertly prepared steaks dry-aged in-house for 18-24 days, a process that achieves incomparable flavor and tenderness. Steaks are hand-carved daily by the restaurant's butcher, with selections including Bone-in Dry-Aged NY Strip; Porcini Rubbed Delmonico with 15-Year Aged Balsamic; and Sliced Filet Mignon with Cipollini Onions, Wild Mushrooms and Fig Essence, among others. 
The restaurant is also popular for its blend of menu classics and twists on appetizers and sides, artfully prepared using impeccable ingredients. Signature dishes include Pan-Fried Calamari with Hot Cherry Peppers; Lobster Mac 'N' Cheese; and Lobster and Crab Cakes. Dedicated to culinary excellence throughout its menu, a skilled pastry chef prepares desserts each morning from scratch, such as The Capital Grille Cheesecake, brûlée style, and Coconut Cream Pie.
The Capital Grille pours from a Wine Spectator-recognized list of more than 350 selections, housed in a floor-to-ceiling, temperature-controlled wine kiosk holding more than 3,000 bottles. Guests may also choose from 30 wines rarely offered by the glass, including library vintages and highly sought after limited bottlings. Through continuous wine training, servers can make personalized recommendations for guests to choose their perfect pairings. Private wine lockers are available by annual lease for the aficionado, offering brass nameplates, specially procured wines and first access to special events and tastings. 
The Capital Grille in Salt Lake City is located at 40 East 100 South, near the corner of Regent Street. The new restaurant spans over 12,000 square feet, including a lounge and patio, as well a separate floor for private and semi-private space for events. The dining room is open daily for dinner, with hours Sunday from 4-9 p.m., Monday through Thursday from 4-10 p.m., Friday from 4-11 p.m. and Saturday from 5-11 p.m., as well as lunch Monday-Friday from 11:30 a.m.-4 p.m. Reservations are recommended but not required.
Capt Remo
Canton Soifua is the name behind this seafood-focused food truck now roaming SLC streets. I briefly mentioned this one in last month's roundup, but details where scant on the ground. That still seems to be the case as the business gears up. For now you can follow along on Instagram here, and also here's a little snippet over on Google:
"Sharing our love for fresh fish and all the ways to enjoy it. Poke bowls, fish tacos to garlic shrimp and some seasonal specials. Know the source of your fish and where it comes from to gurantee a high quality Grade A fresh product that our customers will keep coming back for. Cook what is in season to enjoy the many diiferent ways fish is served up in the islands. Captain Remo is not just a name but a fishing vessal out of the Honolulu harbour. Its not also just a FV, Captain Remo is the owner of our food establishment. Captain Remo is not just an owner, He's a legend. From the harbours of Honolulu to American Samoa to San Diego and back to Honolulu. Fishing the whole of the Pacific Ocean to bring you the best!.. Boat to Bowl..Lessgoo!!"
Casot
This micro wine bar in the 15th and 15th neighborhood officially opened in 2022 and started welcoming patrons. I've written about this one a few times, but a timely email from owner Scott Evans arrived in my inbox this week – pouring a little more detail into the cracks and crevices on the opening. I'll let Scott's own words do the talking on this one:
"While traveling through Piedmont in northern Italy over the past five years, I kept noticing structures in the center of vineyards that I hadn't come across in visits to other regions. The structures were charming and picturesque stone buildings called a Ciabot or Casot. When I asked one of the winemakers we visited about the story of the stone buildings, they casually mentioned that these hundred plus year old structures are places where vineyard workers could rest, eat and drink, and take respite from the elements. The name and the intent of the structures stuck with me.
Inside the doors, expect to find a 100-year-old bar that Mark Eaton sourced from Italy and 110-year-old Grenache Gris Vines from Gibson Range (complements of Evan Lewandoski/Ruth Lewandowski Wines) proudly mounted at the entrance. The wine list features a rotating selection of 50 or so wines I hand selected for Casot. Over 50% of the wines are special orders and many have never been served in the state before. We celebrate small artisan producers, organic and biodynamic wines, natural wines, and indigenous grape varietals from around the world. With 11 rotating wines by the glass, there is always something new to offer and taste including – orange wines, pet-nats, and chilled reds (which happens to be the first wine program in Utah to feature all of these categories by glass).
Personally, I don't like to go to many wine bars in the US. Most of them are stuffy, too formal and frankly not that fun. That's all before you even open the wine list, which is likely filled with point scores and overpriced commercial wines "served" by pretentious staff. Yuk. The wine bars I do enjoy in the US and in Europe are lively, casual and offer unique and fairly priced wine lists with world class wines sitting next to micro producers you have never heard of. The best of them also carry a smart selection of beer, spirits and cider. That is my goal with Casot and for a neighborhood bar on 15th and 15th – casual, curated wine and beverage list, modest prices, friendly and knowledgeable staff."
Cattleman's Burger Co.
New in town this year for Manganites (or is that Manganese) – Cattleman's Burger Company. In a world of arugula, brioche buns and demands for the twenty in your wallet – a five dollar burger is an almost cryptozoological discovery. But that's what the menu at Cattleman's gamely starts with, not least offering fries for a meagre two bucks extra. An no they're not topped with truffles and parmesan either.
Celebrity's Soul Food
Draper was the the first Utah location of the quickly growing Celebrity's Soul Food Bistro. The business is the work of Floridian's Fredrick and Taja Jacobs, prior caterers to the stars; they can find Oprah in their rolodex, can you? The SLC opening is the second location for the brand after the Sunshine State's flagship store – Tennessee will be next. 
The menu starts with eye brow raising gold dusted chicken wings before moving onto more assured footing, classic dishes such as oxtail, catfish, meatloaf and fried chicken. Chain or not it's a culinary tradition we sorely lack at present, not least one that has community plans in mind.
In a Tribune story Stefene Russell writes that, "Once they have the bistro humming along, they said, the plan is to begin giving part of the proceeds from the restaurant to an LGBTQ+ center, and to also support an organization for homeless youth." Here's a bit more on the opening via press release.
Chicken In The Kitchen
There's chicken. It's in the kitchen. Perfect, I am ever the lover of a succinct name. The chicken in question at this new Provo spot is Korean fried. The Utah County restaurant's menu looks plenty fun, starting crispy chicken bites from $8.99 working through to crispy chicken tteokbokki – crispy chicken on top of rice cake, fish cake and veggies.
Chubby's Neighborhood Café
ABC4 confirmed this opening, "located at The Village, near Cinemark Theater and by the new Red Tacos, is the chain's seventh location, each family-owned and operated. The franchise has become known for fresh flavors, a casual atmosphere, and exceptional customer service. The cuisine offered includes American favorites with an added southern tang."
The Churro Company
If you're headed to the City Creek shopping mall anytime soon, check this one out. The Churro Company specializes in handcrafted churros, made from scratch. You can find them on level two of the facility just next to Johnny Rockets.
ComCom Kitchen 
Commissary kitchen ComCom now has a second location open over in Millcreek (894 E 3900 S). ComCom differs from most commissaries in that the setup allows for walk up orders for some of the ghost kitchen concepts that operate out of the facility; moreover this new spot oj the East side will also serve as a weekend food truck gathering spot.
Contribution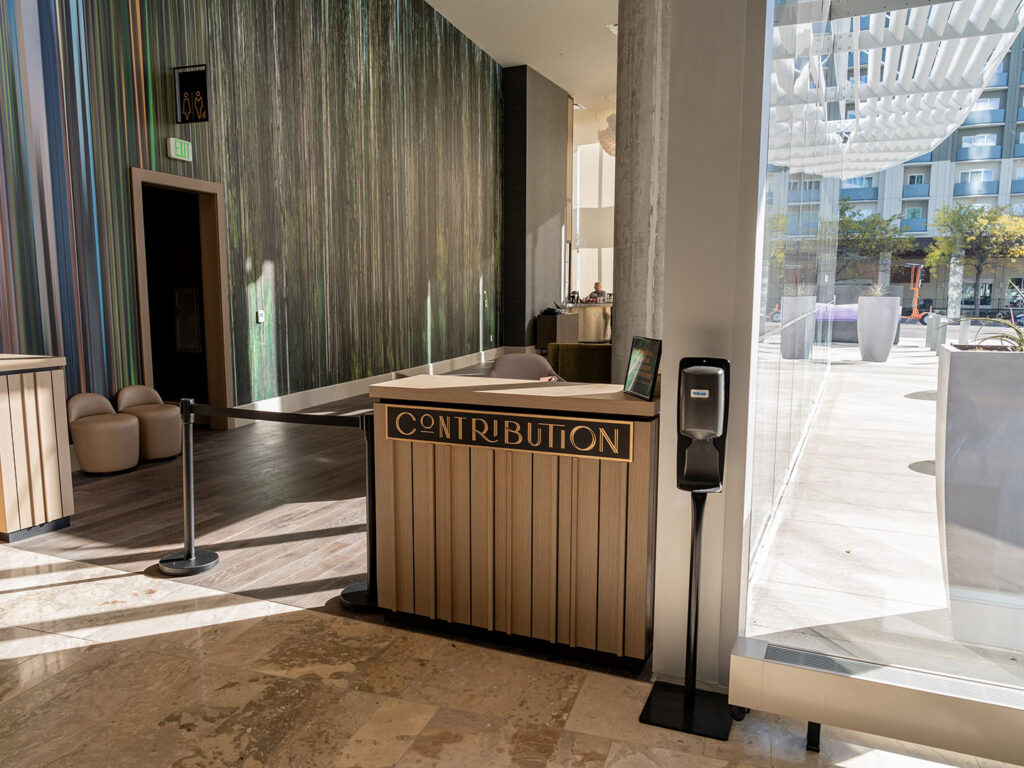 Contribution is the new lobby bar that occupies the South East corner of the sparky Hyatt Regency. The spot makes for excellent people watching outside (and in to be frank).
Copper Common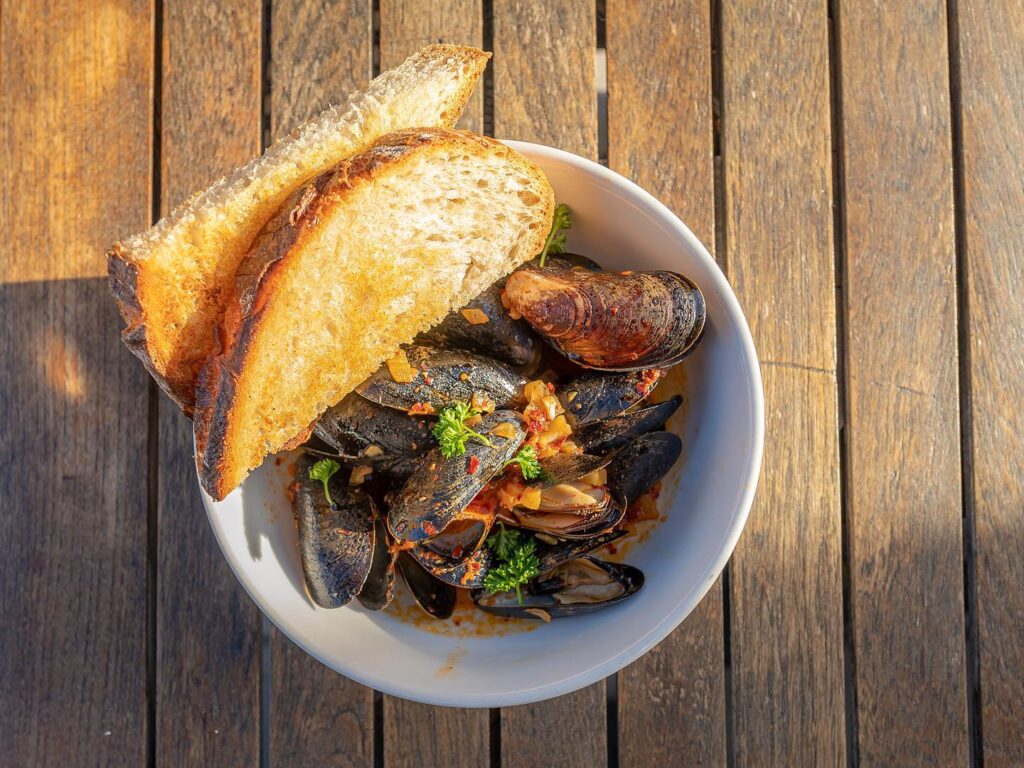 In case you missed it in the recent flurry of stories, be sure to check out what's been happening at Copper Common here. TL'DR, Ryan Lowder's downtown bar has undergone a complete makeover, from design to dish. The result is a bar for grown ups who pine for life in a city not beleaguered by asinine debates over hard seltzers and mini bottles.
Crack Shack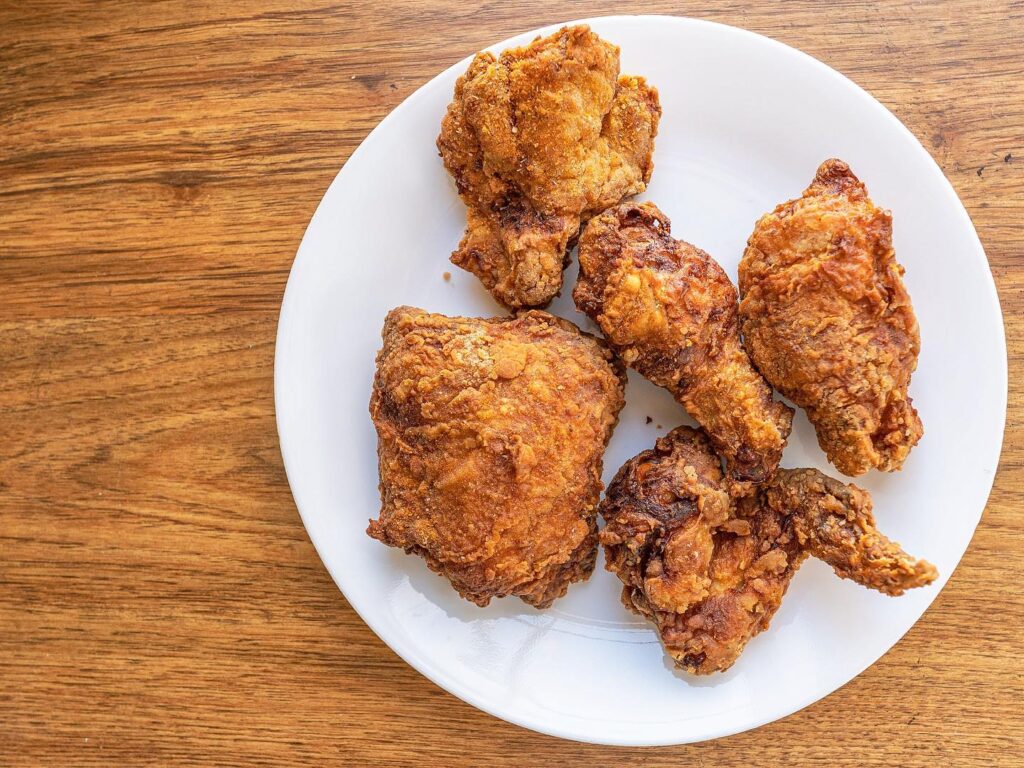 The Savory Fund backed Crack Shack has been on something of a Utah growth spurt of late in the Beehive. The latest spot from the San Diegan chain in Utah, can be found over in Riverton's sprawling new Mountain View Village. The facility boasts a slew of restaurants and shopping options. Here's the full press release from the architects behind the build: 
. . . 
The 1,000,000 square-foot destination was designed by AO (a full-service architecture firm with expertise spanning the full commercial real estate spectrum) to satisfy all the needs of a downtown and is poised to attract, cater to, and entertain guests from far beyond the immediate area. 
AO, served as the design architect, architect of record, landscape and interior architect for the mixed-use entertainment center. Set within the fastest growing submarket in the United States, the experience-driven, 85-acre mixed-use destination from CenterCal is in the process of becoming the most dynamic central gathering place in Riverton and the entire South Valley. Residential units are in the works with SALT Development bringing the 280-unit Luxury Village Lofts set to open in the Spring of 2024.
A future Trax Line extension to South Street will offer easy access to the mixed-use open-air lifestyle development comprised of multiple retail options (from Vans to Lululemon and Anthropologie), restaurants serving cuisine from around the world, state-of the art office space, fitness, spas, a full luxury theater, pedestrian friendly outdoor plazas with dramatic fountains and mature landscaping, entertainment, and residential homes.
. . . 
Alongside Crack, the village also has a number of other food vendors you might be interested in including:
And coming soon, the following I am told:
Kokonut Island Grill
Las Botellas Mexican food
Seoul Meat Co.
Toastique
Root'd Café
Sprinkles Cupcakes
Sweet Rolled Tacos
Hello Sugar
Crave Cookies 
Now open in Sandy, another location of this local favorite for those with a sweet tooth.
Cupbop Millcreek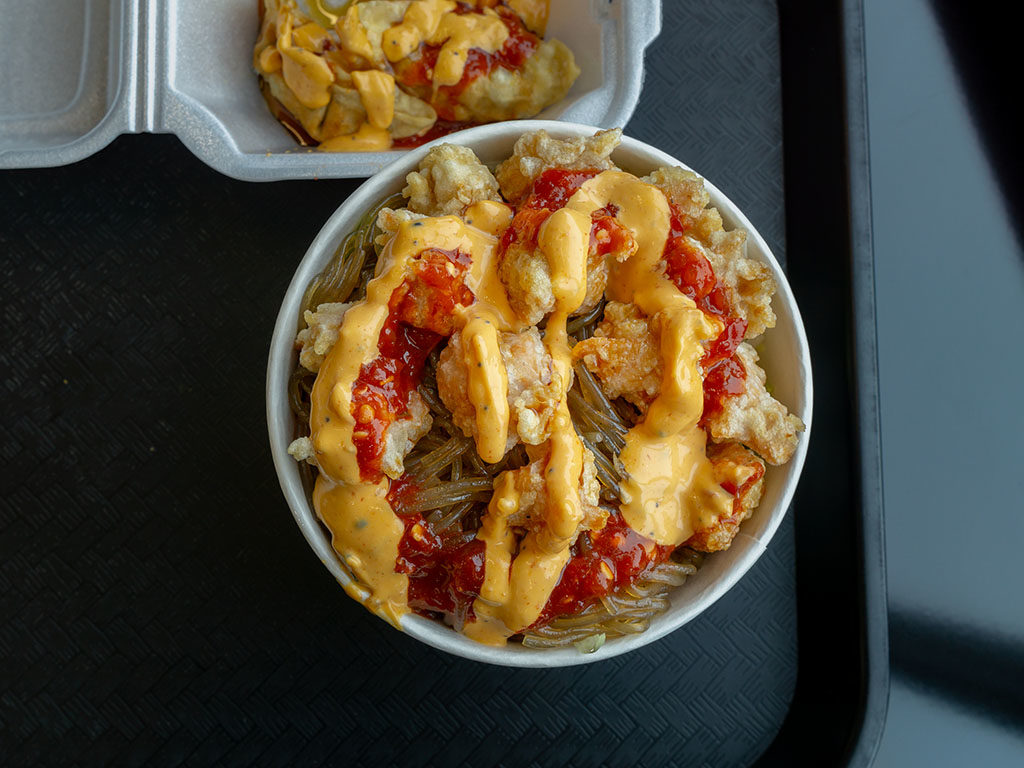 The explosive growth of this home grown mega-chain to be continues unabated. When I started to write this piece the brand was writing about their 35th store. By the time I hit publish they were putting the sign up on the 37th. At this point they're literally opening stores faster than I can pen articles. I've written before that the chain have so many outlets, your basement likely has one at this point; check your shed as well now, because there's one there too.
Recent Cupbop openings include Millcreek, Herriman, out of state in Idaho, heck they have operations in Indonesia. At some future date expect me to be writing about the boppers Musk-like riches after being gobbled up by a mega-operator. The business reported revenues of $10 million back in 2017.
Crafted
Not much info on this one yet, except a new spot for Park City. The menu has a solid core of breakfast and lunch options, the likes of Benedict and BLT; as well as what looks a bar area.
Creamd Market
This place apparently opened in June 2022 though it some how managed to slip under my AESA. Thankfully I see it wasn't just me – a kindly reader who dropped me a note similarly stating, " though we just discovered it the other day while looking for something to cure a Sunday evening sweet tooth". 
The Highland Drive based business offers a rotating menu with 30 flavors bolstered by seasonal specials. Open seven days a week, the cozy storefront also offers local Utah products (Gossner, Hunsaker Cheese, Grapefruit & Thyme Pies). Check em out here.
Crisp & Green
A new chain opening for Sandy, this one a national healthy eats brand. File this one under, "oh my god it's January, what have I done with my life, where can I go eat some vegetables and atone for the past thirty days." Here's the full press release from the company on their Utah debut:
. . . 
CRISP & GREEN, the rapidly growing, fast casual destination that blends healthy and nutritious food, community engagement and complimentary fitness classes, today announced the opening of its first Utah location. Salt Lake City's first CRISP & GREEN will open in October in Towne Ridge Retail at 9710 S. State St., Sandy, Utah. CRISP & GREEN restaurants are open in Minnesota, Colorado, Florida, Nebraska, North Dakota, South Dakota, and Texas. There are 195 stores built or in development across 20 states.
"We are excited to open our first Utah CRISP & GREEN restaurant in one of Salt Lake City's most dynamic locations," said CRISP & GREEN Founder and CEO, Steele Smiley. "We know CRISP & GREEN's fresh, made-from-scratch, and healthy options will be a big hit with the residents of America's healthiest city. CRISP & GREEN is ready to become the fast and healthy option for people on-the-go." Five additional CRISP & GREEN locations are slated to open in the Salt Lake City metro in the next two years.
"CRISP & GREEN is a perfect match for the strong, vibrant and healthy community of Sandy," said Chad Fullmer, the CRISP & GREEN franchisee. "Sandy is a year-round destination for outdoor adventure seekers. CRISP & GREEN is poised to become the healthy choice where locals and visitors can gather to grab a great meal and fuel up to play in one of our 30 parks or catch a pro soccer game at Rio Tinto Stadium. Our residents and visitors will love CRISP & GREEN's fresh and healthy food delivered in a friendly and inspiring atmosphere in Towne Ridge Retail Center." 
Established in 2016 by STEELE BRANDS' Founder & CEO Steele Smiley, CRISP & GREEN has delivered year-over-year growth by providing nutritious, made-from-scratch food in a fast andconvenient setting. More than just great food, the company places special emphasis on its "Commitment to Community" values by partnering with local fitness experts to providecomplimentary classes to their guests. Throughout the past five years, CRISP & GREEN has hosted more than 1,000 fitness events at its stores nationwide, creating a devoted following andhelping to make it one of the fastest-growing quick service restaurants (QSR) in the country.
As CRISP & GREEN expands across Utah, the company is focused on connecting with local communities, fitness studios and ambassadors to create a community center that goes beyond serving food.
Curiosity
A new "bottle shop and bar" with a twist. No, its not by the bucket or barrel, Curiosity is in fact booze free. The business reckon they're the first "zero proof bar". Unless you count Utah's parade of dirty soda shops as devil-free bars, I'd agree with them.
Curiosity offer a large range of alcohol free bottles to go, as well as a modern bar menu with a mocktail menu that reads like many a 21+ bar lineup.
De Los Muertos Mexican Kitchen
In comparison then, this new spot opening in Sugar House did so with a hush and whisper; possibly due to the restaurant still slowly hiring and tooling up. De Los Muertos in Sugar House slots in neatly between Traeger nation HQ and SOMI. Outside a colorful bedecked patio beckons for those warmer months, and inside, a menu by chef and owner Aza Torres is build around Monterey style burritos. Checkout some shots and dishes in this story.
Dolly Donuts
After months of rabid speculation, this classic American diner styled operation opened their doors in mid-March. The menu offers solid simple and solid breakfast, lunch and dinner – biscuits and gravy, mac n cheese, burgers, and yep, donuts. There's a drive through too if you need a chai latte and apple fritter stat.
Dough Miner
I wrote about this one earlier in the year here. The 101 is that this new spot in the Maven West building (opposite Kaisers BBQ and T.F. Brewing) offers traditional Cornish pasties – the British grab and go snack. As a Brit with far too many meals based in pastry over the years – it gets my seal of approval.
Dirty Bird Fried Chxx
The expansion of this home grown fried chicken shop continues apace with a Clearfield opening. The business started life as part of the Michael McHenry stable of eateries before Wags Capital scooped them up for a cool 20 mill back in August 2021. Sandwiches run $8-$11 and as you can see from the pictured signature Dirty Bird sandwich (fried chicken, chili oil, bacon, pimento cheese, spicy ketchup, mayo, pickles), you want to have napkins at the ready. Leave your nice pants and shirt at home.
Dos Olas Cantina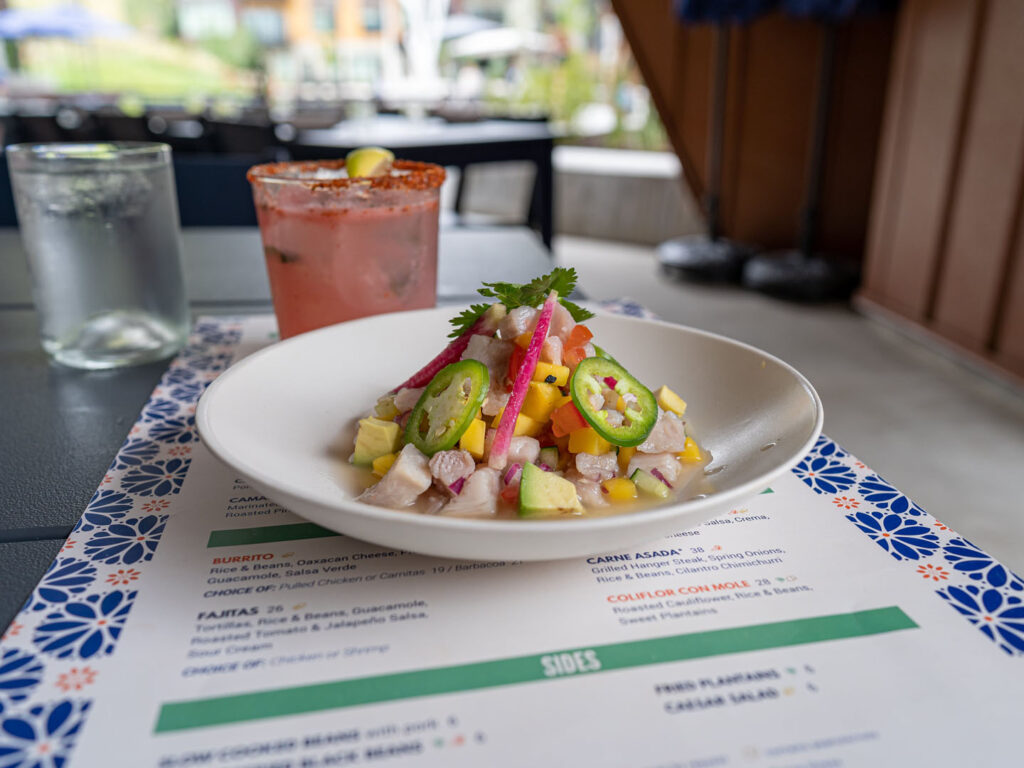 I really enjoyed my visit to this fancy Park City joint in the late Summer. Here's my writeup of my experience. Here's the original press release for this one too:
. . .
Dos Olas Cantina, Park City's newest restaurant uniting traditional Mexican fare with an updated spin, welcomes guests to the grand opening in the Plaza adjacent to Pendry Park City, Thursday, June 30.
Dos Olas, meaning "two waves," is a nod to the waves that keep us inspired on the mountain and in the sea. That sense of playful inspiration, creativity and variety fuel every facet of the overall Dos Olas experience. Executive Chef Carlos Segura has crafted a robust menu of signature items including barbacoa nachos, tinga del pollo tacos, and cauliflower con mole alongside fresh ceviche, creative salads, family-style shareables, cantina-inspired snacks, and a selection of traditional desserts such as churro sandwiches, tres leches and flan. All accompanied by a wide variety of inventive margaritas, tequilas, mezcals and Mexican beers. Chef Segura's menu reflects his roots in Mexico City, and his most recent role as Executive Chef at the Garza Blanca Resort in Los Cabos, Mexico. Chef Segura explains, "We are thrilled to open our doors to the Park City community and offer our own unique version of authentic Mexican cuisine."
Featuring bold, nature-inspired mural art from Mexican artist Pilar Cárdenas, Dos Olas Cantina interiors are inspired by the bright colors and vibrant textures rooted in Mexican culture and tradition. With an expansive bar, family-friendly vibes, lively slope side ski beach, outdoor patio and complimentary parking, Dos Olas Cantina's approachable atmosphere welcomes all to enjoy a warm, spirited dining experience. Guests can also enjoy live music on the Plaza all summer long, including opening weekend this Friday, June 30 – Sunday, July 3.
A ribbon cutting event will be held Thursday, July 7, from 2:00pm – 4:30pm hosting local media, business partners and a limited number of guests to celebrate the official welcome to the Park City community, including live music. "We're excited to welcome our community and visitors alike to our vibrant, dynamic space to experience not only our incredible food and handcrafted margaritas but also to connect with friends and family." said Brian Shirken, with Columbus Pacific Development.
Dos Olas Cantina is open daily, along with a convenient Dos Olas to-go window to open on the plaza in the coming months for quick, easy grab-and-go offerings. For reservations, please visit http://www.dosolasparkcity.com.
Edna's Market & Grill
Flatbreads, burgers and salads comprise the core of the menu at this new Lehi opening. The Lehi Free Press publication writes, "The limited menu focuses on quality over quantity, with several showcase dishes like the meatloaf (Christiansen farms ground beef & pork, mashed potatoes, buttered peas, crispy onions and chives) or the Paris Burger (7 oz beef patty, raspberry jam, spinach, white cheddar cheese, garlic mayo, crispy onions and ciabatta bun). The menu also offers traditional pizzas and salads. The wood-fired pizzas are cooked perfectly, provide great flavor between the sauce, cheese and crust, and are finished with a honey drizzle."
Eggsburgh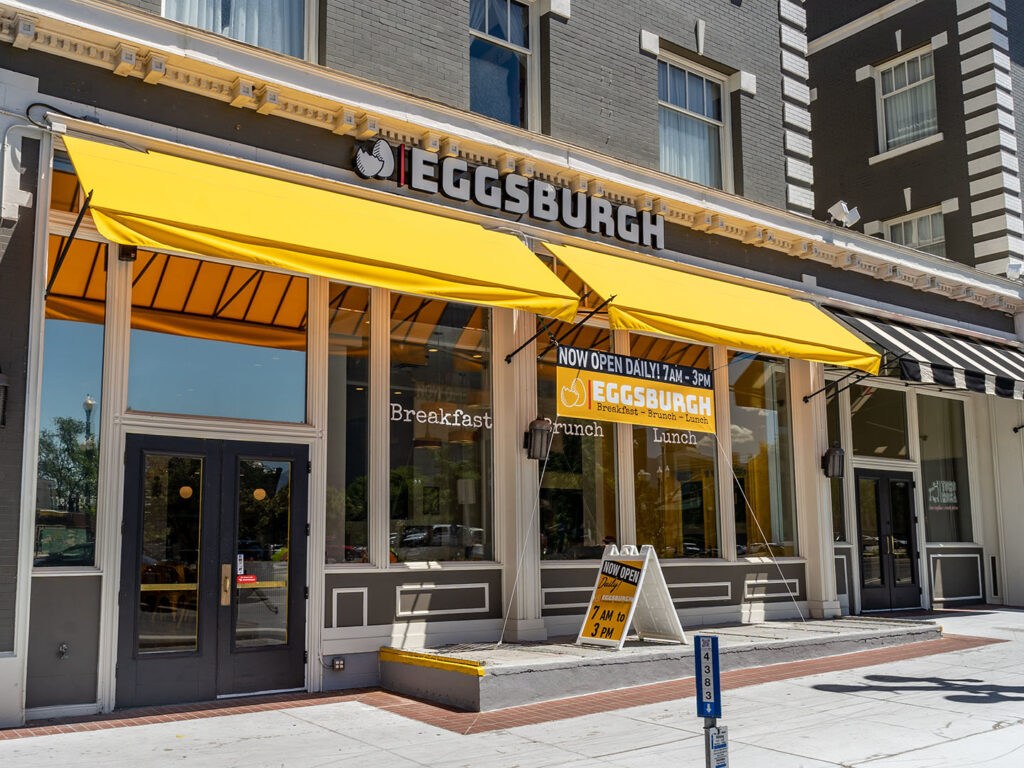 The latest concept to give this Peery Hotel spot a whirl. Many a name have starred in this location down through the years, not many sticking. Hands up those who remember the short lived steampunk inspired Squeezbox? What about Virdene's Gourmet Burger House? Eggsburgh wants to be to eggs what Edinburgh is to Hogmanay; which is to say, the place to be. Benedict's of myriad description kickstart a menu that moves onto everything from omelettes through bowls and sandwiches. Part of me laments their eggless reuben, maybe they'd slap a fried egg on there if asked nicely. Maybe I'm finally losing my marbles.
Emigration Cafe
Perhaps the number one cause of "what do you know about…" emails I received this year related to this new spot. Opened in the former One-O-Eight space, and Sea Salt before that, the casual cafe is Scott Evans' latest venture. 
Emigration Cafe functions as a contemporary all day cafe offering a counter service breakfast, full service lunch and full service dinner. The menu features Roman style wood fired pizza, salads, sandwiches and mains. A careful glance over the veggie resplendent plates and ingredients shows a nod and a wink to one of Evans' chef-crushes, Yotam Ottolenghi.
Famous Dave's
What's with all the chain news Stu, I hear you cry. We don't care Stu. Well really you should care, you should be paying attention. The new South Salt Lake location of the national Q outfit, represents a massive shift in the group's priorities, and it's worth pausing and paying attention to the industry momentum.
The newly opened SoSL store supplants the former KFC, and with it brings a new Dave's concept built around take out, drive thru and delivery. Virtually every big brand is experimenting with a version of this model. Cracker Barrel with their virtual-only Chicken n' Biscuits, Applebee's Cosmic Wings, McDonald's massive investment into tech and recent 4 billion dollar delivery sales (and that was 2019!).  Here's a story on the Quick Que concept over at RestaurantNews.
Feed Me
Got midnight cravings? Love your burgers dank? Give these guys a call. An all new late night eats delivery option.
Forty Three Bakery
Danish pastries that are "absurdly good" according to one foodie source I particularly respect. This new baker recently snuck onto the scene (67 W 1700 S) replacing Streusel I believe.
Flavas by Maria's Kitchen
This one opened up in February, so here by way of completionism. This new food truck operates from the Ogden area and reckon they have the "best birria tacos as well as burritos, nachos, elote cups."
Franklin Ave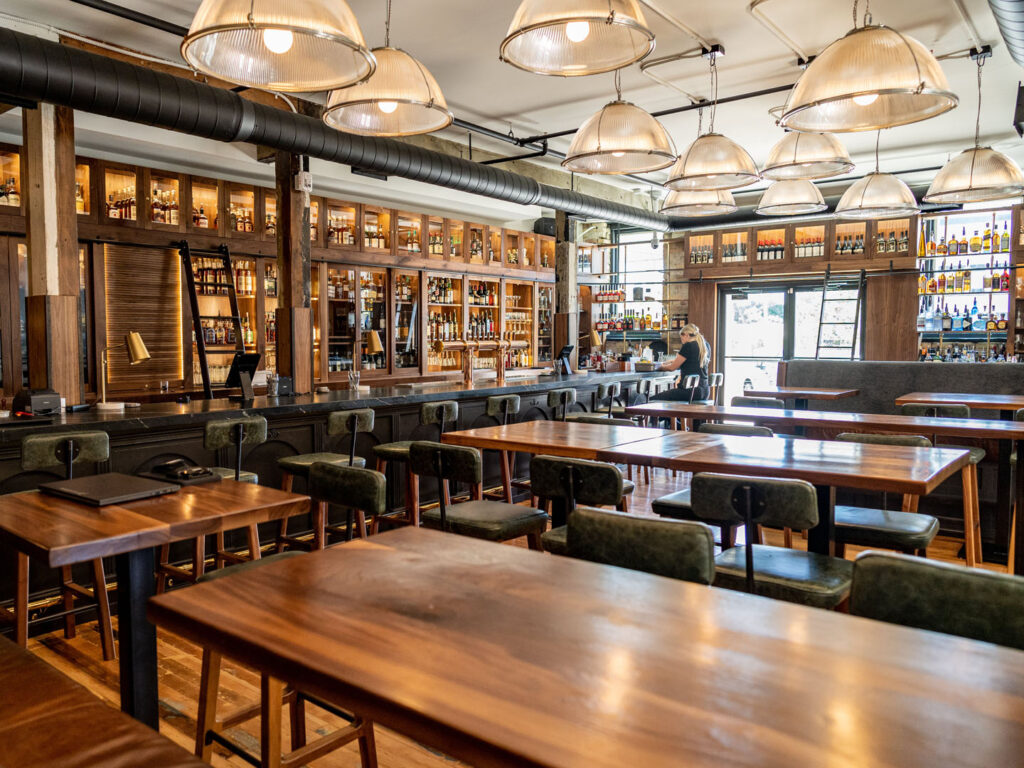 Check out my full review of this one here – it's one of my favorite spots of 2022 – not least because the crowds have yet to descend (they will). For the uninitiated this is Matt Crandall's latest menu – following on from his last effort at White Horse. Want to head there right now? The burger is world class, the snap peas with South East Asian flair are killer. The pasta is worth your time and calories too.
Fresh Fusion Asian & BBQ Restaurant
Here's hoping for this sort of show stopping display at this new Asian BBQ joint.  Fresh Fusion brings a variety of Chinese BBQ to the Ballpark area, and it appears to be exciting stuff. Beyond the grilled chicken hearts and skewered lamb, the menu ends with a variety of spiky Sichuan dishes; twice cooked pork and spicy boiled fish. Disciples of the numbing prickly ash assemble.
Funnel Cake World
Fresh funnel cakes for the folks of Provo. Flavors include the likes of fried Oreo, freied PB&J and smorelicious.
Glyn Thai
From a cursory look at their social media, this Park City Thai spot is a re-branded Thai So Good. At any rate, it looks a million bucks from afar, and mercifully the prices are not. Most entrees run $18-$22 with only the fish and duck barely surmounting $25. Hint: that's a great deal for PC.
Gordos Tacos and Beer
Another buzz-generator (based off the number of folks look for info on our site) is this newly opened spot along 9th East. Once home to Cous Cous (and I think Bajio Mexican Grill before that?) is Gordos Tacos and Beer – a new Mexican restaurant in Murray. The menu is concise and wallet friendly, offering, err tacos and beer.
Great Wall 
More fiery Sichuan cuisine comes to Salt Lake streets with this recent opening over in South Salt Lake's Chinatown complex. The newcomer proudly informs the would be diner of their goal to provide the very best Chengdu cuisine to SLC, a provincial capital that " brings together the impressive regional culinary delicacies of Sichuan, and is even officially recognized as the "City of Gastronomy" by the United Nations."
If you're looking for general tso's chicken, keep on walking buddy, the menu here is unflinchingly traditional; amidst some of my personal favorites like spicy boiled fish and mapo tofu, there's plenty lesser spotted dishes.
Green District
Another calorie-calibrated chain to land in Utah. Over in the Trib, Stefene Russell writes, "Green District, a Louisville-based fast-casual salad chain, is opening its first Utah location at 7141 South Bingham Junction Blvd, Midvale. Doors open at 10:30 a.m. on Thursday, Nov. 3."
Jurassic Street Tacos
A third location for this expanding Sinaloan-style taco shop is now open in Orem. The location joins a previous brace of locations in Pleasant Grove and Eagle Mountain.
Harajuku Grill & Sushi
Onto Harrisville then and this new Japanese restaurant which promises, "Harajuku Grill & Sushi offers a casual, good vibes, environment with menu options for everyone – including kids!" Harajuku is open seven days a week the menu has the whole shebang, myriad sushi preparations through cooked dishes – soba to katsu through steaks and seafood.
Hidden Peak Dining
I have it on good authority that you're gonna be hearing a lot more about this Summit county spot in 2023. With a menu built around sandwiches, quality is the driving factor behind everything. Expect a writeup on this one in the new year, as I say, hearing great things…
Ichiro Ramen House
This Bountiful Japanese restaurant re-opened during the year and brought with it, some new dishes I believe. On the ramen front, all the gang are here – shoyu, katsu, curry, miso and more – prices for a bowl range from about $14 – $17. As well as that there's rice dishes, udon and apps galore; Japanese staples such as karaage, takoyaki and gyoza.
IndieGo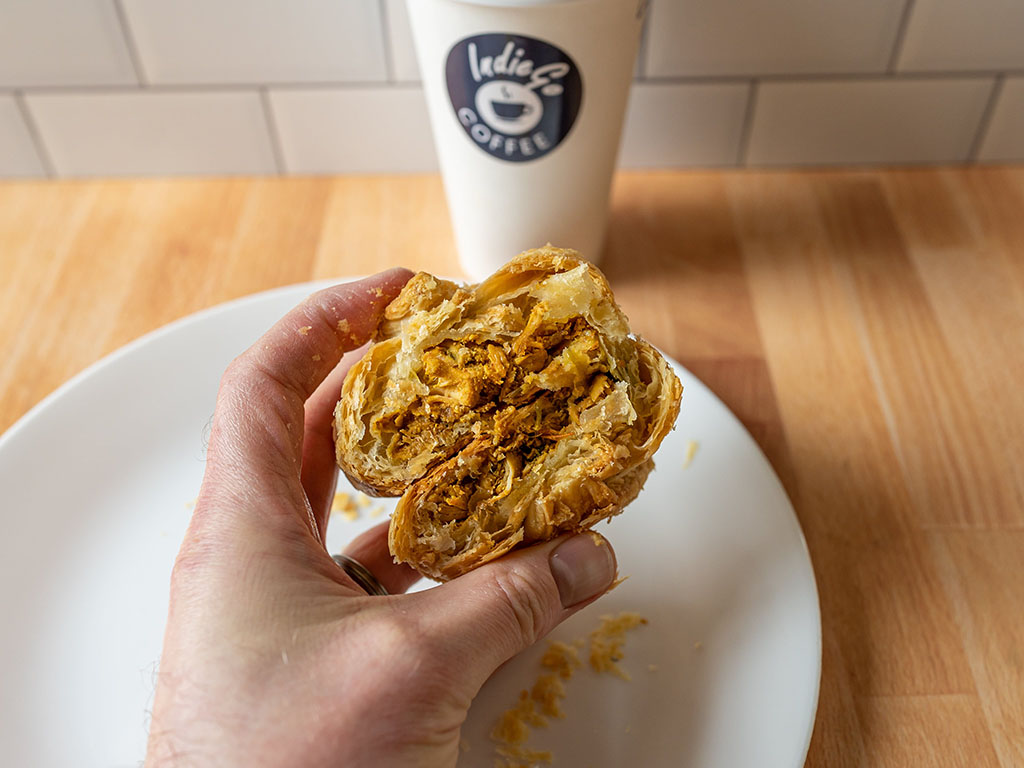 I previewed this new South Salt Lake Coffee shop last month, and am happy to report February sees them open to the public. The menu also has a few surprises up it's sleeves; alongside the cortado and latte – chicken tikka pies anyone?
Island Fin Poke
This national brand landed in Utah in 2022. Now open in Salt Lake City and offering poke, here's the full press release:
. . .
Island Fin Poké – the fast-casual restaurant famous for its Hawaiian-style build-your-own poke bowls – is thrilled to announce the opening of its first location in Utah. Located at 613 E 400 S, the new restaurant will be a true family business, with the location being operated by Hannah Stout and her family. Stout, who has had a life-long passion of serving others and delivering exceptional hospitality, is elated at the opportunity to bring Island Fin Poké to the people of Salt Lake City. This will be the first Island Fin Poké restaurant she intends on opening in the area, with a goal to open more in the near future. 
With the restaurant slated to open on October 24, Island Fin Poké of Salt Lake City will serve healthy and flavorful poké bowls (pronounced "poh-kay"). Poké is a popular Hawaiian dish consisting of proteins, nourishing toppings and served over lettuce or rice. Guests can choose from responsibly sourced ingredients and create their own customized poké bowl, with a selection of over eight proteins, 25 different toppings, nine gluten-free house-made sauces, and specialty mix-ins. The endless possibilities allow guests to get creative and try something new every visit. The Salt Lake City restaurant will offer third party delivery options, online ordering through the Island Fin Poké app and indoor seating.
"We love Utah and have made it our home for the past 10 years," said Stout. "SLC is such a special place and we could not think of a better community to bring this deliciously healthy food concept. We are so grateful to have our store manager, Clarissa Rodriquez on board with us to help bring our new restaurant to life. Food is one thing, but what we love most about Island Fin Poké is the brand's focus on the people. Working with an incredible manager and team who also share the vision of bringing great food to our community has been the most fun aspect of this project"
Opening her own business has been on Stout's mind for a while, but it wasn't until she did more research into the concept and tried Island Fin Poké's unique poké bowls across the state of Florida, that she finally found the perfect fit. While researching the concept, Stout tried as many Island Fin Poké locations as she could to experience the brand in its entirety. Throughout her journey, Stout fell in love with the brand's Hawaiian-inspired food, its beach décor and family-oriented company culture.
"The poké industry as a whole, continues to grow at a staggering rate, but our passion for our food almost transcends the business projections," said Mark Setterington, CEO and Co-Founder of Island Fin Poké. "There's something very rewarding in bringing healthy and traditional island flavors to local communities throughout the country."
The opening of the brand's first Utah location marks a significant step in Island Fin Poké's continued expansion throughout the U.S. For more information, visit
Italian Graffiti
Meanwhile, down in the Gateway, chef Marc Marrone's latest venture opened just a few weeks back. The fancy looking Italian Graffiti makes three for Marrone's Utah footprint – the other's being Central 9th's Snowmobile Pizza and Kist around the corner HallPass.
The menu starts with an eclectic antipasti menu which takes in everything from hamachi crudo through house made burrata and steak tartare. From there it's handmade pasta ($21 – $48), meat and fish ($29 * $69) and veggie dishes ($9 – $28). Marrone is the name over the door, but the larger team comprises Oz Gomez (baker), Patrick Ramsay (pasta) and Michael Tomarsky (corporate chef).
Jeeva's Greek Cafe
This one opened over in the City Creek food court this Summer Let no souvlaki be left behind. Jeeva's is a quick, casual Greek spot and I'm told by at least one person whose palette I trust – the gyros here are on point. Sandwiches start from $8.
Katrina's Mexican Restaurant & Cantina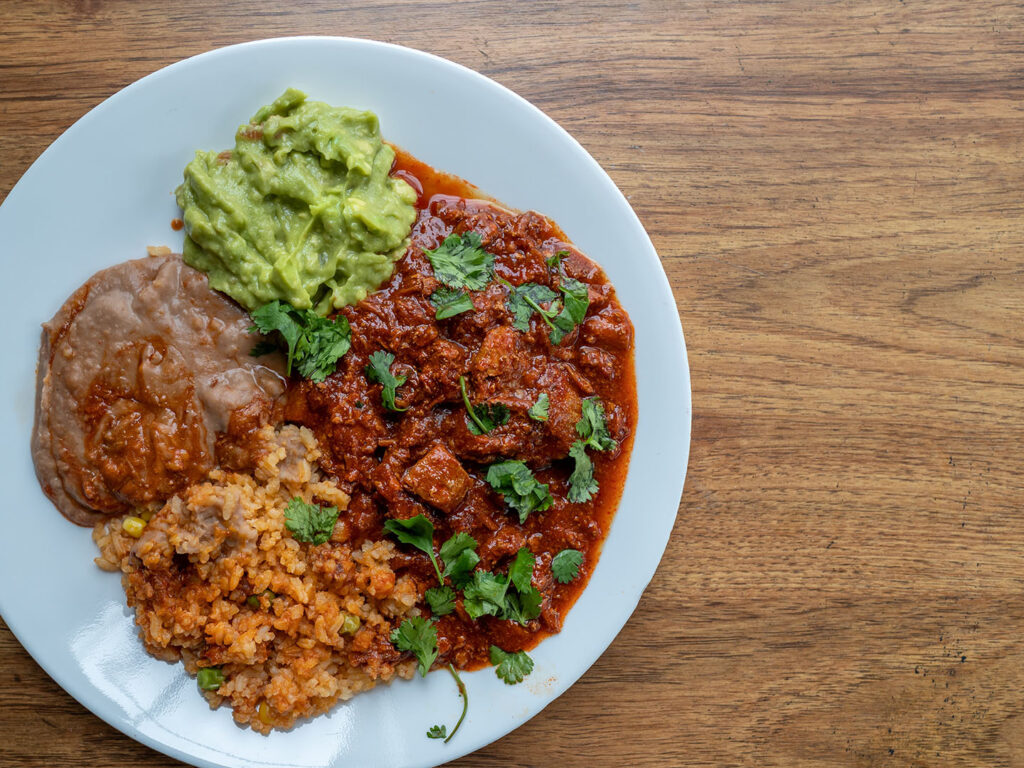 This Mexican eatery popped up in the old home of Cafe Silvestre in Millcreek. The menu offers a more restrained approach than many, featuring a concise line up with plenty of interesting items to check out. A quartet of moles anchors the entree list with trendy birria tacos heading up the whole thing. I ended up writing about Katrina's in May.
Kiss My Boba
Boba. When it comes to the never ending wave of tapioca pearl properties popping up, I'm out of sassy musings, so here instead, the words of the the Trib's Stefene Russell on this new opening, "Kiss My Boba (67 West 1700 South, Salt Lake City) celebrated its grand opening with a 36-hour drink-serving marathon. Its menu currently includes offerings like mango otai, a traditional Tongan drink made with shredded mango and coconut; Tongan taro tea; Thai iced tea; and Polynesian POG (passionfruit, orange and guava green tea).  Kiss My Boba is open Thursday through Sunday, 2 p.m. till all the boba is sold, with varying hours. You'll find them at ComCom Kitchen, or you can place an order through GrubHub or Uber Eats."
Hill's Kitchen 
The sister operation to Park City's Hearth And Hill is now open. There's a small on site cafe area for twenty five, but the focus here is catering, with the business able to handle events of up to 500 guests. Oh and hey, what's that, Gastronomic SLC quoted in the press release. Hells yeah, we're big time baby.
Honeysuckle Coffee
A second location for this coffee hotspot is now open in South Salt Lake (1588 S. Main St.). Open seven days a week for caffeine addled fiends and lovers of baked sugar alike. The peaches and cream pinwheel croissant at Honeysuckle looks particularly perfect on their online menu. I can think of far worse ways to lose a five dollar bill.
J Dawgs
After departing Main Street, J Dawgs has seemingly been plotting the rebirth of their brand. The hot dog slingers are now back in business in downtown SLC at the City Creek (Kirton & McConkie Building). Logan, Riverdale and Spanish Fork locations will follow in the Summer– the latter also sporting the group's first drive thru.
JJ Donuts 
This one from our what's new, blow by blow Instagram account, newinutah. Remember to follow along there if you want the bleeding edge of what's new, the moment it breaks.
Jurassic Tacos
Spanish Fork makes a quartet of locations for this Utah taco brand. The location at 1253 N. Canyon Creek Pkwy joins Pleasant Grove, Orem and Eagle Mountain.  Jurassic also operate a number of food trucks around Utah.
KITA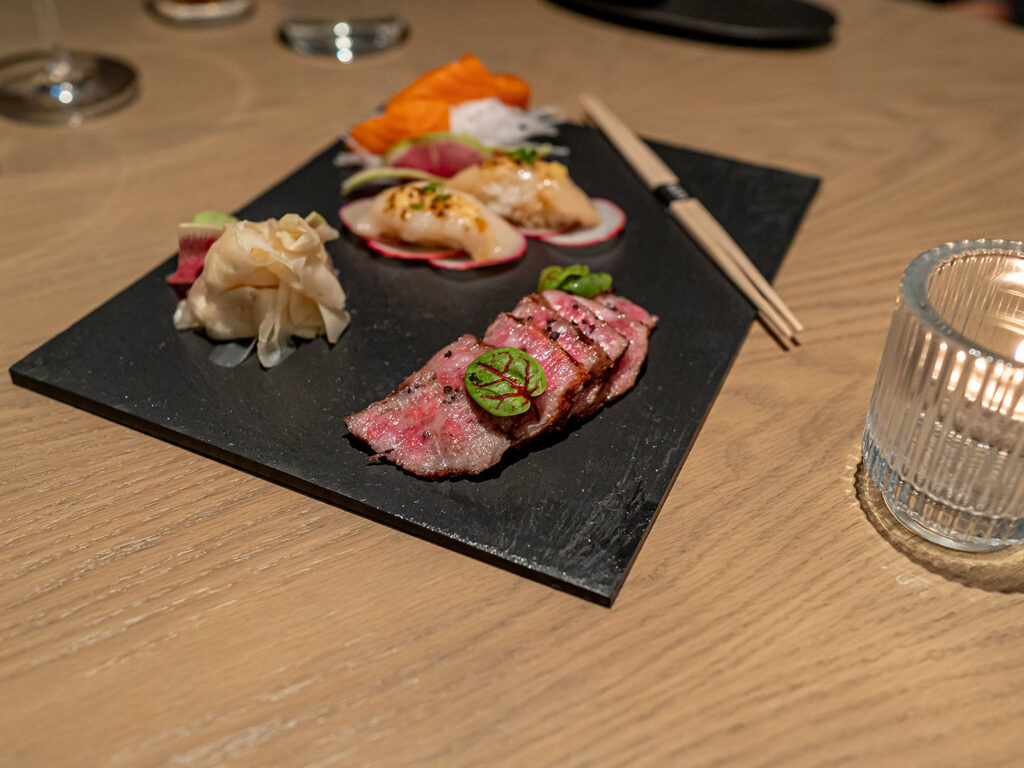 "Japanese for "north", KITA is a Japanese grill style restaurant set in a stunning, modern space that welcomes guests with indoor, al fresco and sushi bar seating." So goes the headline blurb for this ritzy setup at the all new Pendry in Park City's Canyon Village; with the larger resort rocking four dining options in total. KITA is presumably the fancy "lets push the boat out on our last night darling" destination restaurant of the quartet. The humble California roll introduces the maki menu at $15, while miso soup is offered for $14 elsewhere. Japanese A5 wagyu crowns the steak section – ask for a market price. Check out chef Daniel Grunbeck on FOX13 here, detailing the menu, restaurant and resort.
Kokonut Island Grill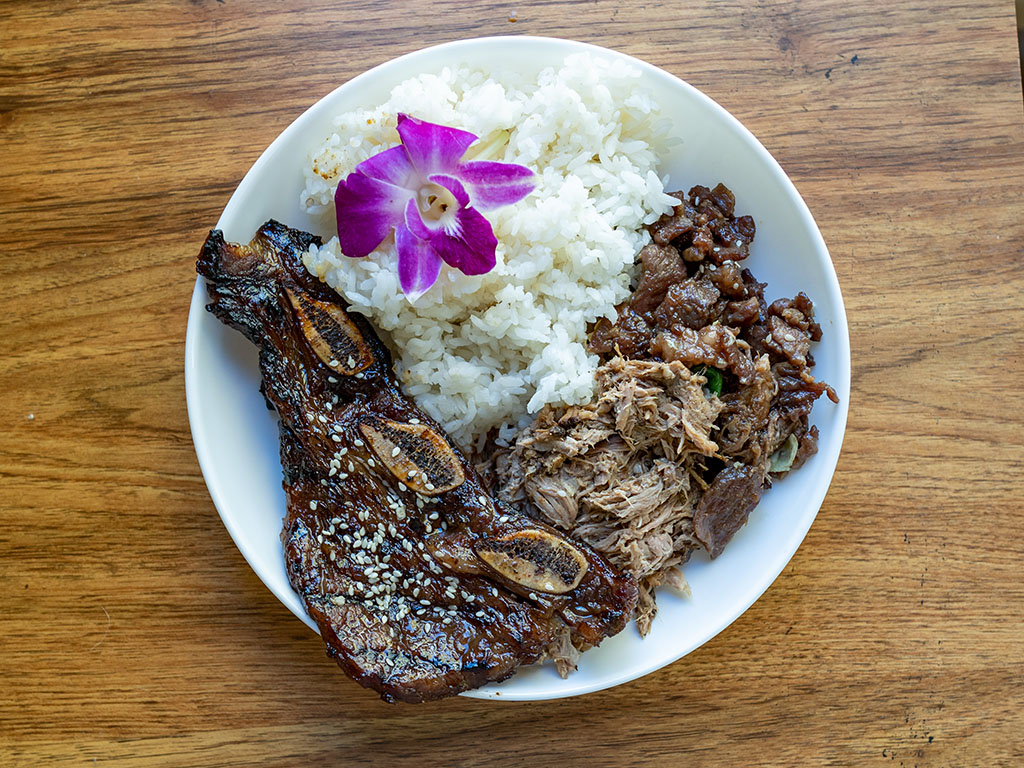 Kokonut Island Grill expands once more under the ownership of Wags Capital, the locally based venture vehicle. You might recall last year Wags took majority ownership of Michael McHenry's Dirty Bird operation for a cool twenty mill. Side note: open my own fried chicken sandwich joint. Double side note: maybe offer poke.
Anyway, Logan is the latest expansion site for Kokonut, which opened in late March. The brand serves up Hawaiian cuisine in a fast casual setting with dishes such as katsu chicken, ahi poke, kalua pork and more.
Laziz Kitchen
Pitching up in Midvale's old Curry Up Now (survived by the lone downtown location in SLC now) is the second outing for this Lebanese favorite of many. Here's the full presser from the company:
. . .
Laziz Kitchen is excited to announce the opening of its second location! This time, they're setting up shop in the southern end of the valley located at 1076 Ft Union Blvd, Midvale. New partners to Laziz Kitchen/Laziz Foods Group, the Netto and Hannon family, are looking forward to welcoming fans of the eatery and new customers alike with the same delicious food and an inviting atmosphere.
"We are excited to be expanding the Laziz Kitchen brand with the addition of our Midvale location," said John Netto. "Laziz Kitchen is a local favorite rooted in a fresh and fun atmosphere, good food, community engagement, and a strong passion for bringing culinary diversity to Salt Lake City."
Laziz Kitchen will hold a ticketed soft opening on Wednesday, May 18th, and will open for regular business on Thursday, May 19th, 2022. They invite guests to enjoy the modern take on not-so-traditional Lebanese cuisines with a family-friendly atmosphere. Come for the Zaatar Roasted Veggie Bowl, famous Hummus, fried Cauliflower Florets, or the ever-popular Lamb Burger. A kid's menu will be coming soon to this location.
"With Utah being the fastest-growing state in the country and also the youngest state by age, it's so exciting to grow the Laziz Kitchen brand into new corners of our community," said Co-founder of Laziz Kitchen, Derek Kitchen. "Laziz Kitchen has been and will always be a place of inclusion and warmth for all people. When you come to Laziz, we want you to feel like you're coming home. We pride ourselves on being a place that is welcoming and inclusive for all."
. . .
Also worthy of note, if you haven't been in a while, the menu has evolved quite a bit since their initial opening in the Central 9th.
The last twelve months have seen substantial updates over at Laziz Kitchen. Hot on the heels of their recent opening in Midvale comes the pictured downtown SLC location – the third for the business.  It opens up in the spot once home to Curry Up Now over on 200 S. (the old Cedars Of Lebanon).   With it comes the counter ordering model of its Midvale cousin, which has also rolled out to the Central 9th original as well. The Lebanese menu has also been re-spun and re-worked. The focus is now more broadly Mediterranean, and the ordering format of the 'pick your protein', 'choose your style' variety. 
What's remained the same? All the best bits frankly – it's still the warmly embracing and inclusive space it has been since day one – and the food is still fun and fresh.  The lamb burger sports a crisped beet that makes a tongue in cheek stand in for bacon.  The crispy fried breaded chicken escalope is a new menu addition and perfect over the soft rice and lentil blend.  
Also coming along with the new downtown location…
Backdoor
You might recall the downtown Curry Up Now arrived alongside Mortar & Pestle, the snug cocktail bar out back on Edison Street. That too has been supplanted by the Laziz crew with the new  Back Door. It's still a 21+ only bar, and it's still connected to the restaurant out front. There's a new look and feel, a more luxurious and chic one. I hate to roll out the overplayed speakeasy title, but thats the best descitopjn I have. Plush sofa, dim lights and wood paneled respite.
Back Door remains a private and separated entity. Swing by for cocktails if the mood takes you, there's no need to order food. If you do, you can take advantage of Laziz's menu, finger food ready mezze.
Legit Getdown
The Tribune's newest food writer, Stefene Russel turned me onto these guys. In her weekly food newsletter Russell wrote, "Legit Getdown, which serves Polynesian beef bowls, beef plates and clam chowder, has opened a walk-up window at ComCom Kitchen (67 W. 1700 South, Salt Lake City). For information on the menu and this week's schedule, visit their Instagram page. "
Libertango
Sandy recently saw this Argentinian steakhouse open in their midst (10395 State St) and it certainly looks like an intriguing change of pace from the run o' the mill chain steak emporiums. Protein prices start around the forty buck mark and include dishes like carre de cordero – grilled lamb chops with saffron rice and mint jelly.
Los Tapatios Taco Grill
Building on the success of their 2020 North Salt Lake launch, Los Tapatios have now completed the opening of a second location in West Valley City. The house speciality is voguish birria formatted into a variety or dishes from taco to quesadilla to ramen.
AND
The end of August saw the grand opening of this second location of Los Tapatios. The new Taylorsville facility (3269 W 5400 S) brings the same Jalisco-borne cuisine of the original, which first opened back in 2020. The menu is packed with the belle of the current foodie ball – birria – available in every format you can imagine: tacos, torta, mulita, burrito, quesadilla and ramen. It's a visually arresting collection start to finish, the kind of stuff that will have you breathlessly posting a dizzying TikTok video in short order. If that's your thing.
Lucky Ones Coffee
More info on this new Kamas coffee house from KPCW who have a ten minute listen along on the business. Lucky Ones Coffee have been operating for a while in the Park City Library. According ti KPCW, "they've expanded by adding a mobile food truck and are now opening a location in Kamas."
Mama Coco Kitchen 
Soul food comes to South Salt Lake with this one. This menu posted to Instagram is largely buit around a variety of po'boys including chicken ($15), fish ($18) and shrimp ($18) – there's a particularly loaded version with my name all over it – a mammoth three meat po boy for $23.
Mar | Muntanya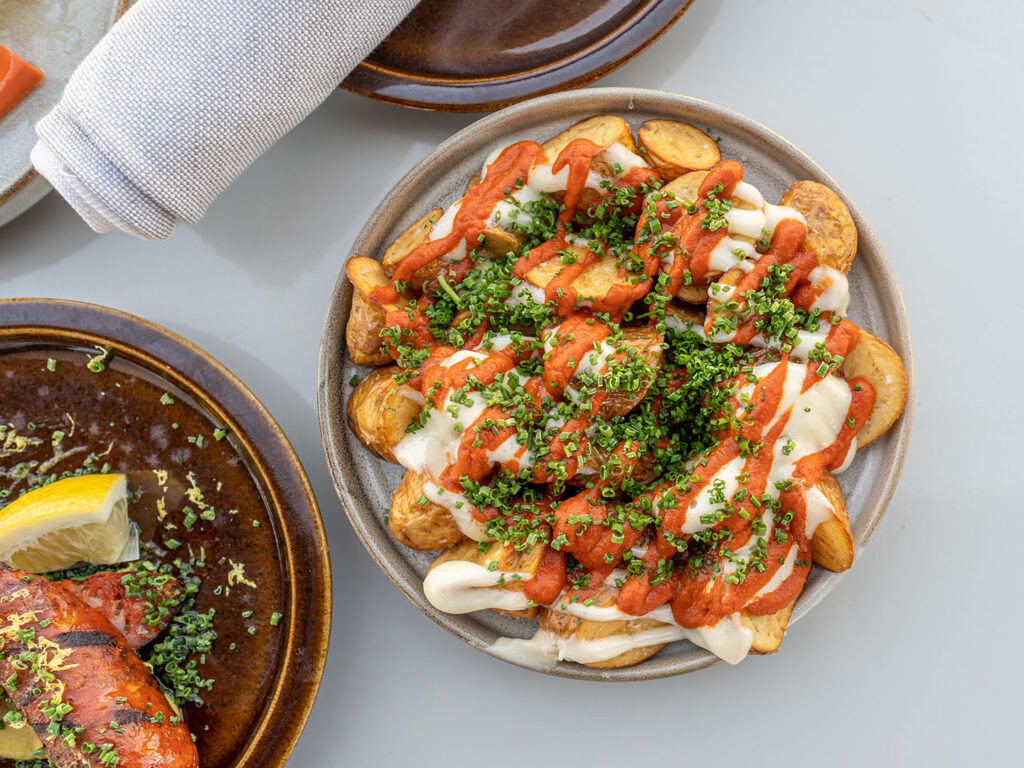 For those playing catchup you can read my original preview of Mar | Muntanya here. The quick recap is that this is the dining jewel in the crown for the gleaming Hyatt Regency; the towering new convention center hotel now welcoming guests.  Tyson Peterson is the fella out back, a Utahn who returns to the state by way of leading several previous restaurant openings. Mirroring those last endeavors, the all new Mar | Muntanya is Spanish inflected.
As you'd expect from a property with $400 million dollars poured into it, the restaurant design at Mar | Muntanya is thoughtfully chic. The spine of the restaurant is cast in golds and reds, anchoring the heart of the space in the iconic colors of the Rojigualda. The effect is all the more eye catching should you stop by as floods of setting sun wash through the space. Speaking of which, there's acres of natural light, with the restaurant bounded on both East and West sides by floor to ceiling windows. 
Entering from the elevators, you'll be greeted by a host and find a range of high tops, banquettes, booths, large tables, and towards the back of the space – a long bar. The restaurant's hottest ticket will absolutely be the al fresco option – a long thin strip dangling over West Temple. There are roughly two dozen seats that offer arguably the best dining views in town. Word will get out on the patio, which feels higher than the sixth floor it occupies. I might have just managed to stop by on the last lovely night of weather – but I'm told they're actively looking at heating the patio for the Winter. 
On the food side you can peruse the menu over on our sister site SLC Menu here. I'm going to demur on diving into any detail for the time being. On my visit I snagged a plate of patatas bravas, Bilbao chorizo and scallop escabeche. And cava. Because when in Spain… Anyway, I'll be there a few more times over the coming weeks to poke and prod my way around the thing – I'll report back when I am sufficiently stuffed.
Need to know: if you plan on stopping by, the bar opens at four with limited bites and drinks, the restaurant kicks into proper gear at five. Mar | Muntanya is currently also closed on Sunday and Monday.
Maxwell's Little Bar
According to the Downtown Alliance this 21+ only space recently opened on 200 S. under the Westgate Lofts. The new Maxwell's is a snug space by all accounts seating around thirty of your best friends. The menu brings all the favorites from the now closed Main Street location – and importantly – an all new walk-up window for to go slices.
Meat Hook BBQ
"There's a sign for a Meat Hook BBQ in at about 3400 S Redwood in West Valley. It's a newish construction attached to south of the Westerner Club. Looks like they will have a patio and indoor, but can't tell much else. Let us know if you hear anything about it." So goes the plea sent my way by a curious reader. Ever the grease stained glutton investigative journalist I headed on down at the first available opportunity.
Meat Hook BBQ is a brand new Q spot that I believe is owned by the same folks as The Westerner; with a certain Jason Hook noted as the owner of the latter, it's not a huge leap to speculate that from the name.
The menu commences with familiar meat combo plates before moving onto some interesting mish mashes; salads and sandwiches, tacos and nachos, all with BBQ flourishes. We went with a two and three meat combo to get our greasy hands on all five proteins Hook smokes up.
Initial indications were mixed. Our noon arrival didn't seem to quite line up with the brisket coming fresh from the fire, arriving as it did to our table, a little dry and without much supple fatty flex. I have to admit the additional charge levied, for the resulting solitary slice felt a little meagre. Opting for sliced over chopped (because what rational actor doesn't) the sliced beef had a good thunk of smokey flavor. 
Highlights were the ribs with a beautiful crimson bark and bags of peppery flavor (a recurring motif here). The andouille sausage lasted barely seconds too; but frankly I've only ever encountered a single sausage in forty four years that I didn't enjoy. Chicken thigh came pulled much like the pork, and featured a pointed peppery kick. On the side, the star was the sweetcorn fritters – corn studded remixes of classic hush puppies. 
Wisely, meats are served un-sauced. Curiously, of the three sauces, the sweet and sassy offered the most oomph, delivering black pepper heat and molasses tang. The Feckin Hot mind you, was, well, lets call it Utah hot and just move on. A few other highlights include the full restaurant liquor license. Domestic and local beers flow, as do cocktails. The space is brand new, comfortably large, and the outdoor patio is nifty. You'll never want for parking either with the behemoth of a parking lot.
I'll be back to see how things are going in a month or three. The BBQ business is a tricky game, I get it; and trying to judge it is mercurial stuff, at least in a restaurant setting. Random thought for the day – I'd love for BBQ joints to start posting their "hot off the smoker times".
Melissa Crepes and Coffee House
Melissa Crepes and Coffee is another new South Salt Lake business (3432 State St.) offering coffee and tea alongside a menu of sweet and savory crepes. Make mine a creamy alfredo chicken crepe with the nutella/Oreo/caramel for dessert please.
Mocihnut
With their first location now open in Sugar House, you can now sample this chain's Korean hot dogs and mochi donuts. Mochi donuts huh? The company write, "Mochi donuts are a perfect union between Japanese-style rice cakes (mochi) + American-style donuts. Originating in Hawaii, these unique treats are growing in popularity because of their unique shape and texture; light crispy coating with a chewy inside. Mochinuts come in several mouth-watering flavors that change weekly."
Momo's Gourmet Cheesecakes
Cheesecake fans in SLC can now rejoice as this Provo original has made the journey North to open their sophomore effort in the capital city (29 E 400 S). The company offer everything from small bites through build your own full size cheese cakes priced $38 and upwards.
Mint Tapas Holladay
Ariunbold Batsaikhan's (aka chef Soy) picture perfect Japanese cuisines makes another appearance, this time in Holladay. Opening up in the space once home to Copper Kitchen, the menu offers a big selection of Japanese small plates, as well as a 10 course tasting option.
Miyazaki
One of the more interesting openings this year was this high end Japanese eatery that opened over in the Fashion Place mall. For once this is a menu that reads a damn site more interesting than the usual 45 pages of maki rolls, essentially on there for mayonnaise, usually its siracha mayo. No, the roster of dishes at Miyazaki is quite different, with Japanese A5 standing out in several forms. O.k. I know what you're thinking, let me answer your first question…
$45 gets you three ounces cooked table side over a hot stone while at the other end of the spectrum $139 secures an 8 ounce ribeye. The prices then, are reassuringly high – as anyone who has tasted the real stuff knows – it ain't cheap. Very interested to check this one out and learn more over the year.
Mr. & Mrs. Crab Juicy Seafood & Bar 
I love a good name, and man alive, what a name that is. Two ampersands, count em and weep! Now open in Taylorsville is the first location for this modest chain that calls home to nearly two dozen locations. The menu is the seafood boil approach you might know from a variety of spots across the Wasatch; first innovated here in SLC proper by Bucket O Crawfish, fact fans will note. Over at the new M&MCJS&B you can find shrimp, crawfish, blue crab, blue mussels, green mussels, snow crab, Dungeness crab, lobster tails, king crabs, and well…lots more…
Mr. Rice
The latest to pop up in South Salt Lake's ever revolving kaleidoscope of flavor which is Chinatown (3390 S State St). The menu is one of a comfort food that speaks directly to my soul; which is to say it's helmed by a variety of fried rice dishes and supported by plates of pork belly and Japanese curry. Find me at Mr Rice stat.
Mrs. Hewitt's / Crushed Soda
The Trib reported on this one as follows, "Mrs. Hewitt's, a Utah-based gluten-free food company, is opening Crushed Soda, a new soda shop and bakery (1661 W. 7000 South, West Jordan). The grand opening is Monday, Sept. 12, from 7 to 9 p.m., and includes food and drink samples. The entire menu is gluten-free, with some vegan items, and there will be a store inside the cafe where you can buy gluten-free Mrs. Hewitt's bread, cake and cookie mixes. "
Nami Lily
I spied this one on the always handy Utah Restaurant Review FB group. The relatively new for South Jordan Japanese spot features a very affordable looking menu with several classic maki rolls under $8 and ramen hovering around the $12 mark.
Neutral Ground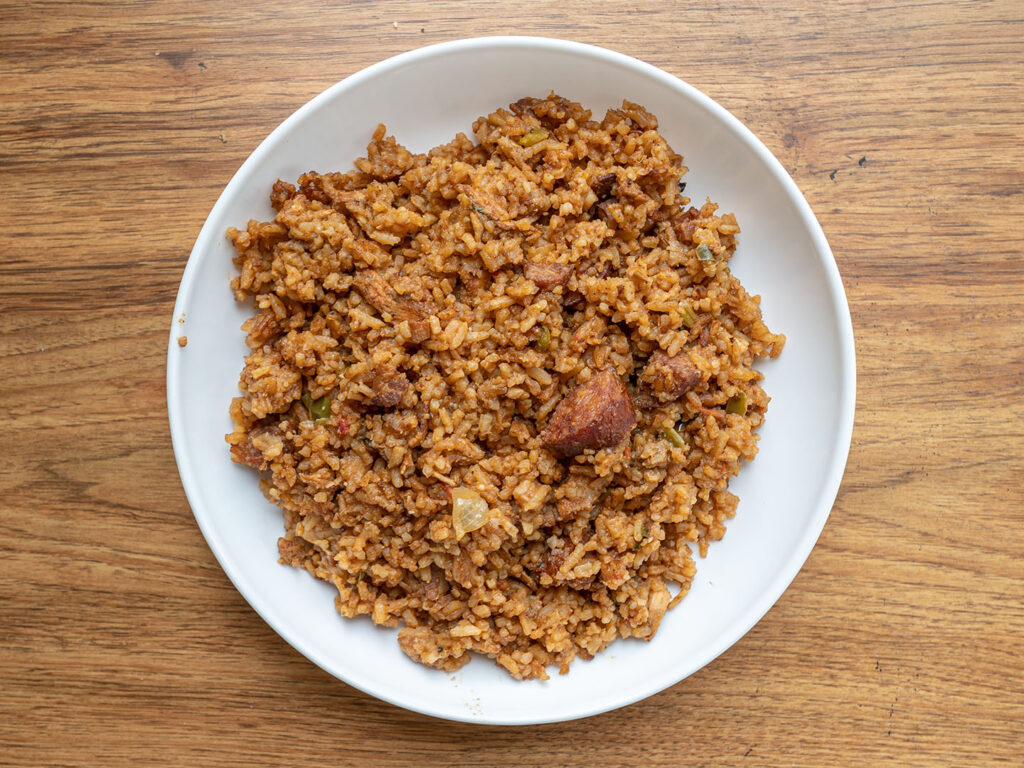 This one has undergone several changes since I first started to monitor their arrival. Pictured above is a rather fabulous jambalaya I sampled while chef John Belvin Jr. was at the helm. Since that Spring to-go order, Neutral Ground's kitchen has been taken over by chef Colette Moss; a Blanding Utah born chef, who returns to Utah by way of Seattle and L.A. Stefan Bach joins her as sous.
Looking on from afar the menu and concept seems to have evolved since my first encounter – pictured above is the jambalaya I sampled from Belvin's tenure. The now open restaurant can be found in the old Nomad Eatery restaurant in North Salt Lake and sports a menu of classic Southern dishes alongside more creative takes like Southern carbonara and flatbreads. It's also home to the only alligator tacos in Utah I know of.
Noemi's Cafe
This one was a restaurant I'd been eagerly awaiting for months.  Noemi's Cafe made their mark in the Fort Union spot (777 Fort Union Blvd) left free by Ganesh Indian Cuisine moving down the road.
The reason I've been so keenly refreshing my Facebook feed on their progress? I was lucky enough to sample some of their cuisine a couple of years back via their food truck – Noemi's Catering. I became an instant fanboi. 
At the new cafe, guests order at the counter from a concise menu, headed up by a constellation of empanadas. I'm told most are deep fried, with the carne being baked. There are also several vegan options too. These are some of the finest stuffed pastries I've had full stop, South American, English, you name it. Apparently the latter informed the former – at least so goes the tale told to me by the lovely folks at Dough Miner. Apparently English tin miners faced with exhausted mines headed to the Americas, and along with their picks, took along the know how for their savory pastries.
The suspicious side of me debates the possible apocryphal nature of it. After all, putting things inside of things, feels as self evident as putting things on top of things. Whatever the story, the roster of South American pastries here are fabulous. The carne comes with sweetly seasoned ground beef, olive and egg. Sadly we didn't receive a side of the jaw droppingly good salsa verde I know Noemi's concocts (Google suggests the name might be pebre sauce). I did spy it go to other tables mind you; if you don't get any, be sure to ask, it's magical stuff.
We also try the choripan sandwich, "it's like chorizo", we're told and immediately nod yes. Dessert comes from the handsomely appointed pastry cases in the form of a stout alfajores – short bread discs are plumped apart with dulce de leche filling then rolled in coconut flakes.
That handwritten menu presumably affords the ability to change things up on the daily too. On our visit I spy pastel de choclo – see pictured above from an adventure with their food truck – a sort of South American spin on cottage pie. Sub the mashed spuds and replace with mushed corn and you're getting close. 
I continue to watch these guys on their social media, and routinely see them post sold out messages. If you head by (and you really should) do check in advance.
Nona Bistro
This restaurant over on ninth South is the second outing from the folks that brought you the popular pizza spot Pizza Nono, just down the road. The mostly al fresco operation quietly opened in soft mode the past week or so and is accepting walk ups Wednesday though Saturday. Frankly it's all a bit hush hush and on the down low. Check em out on Instagram here – there's wine, there seems to be wood-fired food, want more do you need? Don't say bucket.
Nona Ina Italian Restaurant 
News from Stefene Russell at the Tribune on this one, "Nona Ina Italian Restaurant recently opened at 567 S. Valley View Dr., St. George. The restaurant is operated by a family from Sicily, using recipes passed down through generations. "
Oh Shabu Shabu & BBQ
New for South Jordan hot pot lovers is Oh Shabu. The all you can eat menu starts at $22.95 for lunch and $29.95 for dinner. Priced additionally to the bubbling broth are meat skewers (presumably the BBQ bit of the name) – selections such as spicy lamb, curry beef, pork belly and more.
One Noodle Bar
Now open in West Jordan (1793 W. 7800 South) is this pan-Asian eatery. There's a lot going on at One Noodle with a menu that excitedly features everything from duck bao through to udon, soba, ramen, poke and more. The restaurant is open seven days a week.
Ono Malasadas
New to malasadas? Let me wikipedia that for you real quick, "a malasada is a Portuguese confection. It is a fried type of doughnut, made of flattened rounds of yeast dough, flavoured with lemon zest and coated with granulated sugar and cinnamon."
Those of you at the back smugly nodding to each other… what about savory malasadas then? Nope? Good.  Ono's Malasadas food truck made brick n mortar opened just a few days ago and promptly sold out. Check em out.
Paellas Callapso
Love paella? Then you'll probably love this all new Midvale food truck that specializes in the dish; not least a range of other items like pepito de carne and, er shawarma oddly enough. Follow along on IG.
The Paleta Bar
This one according the Trib's Stefene Russel, accordingly, "Utah's first location for New Mexico-based ice pop shop The Paleta Bar in Provo (1283 N. University Ave.). Paleta is Spanish for "ice lolly," and Mexican paletas, unlike sugar-water-and-food-coloring Popsicles, are made with fresh fruit, cream and milk. The Paleta Bar also offers chocolate-dipped ice pops."
Park City Brewing
The people want beer. Feb saw this opening up in Summit County.
Patty Shack
Over in Taylorsville this brand new burger brand seems to be playfully inviting a visit from the Shake Shack legal team. The spot moves into the small space left vacant by the closure of Bell's Deli and bring with them a banner that looks oh so very familiar. The menu thankfully differs from the famed New York brand who insist on buttering their buns and overpowering their patties (maybe just me that one?).
The grand opening for Patty Shack is this week, November 23rd. You can swing by and grab a pastrami burger, or the monstrous 'Patty Daddy', a triple stacked pastrami cheeseburger.
Paxton Pub
One of the successful winners at this year's barapalooza – an all new SLC pub. Now open over by the Target on 300 W.
The Pearl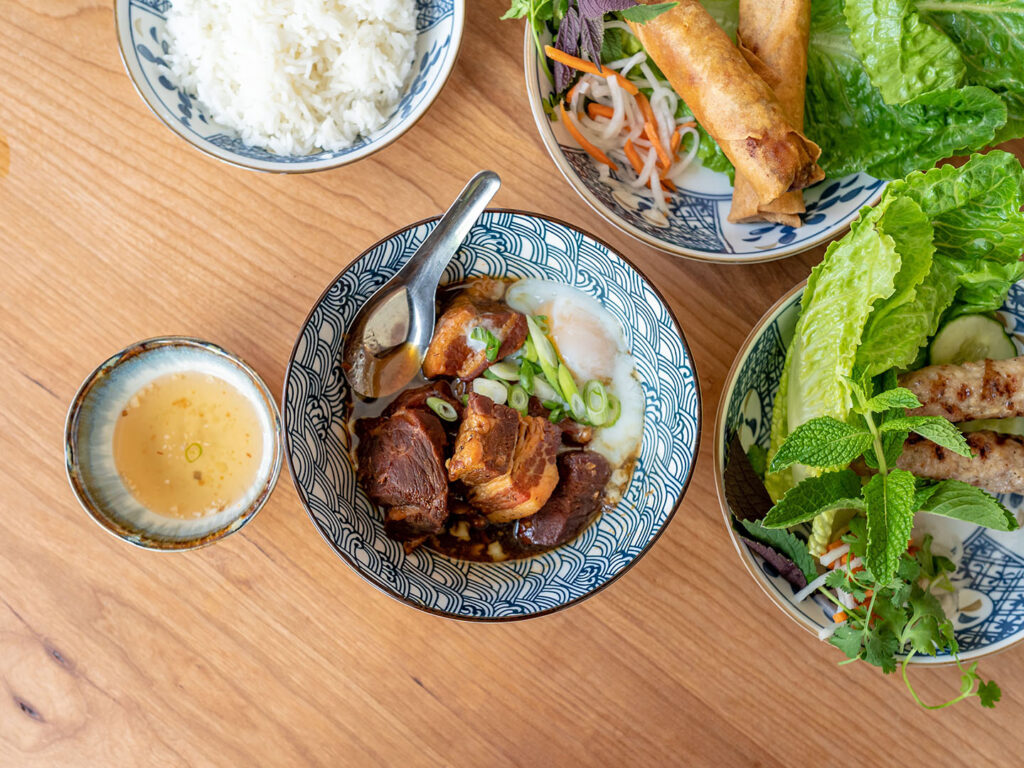 See this article for my first full look at The Pearl. Located in the rapidly solidifying Central 9th neighborhood this is the second venture for the crew behind downtown SLC's Alibi bar. The new cocktail bar also brings some heavy guns on the food side of things, with chef Tommy Nguyen cooking the first of his childhood. It's very, *very* good stuff indeed.
Picnic
If you follow along with our Instagram account New In Utah you'd already know about this new Liberty Park cafe. You'd also know it's open from 8-2 for coffee, pastries, sandwiches, gelato, and more. Fact fans will note that Picnic moves into the space vacated by former long term tenants Amour Cafe, that departed the spot in 2021.
Pinkbox 
Now landed in St. George, Pinkbox is a Las Vegas founded doughnut brand that according to the press release, is known for the "one-of-a-kind menu of 70+ rotating doughnuts". The business welcomed Utahns through the door in August and also writes that, "the new location showcasing a unique Utah-themed doughnut in addition to its full lineup of tasty treats, its collection of branded merchandise, and its signature, whimsical décor throughout the shop of pink drips on the walls, 3-dimensional sprinkles, and pink floor stripes. The 2,700 square foot St. George location includes a drive-thru and a patio, complete with a doughnut table and oversized Instagram-able pink doughnut statue with sprinkles in front."
Pizza Twist
For those studying the corner of 2100 S. and 700 E. in Sugar House you might have queried what the precise twist was for this impending pizzeria. It's much in the vein of the home grown Curry Pizza – the unique inflection here is Indian flair. That means a menu replete with palak and paneer as well as traditional pizza toppings for those afraid of change. Notable on the menu is a selection of halal meat including sliced lamb and beef bacon.
Pizza Volta
Relighting the pizza ovens left cold since Mellow Mushroom departed Sugar House, Pizza Volta is now open. The restaurant is the work of Paul Cucchiarell and Martin Brass, two seasoned restaurateurs who come to Utah hot on the heels of their work at  Hand Fire Pizza in Jackson, WY.  Together the two have 40+ years of shared experience in the industry.
The Pizza Volta menu focuses on salads, pizzas and desserts. All ingredients are sourced locally and regionally as much as possible and organic whenever available.  GF and vegan food options are available as well as full bar with craft beers, specialty cocktails and distinctive wines. The restaurants aims to provide a family friendly, comfortable dining atmosphere and has works to support community efforts; sponsoring  weekly Tuesday night pizza for local non-profits.
Pho 33
Numerous people have told me how their misfortune is now my luck. I live right near by this opening in South Salt Lake, and the angst of Midvalians seeing this one depart their midst is palpable.  Pho 33 now lives in the sprawling building at 285 E 2700 S, former home of Good Future Hot Pot. 
I've yet to swing on by myself but you can bet I will in short order. The menu comprises a roster of classic Vietnamese staples like bun, banh mi, and pho, before riffing all over; Chinese, Japanese and Thai all make an appearance.
Plated Dreams
Love or loathe the aesthetic of this pinkly bedecked business, you can't say that this new Woods Cross restaurant doesn't have a keen self of self and style. The IG-worthy design at Plated Dreams isn't by accident of course, the restaurant states, "as soon as you enter this restaurant, it's hard not to be slapped with the wow" factor and a jaw dropping eagerness to reach for those cameras." The menu offers breakfast and lunch, Tuesday through Friday, with brunch Saturday and Sunday.
Poke Kings Utah
New to Holladay and replacing the old Laid Back Poke Shack, just across from Snider Bros. Initial reviews for Poke Kings seem solid though there's not too much out there I can find on them right now.
Poke And Sushi Hut
'Would it even be a real new restaurant roundup without mention of boba, poke or fried chicken? No. No it wouldn't Enter stage left then, this new hopeful to Main Street's bustling streets. Open 7 days a week, 10 a.m. to 8 p.m. the menu does exactly what the name says on the tin, at wallet friendly prices too. Poke bowls run $10-$14 with maki sushi starting from $6.49 for a basic Cali roll.
Pretty Bird Park City
The third location of Viet Pham's Nashville hot chicken empire is now open in Summit County. The Prospector Avenue business recently flung their doors open – you can see some snaps from the opening day over on City Collective. 2021 saw the business revamp their Utah setup – their original downtown SLC shop becoming a walkup only option, with a new Sugar House location becoming the flagship store. The PC opening is expected to be followed by a Boise, ID location. 
Pretty Bird Midvale
Viet Pham's ever burgeoning chickenpire grew by one more later in the year. This the fourth location of Pretty Bird swing open over in Midvale. It's a starkly modern space. The interior is all virgo-soothing geometrical tile and angles and Kubrick. 
The ordering is same electronic overlord you might've encountered first at the Sugar House location. The POS system greets you at the front door ready to take your order. Press the shiny screen, grab a number, go plant your rear in a seat. Part of me wants to just shout "computer, chicken" at the screen, but alas for now, it's all swipe and point.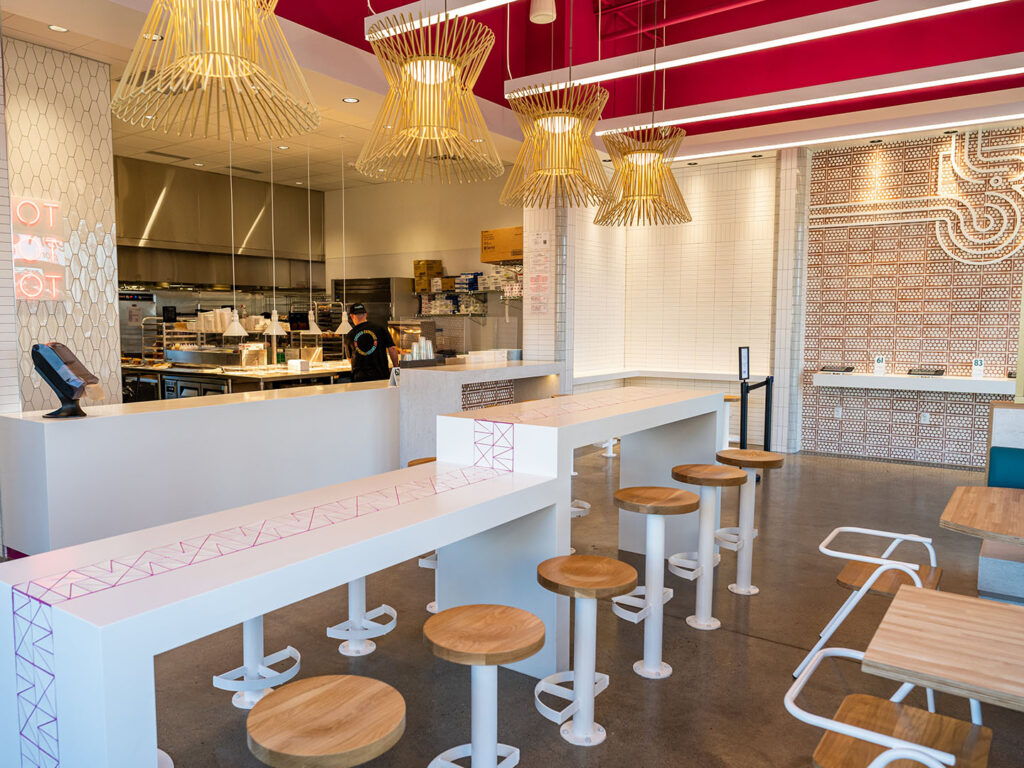 It's all rather slick with food hitting your table barely a few minutes later. Mind you, the technological Utopia falls apart if you dare to buy liquor (there's wine, beer and seltzers); whereupon a friendly staffer has to saunter over to inspect ID, but hey, Utah. Worthy of note therein, the Pretty Bird menu offers a bottle of Dom for $275 – the chicken comes free 
Rockwell Ice Cream
Taking up a spot on downtown SLC's Regent Street is Rockwell Ice Cream. This SLC spot makes for their second outpost, their first being found down in Provo.
Royal Hotpot And BBQ
State Street's Dim Sum House (1158 S. State) has now been replaced with this hotpot spot. Ooh that's fun to say. Hot pot is quickly becoming the new ramen, boba and poke bowl don't you know.
Quarters Arcade Bar Sugar House
After months of giddy DABS appearances, the Sugar House location of Quarters Arcade Bar was finally licensed this year, and is now open. The spot along 2100 S. follows on where the original in the basement space of the old Manhattan Club left off. There are classic and retro arcade games aplenty as well as a full bar. I'm also told something special might be headed their way on the food front too. Watch this space though, for now, gimme that roll of quarters.
Ramen Haus 
While boba is the poke which was the new ramen which was the new fried chicken before that, we're still seeing the odd ramen opening from time to time. This ramen shop opened in late February in Farmington.
Red Fort Cuisine of India
Now completing their expansion – hailing from St. George originally – Layton can now welcome this new Indian eatery. The menu ticks all the boxes you'd expect.
Richie Lush's BBQ
I waxed lyrical about the Kamas original. Sure, it was off the back off one meal (a rube maneuver I know, but hey, Kamas), but it was easily the best BBQ I've eaten in Utah in a half decade. Easily. Anyway, the inaugural location is presently closed for repairs, just as this new spot in Park City opens to welcome guests.
Rivas Real Mexican Grill
This Millcreek building has been home to a spate of fast-casual Mexican restaurants over the years. Gringos and Willbertos are two that come to immediate mind – and now Rivas – an operator that recently landed in town via Vegas. 
Night owls will love to learn that the spot operates daily until 2 a.m. and features an extensive menu for whatever cravings hit in the wee hours. Rivas are also the latest Vegas-import to head our way; Chicken Shack, Baek Ri Hyang, Carson Kitchen, Graffiti Bao are just a few other names to make the journey from the Silver State of late.
ROCTACO St George
Headed South? There's now another reason to pull over in St George, rather than just you know, floor it till Vegas. Instead, consider stopping over at this modern taco spot. The Southern opening brings the same menu that made the downtown SLC location a hit. It's a globe traveling array of tacos with inspiration from all over, Korean, Indian and South American.
Salt Republic
Here's a snap from the ground floor restaurant at the Hyatt Regency in downtown Salt Lake. Where Mar | Muntanya (mentioned earlier) is the destination fancy pants option – this is the spot aimed at more casual breakfast, lunch and dinner meals. The menu features a few knowing nods and winks to Utah, a way pastrami burger, a fry sauce hollandaise and what have you.
Shanasheel Grill
Formerly Ishtar Grill and Shawarma King before that, this Millcreek space is now Shanasheel Grill; it's unclear if the change in names has changed the ownership or operations, but do let me know. At any rate while you might have spied the name on delivery apps for a while, May is the formal official opening of this Mediterranean spot. The menu reads like my kind of party – big plates of bone in meat atop lusciously layered rice.
Slim Chickens
A third location for this popular fried chicken spot known for their tenders recently opened in Pleasant Grove. More info here.
Snowmobile Pizza
Another Central 9th spot, moving into the former Morty's space. The restaurant is bedecked in 1980s aesthetic, ski lift style chairs and is the work of Nice Hospitality, the same group that operate the HallPass food hall space in the The Gateway; the restaurant group also have a second space in the works the downtown open air mall as well, Italian Graffiti. Marc Marrone is the chef, who nods to a youth spent in the Bronx's pizza parlors.
As well as sporting a sporting a blinding palette of colors, Snowmobile presents a menu with plenty of pizzas – specialty 18 inch pies topping out around the $30 mark; additional options include sandwiches, arancini, salads, wings and notably – beer, wine and cocktails.
Sodaboba Drinks
Boba, soda.
Spilled Milk St. George 
Another St. George opening, this one via press release:
. . .
Utahns now have another option for enjoying delicious ice cream and cereal combinations, as Spilled Milk Ice Cream & Cereal Bar recently opened its second brick-and-mortar location in St. George. This expansion comes a little over a year since opening the first Spilled Milk Ice Cream & Cereal Bar in Salt Lake City.
The new store is located at 1480 S. River Rd., the grand opening was held on Monday, May 23rd, 2022. During the Grand Opening and training, Spilled Milk raised funds for the Utah Schools for the Deaf and the Blind. 
"After retiring from the NFL and moving to Utah—I was coaching for the University of Utah until 2018, my wife and I decided we wanted to start a family business," said Marvin Philip, co-owner of Spilled Milk Ice Cream & Cereal Bar. "The whole idea behind Spilled Milk is about the experience; it creates lasting memories. Many of our memories with our [five] kids are around the nostalgia of ice cream." 
Spilled Milk Ice Cream & Cereal Bar has recently received the attention and investment from Monarch Ventures, led by Richard Rees, who was an original partner of The Joint Chiropractic Clinics, and Eric Slaymaker, founder, and CEO of Wingers restaurants, with a goal of bringing the Spilled Milk concept to new markets. All ice cream creations are made to order and served on a variety of flavored waffle cones or in shake form.
"My personal favorite is the Banana Dream Pie; it's banana, Teddy Grahams and whipped cream; it tastes like a banana cream pie," said Philip. "We are looking forward to sharing the experience of being with family, enjoying wonderful ice cream and the overall fun vibe of our stores with the people in St. George." 
Spill The Tea
More boba, this time for Taylorsville.
Supremo Pizza
"NY Style Pizza in SLC, Fresh Dough Made Daily". So goes the headline item for the pies at the new Supremo Pizza parlor in Midvale. Open daily you can find the menu here.
Sushi Pro
Opening this year, Sushi Pro is a sushi truck from chef Josh Talley.
Taco Bout It
One for folks in Ogden (2421 Kiesel Ave) is this spot that opened towards the end of the year. I can't find much information overall, but initial reviews are almost unanimously gushing with praise.
Tacos Don Rafa
It's been a busy year for the venerable TDR. The famed taco cart confirmed they'd live on past the demotion of their parking lot overlord (Sears) not least also laying claim to a couple of brick n mortar locations as well – a savvy move if you ask this guy. At any rate the famous tacos can now be found in Bountiful (2300 500 W) and Millcreek (3904 S highland)
Tacos El Fino
Formerly home to Taco Land, and Cafe Guanaco before that, the this cozy bolding on the corner of 5th and 27th is now Taco El Fino. As you might guess from the name, the order of the day is tacos. The menu affords a wide range of selections: al pastor, chorizo, carne asada, chicken, fish, tofu, soy chorizo and hibiscus flower. Prices run about $4 per taco.
Tacos El Robert
Thanks to the Logan Foodies group for this one.  Tacos El Robert recently opened in Cache County and brings a menu of tacos, burritos, mulitas and volcanes. Proteins cover the gamut, tripa and lengua through asada and pollo. Whatever you pick hand made. tortillas support everything served.
Tapa Sushi
Saratoga Springers now have the all new Tapa Sushi to check out. The Japanese restaurant features a respectable range of maki, nigiri and sashimi as well as an extensive cooked menu. Many of the house specialty maki rolls hover appealingly around the ten dollar mark and it's always nice to see hamachi collar on any menu.
Tea Rose Thai Express
Pictured above a plate of the special fried rice from Tea Rose Diner – progenitor of Anny Sooksri's Thai-fueled restaurant empire. Following that first outing in Utah, Sooksri went on to open Chabaar, FAV Bistro, Siam Noodle Bar, Noodle Run, and Bakes N Bubbles. Tea Rose Thai Express is the latest and moves into the spot that the last two on that list tried third hand at. The name is as explanatory as any you will find.
Ten Seconds Yunnan Rice Noodle
With Pho 33 now migrated to South Salt Lake, this Sichiuan-spiked hot pot spot has now moved into their former home.
Thai Time
Once home to Q One Korean I believe, this new Thai option moves into the spot at 5612 S. 900 E.
Thani Bowl Noodle House
Thani is a Thai restaurant (that serves up more than noodles as the name alludes to) that moves into the building formerly home to Kin Sen Asian Noodle Bar, just across from Pioneer Park.
Tina's Bakery
If you live in Park City and find yourself craving a top notch empanada, crave no more. This (136 Heber Ave) spot opened mid December and start slinging savory and sweet pastries alike.
Tin Roof Grill
This Sandy restaurant came back to life in 2022, welcoming customers back to their tables. Open seven days a week serving breakfast, lunch and dinner – the business (I believe) is now under new ownership.
The RUIN
The migration of the Sugar House cocktail bar to downtown SLC is now complete; the original McClelland spot now sits empty as far as I know. The bar shifts the center of nightlife-gravity a little further North along Main with it's opening.
Tous Les Jours
Here's the press release from the company on the first Tous Le Jours Utah location:
. . . 
TOUS les JOURS, a French-Asian bakery café chain offering more than 300 different kinds of artisan pastries, gourmet cakes and desserts baked in-store daily, is excited to announce that its Midvale location is now open for business, marking the brand's first store in the Beehive State. The Utah TOUS les JOURS is owned by franchisee Kyung H. Cho of Trans Way Services, INC. Located on Fort Union Blvd., TOUS les JOURS is now serving its wide array of baked goods, both sweet and savory, and unique coffee and beverage options to the vibrant Midvale community.
"When I first stepped into a TOUS les JOURS location, I was immediately attracted to the franchise opportunity and impressed by the brand's robust offerings, including its unique pastries, fresh breads and comprehensive beverage lineup," said Cho. "As Salt Lake County continues to expand and flourish, Midvale stood out to me as the ideal destination for a TOUS les JOURS store, envisioning the bakery café chain as a haven for the local community to gather and enjoy a fresh pastry and cup of coffee."
With a brand promise to provide freshly baked goods every day, TOUS les JOURS takes great pride in dreaming up delicious pastries, cakes and desserts, which are artfully designed to provide the most memorable experience for every guest and anyone who receives a TOUS les JOURS creation. While there is certainly something for everyone at TOUS les JOURS, one of brand's bestselling items is its signature Cloud Cake, which consists of a fluffy delicate sponge cake filled with freshly made whipped Cloud cream flavors like milk, chocolate, strawberry and green tea. TOUS les JOURS serves many authentic French-Asian baked goods, such as milk bread, macarons, loaves, and croissants, along with its own unique creations and innovative seasonal offerings.
With more than 20 years of franchising experience, TOUS les JOURS franchises 80 stores in the U.S. and over 1,650 bakeries all around the world. Due to its extensive franchising knowledge, unique positioning and cultivated leadership team, the brand continues to attract franchise partners who are interested in diversifying their portfolios with a proven concept in the popular bakery market. Those looking to learn more about company expansion plans and the many benefits of joining the TOUS les JOURS franchise family should visit https://www.tljus.com/franchise/.
Sara Thai Kitchen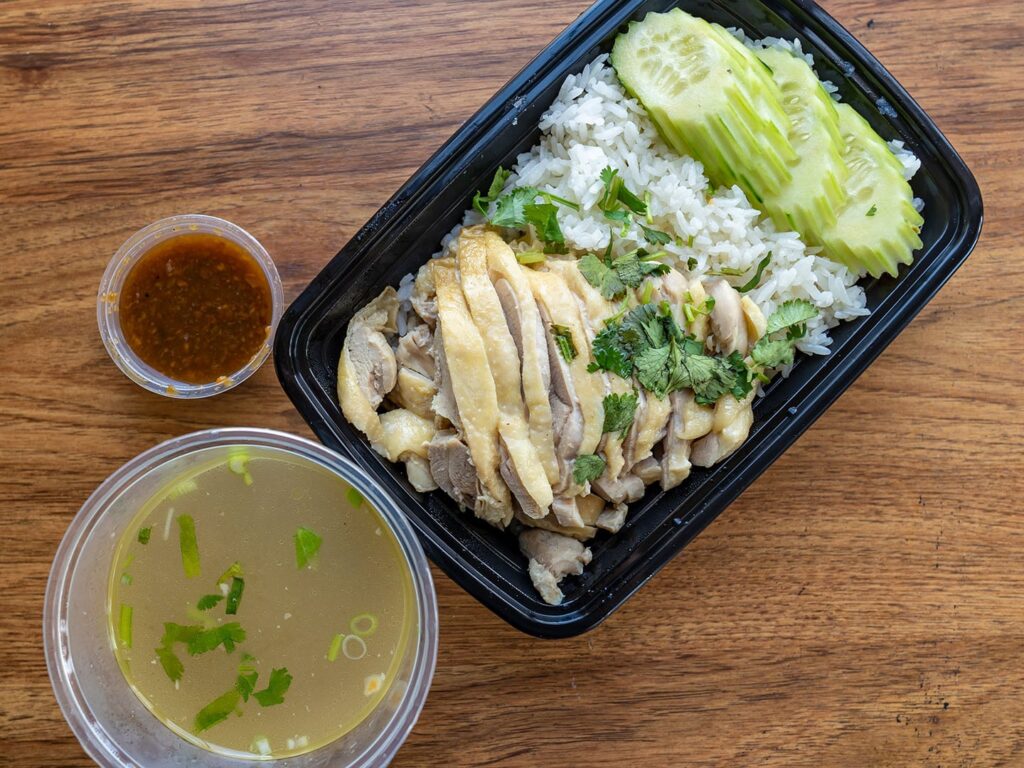 The opening of this downtown Thai spot eluded me for quite some time, that was until I saw rave reviews on the local Utah_Food Reddit. The restaurant opened towards the start of 2022 and moved into the spot that was left empty by the closure of Pasha Middle Eastern Cuisine.
After one meal, I am already considered adding them to our list of best Thai restaurant. The restaurant is the work of chef Ning Chaisith and it's a family affair all around. I spoke to daughter Sam Chaisith who gave me a little backstory:
"We moved from Vegas during covid about a year and a half ago. My father who is our head chef has culinary experience of 45 years since he was a little kid he learned how to cook; my mother Sara Sarunthon has 30 years experience, growing up with her parents owning a small restaurant as well. The food we cook here is all homemade and we truly cook with love. Every dish is served in big portions with our customers always packing to go! We welcome everyone with the motto of " if people show up at our door we feed them with good food and treat them like family".
The menu features quite a few dishes that I've not seen here in Utah, Thai sausage anyone? A standout from my first visit is the khao man kai pictured above, a sort of Thai-take on Hainanese chicken. Steamed/boiled chicken is sliced skin on, then layered over rice. A side of broth with a sheen of chicken fat comes on the side, as does a ginger-garlic sauce. It's comfort food of the highest order.
Shinobi Sushi
Opening in the Marmalade neighborhood was this sushi-focused restaurant. An extensive menu features a wide range of maki and sashimi not least udon, hibachi and yakitori on the cooked side of things.
The Vintage Room @ Deer Valley 
Here's the full presser on this luxe new opening up at Deer Valley's St. Regis:
. . .
"The St. Regis Deer Valley, one of the world's most luxurious mountain resorts, just opened a stunning and unique new Après and Lunch lounge, The Vintage Room at The St. Regis Deer Valley.  The Vintage Room adds to the Resort's already robust dining scene.
The Vintage Room at The St. Regis Deer Valley is a clear and heated 1,600 SF structure with vaulted ceilings located slopeside along one of Deer Valley Resort's beautifully groomed ski runs. Rack your skis and enter The Vintage Room directly from Deer Hollow Ski Run through one of three sets of double French doors or via the walkway from the Resort's main building.  The Vintage Room features a 30-foot wooden bar behind which a St. Regis mixologist creates signature cocktails and where a Chef prepares all raw bar orders and shucks oysters.  A glass case displays the fresh seafood, which is flown in daily, and features clams, oysters, snow crab legs and rock crab claws.  A raised VIP area provides a bird's-eye view of all activities and offers wine and champagne service in addition to cocktails, beer and non-alcoholic beverages.  Grab a spot at one of the lounge seating areas or at a table. Modern chandeliers shimmer and reflect the pristine powder outside.   
Or, relax and enjoy Après on the spacious outdoor deck with heated seats surrounding a roaring fire pit from which views of Deer Hollow Run and the Wasatch Range can be enjoyed while listening to the daily live music.  The Vintage Room beckons skiers and non-skiers alike with food and libations available both inside and out underneath the cornflower blue skies so frequent in Deer Valley. 
The Vintage Room menu, which highlights the best in seafood, is under the direction of local star Chef Mathew Harris and includes East and West Coast Oysters, Calamari and Octopus Ceviche, Maine Rock Crab Claws, RIME Clam Chowder and Maine Lobster Roll along with Spicy Shrimp Pan Roast, Turkey Chili and Creamy Tomato Soup, served with Cheddar Popcorn and Sourdough Croutons. 
All manner of libations will be served at The Vintage Room, including St. Regis signature cocktails such as the Almond Espresso Martini, the pumpkin-infused The Poe, SRDV's take on the Hot Toddy, and the extraordinarily popular Bloody Mary 7452, named for the elevation of the Resort.  Wines by a premier New Zealand vintner are featured along with a curated selection from the Resort's 10,000 bottle Wine Vault.  The extensive beer menu also includes the new St. Regis Signature Beers: Cousin Jack, Tipsy Trolley, Main Street Mexican Lager and Skeleton Saison, made with black currant and tart cherries. 
Seating at The Vintage Room, which is open daily from 11:00 am to 6:00 pm is available on a first-come first-served basis, with the exception of the VIP area, for which reservations can be made and which can seat up to ten people.  There is a minimum for the VIP area reservations. 
Tacos Tres Garcia
Not a new opening per se, but a major new update for this taco truck. Posting to Facebook the business write about a brand new permanent home along Sugar House's Highland drive.
The Underground 
Of this new Ogden opening the Trib's Stefene Russell writes, "Stella's on 25th (225 25th St., Ogden) has opened The Underground, a 25-person club designed to feel like a 1920s speakeasy. The tiny venue must be accessed through a red padded door with a MAINTENANCE sign on it. You also can't just walk through that door — reserve a space by calling 385-333-4184 or 801-564-0258. Hours are Friday and Saturday from 4:30 to 9 p.m."
Vessel Kitchen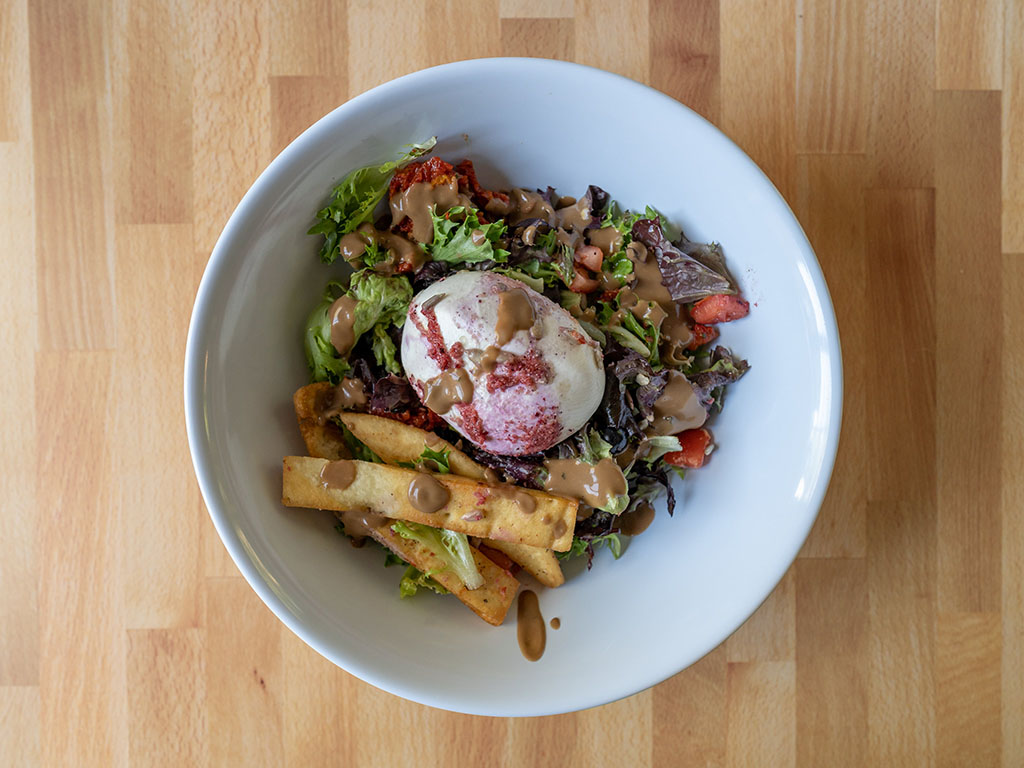 This new Sandy opening makes it a quintet of locations for the restaurant group that started life in Summit County back in 2016. Vessel wants to be your goto for taking the sting out of putting a family meal on the table. Swing by for a side, maybe just a protein, or perhaps a full meal. 
While there are a few composed plates and salads, Vessel Kitchen's menu really wants to put you in the hot seat. Some of this and a little of that please, no don't add that, are you mad. The new Sandy location is the first to operate as a togo only facility
AND
This opening in Farmington (330 N. Central Ave) makes it six for the business as a whole. If you're still new to the Vessel Kitchen concept, the restaurant aims to take the pain out of dinnertime. You can swing by to simply grab a side dish or two, or maybe you'll just get a full dinner of smartly prepared meals; the business is built from the ground up to support tired home cooks who don't want to end up under golden arches yet again.
Via 313
This Detroit-style pizza operation was welcomed into the Savoy Fund fold a while ago, and has now expanded with another location – their fourth in Utah. Rivertonians can now enjoy their own Via 313. Here's the full press release on the opening:
. . .
Over a decade ago, Via 313 opened up as just a small food truck operating on the streets of Austin. While the food truck stayed in Texas, the award-winning pizzeria has captured the appetite of the Beehive State and recently opened its newest location in Riverton.
To celebrate, the award-winning pizzeria invited the local community to join the Via 313 team, Mayor Trent Staggs and the Riverton Chamber of Commerce for a ribbon-cutting ceremony and is now serving the community at 13222 S. Tree Sparrow Dr., Ste. R180 in the Mountain View Village shopping center.
"We're thrilled to continue growing in Utah," said Co-Founder Brandon Hunt. "We're honored to share our Detroit-style pizza everywhere we go, and we're excited to have it in Riverton. We're so grateful for the warm reception from the community at the grand opening and hope everyone comes and discovers their new favorite pizza spot."
The Riverton location marks Via 313's fourth in Utah and 11th systemwide. The store's operating hours are Sunday through Thursday from 11 a.m. to 10 p.m. and Friday and Saturday from 11 a.m. to 11 p.m.
Via 313 exists so more people around the country can enjoy the pizza that's beloved in Detroit. The pizzas are called square, but they're actually rectangle and baked in metal trays, just like the ones used on the automotive assembly lines at the Big Three. But instead of being filled with metal parts, Via 313's trays are filled with the finest pizza ingredients it can source. To learn more about Via 313 or to view the full menu, visit via313.com.
Vietopia Bistro
Another quickly expanding group – Vietopia. Draper (1442 E Draper Pkwy) is the latest location for the Vietnamese restaurant group which now features a quintet of locations; in addition to three Vietopias the chain also operates Pho To in Taylorsville as well as Pho Bin Hoc in east Jordan. The menu affords a familiar list of Vietnamese classics, vermicelli bun through to rice plates and banh mi.
Vivi Bubble Tea 
Would it even be a real new restaurant roundup without mention of boba, poke or fried chicken? No. No it wouldn't Enter stage left then, this new hopeful to SLC's bustling streets. We  last mentioned this one in December 2021, and it appears the bubble tea shop is now in business
WannaCinn
A second Utah location of national chain WannaCinn is now slinging sugar in Riverton (4578 W Partridge Hill Ln).  ABC4 reports that owner and founder David Sickich "has been perfecting this recipe for ten years. Cinnamons rolls are baked fresh daily with the unique flavors baked directly into the roll rather than plopped on top. Farmington is in the works too.
Weller's Doner Wagon
Layton's Weller's Bistro have expanded their operation to the streets with this all new food truck. The German forward menu includes both beef and chicken doner as well as falafel, schnitzel, currywurst, bratwurst and more. This also make realize I would also like to see more wagons on our streets: gyro wagon? beer wagon/ fried chicken wagon? Speaking of chicken…
Woodbine Foodhall & Tavern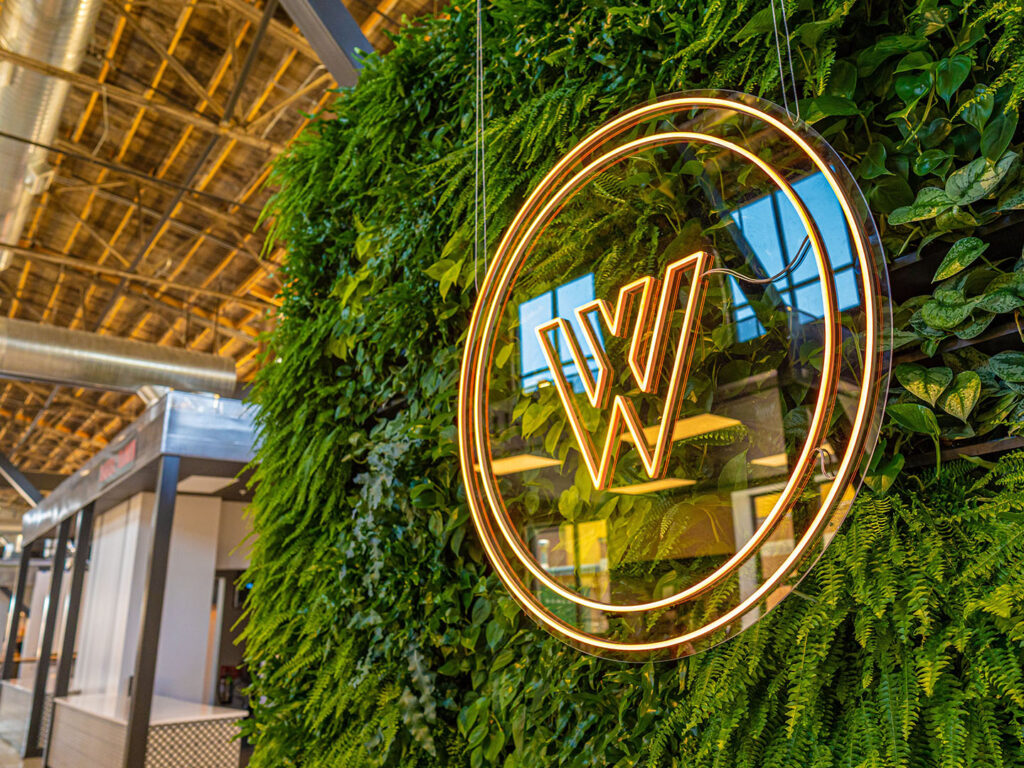 It's been several years in the works, but this year saw the impressive new Woodbine Foodhall & Tavern unlock the doors
The bar is the spearhead of the space that also features an enormous food hall and joins a quickly expanding list of peers in SLC. Woodbine calls home the former Rico facility in the Granary District (545 W. 800 S).  After some seriously extensive refurbishment work the project is ready. If you've ever attended an event at the old Rico, or dined at the long departed Frida's, I guarantee you'll barely recognize the space. Literal years have been poured into the development; not least with covid making it's presence felt extending the updated with improved air filtering and touch free bathrooms.
When the food hall rolled along in the Summer it did so with six vendors – a mix of new and old faces:
3 Cups Coffee – the family-run Holladay cafe will be making their second outing at Woodbine
Mozz Artisan Pizza – a pizza shop out of Provo, Mozz are known for their attention to their house made sourdough and home made mozzarella
Yakuza Ramen – a new noodle spot
Square Kitchen – the food incubator plans to install a rotating line up of the businesses they assist, a diverse mix of international cuisines
Deadpan Sandwich – this all new concept is from Taylor Giullian, who previously worked at Sundance Mountain Resort
The Taco Lady – according to the trio of Woodbine's operators, this particularly lady has the very best tacos in town
The facility itself has space for ten food vendors in total, and two more are coming online very soon (or may have by the time you read this)
Taste Of Louisiana
Vuture (vegan food)
Yalla Kosher
Look. I love tacos and boba like the next guy, but man cannot live off of tapioca and birria alone. Which is why news that this Heber food truck would be headed SLC way made me sit up and take notice. Yalla promises a variety of Kosher-friendly Israeli cuisine, something we're not particularly awash with. The truck is operated in partnership with Chabad Lubavitch of Utah. Our contributors Ashlee and Jason went on to write this lovely review of the truck.
Yoko Taco
This one was a while coming but the new concept from downtown's Yoko Ramen is now here. Located in the Granary district, which is a hop and skip from the Central 9th (let me know if you're getting dizzy) the menu is modern is concise and modern. Tacos run $4-6 and creations include item such as the pork belly with kimchi, fried chicken with salsa and a crispy pig ear with tomatillo salsa.
You and I Kitchen
Pho and banh mi are the order of the day at this new Vietnamese spot, owned and operated by chef  Sean Do. The opening is the second for the local business – you'll find the original over in West Jordan. In an ever inflating world, prices here are wallet-friendly with plenty under ten bucks.
Zulu Grille
Making the trek North from Lehi, South Jordan is the spot for the second opening of this chicken-centric restaurant. The star of the show is the piri piri chicken – featuring in salads, bowls, sandwiches and wraps. If yet another fried chicken sandwich . Pictured above, the colorful interior courtesy of local design company Eden & Co. Interior Design.
Previously mentioned with no further update
We've written about the following new restaurants in recent posts tracking new restaurants around SLC. We've heard no further news on these at this time: 
Keep the conversation going
Want to stay on top of the SLC food scene, minute by minute, dish by dish? Here are a few other places you should follow along:
Hi, I'm Stuart, nice to meet you!  I'm the founder, writer and wrangler at Gastronomic SLC; I'm also a former restaurant critic of more than five years, working for the Salt Lake Tribune.  I've worked extensively with multiple local publications from Visit Salt Lake to Salt Lake Magazine, not least helped to consult on national TV shows.
I'm a multiple-award winning journalist and have covered the Utah dining scene for the better part of fifteen years.   I'm largely fueled by a critical obsession with rice, alliteration and the use of big words I don't understand.   What they're saying about me: "Not inaccurate", "I thought he was older", "I don't share his feelings".
This article may contain content provided by one of our paid partners. These are some of the best businesses in Utah. For a list of all our current and past relationships see our partnership history page.
Foodrecipes
via "restaurants" – Google News https://ift.tt/yCBgAZi
December 29, 2022 at 06:32PM