Beale Street in Memphis, Tennessee steps into a new era, and the Hyatt Centric Beale Street takes center stage in making history by becoming the first Hotel to open its doors in the downtown quarter.
As Beale Street in Memphis steps into a new era, what's old becomes new at the history-making Hyatt Centric Beale Street.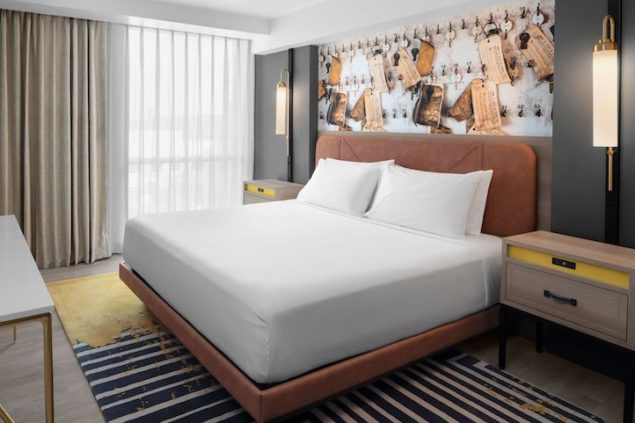 This soulful 227-room Hotel pays tribute to Beale Street with nods to music and its architecture, introducing you to what you will experience in this famous part of town. The decor sets you up with wall art of old speakers, treble clef-inspired light fixtures, and a hallway carpet pattern designed to mimic sound waves. Original materials from William C. Ellis' Ironworks and Machine Shop are carefully printed on wallpaper and placed behind the beds in each guest room, as well as repurposed metal and materials from the Machine Shop, creating the concierge desk.
The Hyatt Centric Beale Street also offers 12,500 sq. feet of meeting space, a 24-hour fitness center, wifi, valet parking, and downtown's only resort-style pool featuring a zero-entry infinity pool with cabanas. And if you don't want to leave your four-legged buddy at home, they are welcome.
Hungry? Bring Your Appetite!
The Hyatt on Beale Street presents Cimas, serving Latin-American-inspired fare with a Southern Twist. Hang out at Cimas Lounge for playful ligations, or take the elevator up to Beck and Call Whisky Bar for small plates, craft cocktails, and Ole Smoky Whiskey. Beck and Call is the only rooftop bar in Memphis with open views of the Mississippi River. At dusk, catch the sun-setting while the M Street Bridge performs an orchestrated light show at the top and middle of every hour from sundown to the 10:30 pm finale.
Located in the Caption by Hyatt Hotel and steps away from its big sister, the Hyatt Centric, Talk Shop is a laid-back cafe, beer garden, and "grab and go" joint. Talk Shop is excellent for breakfast bites, lunch, and dinner, or just a leisurely afternoon cup of coffee or cocktail (try the Mix it Up.) Recommended: Netta's Chicken Sammy. Miss Netta is not messing around with this old classic recipe she remembered as a kid. This Sammy is crispy, light, juicy, slightly hot and sweet, and topped with creamy coleslaw, all housed in a brioche bun. YUM. But that's not all. If Miss Netta is in the kitchen, and you're lucky, she will come out and ask you how you liked it.
Around Town Eateries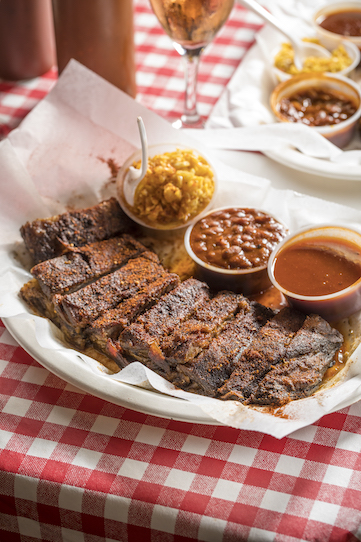 When stepping out of the Hotel, go to Sunrise Memphis, the best breakfast in Memphis. Choose one (or two) of six "Biscuit Sammies" on the menu, and you'll be hooked. And yes, barbeque is a must! Serving bbq since 1948, Rendezvous served the best smoky nachos, brisket, chicken, and "fall off the bone" pork ribs…ever. The food and the experience in this classic basement eatery smothered in the nostalgia of yesterday made it unique. Put bbq. on hold, and eat Italian at Ecco on Overton Park. Choose from pasta, fish, and meat dishes in this neighborhood eatery with a great cocktail and wine list. After dinner, head to Grind City Brewing and ask for Hopper, the owner, to help you select the perfect craft beer. He also knows tons about movies.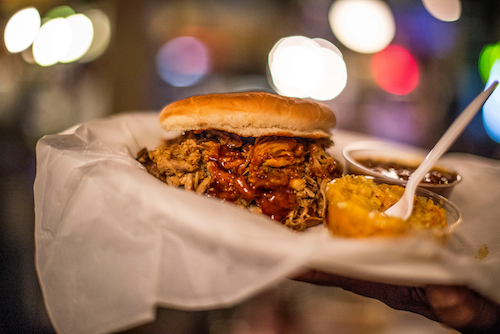 Around Town Adventures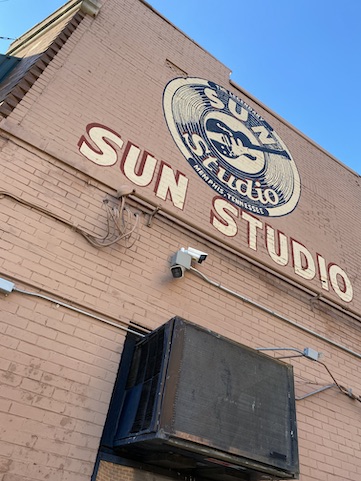 Venture out and tour Sun Studio, "The Birthplace of Rock and Roll." The walls of this iconic sanctuary heard the legendary voices of BB King, Elvis, Jerry Lee Lewis, and Johnny Cash, to name a few.   If live bands are your favorite, head to BB King's Blues Club on Beale Street. Bands play an array of classics and take requests. Go to Shelby Farms and ride electric bikes through wooded trails; when you pass a buffalo, you did not imagine it. Seriously! And, of course, there's Graceland.
No matter how revitalized, Beale Street still sings the Blues, Soul, and Rock and Roll of yesterday. If you listen closely, you'll realize that although the downtown quarter is well on its way to becoming something new, the music and all the history that comes with it is what remains valued, respected, and untouched. And because of the Hyatt Centric Beale Street, you'll be able to now become a part of this transformation by staying in the heart of it all. And that my friend is something special.
The post Memphis: A New Era on Beale St. with Hyatt Centric appeared first on Honest Cooking.