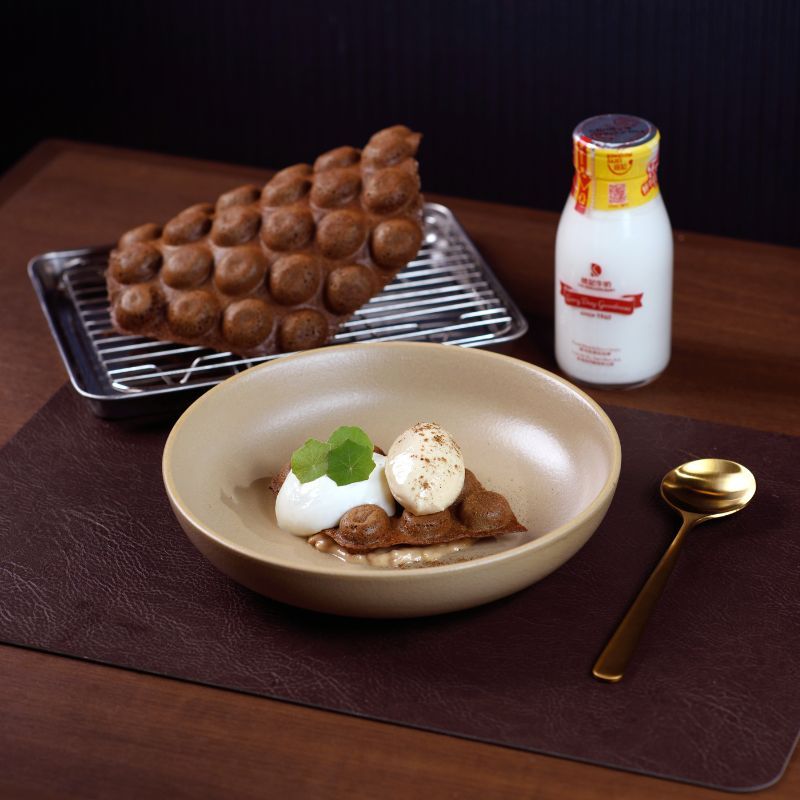 Chef Alvin Leung, also known as the Demon Chef, has been busy with new restaurant openings around the world and hosting television programmes, including being a judge on Masterchef Canada. He returns to Hong Kong to launch his latest concept, Café Bau, which prides itself on a creative menu serving locally-sourced ingredients.
A Review of Café Bau 
It's become increasingly more common to find Hong Kong restaurants turning more towards local suppliers than relying on their ingredients being flown in from all corners of the world. The biggest reason is that with growing environmental concerns, it is a big step in helping to reduce carbon footprint.
Another reason is perhaps the realisation that something like the pandemic can throw the most established logistics arrangements into complete disarray. Café Bau, the latest concept by Chef Alvin Leung of 3-star Michelin Bo Innovation, is the latest to join the farm-to-table movement with almost all its ingredients being sourced locally.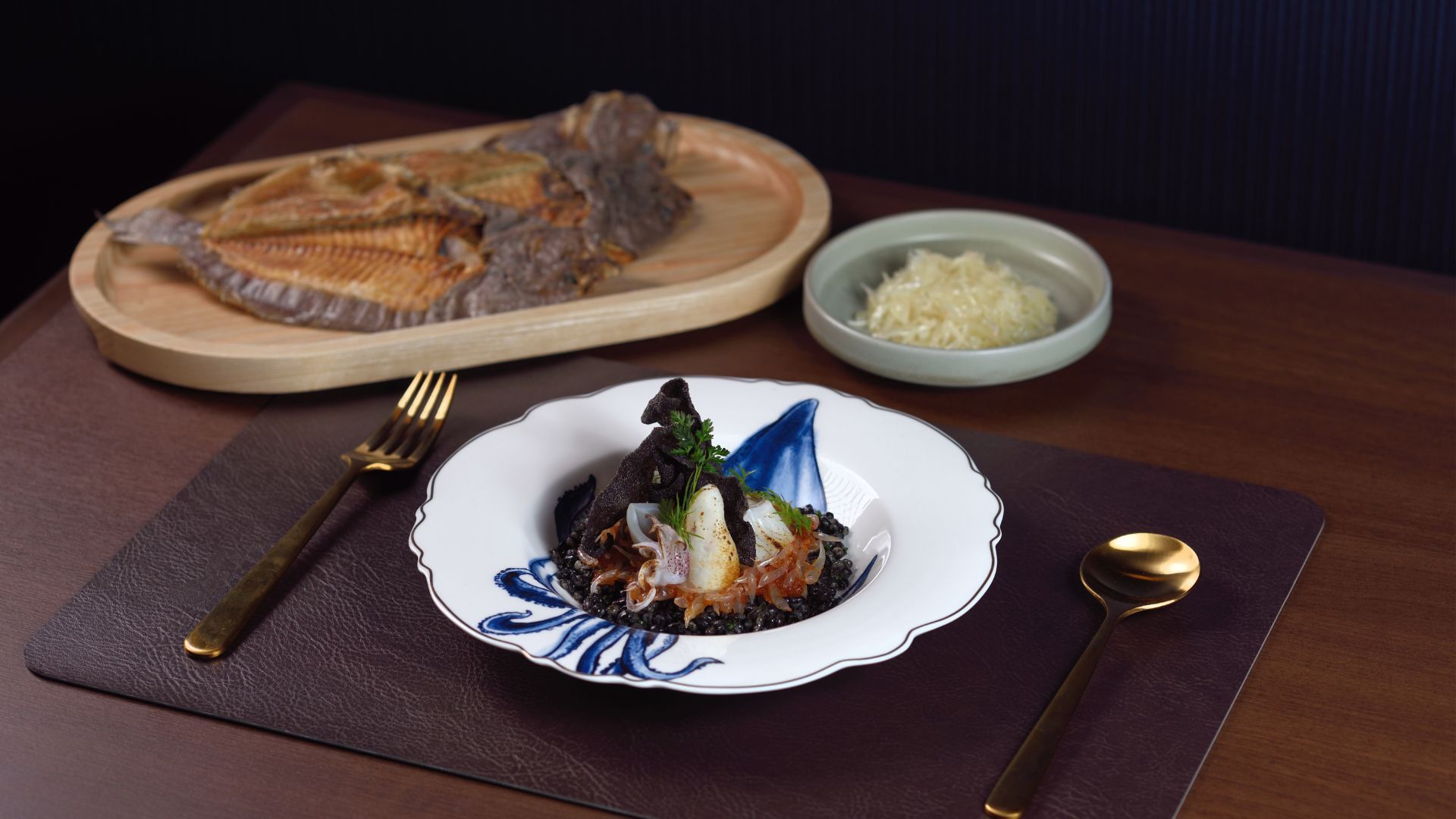 Café Bau wouldn't be the first Hong Kong restaurant to be featuring local vegetables or yellow chicken from the New Territories in its menu.  What it does have is Leung's intrepid spirit of going where no other Chinese chef dares to go with experimenting with local flavours, like local vinegars, and a more western-style cooking techniques. Those who haven't tried Bo Innovation can now get an introduction to Leung, at half the price.
We had the full tasting menu of eight courses which started with two amuse bouches of luncheon meat mini-tart and amberjack tartare. Special mention must be given to the homemade sourdough and focaccia, and the airy olive and vegetable foam, deliciously addictive.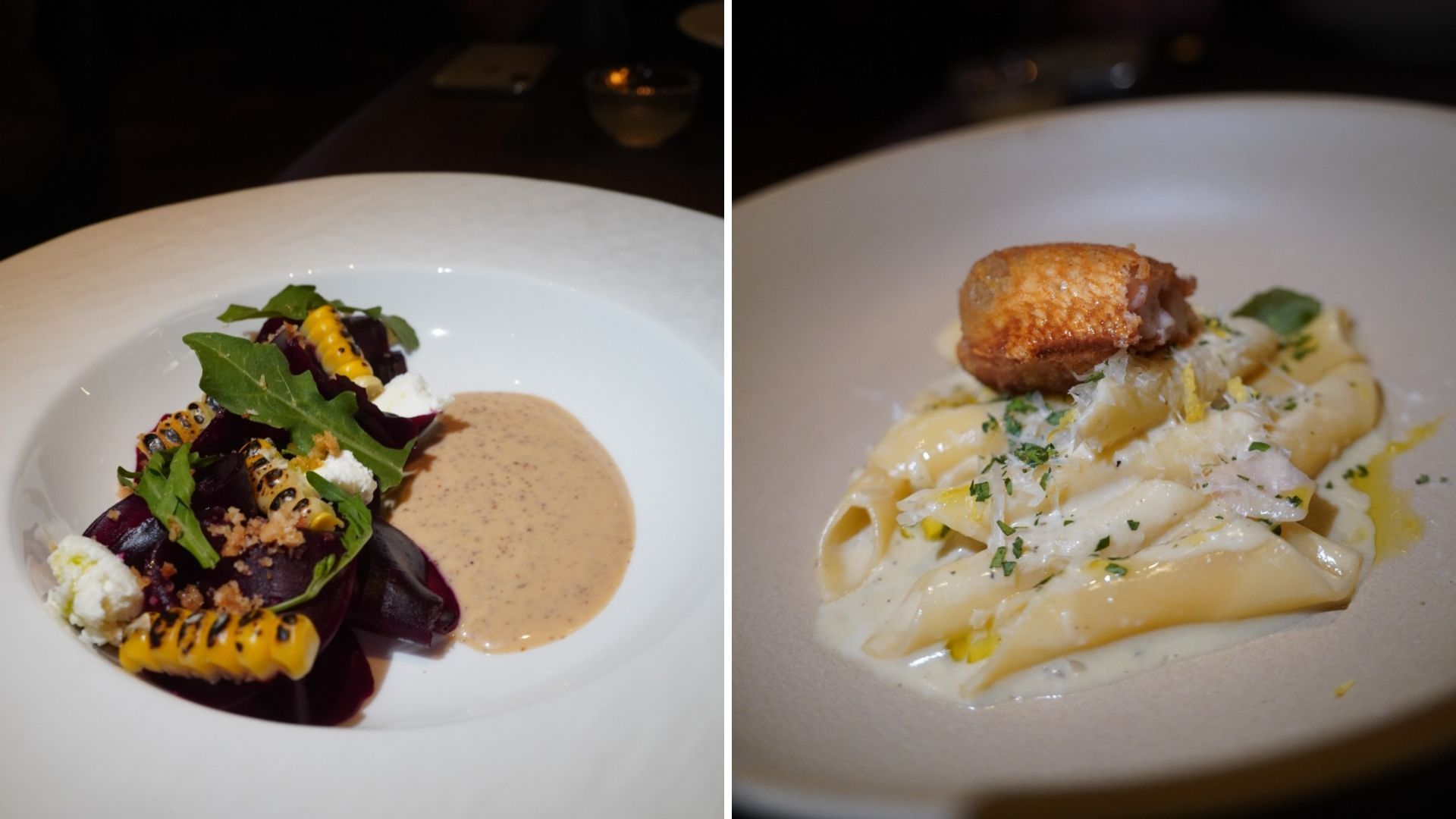 In general, the flavours worked for most of the dishes. The meal proper started with the homegrown veggies of beetroot and corn. The use of the sweetened Pat Chun vinegar took away the tartness of the beetroot and lifted the sweetness of the corn.
I would have preferred the hand-cut penne cacio e pepe just a little more al dente, but certainly couldn't fault the preserved clams sauce it was cooked in. It came a small cut of yellow chicken wing that was crispy on the outside and juicy inside. The tiny wing looked a bit forlorn though.
As with the pasta, the kitchen seems to still have some problems with portion sizes when it came to the grilled squid with spicy Sha Tin pomelo, smoked flounder barley and squid ink chips. While it was an interesting mix of flavours, an overly generous portion of the very chewy barley made eating it quite a chore.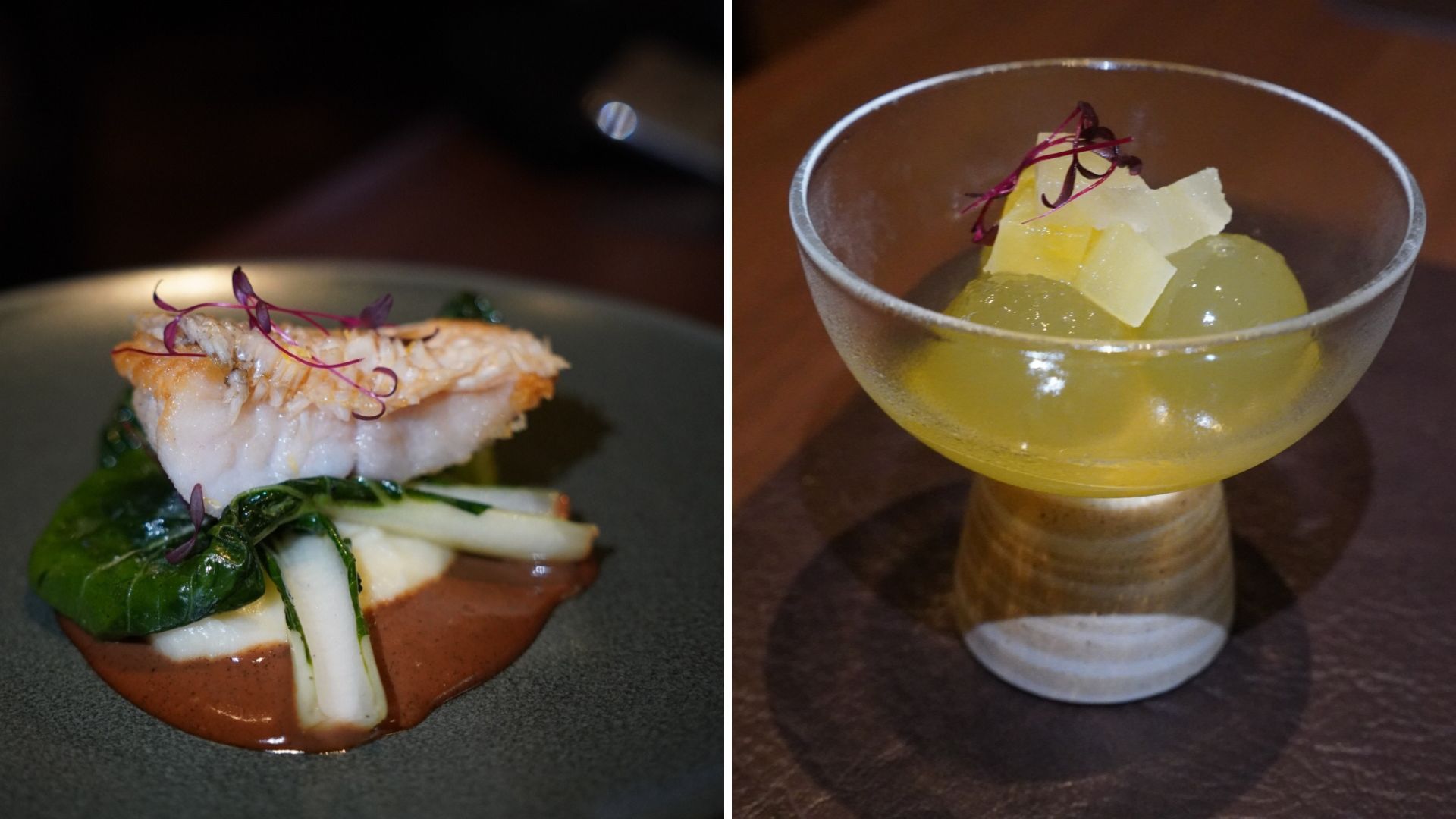 The creamy and fragrant lobster bisque was a comfort after that and the amadai served with local bak choy and Yangjiang black bean vinaigrette was a refreshing combination. The slow-cooked oxen brisket was very tender but the texture was a little too fatty. Added to the taro cube, it made for a very filling dish.
The sugarcane spheres with seasonal fruits lightened were lusciously rejuvenating, popping in the mouth with a spray of cool sweetness. A large serving of the signature custard tart, a nod to Hong Kong's egg tart, with home-made crème fraiche, and a reinterpretation of Hong Kong's iconic egg waffles brought our filling journey to an end.
It is hard to describe Café Bau's cuisine in one word. "Bau" is named after Hong Kong's emblematic bauhinia flower and the menu reflects its Hong Kong roots and influences. The restaurant only opens for dinner for now and offers a three-course menu for $650 or an eight-course tasting menu for $998.
Cuisine
Farm-to-table
We Loved 
Homegrown veggies
Lobster bisque
Amadai with bak choy, potato puree and Yangjiang black bean vinaigrette
Kowloon Dairy milk gelato and chai egg waffle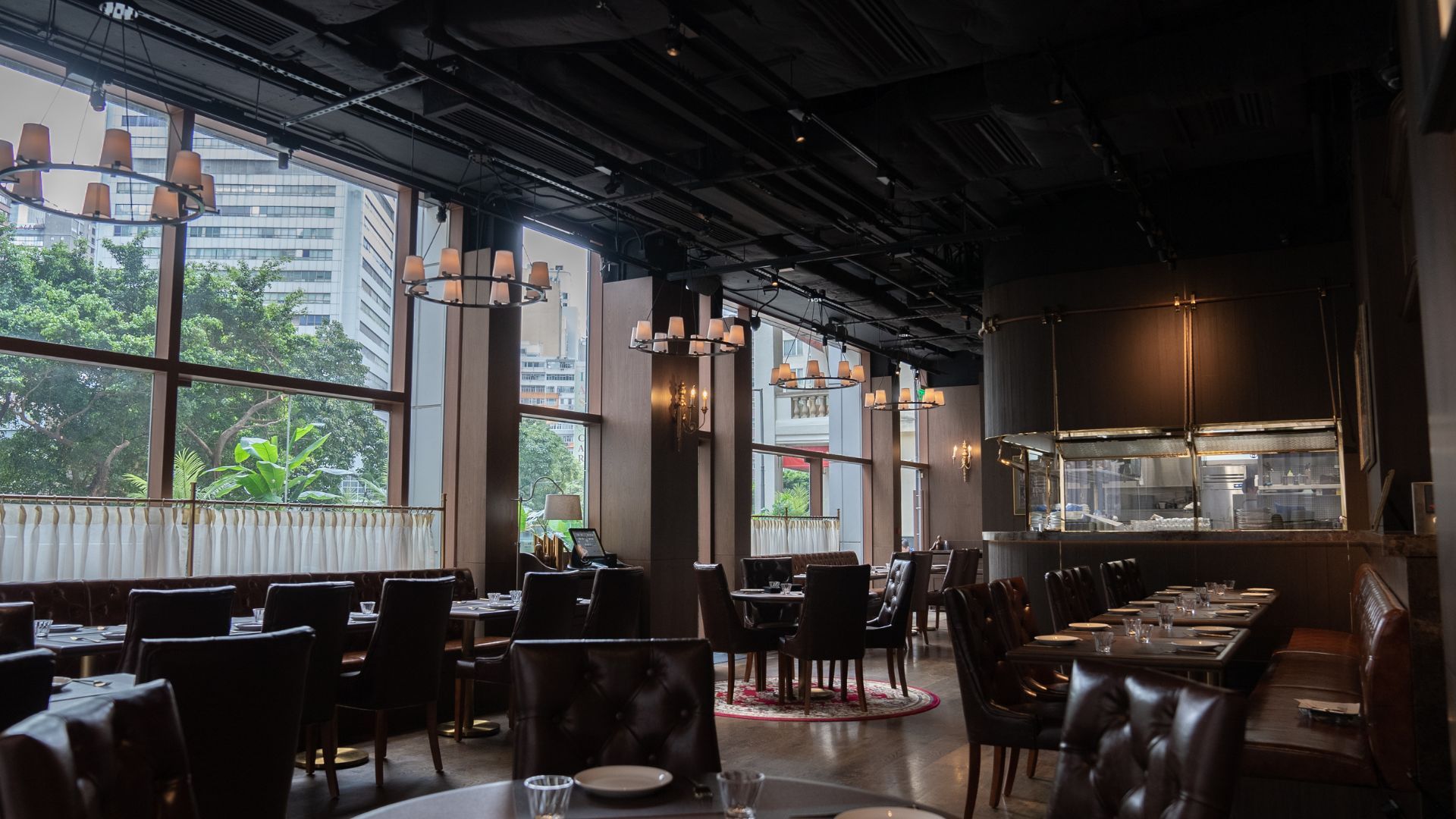 The Vibe 
Café Bau sits where the old Bo Innovation used to be on Ship Street in Wan Chai. Stepping into the restaurant on the first floor, you are greeted with photographs of old Hong Kong hanging on the walls – a quick reminder of the restaurant's ode to its home. Low lighting gives off a very cosy vibe and it alternately reminds me of a French bistro with its sheer curtains and a classic vibe with its plush, shiny leather seats. It's great for couples on romantic dates or a small group of friends out for a celebratory meal for a reasonable price.
Quick Notes 
Price for two: 
$2,000
Address:
Shop 8, Podium 1/F, J Residence, 60 Johnston Road, Wan Chai
Tel. 2126 7212
Opening Hours:
Monday – Saturday: 6pm – 10.30pm
The post LSA Reviews: Café Bau, a Demon Chef concept that touts farm-to-table dining appeared first on Lifestyle Asia Hong Kong.