Hotel Hassler Roma helps us celebrate Valentines Day in a classic romantic Italian style. Sharing exclusive recipes featured on the special gourmet multi-course menu at Michelin-starred restaurant,Imgo and theHassler Roma Bar.
Created by Executive Chef Andrea Antonini, Imagos Limited Edition Valentines Menu offers guestsdishes such as: Red Mullet with Foie Gras and Pomegranate. As well as Seafood Fusilli Pasta and a traditional Millefogliecake for dessert.Hotel Hassler Roma helps us celebrate Valentines Day in a classic Italian style with exclusive recipes; Millefoglie Dessert and Stand By Me cocktail.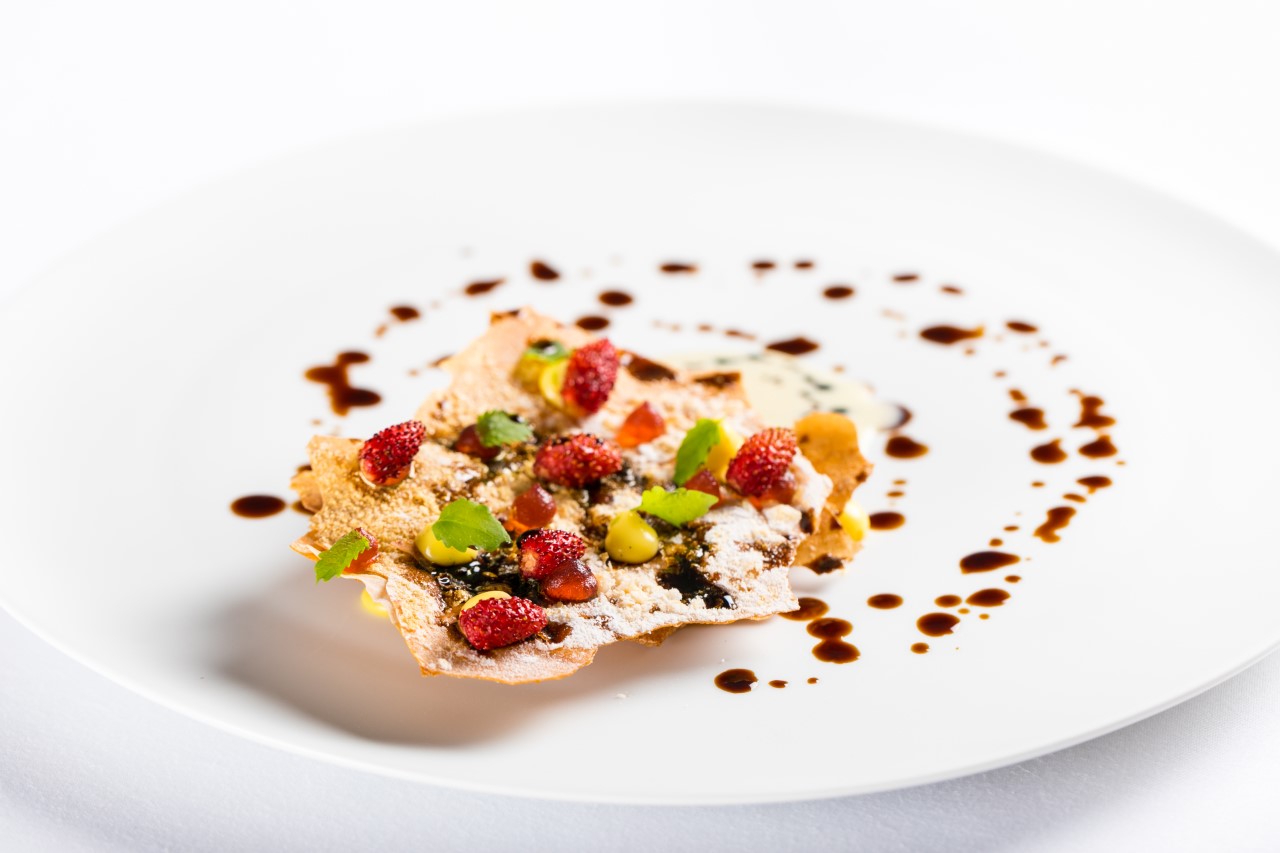 Spicing up the classic crusty delicate pastry ExecutivePastry Chef Mariasole Martella on behalf of Executive Chef AndreaAntoninigenerously layers it with Vanilla, Wild Strawberries and Balsamic Vinegar. An ideal pairing for the Millefoglie Dessert is definitely acocktail that also embodies the complex feeling of love.Hassler Roma Bars bartender Mr. Stefano Santucci offers his signature cocktail recipe featuring vodka, baileys and red berries.
While you may not be atHotel Hassler Roma, absorbing the breathtaking views of the Italian city.These two recipes will help to transform your Valentines Day plans into a beautiful one.See below two special recipes featuring the the Millefoglie dessert, and Hassler Romas new signature Stand by Me cocktail.
Millefoglie Dessert
Recipe for 4 people:
For Valentines Day this year, Executive Chef Andrea Antonini is offering guests his signature dessert, which is both crunchy and light, as well as both sweet and bitter. The puff pastry is the element which characterizes the dessert: even without butter or hydrogenated fats, it has the same crunchiness as a traditional puff pastry.
Ingredients
1 milk

?

water
1 cup whipping cream
cups of sugar
11 egg yolks

2

cups of maizena (corn flour)
4 vanilla Bourbon berries

?

cup of olive oil
1 tsp salt
Imago Puff Pastry
In a bowl mix :

?

water,

7/8

cup of flour , 1 tsp salt and

?

cup of olive oil.
Roll out the dough and bake at 180 the puff pastry for few minutes (7-8 minutes)
Vanilla Crme Patissiere
In a bowl mix: 1 milk, 1 cup of whipping cream,

cups

sugar; 11 egg yolks, 5/8 cup of corn flour and vanilla Bourbon berries.
Bring the milk, fresh cream and vanilla to the boil in a saucepan then remove from the heat as soon as it comes to the boil. Keep an eye on the pan as the milk can boil over very quickly!
Mix the sugar, egg yolks and flour together until thoroughly incorporated.
Pour a third of the warmed milk over the egg mixture and whisk vigorously until smooth and thoroughly combined
Pour the egg mixture into the saucepan with the milk and continue to whisk over a medium heat
Cook until the mixture thickens, being careful not to let it burn on the bottom of the pan. The mixture will go very lumpy dont worry, this is supposed to happen! Just keep whisking and the mixture will go smooth, thickened and glossy. Cook out for another two minutes, then remove from the heat
Empty your crme ptissire into a bowl and close cover with cling film to prevent a skin forming. Allow to cool, then place in the fridge until needed
Top with:Nepi wild strawberries and raspberry Balsamic Vinegar
Stand by Mecocktail at Hotel Hassler Roma
Love is a complex sentiment and this cocktail embodies the endless aspects of this feeling. Mr. Stefano Santucci
Ingredients:
8 teaspoons berries puree with cinnamon syrup and Cherry Heering liqueur
4 teaspoons Baileys
4 teaspoons Vodka Greygoose
4 teaspoons milk cream
Garnish: pair of fresh raspberries and sprinkled with nutmeg on Old fashioned Glass
Method:
Blend the berries (raspberries and strawberries) together with 10ml of cinnamon syrup, 2 teaspoons of raspberry syrup and 2 teaspoons of Cherry Heering.
Pour the puree into the old fashioned glass and fill the glass with crushed ice.
Then pour the three ingredients (baileys, vodka and milk cream) directly onto the ice in the glass. Finally decorate with a couple of fresh raspberries and sprinkled with nutmeg.
The post Hotel Hassler Roma Recipes For Celebrating Valentines Day appeared first on Honest Cooking.