Valentine's Day is once a year, but a heart-shaped Le Creuset casserole dish is forever.
Welcome to Someone Buy This!, a monthly shopping column featuring the fun, the frivolous, and the practical from a very discerning shopper.
Congratulations, you made it through January, arguably one of the worst months of the year. The end of the holiday buzz combined with a strict analysis of your personal habits and messy home make for a sad time. Don't we deserve to smile and laugh as we temporarily make good on our New Year's resolutions? Let my overflowing online shopping cart offer you temporary reprieve, and maybe even a chuckle. Here are some heart-shaped things that made me squeal with joy.
Let some love into the kitchen
This heart-shaped Le Creuset pot is the inspiration for this month's column. (Actually, it's this heart Dutch oven by our lord and savior Martha Stewart, but that's sold out everywhere which does nothing for us!) I don't think I need to explain the merits of a good cast iron pot. What's beautiful and perfect about this one is its fun shape and two color ways: red for the purists and black for my fellow elder emos. What's that? You already have a Le Creuset? But you still want to be cute and festive? I got you. Switch out the knob! You can also go for a more budget-friendly spoon rest and a silicone spoon to rest on it.
I gasped when I saw this set of cherry measuring spoons. The spoon part is heart shaped!
Most people aren't fans of single-use kitchen appliances but maybe someone will make an exception for a heart waffle maker. And if your waffles are heart-shaped then your dishes should be too!
Allow your love to flourish in the living room
I'm not gonna lie, I said "excuse me?!" out loud alone in my living room when I saw these heart stone dishes that fit into each other—great for dry snacks at a party or for jewelry and assorted trinkets on your dresser. If you're not into stone, here's a wood one you can use in all the same ways. Crystal, anyone? Not for me! But I support you.
My couch is at full pillow capacity or else I'd be buying one of these teddy pillows. They look so, so soft and would mix well with existing throw pillows.
If you intend to lay your head on it, this version looks to be a bit thicker. Don't sleep on the kids section of your favorite home decor store, it's where they hide all the fun stuff!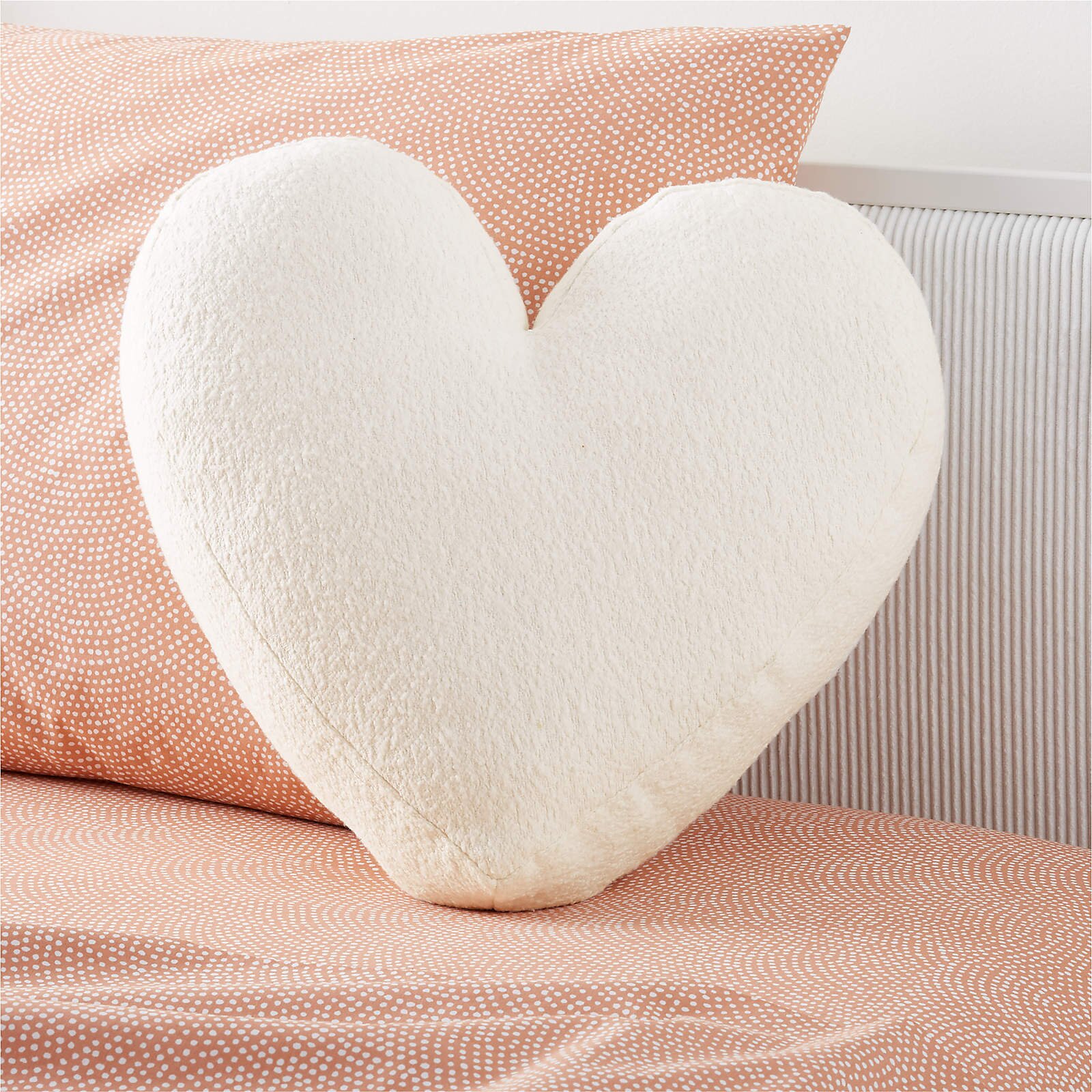 As you know by now, I love a mirror. And the heart-shaped mirror offering did not disappoint! This one is clean and simple, but I love the hand-drawn look of this one from Crate & Barrel. Both of these would look nice on a more narrow wall on their own or mixed into an existing gallery wall situation.
Maybe you're in need of a table-top sitch? This vanity mirror fits our theme, lights up and has a little spot for rings, beauty products, and whatever else needs holding.
When I first saw this lamp I thought it was a lightbulb that somehow had a heart in it due to "science" and "engineering." It is in fact not a bulb that you can screw into any lamp, but a lamp itself. A tiny, cordless, light bulb-shaped lamp whose filament is bent into the shape of a heart. It recharges with a USB cord and lasts for about 90 minutes at a time. Look at this cutie!
More decorative flair, but make it heart-shaped
I think everyone needs an ashtray whether or not they smoke. If you're a candle person, you know you need to trim your wick often, and ashtrays are great for dropping those little wick clippings. (Speaking of candles, I love this heart pillar!)
Moving right along, this Ace of Hearts ashtray has two compartments and would look great on your coffee table.
I keep seeing TikToks about young women who put their daily meds or vitamins in little tabletop candy dispensers. While I firmly believe your pills should stay in their original containers, a candy dispenser full of your favorite treats (jelly beans for me!) could be fun.
During the height of Covid lockdown, I watched so many online videos about rug tufting that I was convinced I would exit the pandemic as an experienced rug maker with a thriving Etsy business. That didn't happen for me, but it didn't stop others! This Etsy seller makes cute cartoony rugs, like this tearful heart, and takes custom commissions. Much like the mirrors above, a little tufted rug would look great hung up in a mixed cluster of painted or printed art.
I know these handmade heart mugs are pricey but they're so beautiful. The same ceramicist also makes the mugs in three speckled pastel colors and a taller, heart-shaped tumbler. While they're meant to be drink vessels, you could very easily use these mugs for little succulents or other baby plants.

And now for a bit of fun...
I'll wrap this up with one last "recommendation," and you'll notice the scare quotes around that word. I wouldn't say I'd recommend this to anyone per se, but it made me laugh pretty hard. It's a resin vase in the shape of a heart—the organ kind.