This Crockpot Chicken Noodle Soup is a super easy way to cook everyone's fave comfort food from scratch, and the chicken is so juicy and tender! Jump to Recipe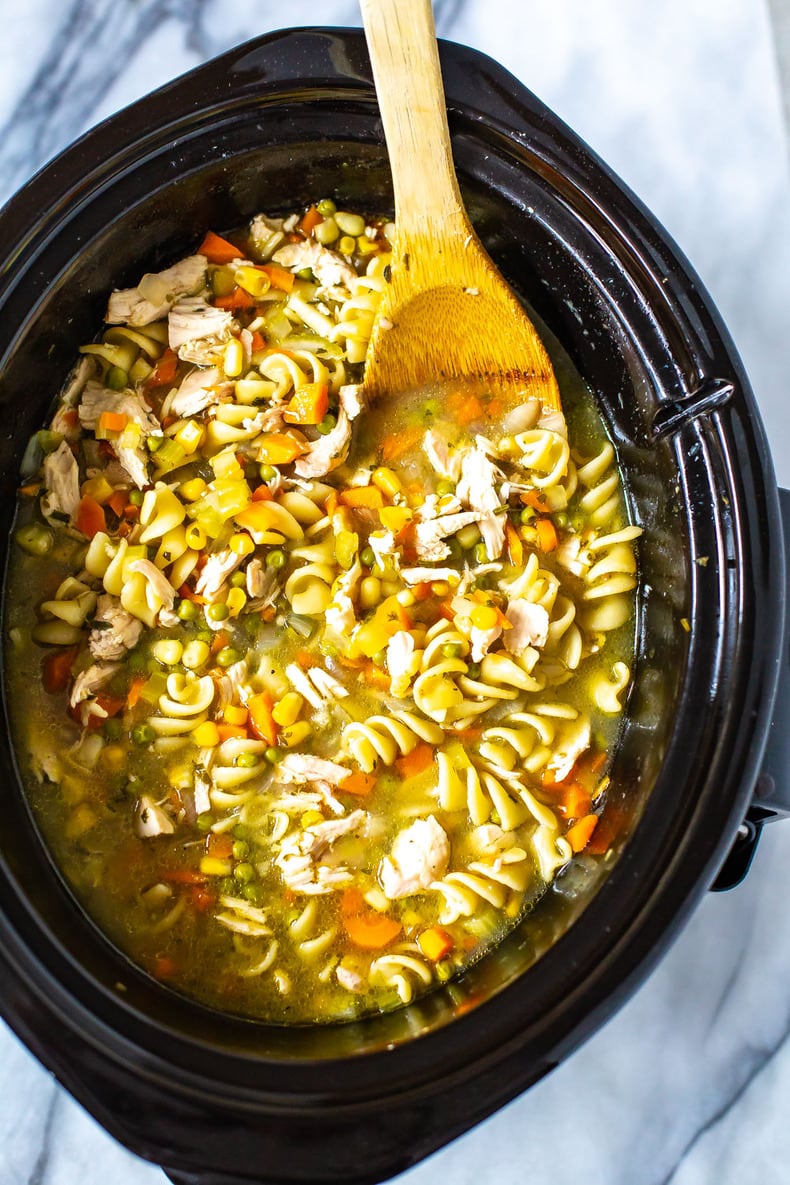 Ingredients in crockpot chicken noodle soup
For this easy comfort food recipe, you will need the following ingredients:
Chicken breast (you can leave them whole since they will be in the crock pot long enough to cook)
Onion
Carrot
Celery
Garlic
Chicken broth
Frozen corn
Frozen peas
Pasta (I use rotini)
Spices from the pantry
How to make crockpot chicken noodle soup
This recipe for chicken noodle soup is super easy when you use your crockpot. With very little effort in the morning, you will have a warm comfort food for dinner at the end of the day.
Put all the ingredients except the noodles in the crock pot.
Cook on high for four hours or low for eight.
Add the noodles for the last 30 minutes of cooking time.
Shred the chicken.
What type of noodles to use
Noodles cannot sit in a crockpot all day. They will disintegrate into mush long before the rest of the soup is cooked. Thats why I just add them during the last 30 minutes of cooking time. You get a chance to adjust the liquid level in the soup at this time as well. If you'd like more broth, add some when you add the noodles. Personally, I like a chunkier soup but everyone has different tastes.
If you want the noodles done fast, you could boil them on the stove and add them to the finished soup just before serving as well.
For chicken noodle soup, you want to choose a noodle that is a little larger and has a shape that encourages all the small pieces of meat and veggies to get stuck inside it. Rotini is perfect for this. German style egg noodles do the same. Plus, with their high egg-to-wheat ratio, egg noodles will soak up the broth egg noodles take about half the time as regular pasta to cook though, so that is something to keep in mind if adding those instead. 15 minutes in the crockpot will be enough time to cook them.
Try other kinds of noodles or even whole wheat noodles for a different taste or texture. Whole wheat noodles should be added 40 minutes before the end of cook time.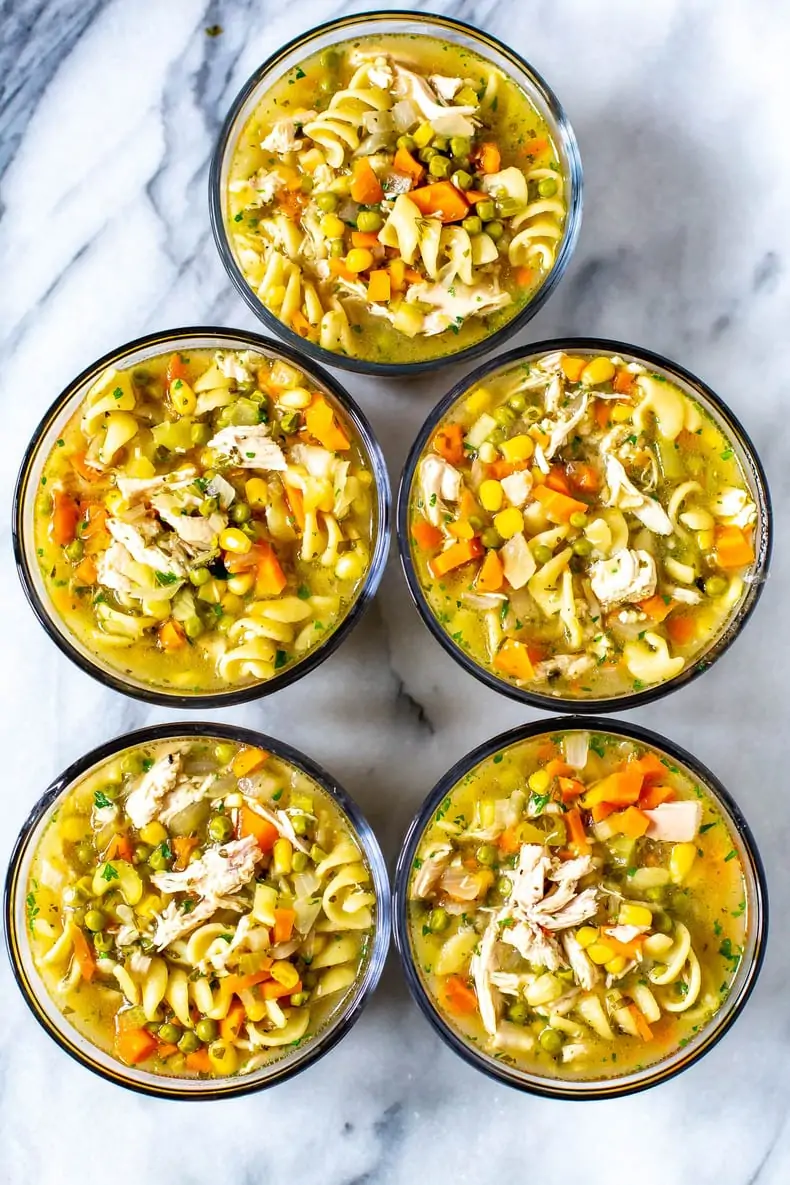 What type of chicken to use
I use chicken breast in this crockpot chicken soup recipe because it makes its super easy to prepare. You can put the breast in the crock pot raw. You dont even have to cut them first. They will cook all day in the broth and you can shred them just before you are ready to serve the soup.
Chicken breast can be a bit bland because it has so little fat. You could choose to use other cuts of chicken if you like. Just keep in mind that if you use meat that has skin or bones, you will have to remove it at the end. Chicken thighs and drumsticks work great in this recipe too!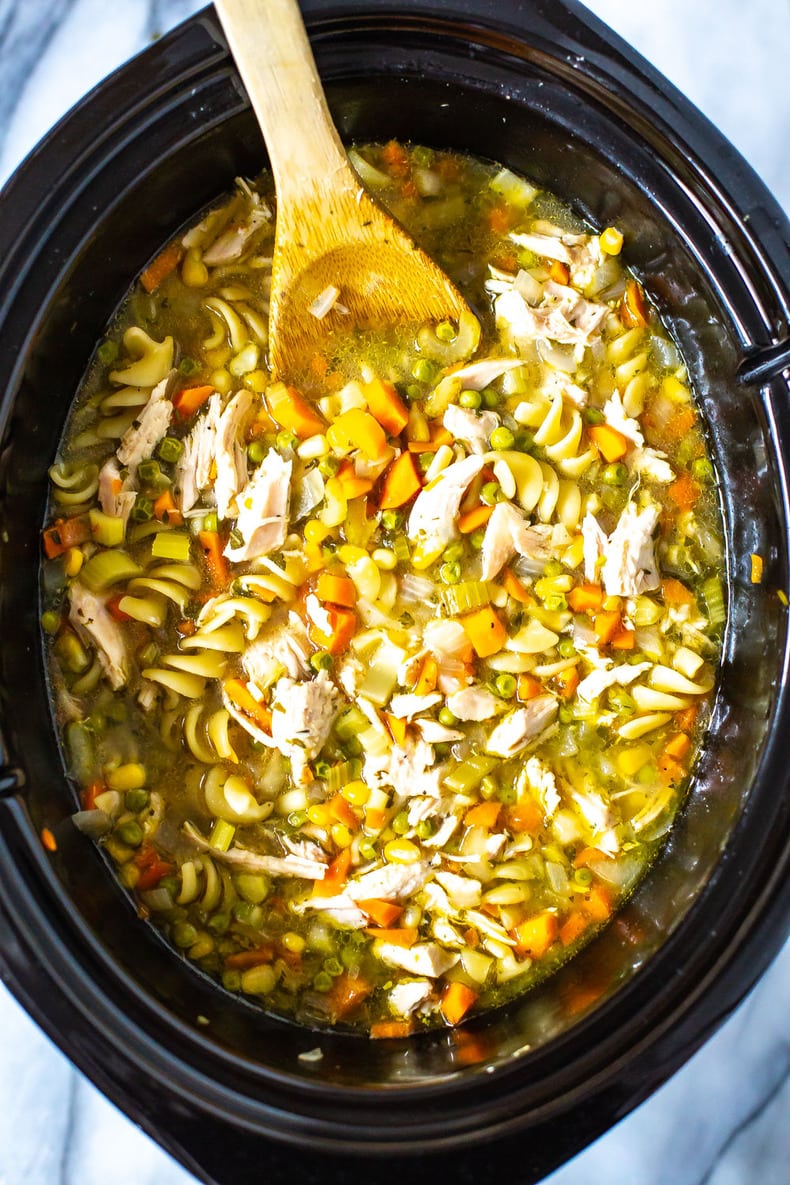 Can you add a chicken carcass?
Homemade chicken stock from the carcass of a bird is the best broth you will ever have. All the collagen and minerals from the bones ends up in a rich broth.
However, you want to make that broth before you make the crockpot chicken soup. In order to make chicken stock, you will simmer the chicken carcass, seasoning and any vegetables you want to add for several hours. After that, you want to strain out all of the pieces and just be left with the liquid. Chickens have many small bones that you never want to end up in your soup.
You can refrigerator or freeze homemade chicken broth, but dont attempt to put a carcass in with the soup. There is no way to remove all the pieces of the chicken you dont want.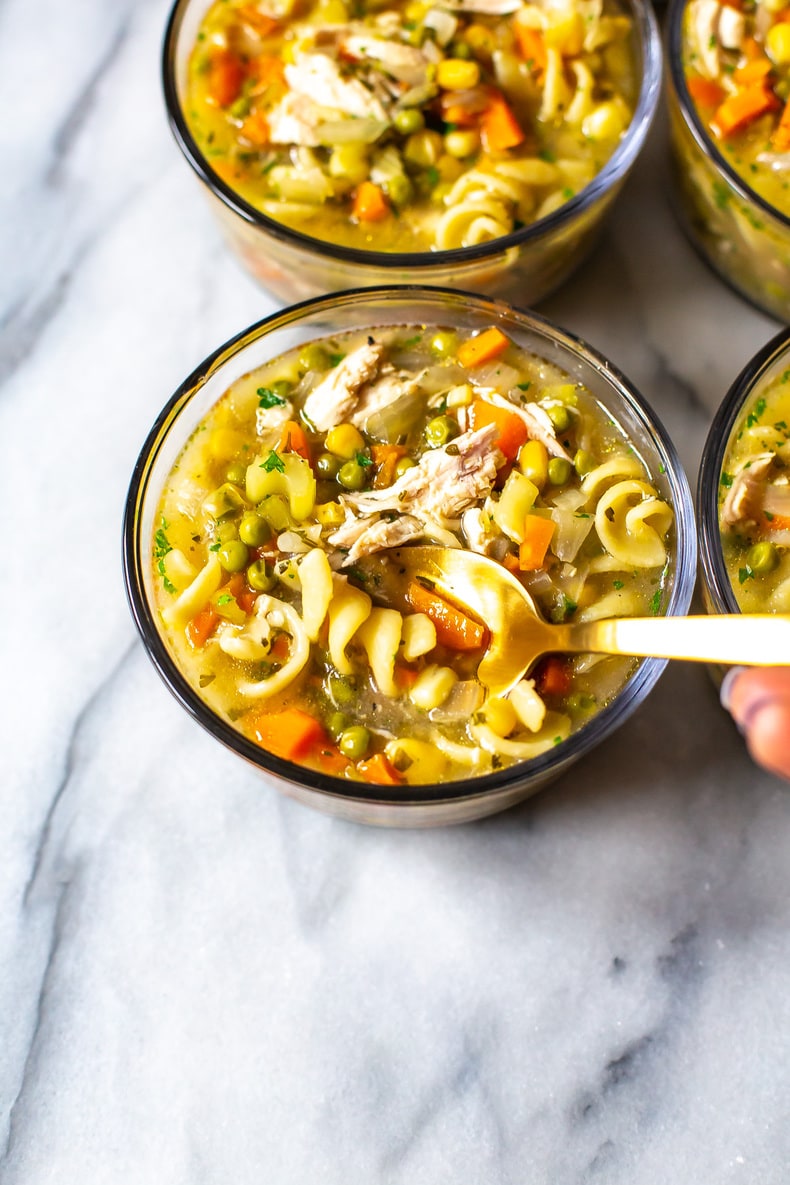 What to serve with crockpot chicken soup
This crockpot chicken noodle soup could be a whole meal. It has protein, vegetables and grains. It makes a great lunch.
But if you are serving this for dinner and want a side dish, try one of these:
Homemade bread
Vegetable panini
Mashed potatoes
Grilled cheese sandwiches
Green salad
Grilled vegetables
Cornbread
Storing and reheating
If you plan to store this soup, dont let it sit at room temperature. As soon as it cools, put it in the refrigerator in an airtight container. It will last for five days.
When reheating, you can warm an individual portion in the microwave for 2-3 minutes, or the entire pot of soup on the stove top. You don't want to reheat in the crockpot once it's been cooked.
Freezing crockpot chicken noodle soup
If you are preparing this recipe as a freezer meal, dont add the pasta. Noodles get mushy and lose their texture in the freezer.
If you put the soup in freezer bags, you can lay it flat to save space in the freezer. However, you can also freeze in individual portions in glass containers with lids and reheat from frozen for 6-7 minutes in the microwave.
It will last for four to six months in the freezer.
You can thaw it in the refrigerator overnight. When you reheat the soup on the stove top, add the noodles and boil them until they are done. Your soup will be perfectly hot by then too.
More crockpot chicken recipes
Meal prep tools for this recipe
Meal prep challenge
If you'd like some more help with meal planning, then you'll love my free 5-day meal prep challenge! It's basically a free course that will teach you how to meal prep and cook healthy meals at home with some PDF bonus materials. Sign up for free below:
FREE MEAL PREP CHALLENGE!
Subscribe for my free 5-day meal prep challenge complete with printable PDF resources!
Your name:
Your email:
Crockpot Chicken Noodle Soup
This Crockpot Chicken Noodle Soup is a super easy way to cook everyone's fave comfort food from scratch, and the chicken is so juicy and tender!
1 tbsp olive oil
2 chicken breasts
1 yellow onion, diced
2 carrots, chopped
2 celery stalks, chopped
4 cloves garlic, minced
1/4 cup fresh thyme, rosemary, sage and parsley (or substitute 2 tsp dried Italian seasoning instead)
1/2 tsp salt
1/4 tsp pepper
6 cups chicken broth
1/2 cup frozen corn
1/2 cup frozen peas
2 cups dry rotini pasta
Add everything except for pasta to slow cooker. Cook on high 4 hours or on low 8 hours. Stir in pasta in the remaining half hour of cook time if cooking on high, or remaining hour of cook time if cooking on low.

Remove chicken and shred it once cook time is complete, then add it back to the pot of soup. Serve and enjoy!
The post Easy Crockpot Chicken Noodle Soup appeared first on The Girl on Bloor.