This chicken pasta bake recipe by The Cooking Foodie on Youtube is the perfect dish for any gathering or celebration. The bechamel sauce, tomatoes, and cheese all blend well together. Give this a try – I am sure this will be a hit at your house as it's loaded with flavorful ingredients that are irresistibly good.
Ingredients:
13 oz of pasta of your choice
2 tablespoons of olive oil
3 chicken breasts (cut into small cubes)
1 onion (chopped)
3 garlic cloves (crushed)
2 bell peppers (diced)
1 tablespoon of tomato paste
14 oz of tomato sauce or chopped tomatoes
salt and black pepper to taste
1 teaspoon of oregano
1 teaspoon of paprika
For the bechamel:
6 tablespoons of butter
3/4 cup of flour
3 cups of milk (warm)
salt and black pepper to taste
1/4 teaspoon of nutmeg
For the topping:
3 oz of mozzarella (grated)
3 oz of cheddar cheese (grated)
Instructions:
Step 1:
Fill a large pot with water and add 1 tablespoon of salt. Bring it to a boil, then add the pasta. Cook it to al dente ( 1 to 2 minutes less than in the package instructions).
Step 2:
Add 2 tablespoons of olive oil to a pan and add the chopped onions. Saute for about 5 minutes. Next, add the crushed garlic and saute for about 1 to 2 minutes.
Step 3:
Add the chicken cubes and cook for about 5 to 6 minutes, stirring occasionally. Next, add the diced peppers and cook for 2 to 3 minutes.
Step 4:
Add tomato paste, tomato sauce, salt, pepper, paprika, and oregano. Mix and cook for 3 to 4 minutes. Once done, remove from heat.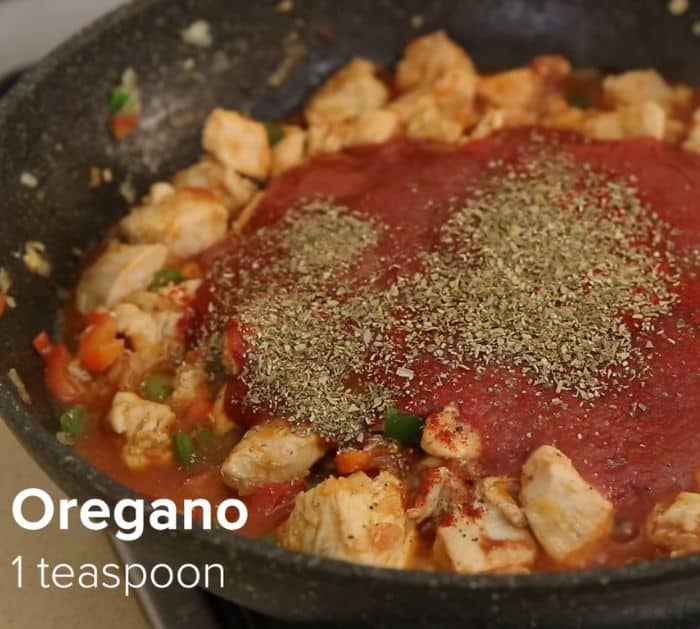 Step 5:
In a different pot, make the bechamel sauce. Add the butter and let it melt over medium-high heat. Once melted, add the flour and whisk until smooth—Cook for 1 minute. Next, pour warm milk gradually while constantly whisking until the sauce is smooth and thickened. Season with salt, pepper, and nutmeg. Whisk then remove from heat.
Step 6:
Add the chicken and bechamel sauce to the pasta. Stir until well combined. Transfer to a casserole dish and sprinkle cheese on top. Bake at 375 F for about 25 to 30 minutes or until golden and bubbly. Let it cool slightly before serving.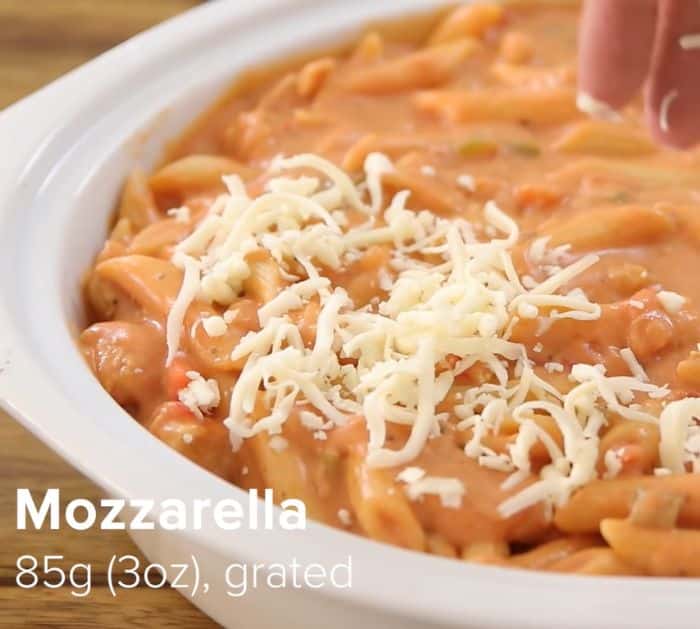 Chicken Pasta Bake Recipe
The post Chicken Pasta Bake Recipe appeared first on DIY Joy.