Loaded with shredded rotisserie chicken, buffalo sauce, bacon, and the most delicious cheese sauce, this is the ultimate buffalo chicken mac and cheese recipe! Serve with plenty of napkins and extra hot sauce!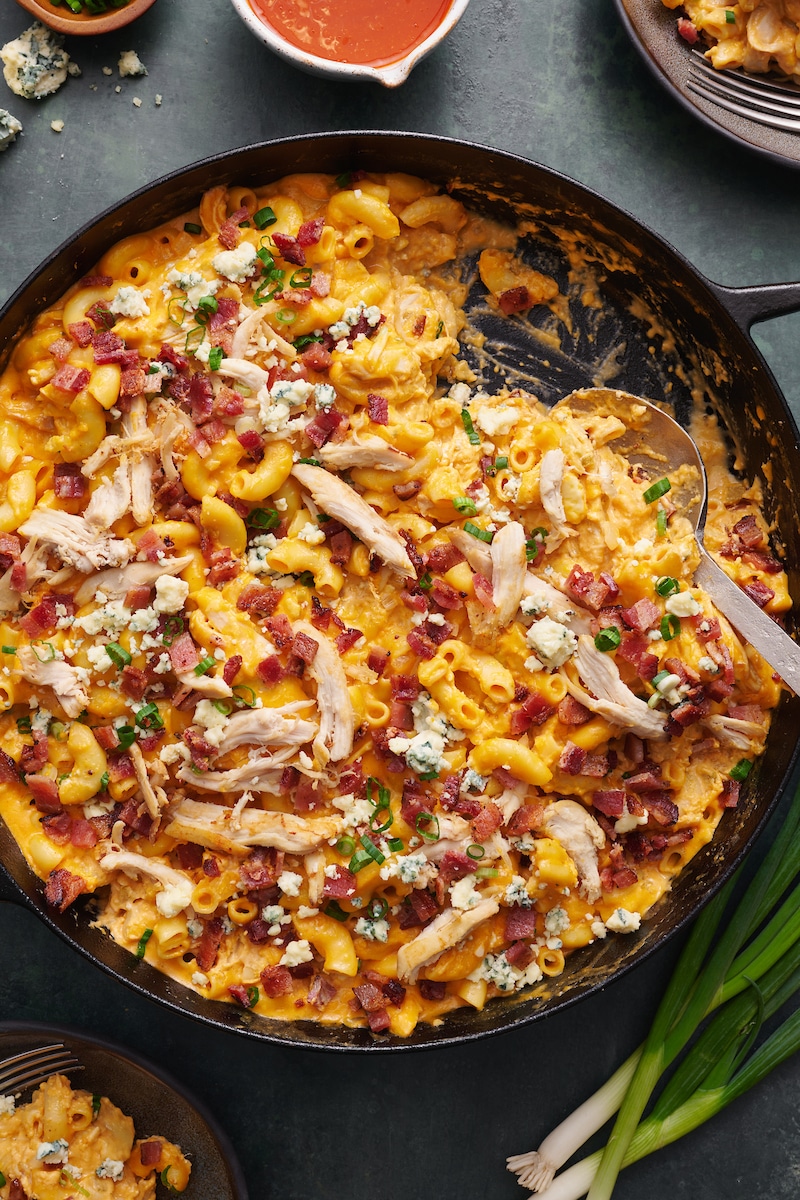 Buffalo Chicken Mac and Cheese
With Super Bowl Sunday quickly approaching, I can't think of a better time than NOW to share this new macaroni and cheese recipe with you! It's literally everything you love about buffalo chicken dip… but in macaroni and cheese form.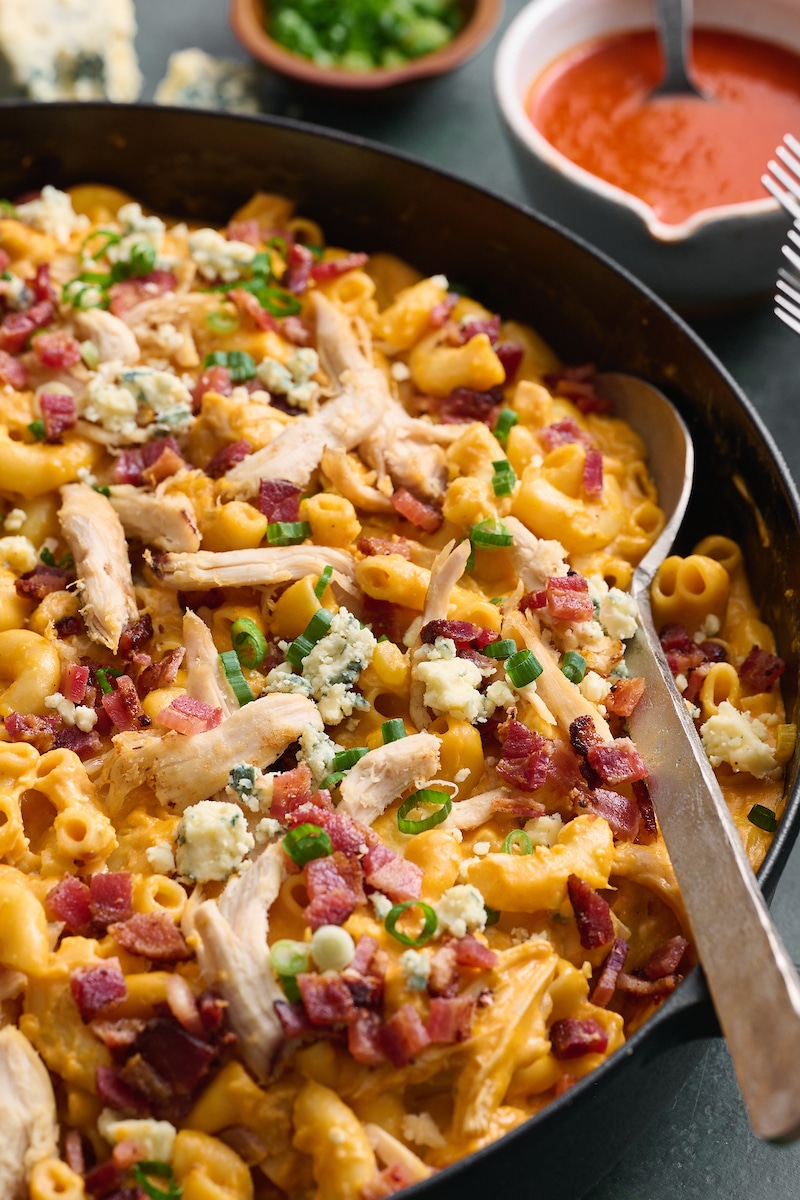 Crunchy, creamy, cheesy, and just a little bit spicy, this buffalo chicken Mac & cheese is textbook comfort food! Perfect for game day, holidays, or any day you're looking to serve a crowd.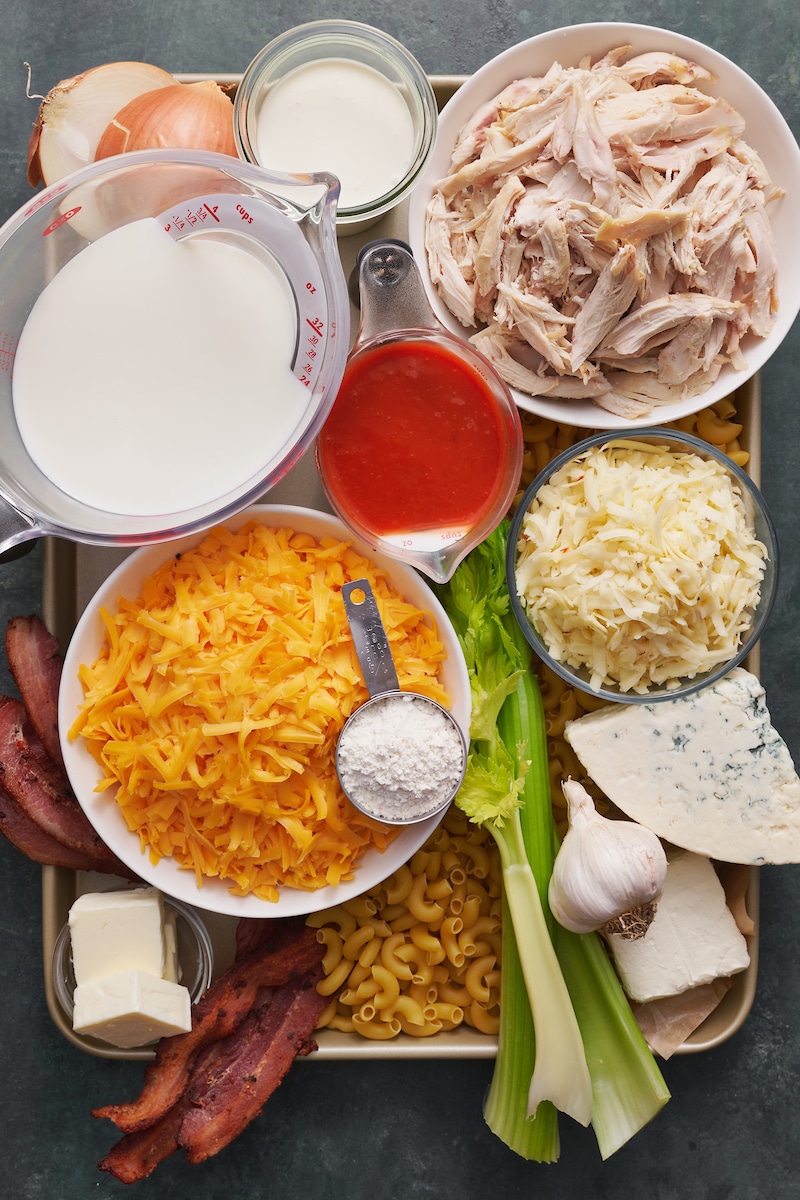 Buffalo Chicken Macaroni & Cheese Ingredients
Salt: Just a pinch to season the pasta water. I don't call for salt in the macaroni and cheese recipe because between the cheese, bacon, and hot sauce, it has a good amount of sodium. But you can always add a dash at the end if you feel it needs it.
Pasta: I used classic small elbow macaroni noodles, but you may use shells, shellbows, or large elbow noodles.
Bacon: I've never met a Mac and cheese that didn't benefit from the addition of bacon! Not only does it add flavor, but it adds a great crunchy texture. Feel free to omit it desired, or sub diced pancetta!
Butter: Melted butter is cooked with our veggies to give them flavor, but also helps create our roux, which will thicken the sauce.
Flour: Our thickening agent! Be sure to use all-purpose flour here for best results!
Onion: Use a sweet yellow onion if you can find one, or a white onion will work fine. I don't suggest using a red onion.
Celery: Be sure to finely chop your celery so it blends in with the sauce, but doesn't get in the way of the overall texture.
Garlic: Adds fresh flavor! Do not sub garlic powder here, it will not give the same effect.
Buffalo Hot Sauce: We love Frank's, but use whatever brand you love or have on hand. If you want to reduce the heat, you may omit 1/4 cup of the called for hot sauce. I don't suggest reducing it by more or you'll loose the wonderful flavor it adds, and alter the thickness of the sauce.
Milk: For best results, use full-fat aka whole milk! I do not suggest subbing plant based milks in this recipe.
Heavy Cream: This makes the sauce super creamy! Do not skip it and do not sub it for half and half. Trust me.
Cheese: Shredded cheddar cheese is our main cheese source! But pepper jack cheese, cream cheese, and crumbled blue cheese (do not sub blue cheese dressing here) all play very important supporting roles. If you cannot find cream cheese, sour cream will work in a pinch, but will add more tang and make the sauce slightly thinner.
Chicken: To keep things easy, I use rotisserie chicken, but you may roast chicken breasts and shred them yourself, if preferred.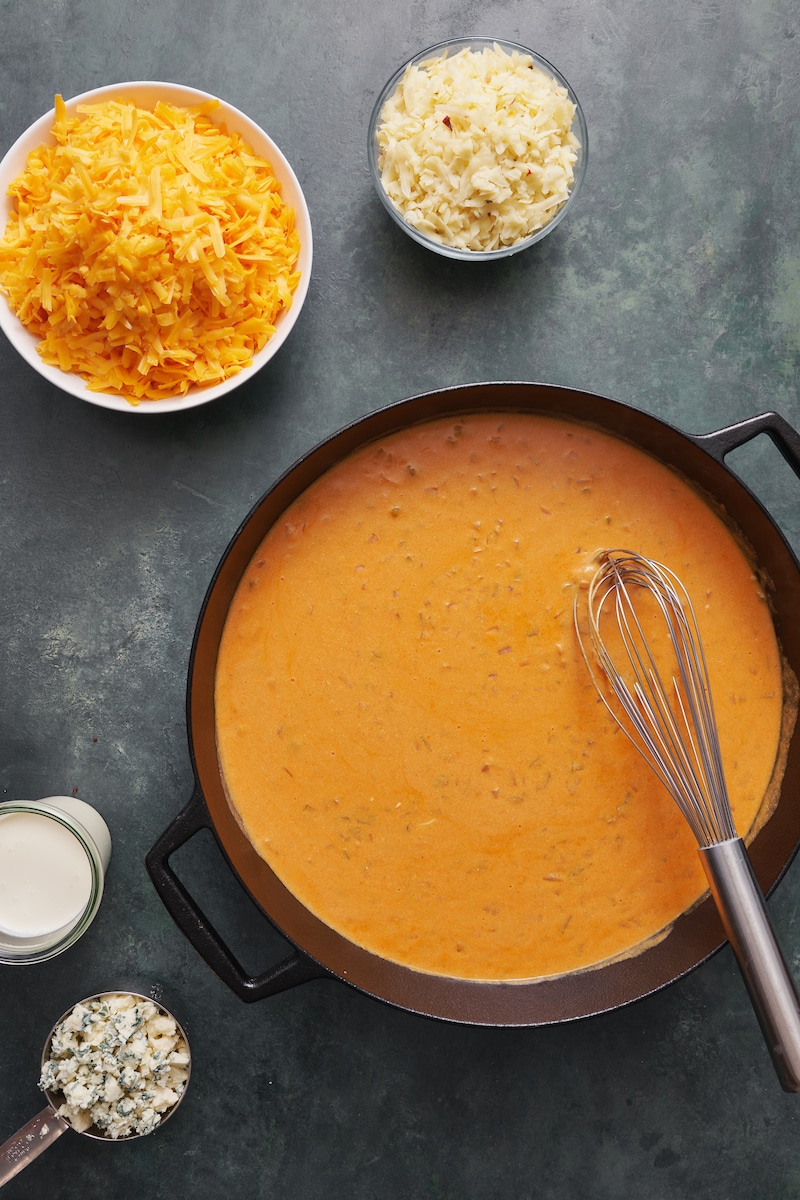 Let's make Buffalo Chicken Mac & Cheese!
Cook the Pasta! Only until al dente, which is usually about 7 minutes. Trust me, you do not want mushy pasta for this recipe, so when in doubt, pull it a minute early. It cooks more in the sauce.
Fry the Bacon! Get it crispy on both sides, this takes about 3 to 4 minutes, per side. I use a cast-iron skillet (affiliate link), but you can use whatever pan you prefer.
Cook the Veggies: Take your time here! You want the celery soft and the onions almost translucent before you add the garlic. The key is to do this over medium heat so they don't burn.
Make the Sauce: Add the flour and cook STIRRING CONSTANTLY! Then pour in the milk and hot sauce and stir until well combined. Add in the cheeses and cook until smooth.
Bring it all Together: Fold in the pasta and most of the chicken and stir until well combined. Then top with bacon, chicken, blue cheese, and scallions. Serve warm!!!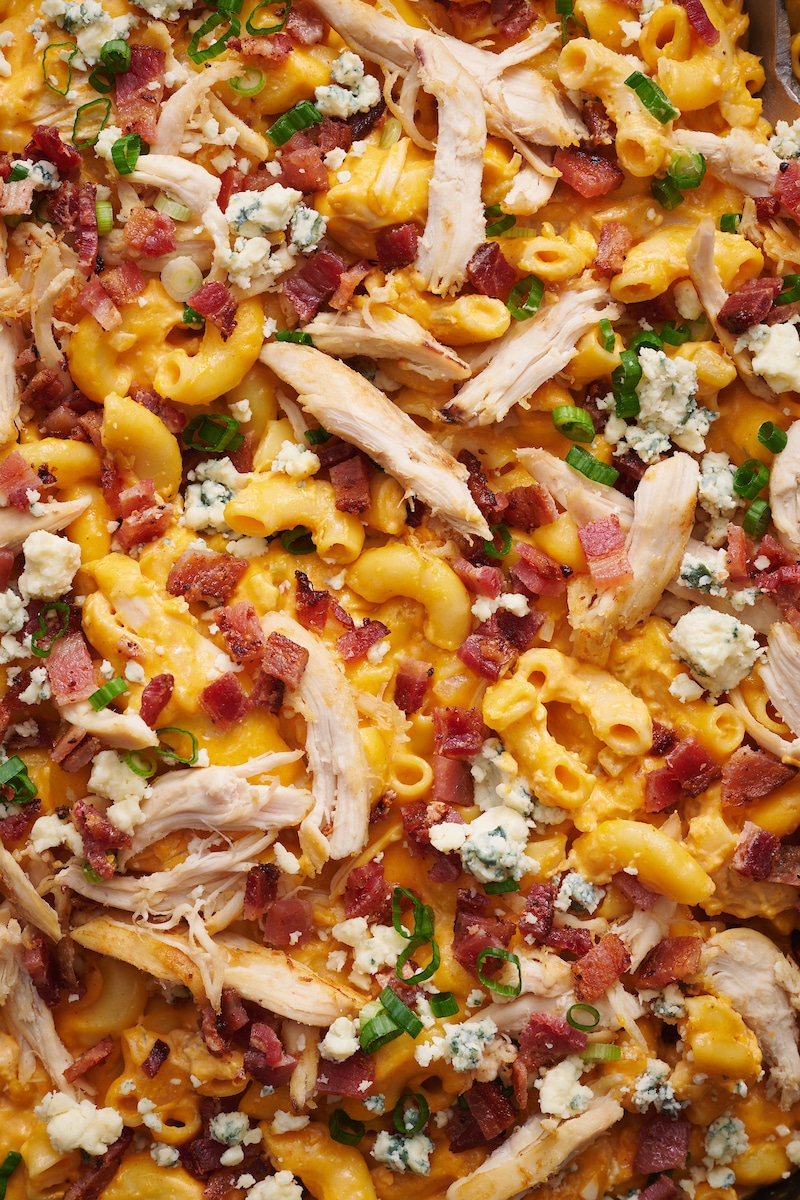 Can I make this Baked Mac & Cheese?
Yes! Although this is a stovetop macaroni and cheese by nature, if you prefer baked Mac and cheese, you can easily adapt this recipe! Grease a 9×13-inch baking dish with non-stick cooking spray, scrape the macaroni and cheese into the prepared baking dish, and bake at 350 for about 20 minutes. If you want, add some panko bread crumbs (mixed with a teaspoon of olive oil) for crunch!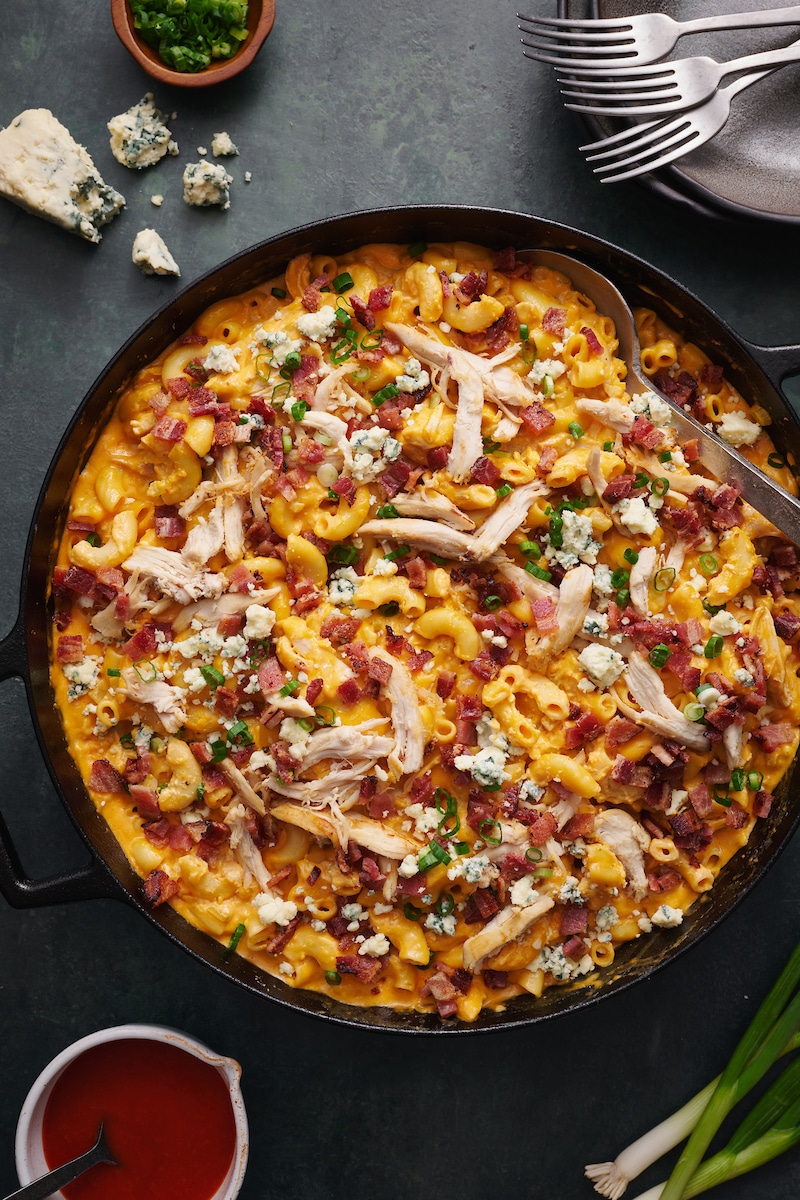 More Macaroni and Cheese Recipe Options: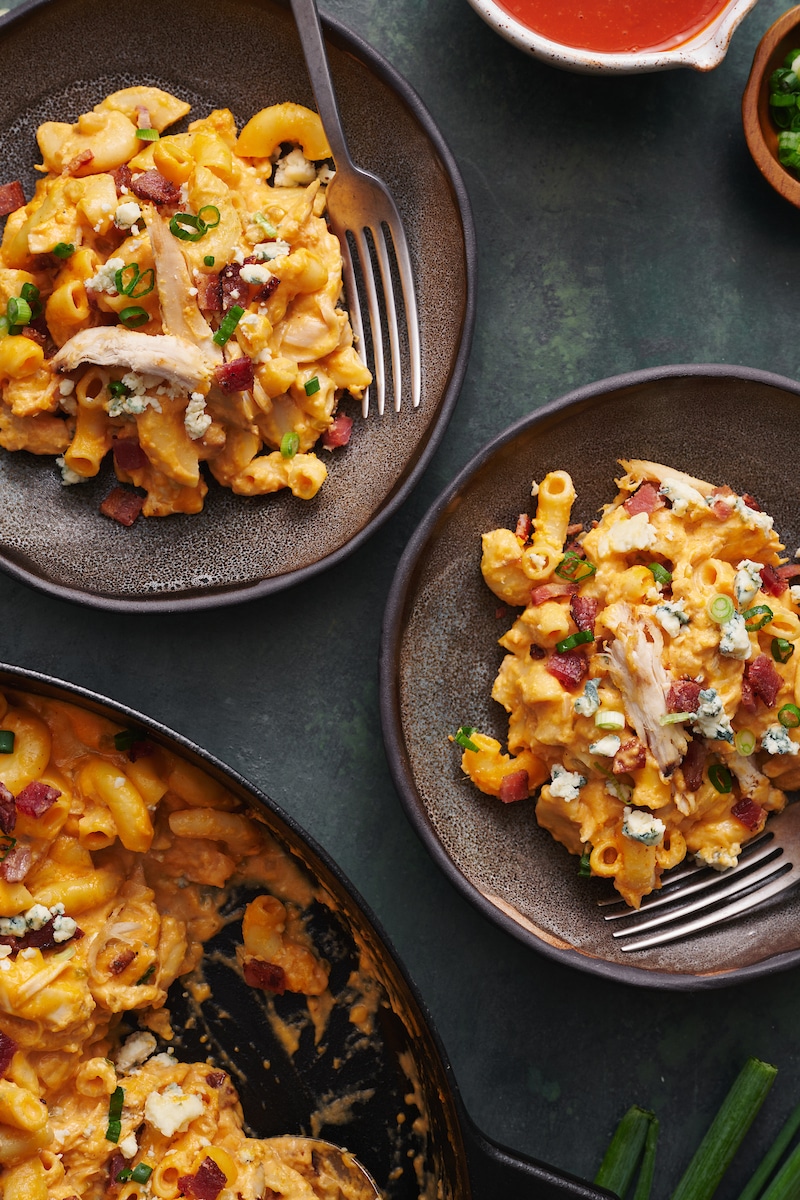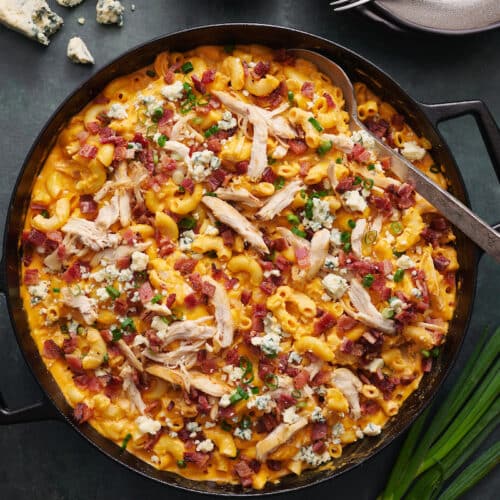 Print
Buffalo Chicken Macaroni and Cheese
Loaded with shredded rotisserie chicken, buffalo sauce, bacon, and the most delicious cheese sauce, this is the ultimate buffalo chicken mac and cheese recipe! Serve with plenty of napkins and extra hot sauce!
Course
Main Course, Side Dish
Keyword
macaroni and cheese, mac and cheese, chicken, buffalo mac and cheese
Ingredients
1

teaspoon

salt

1

pound (454g)

elbow macaroni

(1)

8 ounce package (227g)

sliced bacon

6

Tablespoons (85g)

unsalted butter

1/4

cup (30g)

all-purpose flour

1

small

yellow onion

finely diced

2

stalks

celery

finely diced

2

cloves

garlic

minced

3

cups (681ml)

milk

1

cup (227ml)

buffalo-style hot sauce

1

cup (227ml)

heavy cream

1

pound (454g)

sharp cheddar cheese

grated

1/4

pound (113g)

pepper jack cheese

grated

4

ounces (113g)

brick-style cream cheese

cubed

2 and 1/2

cups

shredded rotisserie chicken

1/2

cup (99g)

crumbled blue cheese

1/4

cup (50g)

chopped scallions
Instructions
Bring a large pot of water to a boil over high heat. Add the salt and the macaroni and cook for 7 minutes. Drain and set aside. 

In a large skillet over medium-heat, cook the bacon until crispy on both sides, about 4 minutes per side. Remove from heat and place on a paper towel lined plate. Blot any excess oil with a paper towel, then chop into bits (not too small but bite-sized). Set aside. 

In the meantime, in a large saucepan, melt the butter over medium-heat. Add in the onion and celery cook, stirring frequently, for 6 minutes, or until softened and nearly translucent.

Add in the garlic and cook for 1 more minute, or until fragrant.

Sprinkle in the flour, and whisking constantly, cook for 1 minute. Slowly pour in the buffalo sauce and milk, whisking constantly as you add. Cook over medium-high heat, whisking almost constantly, until the mixture bubbles up and thickens, about 5 to 6 minutes.

 Reduce the heat to low and slowly whisk in the heavy cream. Then stir in the cheddar cheese, pepper jack, cream cheese, and half of the blue cheese. 

Fold in the pasta and 2 cups of the shredded chicken and mix well. Cook for 2 more minutes, then remove from heat, top with remaining chicken, blue cheese, and bacon. Sprinkle with scallions and serve warm.
The post Buffalo Chicken Macaroni and Cheese appeared first on Baker by Nature.