A beet and feta salad with crispy oven baked gnocchi wrapped up in Dijon vinaigrette has lots of yummy textures.
This salad has interesting pieces in every bite. I love the warm gnocchi with the fresh arugula and creamy bits of cheese.
What is gnocchi?
Gnocchi [NYOH-kee] are an Italian dumpling, typically made with potatoes and flour. Small oval balls with ridges on the top, they are often boiled in water or sauce but that's not the only way to cook them. In this recipe they're baked to keep them chewy. Find gnocchi in the pasta aisle packaged in a tray or bag.
The ingredients
Gnocchi, shelf stable or purchased frozen, a potato and wheat thumb-sized pasta dumpling. I use a half the package. Wrap the package and store in the pantry for later.
Feta cheese adds tangy flavor and protein.
Beets, pre-packed frozen, canned, or those you've cooked all work. Beets are rich in beneficial plant compounds.
Arugula or other lettuce, salad or beet greens.
Seasonings: olive oil, vinegar, salt and pepper.
How to make oven Baked Gnocchi Beet and Feta Salad
This salad comes together in minutes. As you heat the oven, stir the salad ingredients together and while the gnocchi baes, make your own vinaigrette or pull your store-bought one out of the fridge.
Heat oven and baking sheet to 425℉. Break up any gnocchi that are stuck together. In a bowl, toss gnocchi with oil, stirring until gnocchi are well coated with oil. Pour into a single layer on a baking sheet and place pan in oven, cook 12-15 minutes until gnocchi are lightly browned on the bottom. They continue to cook after removing from the oven and get get quite hard, so don't overcook them. Remove from oven. In a large bowl, add arugula, beets, and feta cheese. Pour in hot gnocchi and toss with vinaigrette.
Can I make substitutions?
Goat cheese can be used instead of feta.
Replace arugula with your favorite lettuce. If you have beet green, rinse and dry well, finely chop to add to the salad.
Try green beans or artichoke hearts rather than beets.
Add a can of drained white beans to the salad to increase protein and fiber.
Tonight you can forget about digging inside your fridge, hopelessly wondering, "What's for dinner?"
My FREE One-Pan Salmon with Spinach & Tomatoes checks all the boxes for a fab dinner.
Baking gnocchi instead of boiling
Boiling gnocchi makes the dumplings soft with a little bit of chew, while baking them gives a slight bit of crunch. So if you want pillowy chewiness, boil for just 2-3 minutes, then drain.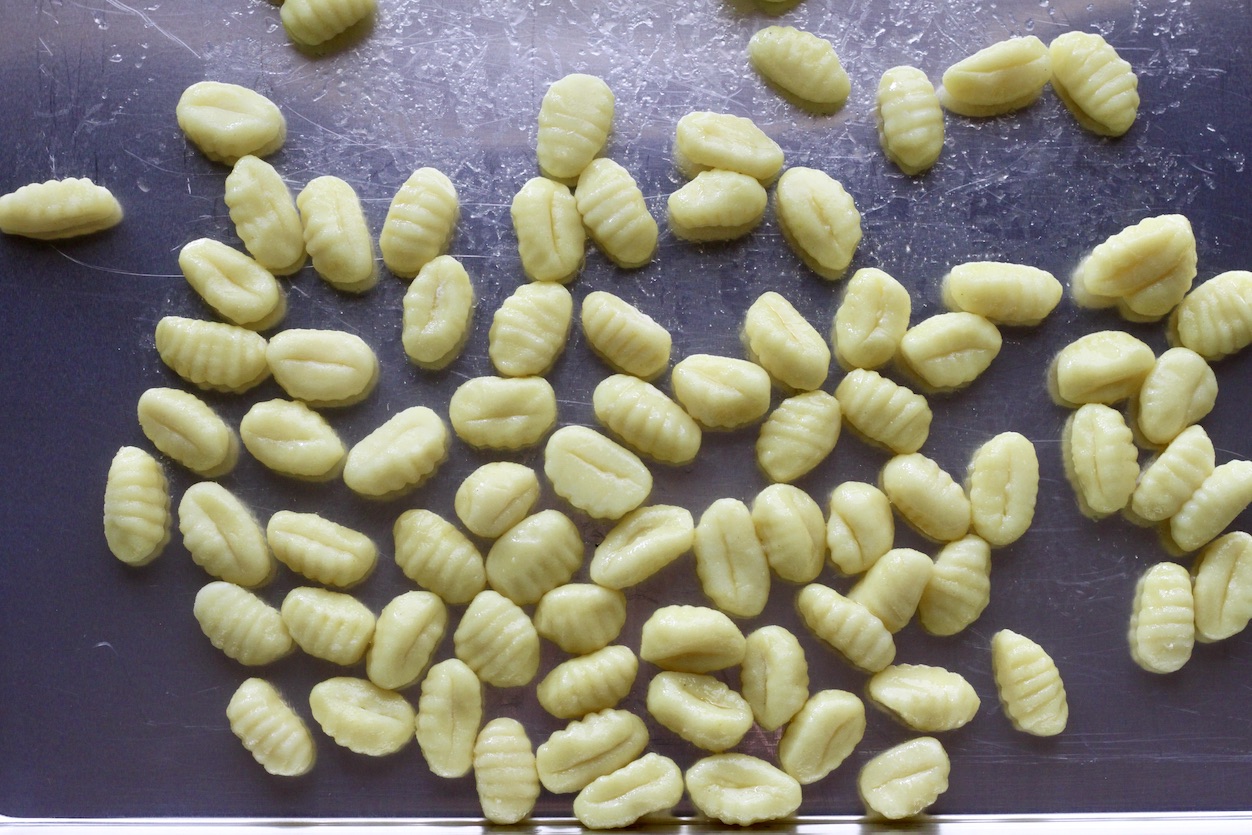 Can I oven roast the gnocchi?
Yes! Heat the oven and the baking sheet to 425℉, meanwhile, toss the gnocchi with oil. When oven is heated, pour gnocchi on the hot baking sheet and bake 12-15 minutes, until the bottom of the gnocchi are lightly browned. That sizzle your hear is building flavor, creating texture and reducing cooking time, so you get a delicious salad on the table faster.
How long to roast gnocchi?
Toss with oil, roast 12-15 minutes at 425℉.
If overcooked, they can get hard. Like so hard, they're not pleasant to eat. So check them after 10 minutes, to see if you've got some browning on the bottom. Remove from oven when you do.
Typically, these little dumplings are boiled and served with a sauce. But gnocchi can also be baked or fried. When baked, they're still light and chewy but with a crispy edge. I think this is a nice addition to a salad.
Pan-fried gnocchi
Rather than bake, pan fry gnocchi in a couple teaspoons oil for 10 minutes, just until they begin to brown. Because they can get really hard if overcooked, I use medium-low heat and stir frequently.
More LiveBest Salads
Pin it for later
This post may contain affiliate links which means if you click through and make a purchase, the seller pays me a commission. It does not increase the price you pay.
Print
Beet and Feta Salad with Crispy Oven Baked Gnocchi
A texture-filled salad with oven baked gnocchi, crunchy greens, tender beets, and tangy feta cheese wrapped up in Dijon vinaigrette.
Author:

Judy Barbe

Prep Time:

10 minutes

Cook Time:

15 minutes

Total Time:

25 minutes

Category:

Salad
Ingredients
2 teaspoons

olive oil
Half of

1

-pound package gnocchi, shelf stable. I use half and save the remainder in the pantry for another salad.

8

-ounce package cooked beets, peeled, sliced or

15

-ounce can sliced beets

3 cups

arugula

1/4 cup

feta cheese, crumbled
Dijon Vinaigrette
1 teaspoon

Dijon mustard

2 tablespoons

apple cider vinegar

1/4 teaspoon

salt
few grinds of freshly ground pepper

1/4 cup

 extra virgin olive oil
Instructions
Heat oven and baking sheet to 425℉. Toss gnocchi with 2 teaspoons olive oil. Spread in a single layer on baking sheet and bake 12-15 minutes, until bottoms of gnocchi have lightly browned. Remove from oven.
Meanwhile, make vinaigrette. In a small bowl, whisk together mustard, vinegar, salt and pepper. Continue to whisk and gradually pour in oil.
In a large bowl, toss arugula, gnocchi, beets and feta cheese with 2-3 tablespoons of the dressing. Taste and adjust seasonings. Add more dressing if needed. Refrigerate leftover vinaigrette. It keeps for up to a month.
Notes
To serve 4, I use half the 1 pound package of gnocchi and stash the remainder in the pantry to use for another salad.
Keywords: oven baked gnocchi, hearty salad, beet salad
The post Beet and Feta Salad with Oven Baked Gnocchi appeared first on LiveBest.