Care to join me as we dive into this CHEESY Baked Rigatoni with Beef?! Its SO easy and loaded with flavor! And its the perfect recipe to whip up when youre having company, because it seriously serves a crowd!!!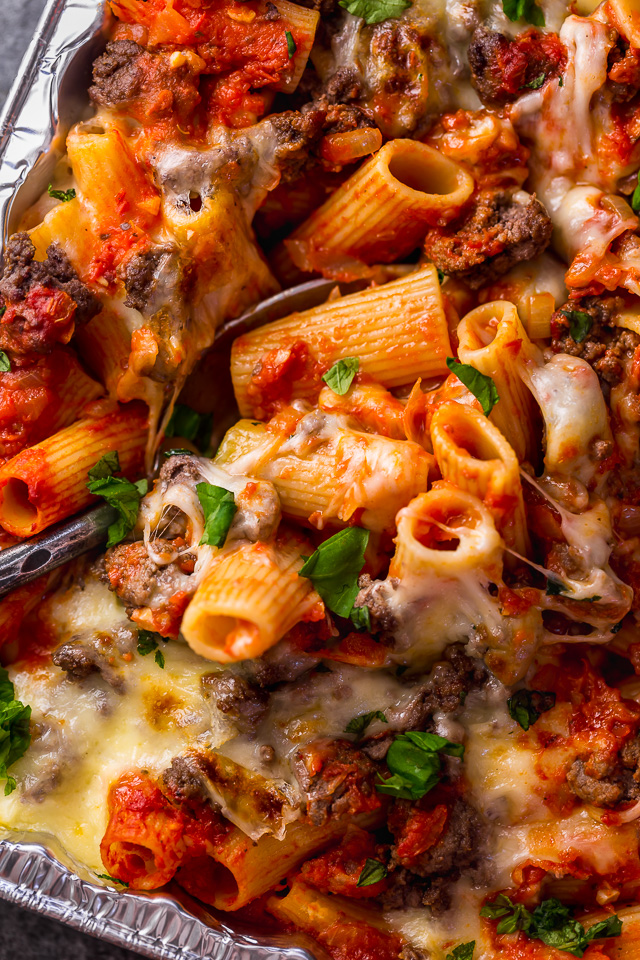 Baked Rigatoni
Winter is in full force here in the Hudson Valley! Yesterday we had heavy snow, insane wind, and a low of 9 degrees! So you can bet your bottom dollar were staying in doors and enjoying lots of comfort food!
And by comfort food, I most definitely mean this warm and saucy tray of baked pasta with meat sauce! Topped with gooey bubbling cheese and plenty of ground beef it warms the belly and the soul!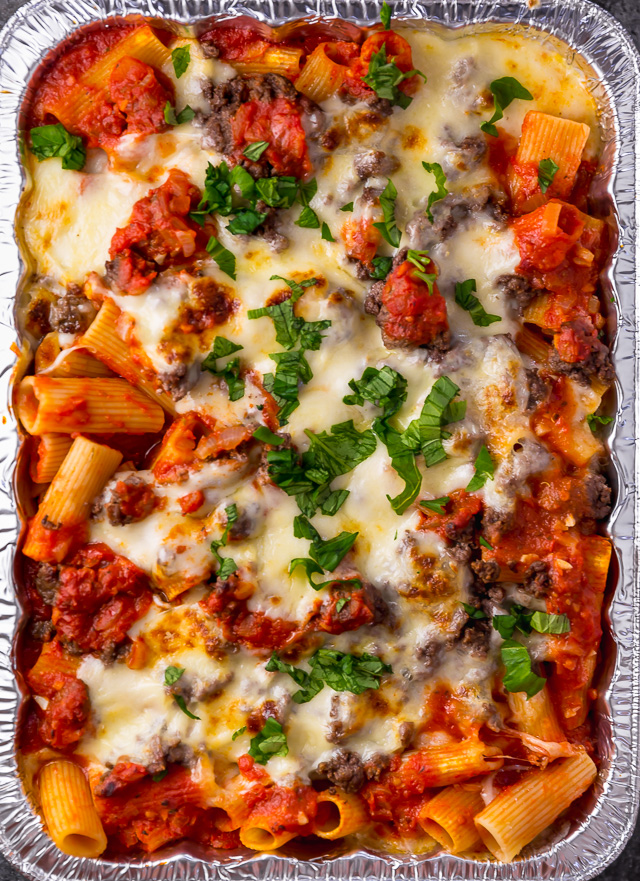 Tips and Tricks for Recipe Success:
Dont over cook your rigatoni! You want to cook it for about 5 minutes, or until its al dente! You want the cooked pasta to still be a little hard, because it will continue to cook in the oven.
Speaking of the oven, be sure to preheat your oven to 350 degrees BEFORE you begin making this recipe. Since most ovens take 25 to 30 minutes to come to temperature.
This recipe calls for ground beef, but an equal amount of ground Italian sausage would make a great substitute. And if youre a house of vegetarians, feel free to omit it completely or use a plant-based substitute. This recipe is delightfully adaptable like that.
For best results cook the beef in nonstick skillet. This helps the meat not stick. Or simply add a teaspoon of oil to the skillet and cook. Youll want to cook the meat over medium high heat until browned thoroughly. Then youll want to use a slotted spoon of remove the meat from the pan.
To save on dishes, you can use the same skillet to make the sauce! Just drain any grease before you begin.
The marinara sauce comes together in about 15 minutes and is made with olive oil, chopped onion, garlic, salt and pepper, tomato paste, tomato sauce and 1 cup chicken broth. This makes a ton of pasta sauce! Be sure to use is ALL. This excess sauce is what helps the noodles stay tender while baking. Anyone else HATE dry noodle bakes?! Theyre such a drag.
Assembling this recipe is a breeze! Simply drain the pasta and then toss it with about 2 and 1/2 cups of the sauce. You want to reserve about a 1/2 cup of sauce for later. Pour the pasta in your casserole dish, top with meat, then top with 2 cups mozzarella cheese.
Final tip! Instead of grating your mozzarella cheese, cut it into cubes! This helps the cheese melt into gooey puddles. And who doesnt want gooey puddles of cheese?! Trust me here!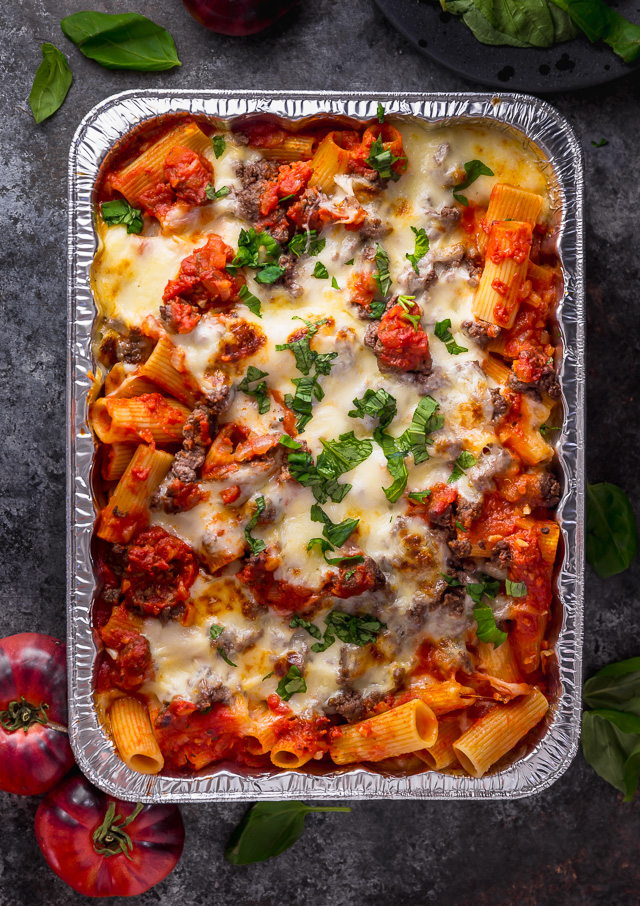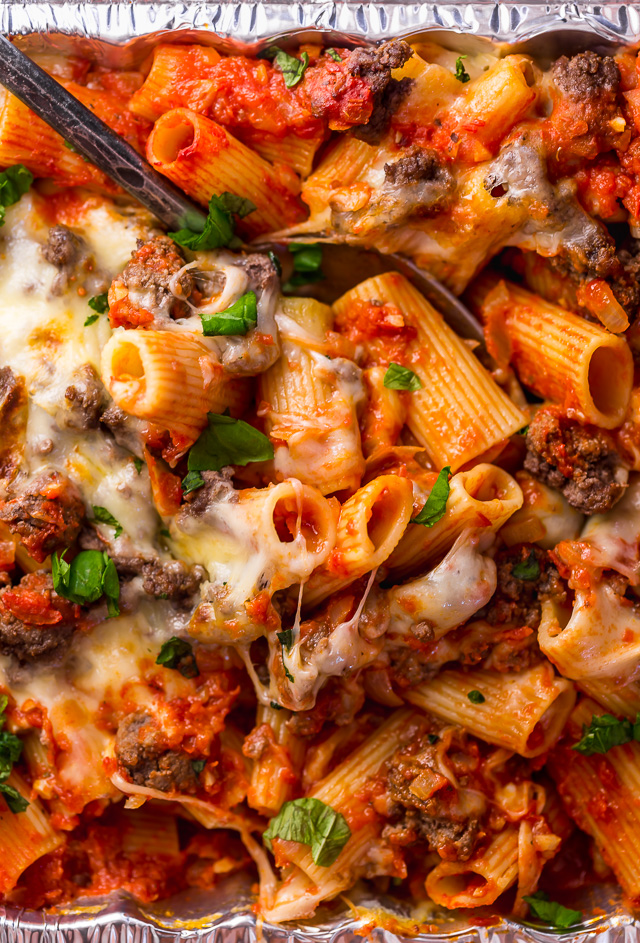 Can I freeze Baked Rigatoni?
Absolutely! Baked rigatoni with beef is such a great meal to make ahead of time and reheat on a hectic night you dont have time to cook! Or when unexpected company shows up right around dinnertime! If you intend on freezing this recipe, simply bake it in a freezer-safe casserole dish, cool completely, then cover and freeze for up to 2 months.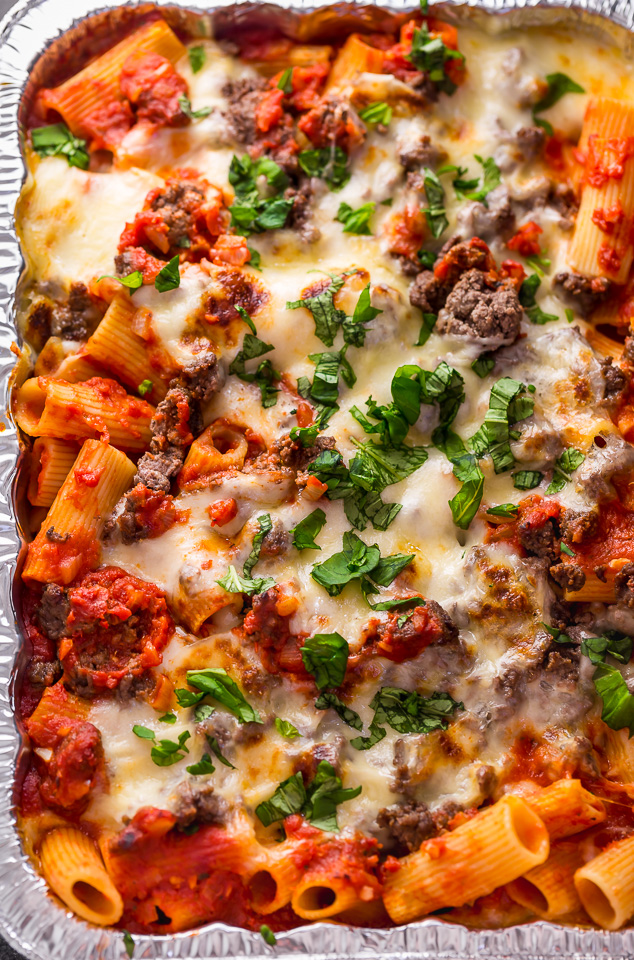 How to Reheat Baked Rigatoni with Beef
Thaw frozen rigatoni in the refrigerator for at least 12 hours before reheating.
When youre ready to bake, preheat your oven to 350 degrees (F).
Loosely cover the pan with foil and bake for 30 minutes.
Remove the foil and bake for another 10 to 15 minutes, or until the sauce is bubbly and the cheese is gooey.
I find freezing this recipe does dry it out a bit, so be sure to serve with some extra sauce on the side. You can always use jarred sauce if youre in a pinch!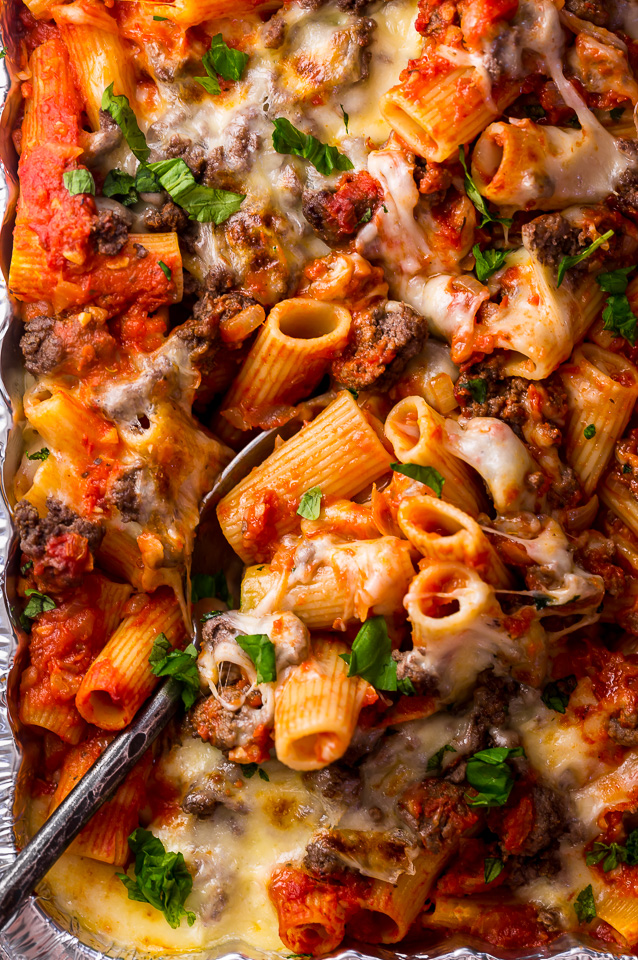 If you try this recipe for Baked Rigatoni with Beef, let me know! Leave a comment below and dont forget to snap a pic and tag it#bakerbynatureon instagram! Seeing your kitchen creations makes my day.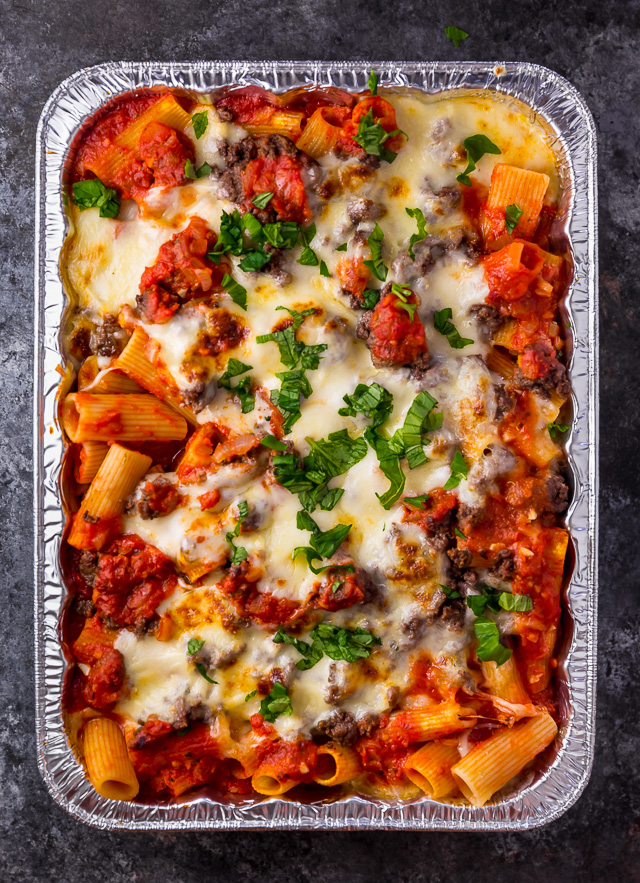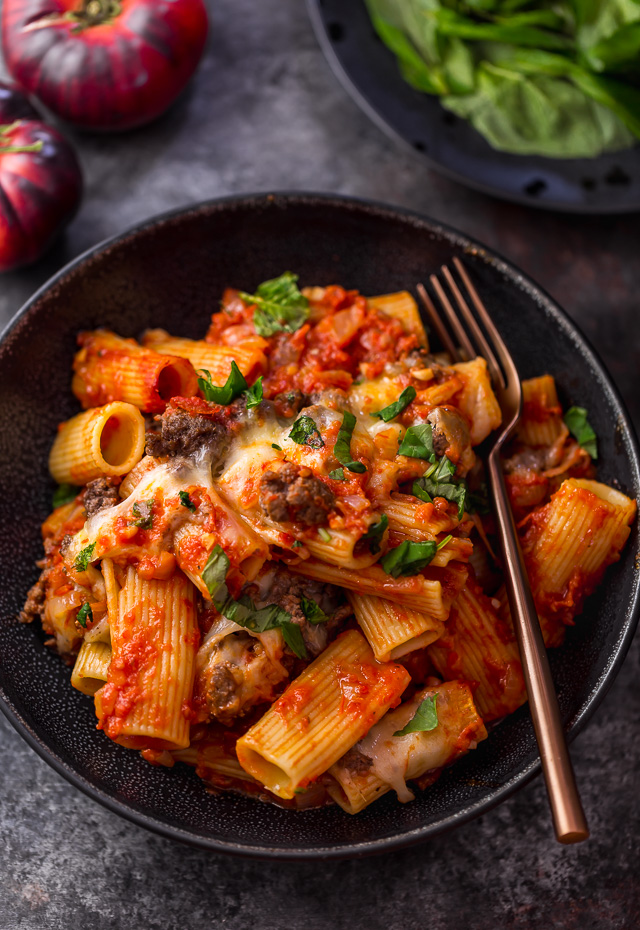 More Pasta Recipes:
Baked Rigatoni with Beef
Author Ashley Manila
Yield 8 servings
Care to join me as we dive into this CHEESY Baked Rigatoni with Beef?! Its SO easy and loaded with flavor! And its the perfect recipe to whip up when youre having company, because it seriously serves a crowd!!!
Ingredients
1 pound (16 ounces) uncooked rigatoni pasta
1 pound (16 ounces) ground beef
2 and 1/2 Tablespoons olive oil, divided
1/2 cup (2.6 ounces) yellow onion, diced
5 cloves garlic, minced
2 Tablespoons tomato paste
(1) 28-ounce can crushed tomatoes with basil
1 cup (8 ounces) chicken broth
3/4 teaspoon salt
1/2 teaspoon black pepper
Handful fresh basil, chopped
1 pound (16 ounces) part-skim mozzarella cheese, cut into 1 cubes
Instructions
Preheat oven to 350F. Spray a 913-inch baking dish with nonstick cooking spray and set aside.
Bring a large pot of salted water to a boil over medium-high heat.
Warm a 1/2 Tablespoon of olive oil in a saute pan over medium-high heat. Add in the ground beef and, using a wooden spoon, break it into small pieces. Cook until brown and no pink color remains, about 5 to 7 minutes. Use a slotted spoon to remove the beef from the pan and transfer it to a large plate. Set aside until needed.
Drain any excess grease from the pan, then return it to the stovetop. Reduce heat to medium, and add in the remaining oil. Add in the yellow onion and cook, stirring occasionally, until the onion is very soft, about 8 minutes.Add in the garlic and cook for 1 minute, or until fragrant. Stir in the tomato paste, breaking it up with a wooden spoon.
Add in the crushed tomatoes, chicken broth, and season with salt and pepper.
Cook, stirring occasionally, for about 10 minutes. Stir in the basil and cook for another 5 minutes.
In the meantime, add the rigatoni into the boiling water and cook for 8 to 9 minutes, or until al dente.
Drain the pasta and return it to the pot. Immediately add the tomato sauce and stir well to combine.
Pour pasta into prepared baking dish. Add ground beef in an even layer on top, then sprinkle with cubed mozzarella.
Bake for 30 minutes or until cheese is melted and bubbling. Garnish with a sprinkle of fresh basil, if desired.
Serve warm!
Courses Dinner
Cuisine Italian
The post Baked Rigatoni with Beef appeared first on Baker by Nature.