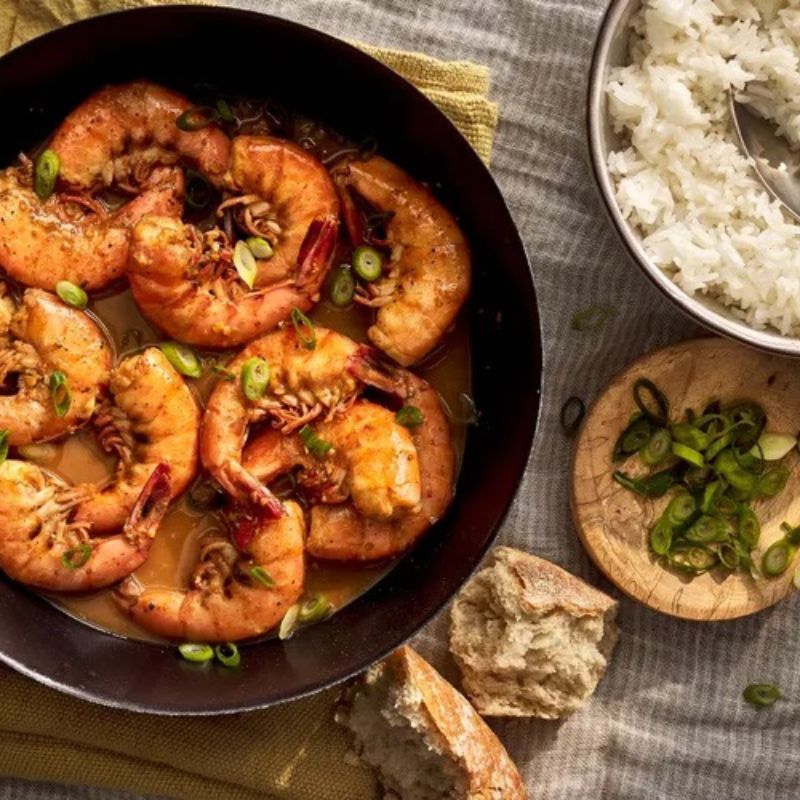 With these easy recipes for quick weeknight dinner that can be made in 30 minutes or less, you'll redefine fast food at home. Don't get us wrong, cooking an elaborate meal is great, but on most nights, cooking a fast, delicious meal is just as impressive. To help you make a great meal in no time, we have compiled some of the best quick weeknight dinners, from Easy Chicken Fajitas to Honey-Mustard-Glazed Salmon Steaks. Read on for recipes that will help you get dinner on the table in minutes.
Quick and tasty easy weeknight dinner recipes
One-pot white wine pasta with mushrooms and leeks
This creamy, savoury one-pot pasta dish comes together without the need to boil the pasta separately. Savoury sautéed mushrooms and gently sweet leeks combine with cream, lemon juice, and white wine to create the rich sauce. Feel free to switch up the flavour by adding tarragon instead of dill.
Orzo and chickpeas with turmeric-ginger broth
Coconut milk and fresh lime juice are natural flavour partners to ginger and turmeric; here they come together to form a restorative tea-based broth that's delicious studded with chickpeas and pasta.
Spicy sausage pasta with tomatoes and squash
Added thinly sliced squash just minutes before serving means it melts into the pasta without losing its shape and texture. Use a mandoline to achieve extra-thin slices.
Pork chops with sherry pan sauce and ras al hanout
Dry sherry lends an oxidized, nutty complexity to this pan sauce. Sweetened with fresh orange juice and dried fruit, it's perfect with pork chops or seared duck breasts. The technique here relies on rendering fat from the meat, setting it aside, and using that fat to bloom beautifully complex ras al hanout in the pan, before deglazing it with sherry to incorporate every bit of flavour into the final sauce.
Chicken tortellini soup with kale
Frozen cheese tortellini only need a five-minute dip in the simmering broth to cook up perfectly. Don't be tempted to just dump the whole can of tomatoes into the pot; draining them first concentrates the flavour.
Grilled cheese with corn and Calabrian chile
Chef Nancy Silverton's upgraded grilled cheese is filled with a charred sweet corn-studded blend of nutty English cheddar, sharp caciocavallo, and just enough mayonnaise to bind it all together. Thick slices of sourdough get a beautifully buttery, golden crust in a cast iron skillet, while Calabrian chile sneaks in with just the right amount of heat.
Pasta with sausage, basil, and mustard
In matching spicy sausage with a creamy mustard sauce and fragrant basil, British cookbook author Nigel Slater created a quick pasta supper with warm, mildly spicy flavours. It's perfect for a cool fall or winter evening.
Patty melts with charred scallion-chipotle mayo
Classic versions of the patty melt often include caramelized onions, but those take time, so here cookbook author Molly Stevens leans on quick-charred scallions instead. Chipotle-spiked mayonnaise adds an extra dose of lushness and a punch of smoky heat. For the cheese, semi-soft cheeses like Oaxaca or Monterey Jack add a satisfying tang, but any good melting cheese works — Cheddar or Swiss are perfectly delicious stand-ins.
Broccoli and potato soup
The bright green broccoli florets floating on top of this hearty soup make it especially eye-catching, but it's the broccoli stems that do the real work. They're cooked with the potatoes and then pureed to form a creamy base. A final sprinkle of grated Parmesan cheese gives the soup an extra savoury touch.
Spring onion and salami sheet-pan pizza
When making this weeknight dinner sheet-pan pizza recipe, bring the dough to room temperature before shaping it. This ensures the gluten is relaxed and the dough doesn't shrink away from the pan edges.
Easy chicken fajitas
Fajitas are a great option for a family or large group of friends. Set up the components on a buffet, so everyone can pick and choose the toppings they want. If you like, feel free to swap in pork loin for the chicken.
Filipino New Orleans BBQ shrimp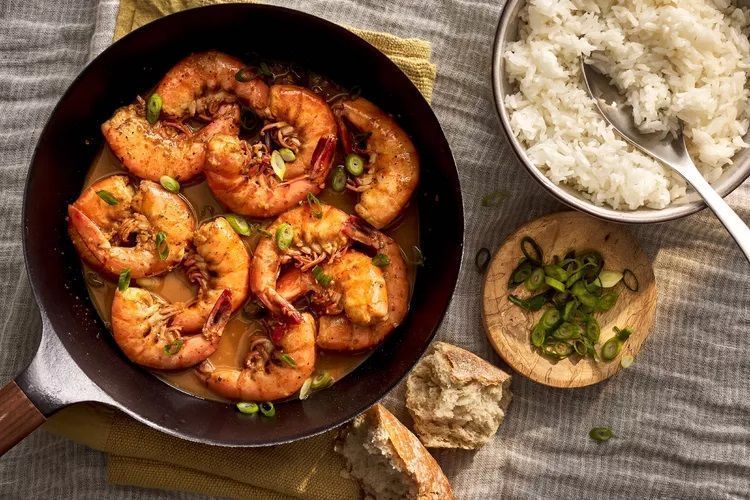 Classic New Orleans barbecue shrimp are not grilled or barbecued, but sauteed in a spiced butter sauce. This version comes from Filipino Cajun chef Cristina Quakenbush, who remains true to the dish's origins by using Abita Beer and Creole seasoning, and gives it a twist by adding soy sauce, calamansi juice, ginger, and banana ketchup.
Honey-mustard-glazed salmon steaks
Any time a novice cook asks Jamie Bissonnette for a simple weeknight dinner recipe, he gives them this soy-honey-mustard sauce. It's delicious on the salmon here, but he also recommends spreading it on chicken wings or pork chops before grilling them.
Wild mushroom and red wine risotto
The creamy, red wine-tinged rice gets adorned with mixed wild mushrooms and shallot sautéed in butter. Freshly grated Parmesan brings even more umami goodness to the dish.
Pasta carbonara
This easy classic pasta dish comes together in less than 30 minutes and is a comforting meal any time. The chewy rigatoni stands up perfectly to this supremely rich and flavorful sauce.
This article first appeared on Prestige Hong Kong 
© 2021. TI Inc. Affluent Media Group. All rights reserved.  Licensed from FoodandWine.com and published with permission of Affluent Media Group. Reproduction in any manner in any language in whole or in part without prior written permission is prohibited.
Food & Wine and the Food & Wine Logo are registered trademarks of Affluent Media Group. Used under License.
The post 15 easy DIY dinners to make in 30 minutes or less appeared first on Lifestyle Asia Hong Kong.