Update: Cafe Limonci is now temporarily closed.
---
Best quiet cafes in Singapore
---
My secondary school self, hustling for major examinations, would have told you how much I loved visiting cafes. To me, quiet cafes were a heaven, with aesthetic workspaces and tasty eats, AKA what helped me maintain my sanity while I mugged. Now that I'm done with those examinations, these peaceful cafes are simply a refuge from the busy city. Here, I'm sharing my list of the best quiet cafes in Singapore for those of you who need that hideaway, just in case you need some quiet too. 
---
1. Madu The Bakery
---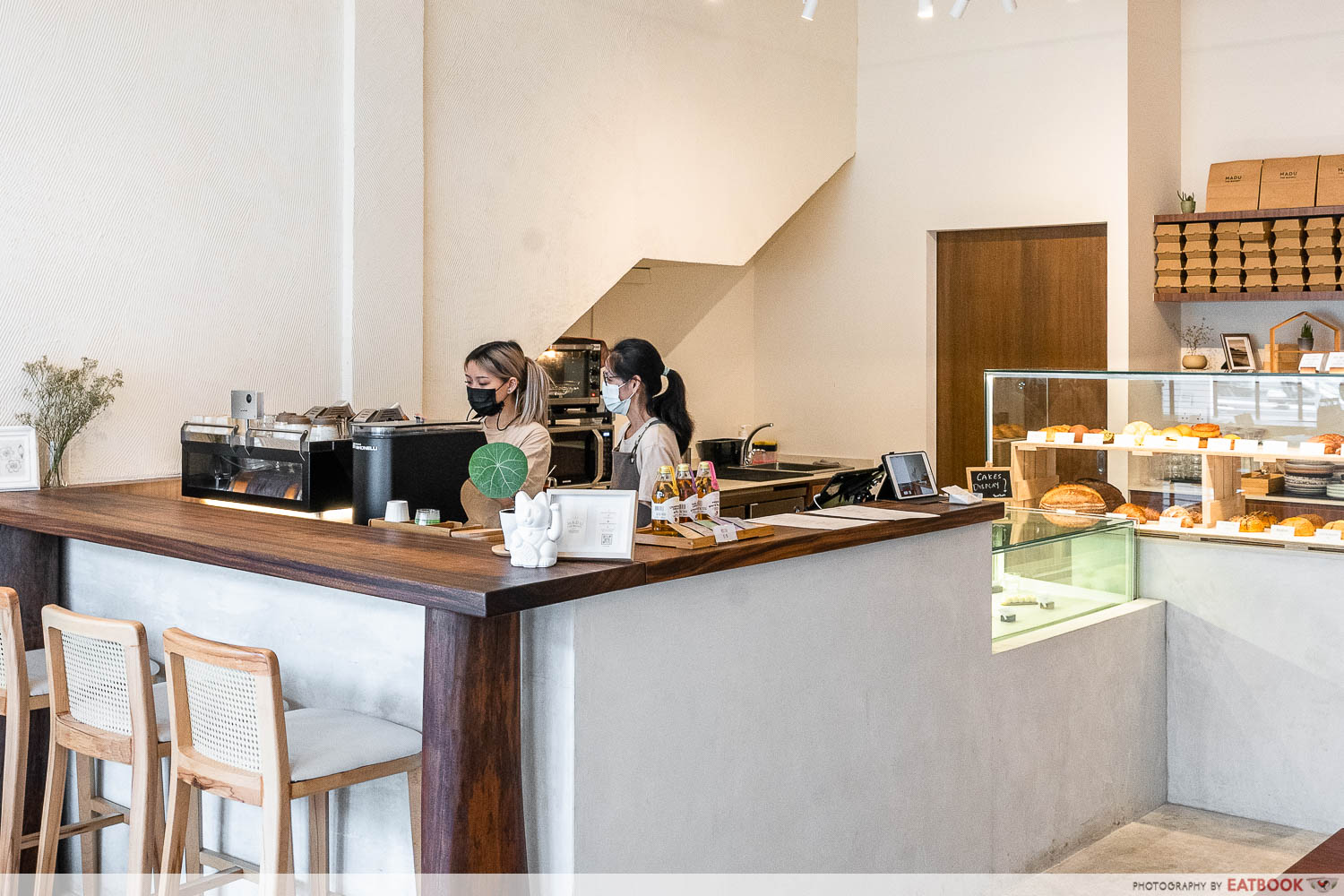 My colleague reviewed Madu The Bakery and loved their peaceful aesthetic, boasting wooden features and a high ceiling. Besides transporting you away from the bustling city, they're also known for their tasty food, which is the perfect pick-me-up to boost your productivity.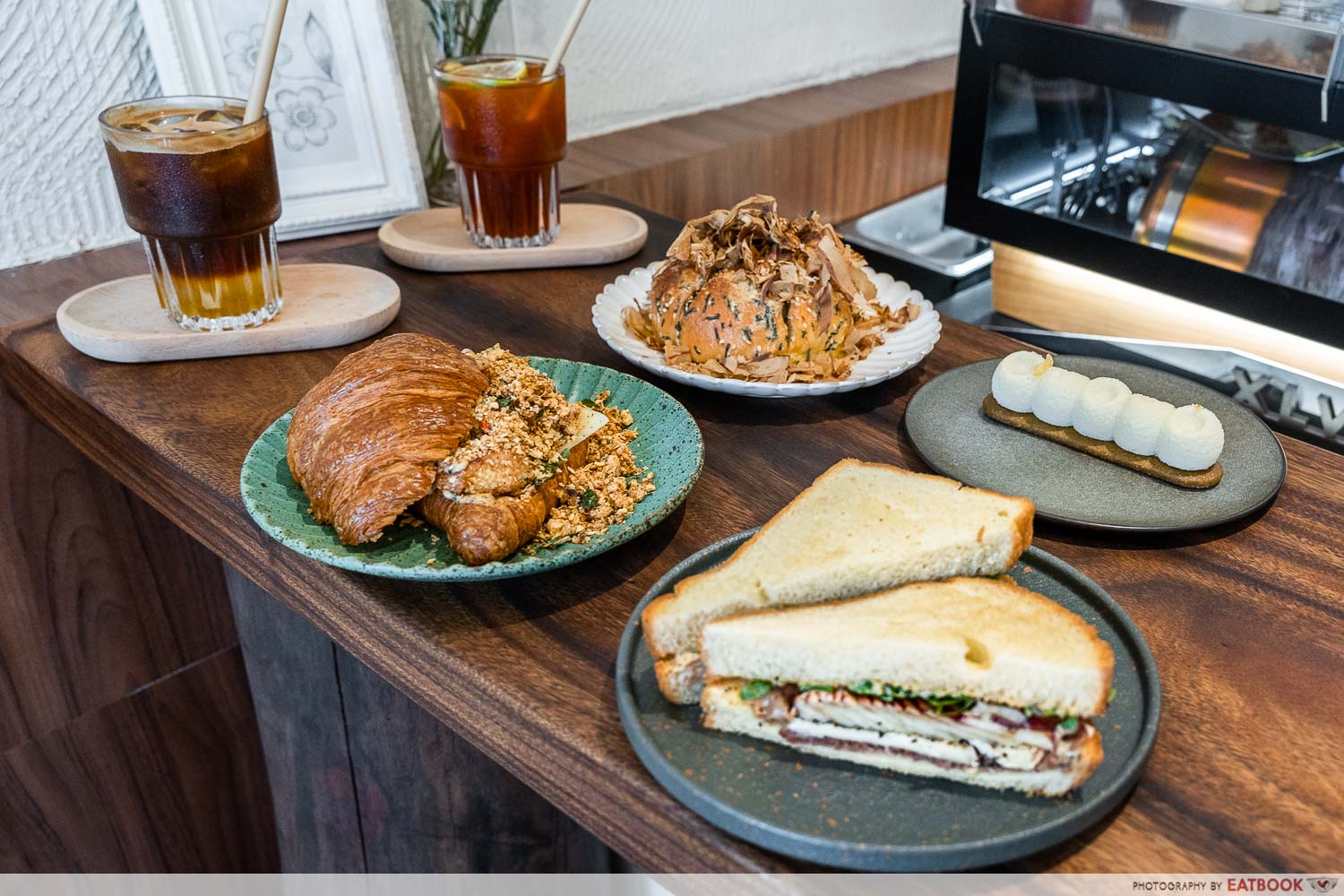 My colleague's recommended items include Cereal Prawn Croissant ($13.90+), which is a modern take on your usual zi char dish. This sees tiger prawns tossed with toasted cereal crumbs, chilli, and curry leaves, packed into the bakery's classic Lescure Butter Croissant with a slice of cheddar cheese. For a mix of creaminess and sweetness, try their Apple Brie Parma ($15.90+), which has sweet apple slices, arugula, parma ham, and brie, sandwiched in ciabatta toast. 
For drinks, get their Yuzu Espresso Tonic ($6.50+) which has house-brewed blue pea extract, coffee, and yuzu fruit. Alternatively, go for Madu Iced Lime Tea ($5+) with Thai red tea. 
Check out our Madu The Bakery review!
Address: 421 Race Course Road, Singapore 218668
Opening hours: Tue-Sun 10am to 6pm
Tel: 8750 7672
Website
Madu The Bakery is not a halal-certified eatery.
---
2. Genius Central
---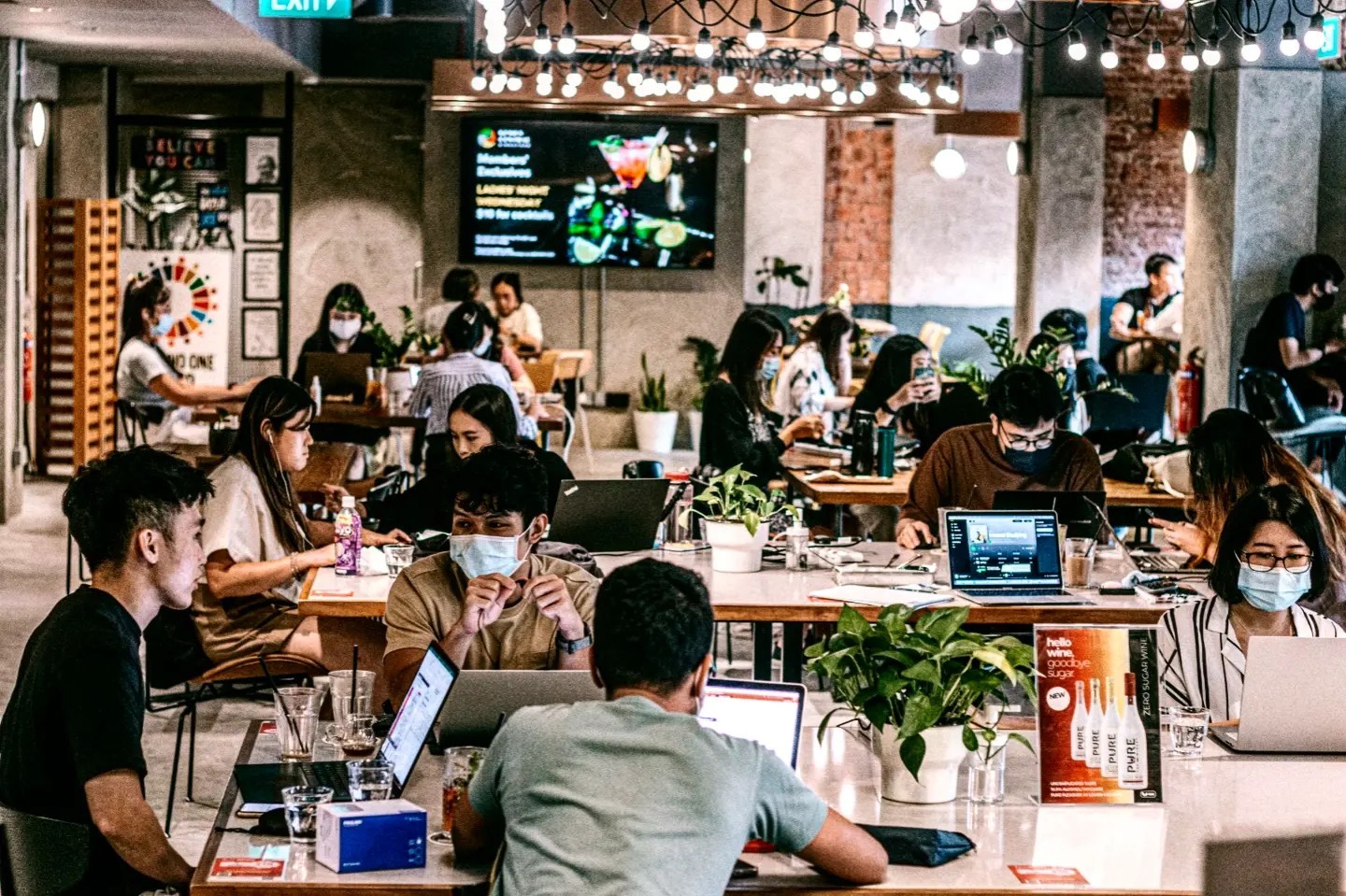 Image credit: Genius Central Singapore FB
Genius Central prides itself as a co-working space, decked with long tables for group meetings, and little nooks for those who want to work alone. Here, you can even book meeting rooms for up to 12 people, with high-speed internet and a sound system to boot.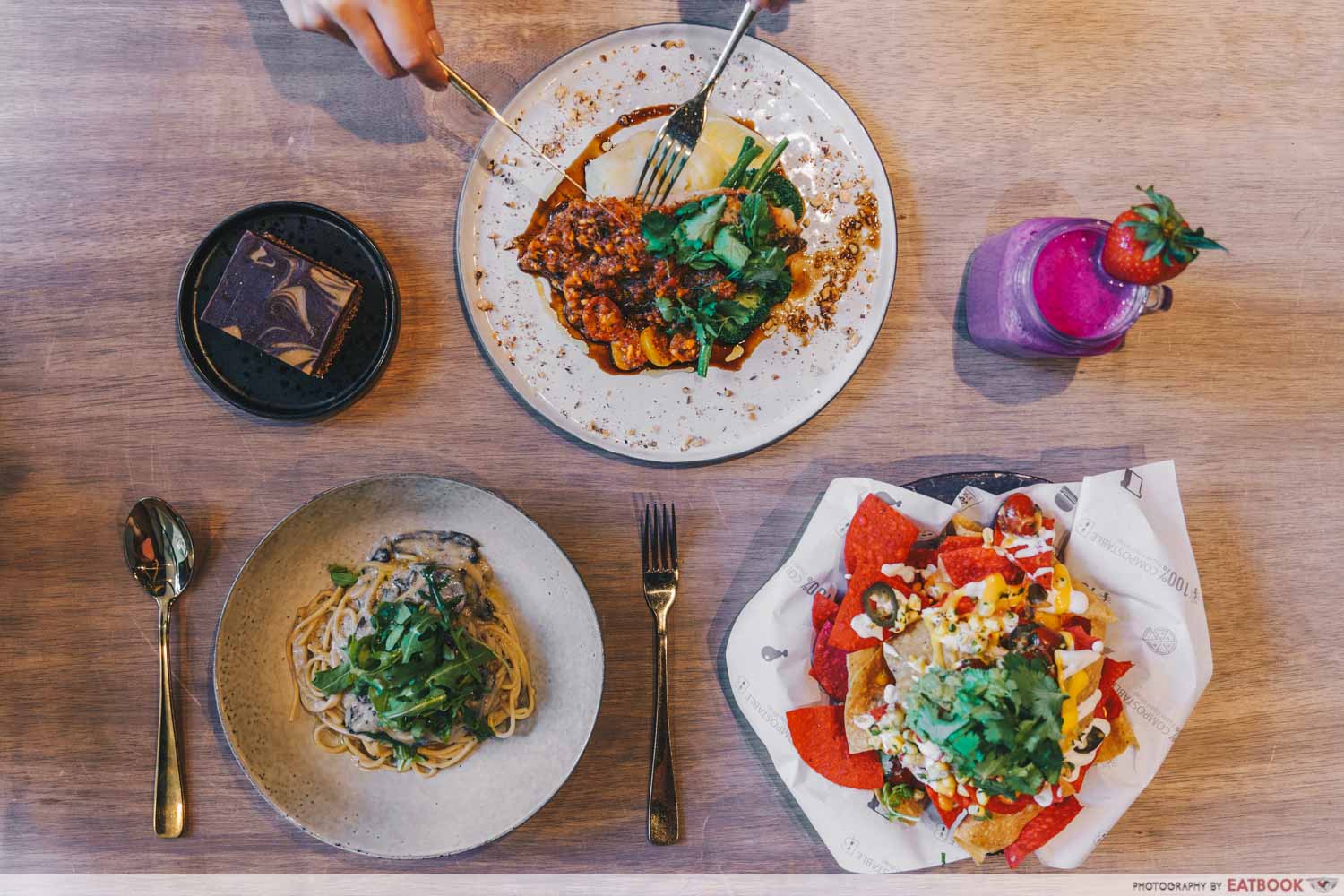 They also have an inclusive menu, with options for everyone, whether you prefer vegan, vegetarian, or gluten-free. If you're here in a group, consider the Mixed Mushroom Pizza ($20++), flavoured with a tangy balsamic glaze. The Three Heavenly Dips ($18++) also come highly recommended, comprising beetroot hummus, baba ganoush, and traditional hummus, along with house-made flatbread and corn chips.
Address: 7-13 Amoy Street, #01-01, Far East Square, Singapore 049949
Opening hours: Mon-Thurs 8am to 8:30pm, Fri-Sat 8am to 9:30pm, Sun 8am to 4pm
Tel: 8940 1200
Website
Genius Central is not a halal-certified eatery.
---
3. Plain Vanilla Bakery
---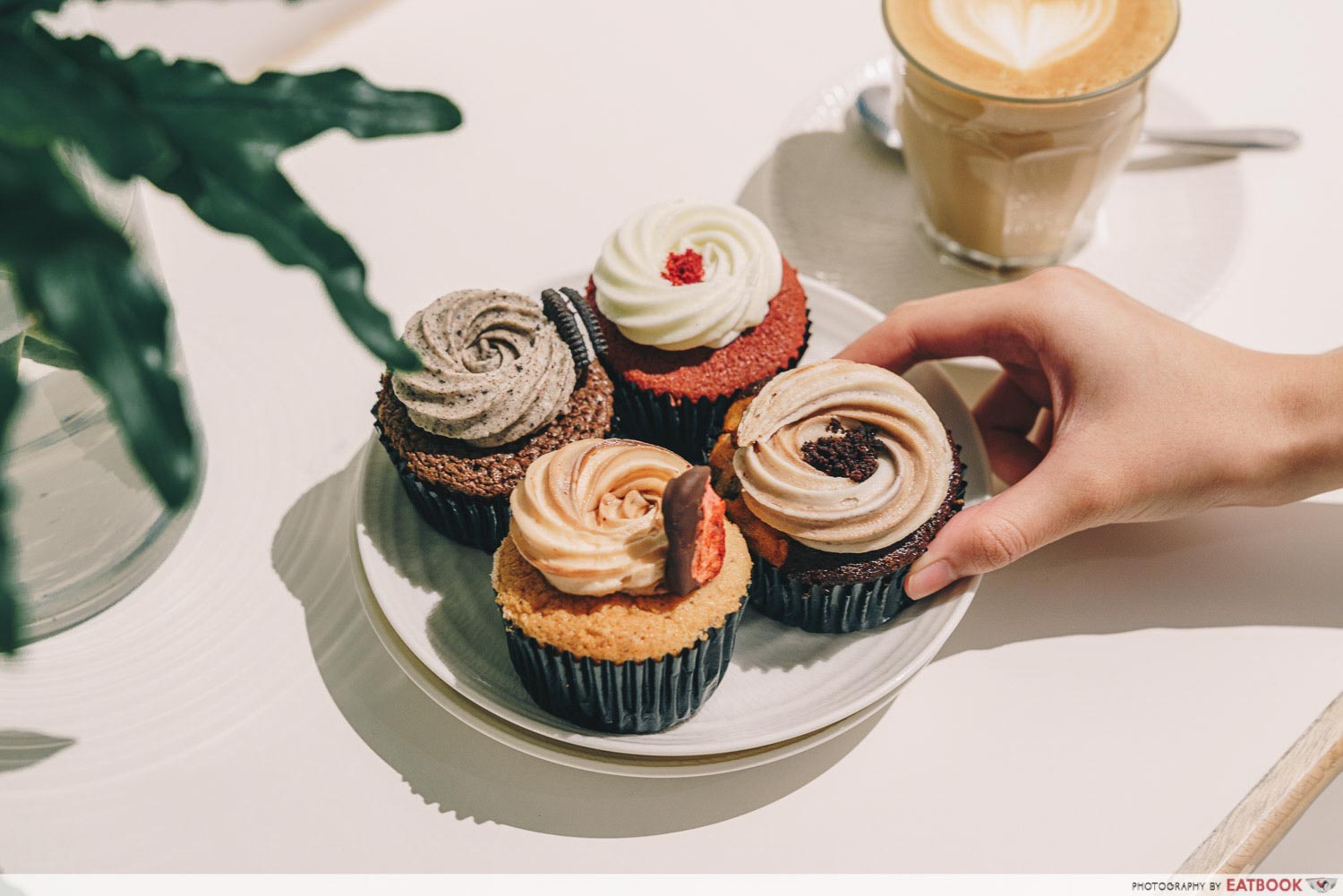 The Plain Vanilla Bakery outlet at Tiong Bahru is one of the cafes in Singapore where you'll constantly find people working or studying, with their laptops perched on the high tables. There's free WiFi here too, though it means that there's a perpetual crowd.
Apart from their signature cupcakes, you can expect a diverse selection of bakes, including an Apricot Pistachio galette ($6) and a decadent Dark Chocolate Cherry Rum Brownie ($8.50). These make for perfect munchies as you plough through your work.
Do note that their other branches, except at Cluny Court and ION Orchard, have charging points for customers' use as well. 
Address: 1D Yong Siak Street, Singapore 168641
Opening hours: Mon-Fri 7:30am to 5pm, Sat-Sun 7:30am to 7pm
Tel: 8363 7614
Website | Full list of outlets
Plain Vanilla Bakery is not a halal-certified eatery.
---
4. Kith Cafe
---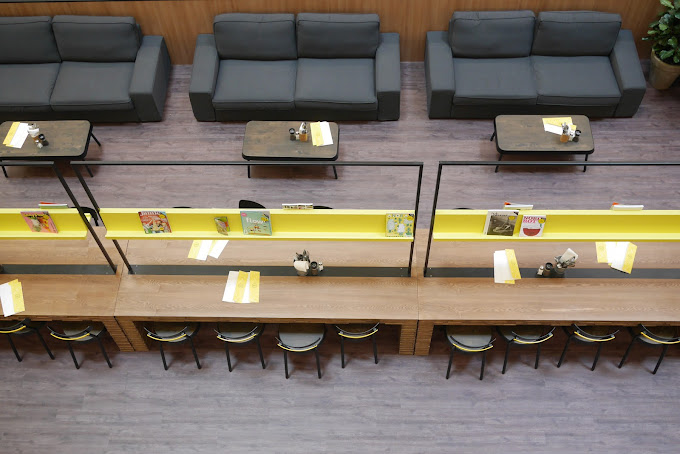 Image credit: Kith Café Millenia Walk
Kith Cafe is one of the best cafes in Singapore for your studying and remote working needs, as their outlet in Millenia Walk is lined with numerous charging points, with seats available most of the time. What's more, you can even book meeting rooms for larger meetings, that come with WiFi and an AV system.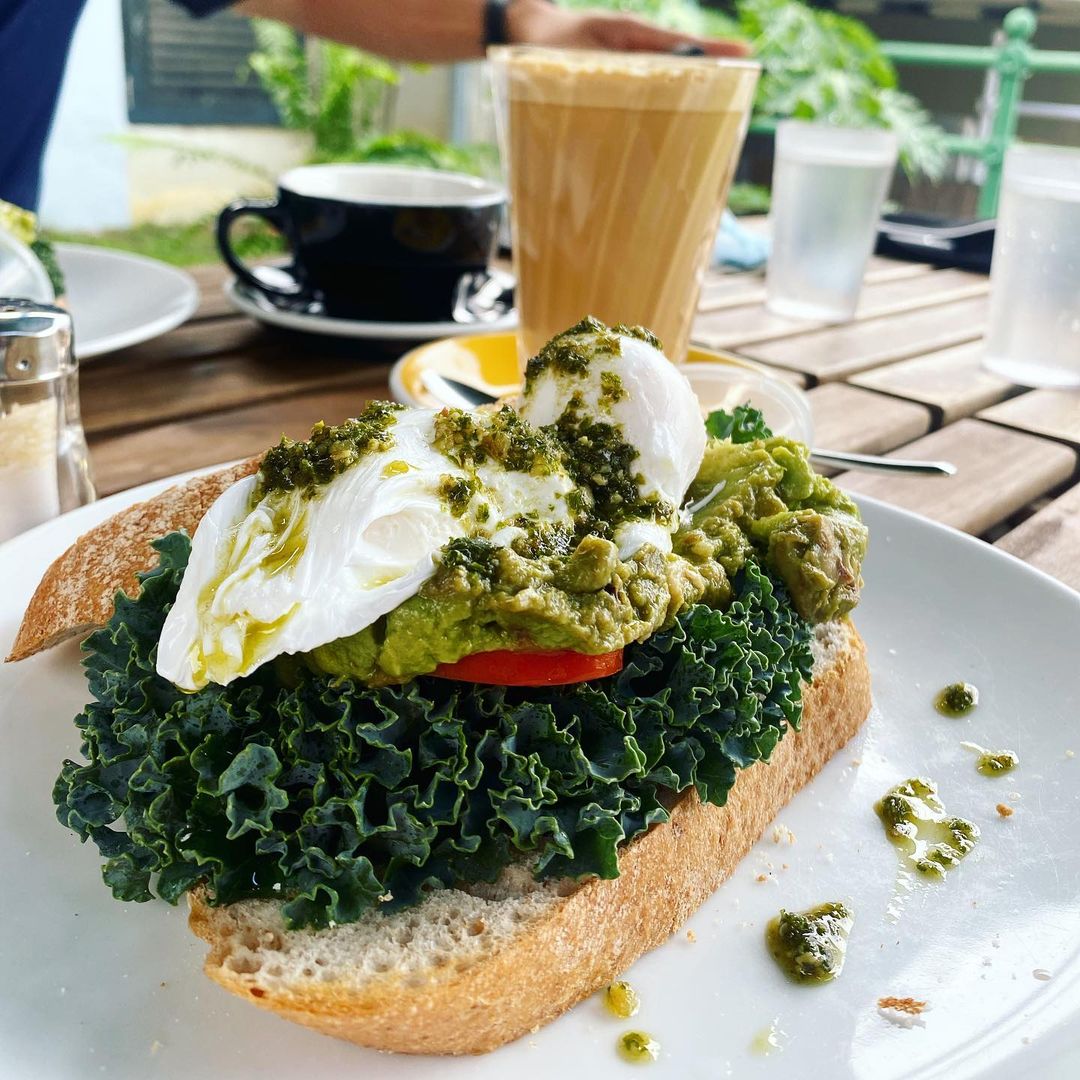 Image credit: @mojojo_ing
Treat yourself to some indulgent brunch food as you study, which is available until 5pm. Their Poached Eggs & Avocado ($20.95++) is highly recommended, comprising avocado, tomatoes, kale, and poached eggs layered with pesto atop sourdough toast. Alternatively, they also have house-made Pancakes ($17.95++), dressed with fruit, honey, cream cheese, and a maple butter sauce.
Address: 9 Raffles Boulevard, #01-44/45, Millenia Walk, Singapore 039596
Opening hours: Daily 7:30am to 10pm
Tel: 6333 4438
Website | Full list of outlets
Kith Cafe is not a halal-certified eatery.
---
5. Twenty Eight Cafe
---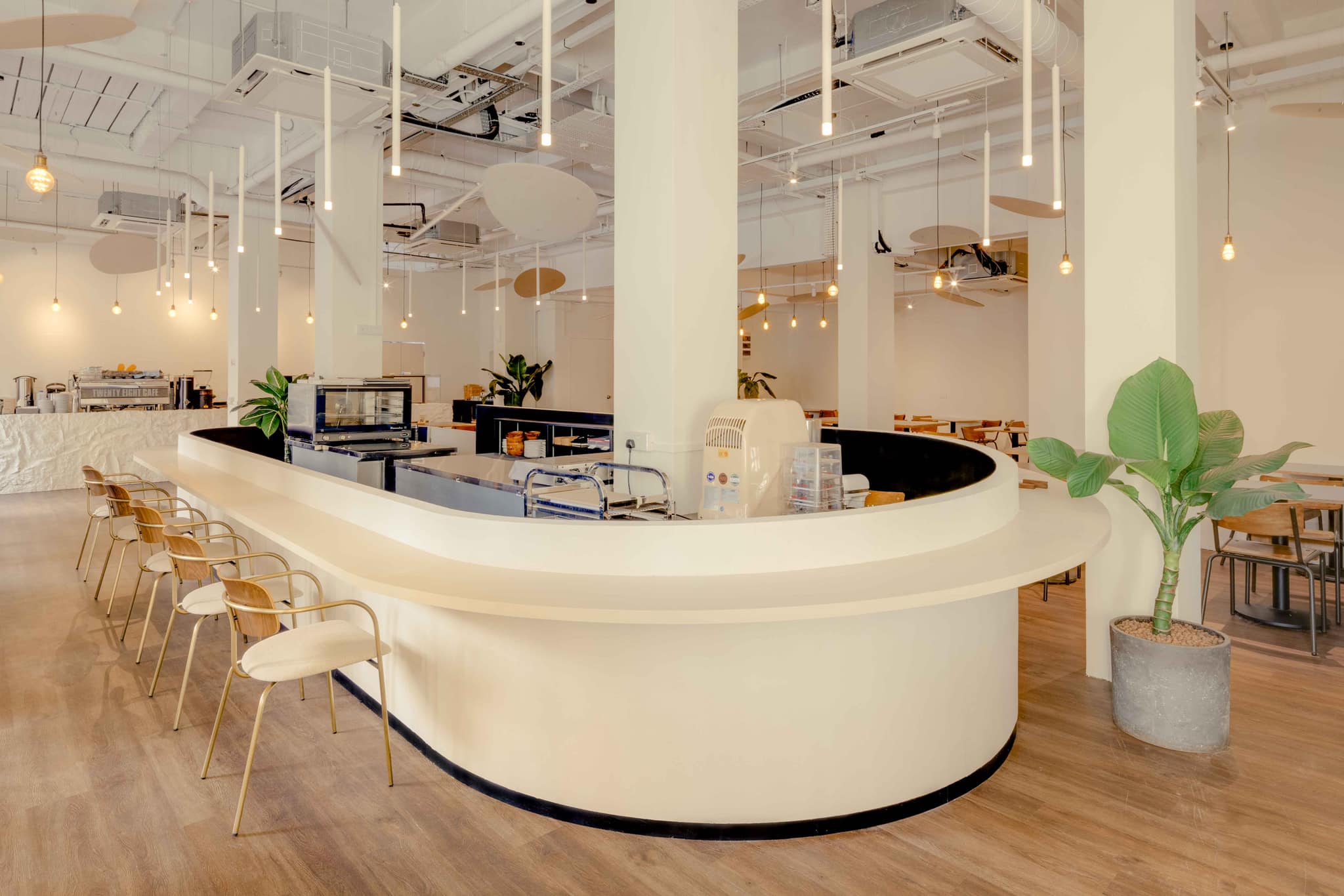 Image credit: Twenty Eight Cafe
Twenty Eight Cafe was known for their industrial-chic vibes before they got zhnged up into a cosy, yet classy space complete with high ceilings, hanging lights, and pots of greenery. This space also has charging points available and sees a good mixture of communal tables and couple seats—perfect for a studying or working session of any size.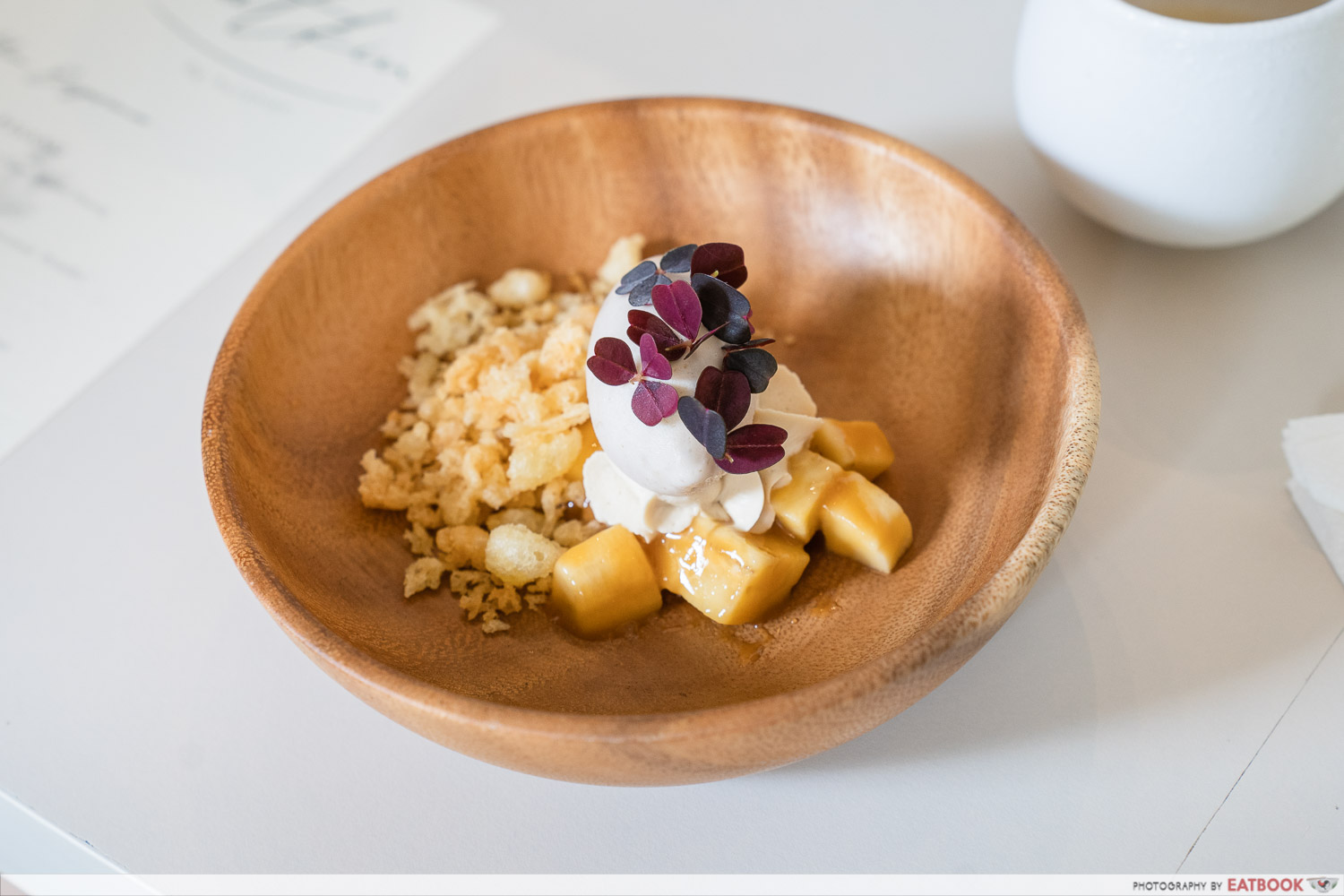 The cafe has a new dessert omakase bar, Catkin by Huishan, featuring local desserts done with a twist! Try Goreng Pisang ($16++) which sees rastali banana gelato, miso-glazed banana slices, and tempura flakes. Otherwise, the cafe also has all-day brunch classics such as the Common Breakfast ($26++) that's loaded with the full works, and rice bowls topped with Salmon Mentaiko ($16++) or Kimchi Beef ($16++). 
Address: 28 Wilkie Road, #01-06, Singapore 228051
Opening hours: Mon-Fri 7:30am to 4:30pm, Sat-Sun 8am to 4:30pm
Tel: 9628 2829
Website
Twenty Eight Cafe is not a halal-certified eatery.
Enjoy Dessert Omakase With Kueh Bangkit Gelato And More At This Rochor Cafe
---
6. 6 Letter Coffee
---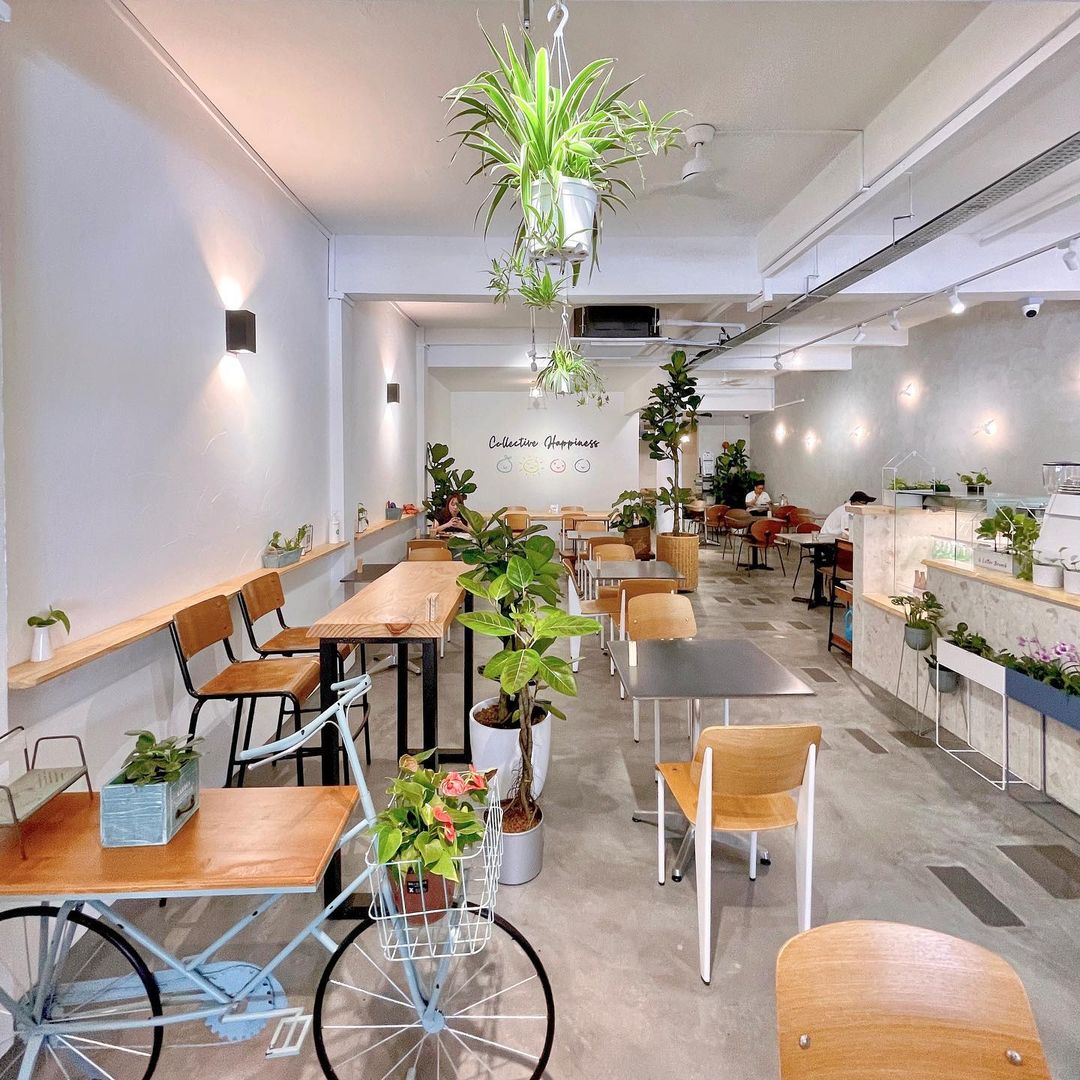 Image credit: @saltyaaron
One of the quieter cafes around Katong is 6 Letter Coffee, armed with charging points, free WiFi, and good cuppas. The space here is also brightly lit, decked with a mix of white and wooden fixtures, and pops of botany for some colour.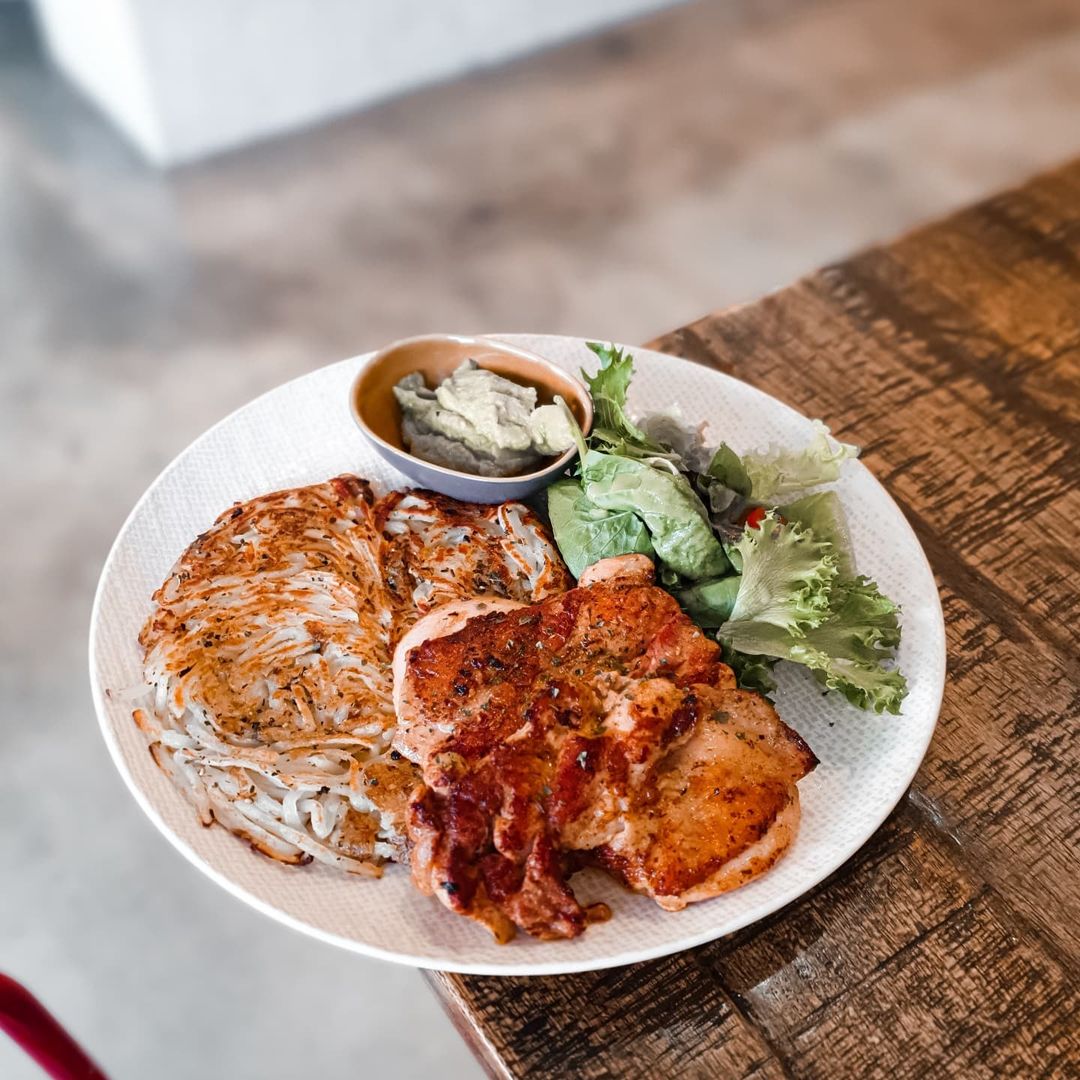 Image credit: @098.02.04
A sizable food menu is available here as well, with the likes of all-day brunch, pasta, burgers, and more! Their Grilled Chicken Rosti ($21) is a chef's recommendation, consisting of house-made rosti, grilled chicken thigh marinated with herbs and spices, mixed salad, and avocado. There's also Crispy Wings & Waffle ($17) which sees waffles drizzled with maple syrup, crispy mid-wings, and a salad.
Address: 259 Tanjong Katong Road, Singapore 437047
Opening hours: Sun-Thurs 8am to 7pm, Fri-Sat 8am to 8pm
Tel: 6285 0368
Website
6 Letter Coffee is not a halal-certified eatery.
30 Ice Cream and Waffles Cafes In Singapore, Including Those Open Till 2AM
---
7. Mellower Coffee
---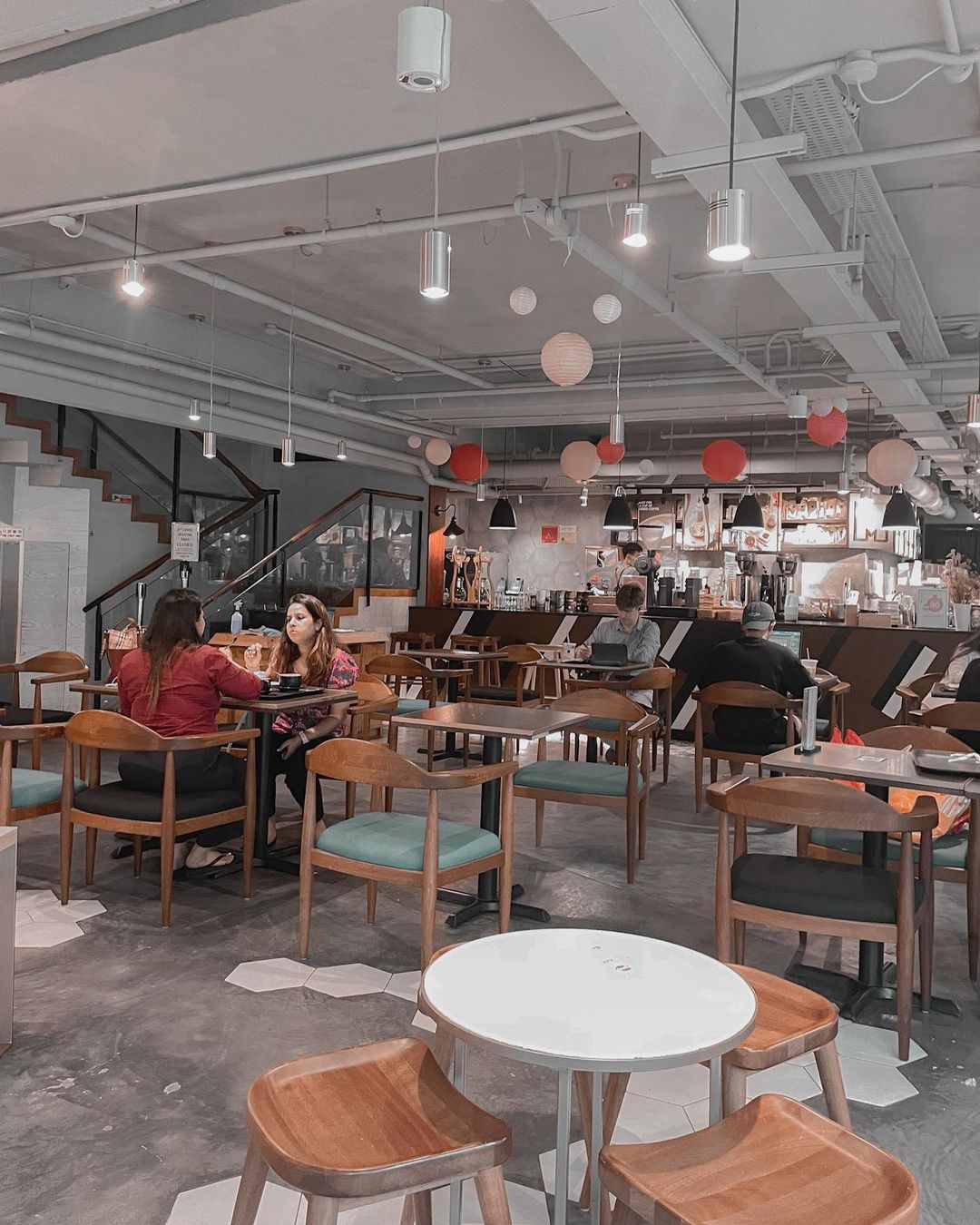 Image credit: @sassytere
Centrally located in Bugis is Mellower Coffee, one of the more popular cafes for studying or working in Singapore. There are charging stations available here, though limited, and the space gets crowded easily as well. If you do snag a seat, this makes for a great working spot coupled with their selection of coffee-based beverages and light bites. They've also got a branch in Orchard, though it's said to be less conducive for working in.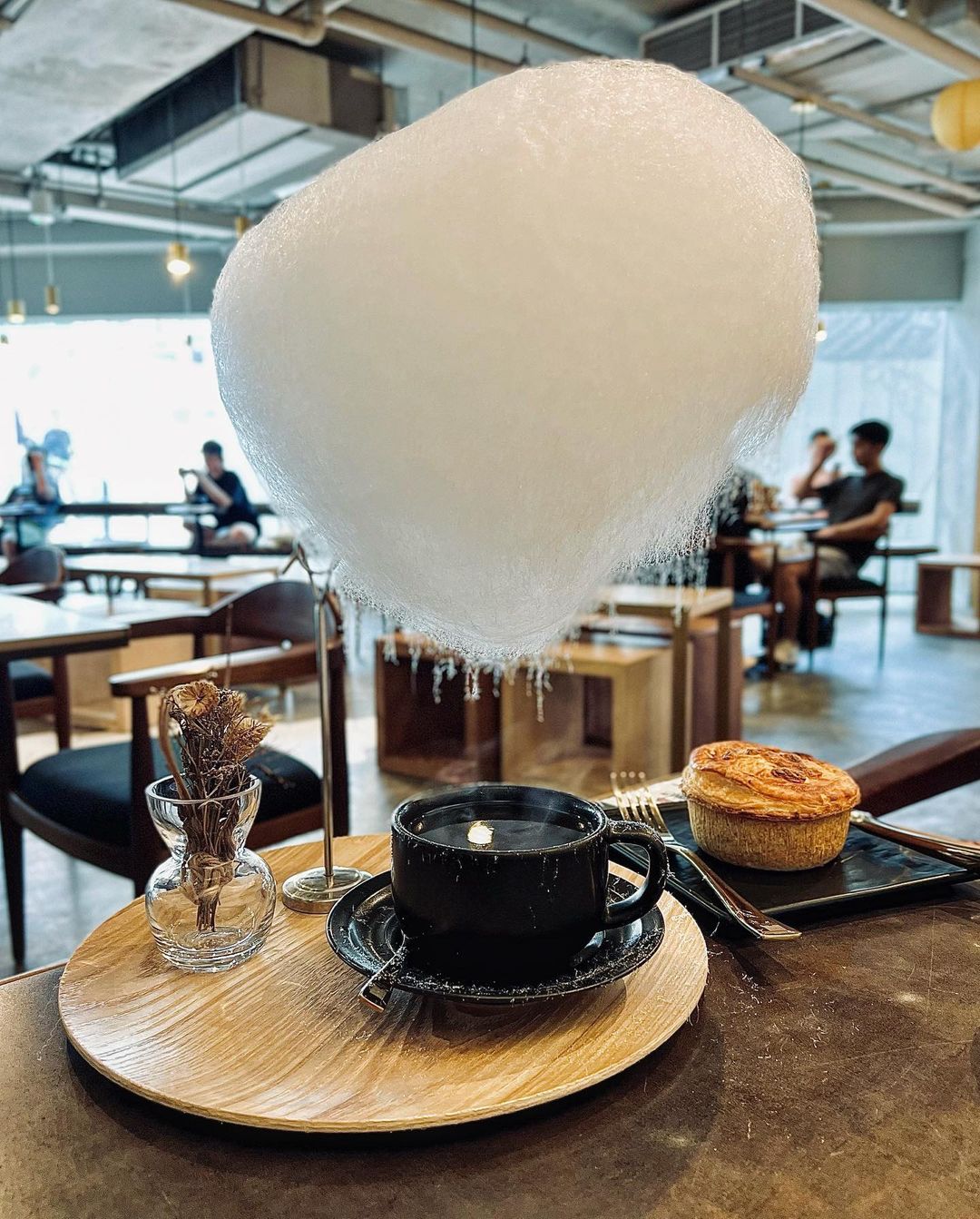 Image credit: @greensky.eatbook
Their signature Sweet Little Rain ($9.80) is a must-order, topped with an IG-worthy candy floss cloud that drips sugar into your coffee. If not, for something more localised, try out their Ondeh Latte ($9.80), infused with pandan syrup and coconut cream. Pair these with their display of assorted cakes and pastries, including Turkey Bacon & Leek Quiche ($7) and Chicken Tikka & Mint Chutney Sandwich ($6). 
Bugis
Address: 108 Middle Road, #01-01, Bernhard Schulte House, Singapore 188967
Opening hours: Sun-Thur 9:30am to 8pm, Fri-Sat 9:30am to 9pm
Orchard
Address: Orchard Road, #321, MSpace at Maybank, Singapore 238866
Opening hours: Daily 10am to 7pm
Tel: 6255 0820
Website
Mellower Coffee is not a halal-certified eatery.
---
8. Amber Ember
---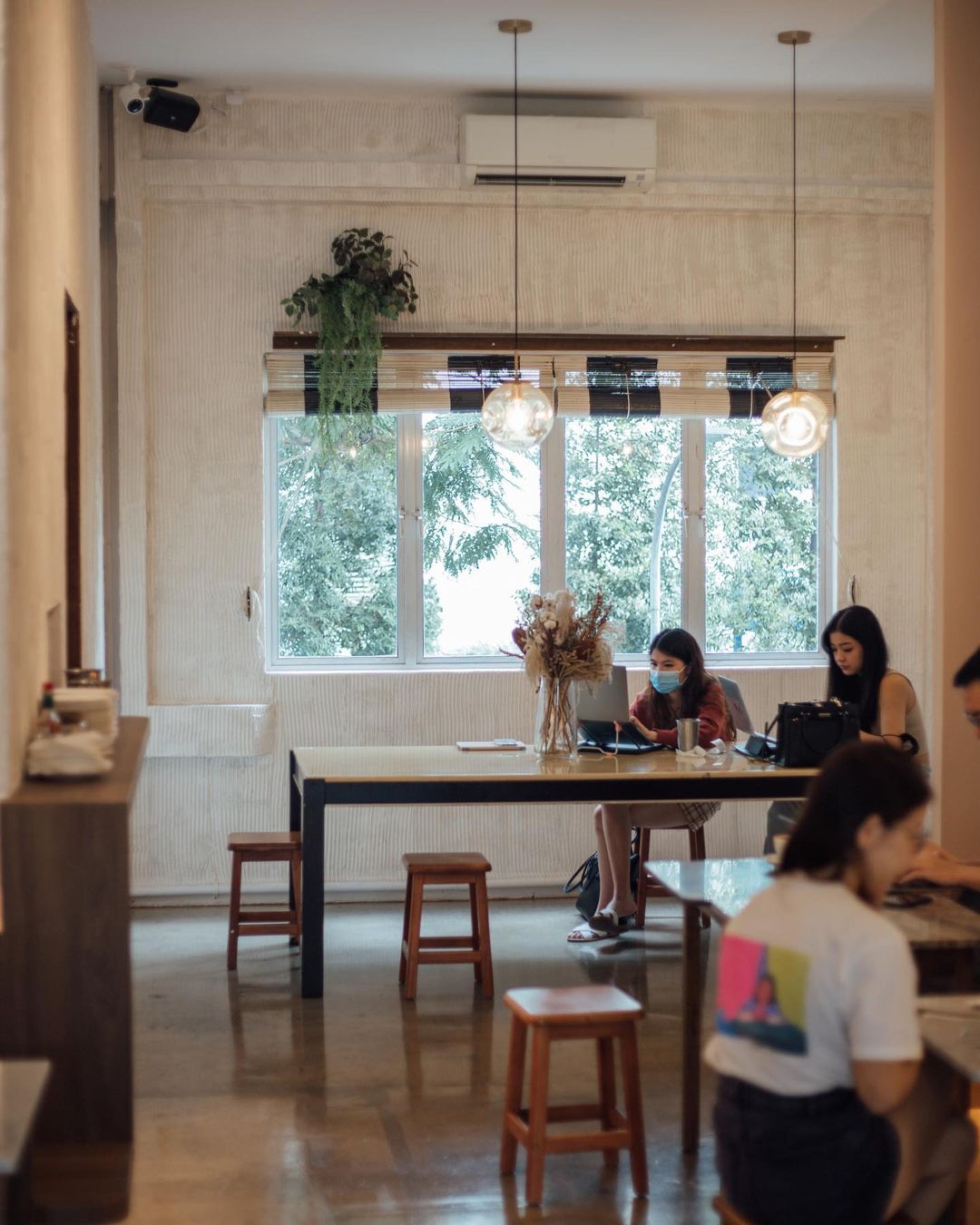 Image credit: @evanezer
Hidden away in Upper Serangoon is Amber Ember, a hole-in-the-wall cafe that's equipped with charging points and free WiFi. Its secluded location also means that seats are available most of the time.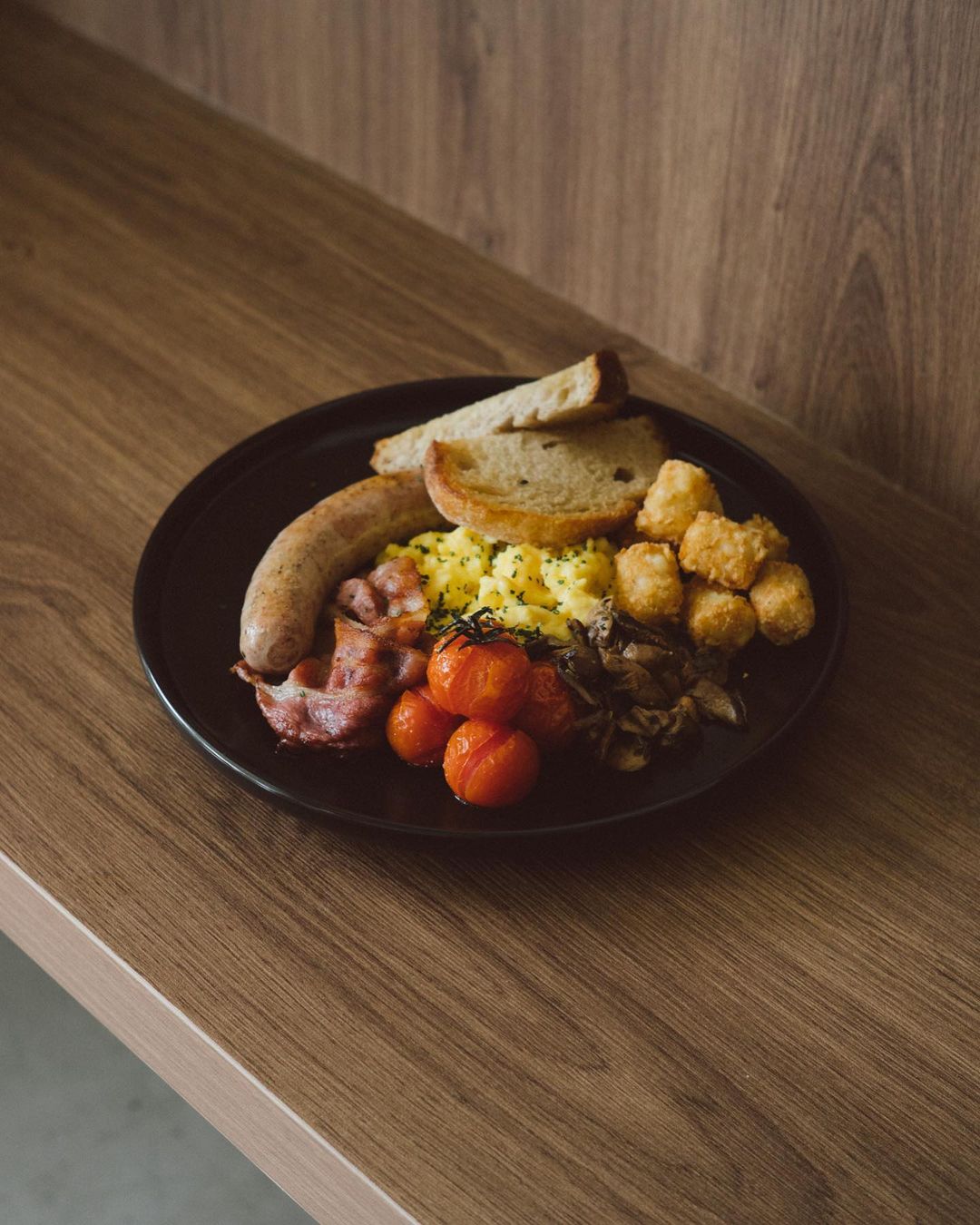 Image credit: @amberembersg
For those who can't wake up in time for breakfast, they have all-day breakfast platters here! Get their Amber Breakfast ($24+), served with pork sausage, bacon, soy-balsamic roasted mushrooms, scrambled eggs, salad, tater tots, and sourdough toast.
Otherwise, if you can't get enough of carbs, try their pasta dishes such as the Pink Sauce Calamari ($23+), which features fried calamari, baby spinach, fettuccine, and Grana Padano, served in a tomato cream sauce.
Address: 730 Upper Serangoon Road, #01-01, Singapore 534613
Opening hours: Tue-Fri 10am to 5pm, Sat-Sun 10am to 6pm
Tel: 6926 3312
Website
Amber Ember is not a halal-certified eatery.
---
9. Well Collective
---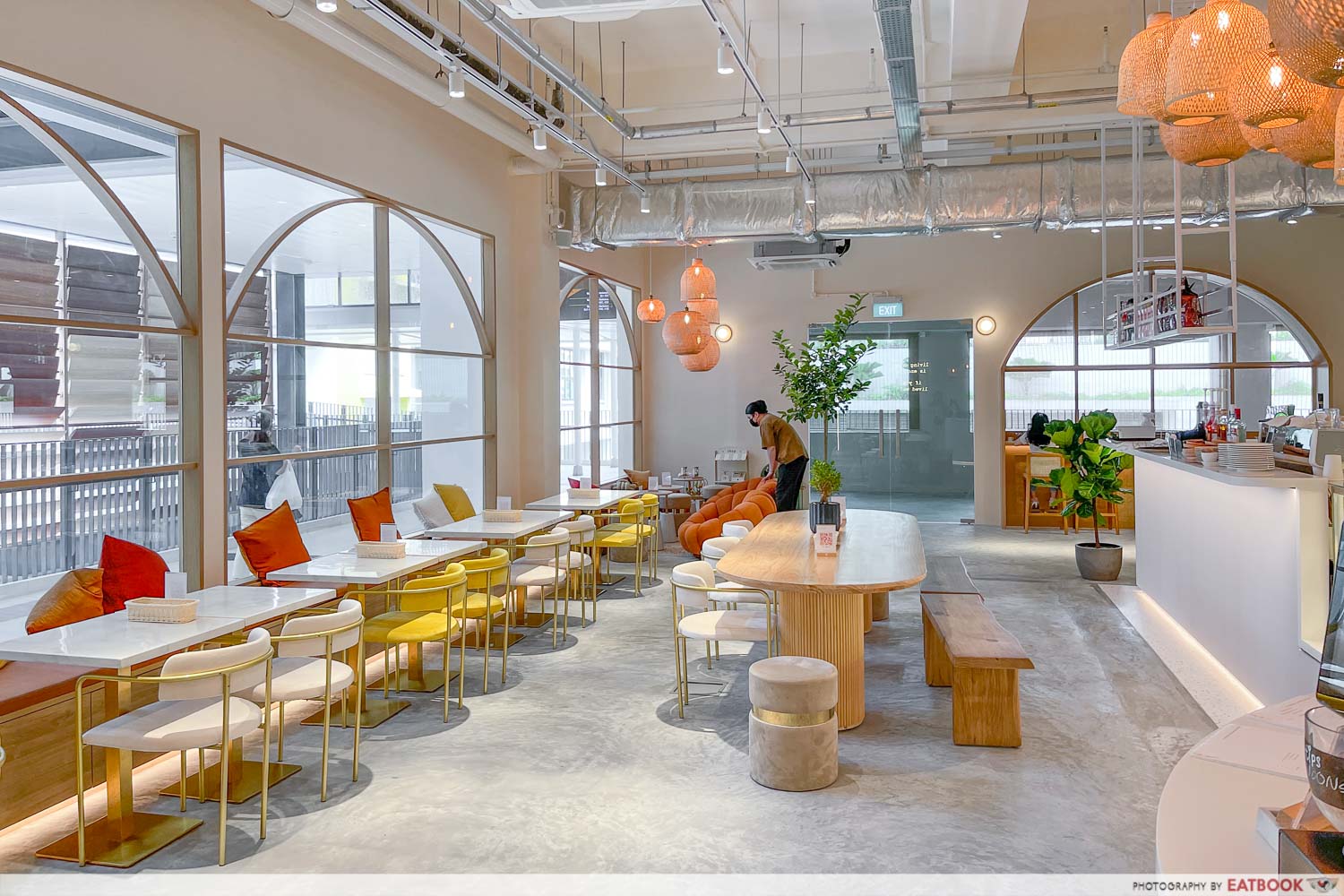 Well Collective is a Japanese-inspired cafe with a casual dining concept. They're also known for being a work-friendly space, able to accommodate more than 20 groups at a time while offering free WiFi and charging points. Their Punggol location is a respite away from the city; the tranquil atmosphere here makes it a good place to work in peace, with both indoor and al fresco working spaces.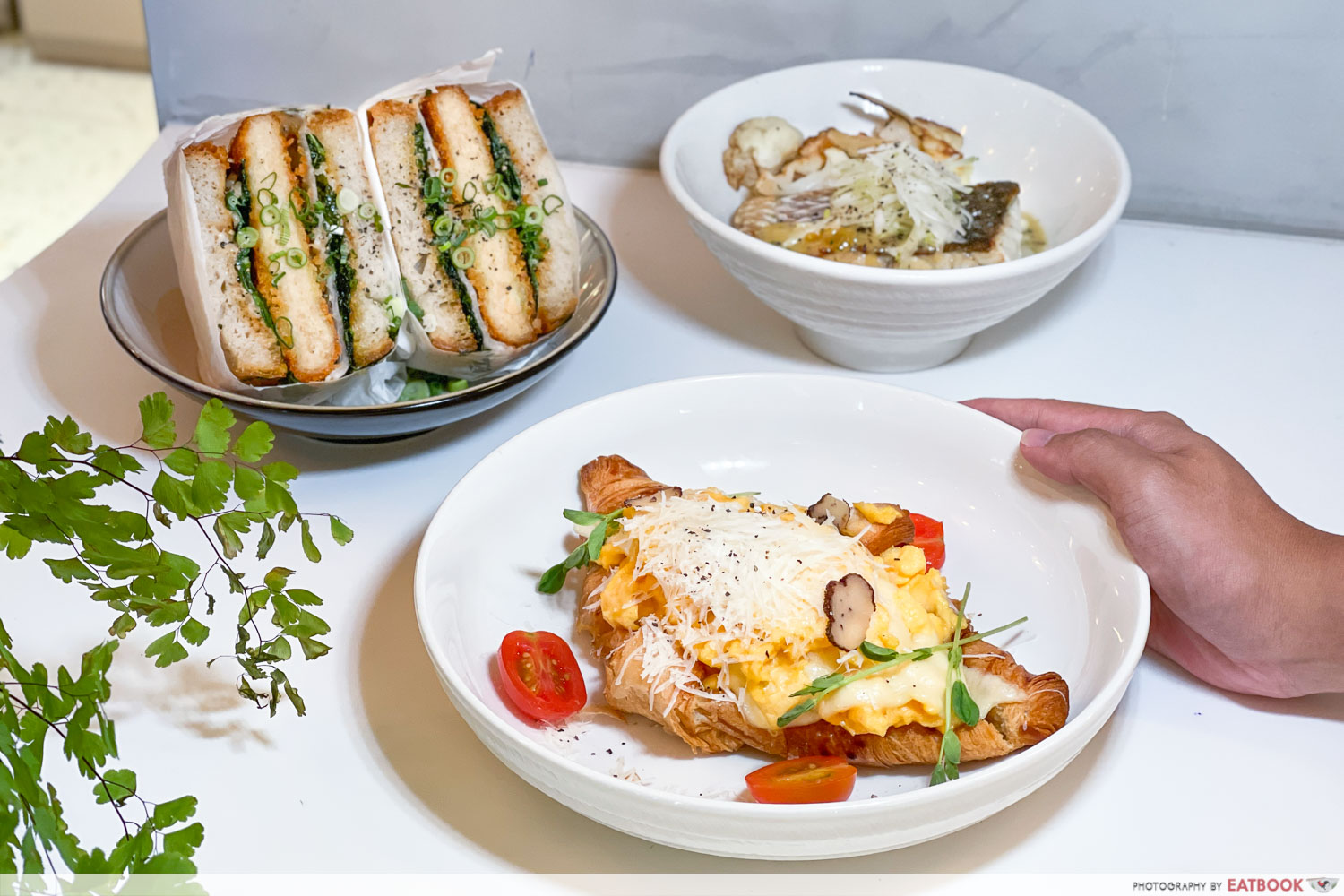 Their extensive menu includes vegan and gluten-free options. For something savoury, go for their Madame's Truffled Egg Croissant ($19++) which is topped with scrambled eggs, Emmental cheese, and shaved black truffle. Alternatively, try their No-Chicken Katsu Sando ($19++) which has plant-based 'chicken' with a crispy exterior, along with pickled daikon, fried kale, and yuzu kosho mayo, sandwiched between thick toasted sourdough. 
Check out our Well Collective review!
Address: Blk 418 Northshore Drive, #02-11/12, Northshore Plaza, Singapore 820418
Opening hours: Mon-Thurs 12pm to 10pm, Fri-Sun 10am to 10pm
Tel: 6979 6442
Website
Well Collective is not a halal-certified eatery, but their food contains no pork or lard.
---
10. Homeground Coffee Roasters
---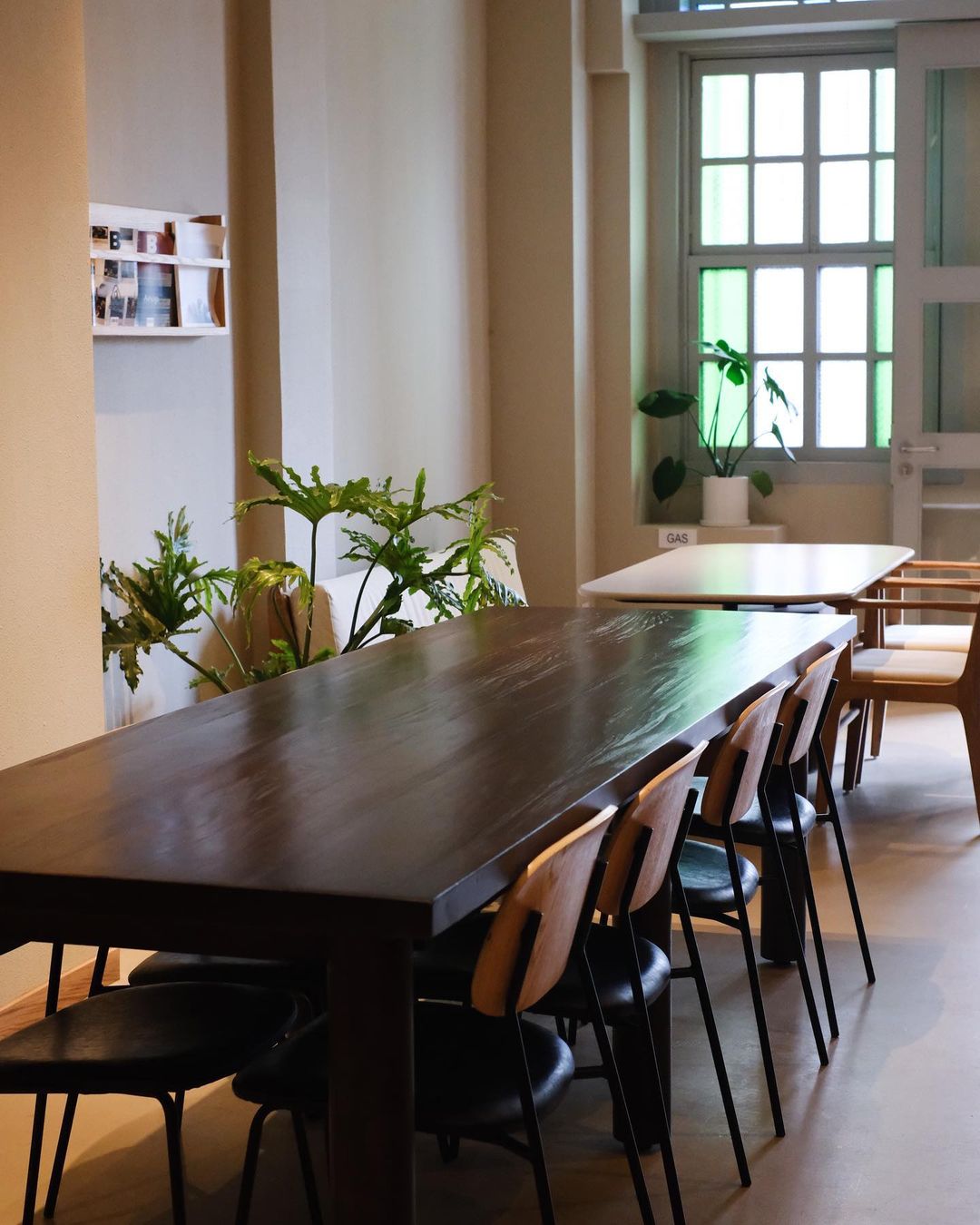 Image credit: @tokidoki793
Homeground Coffee Roasters is a humble space located near Outram Park MRT Station. The sleek and minimalist set-up here, which comes with plenty of seats, will allow you to work in relative peace. There's free WiFi here too, but remember to come with your charged devices as there are no charging points here. Do note that they have a one-hour dining limit.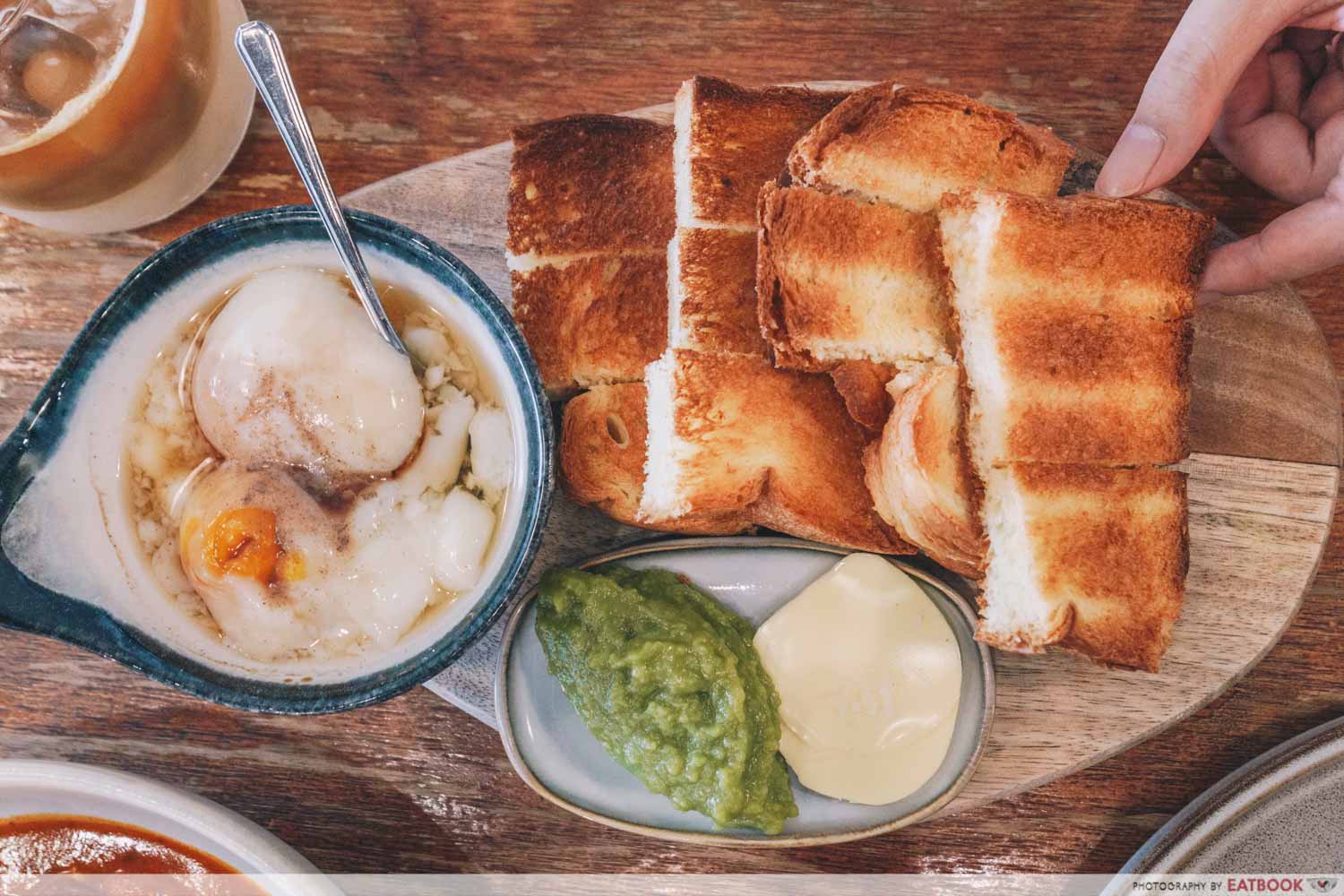 Try the highly recommended Iced White ($6.50) with their house blend, Vanta, which has toffee hazelnut and milk chocolate notes. Otherwise, they also have tasty dishes here including Level Up Kaya Toast ($12) which features toasted Hokkaido milk bread, with a side of French butter and house-made kaya that's accented with a strong coconut fragrance, paired with 63-degree sous vide eggs. For something more substantial, try their Tom Yum Granchio Pasta ($24) instead. 
Check out our Homeground Coffee Roasters review!
Address: 15 Teo Hong Road, Singapore 088328
Opening hours: Daily 9am to 6pm
Tel: 8218 4285
Website
---
11. Orange Mocha Cafe
---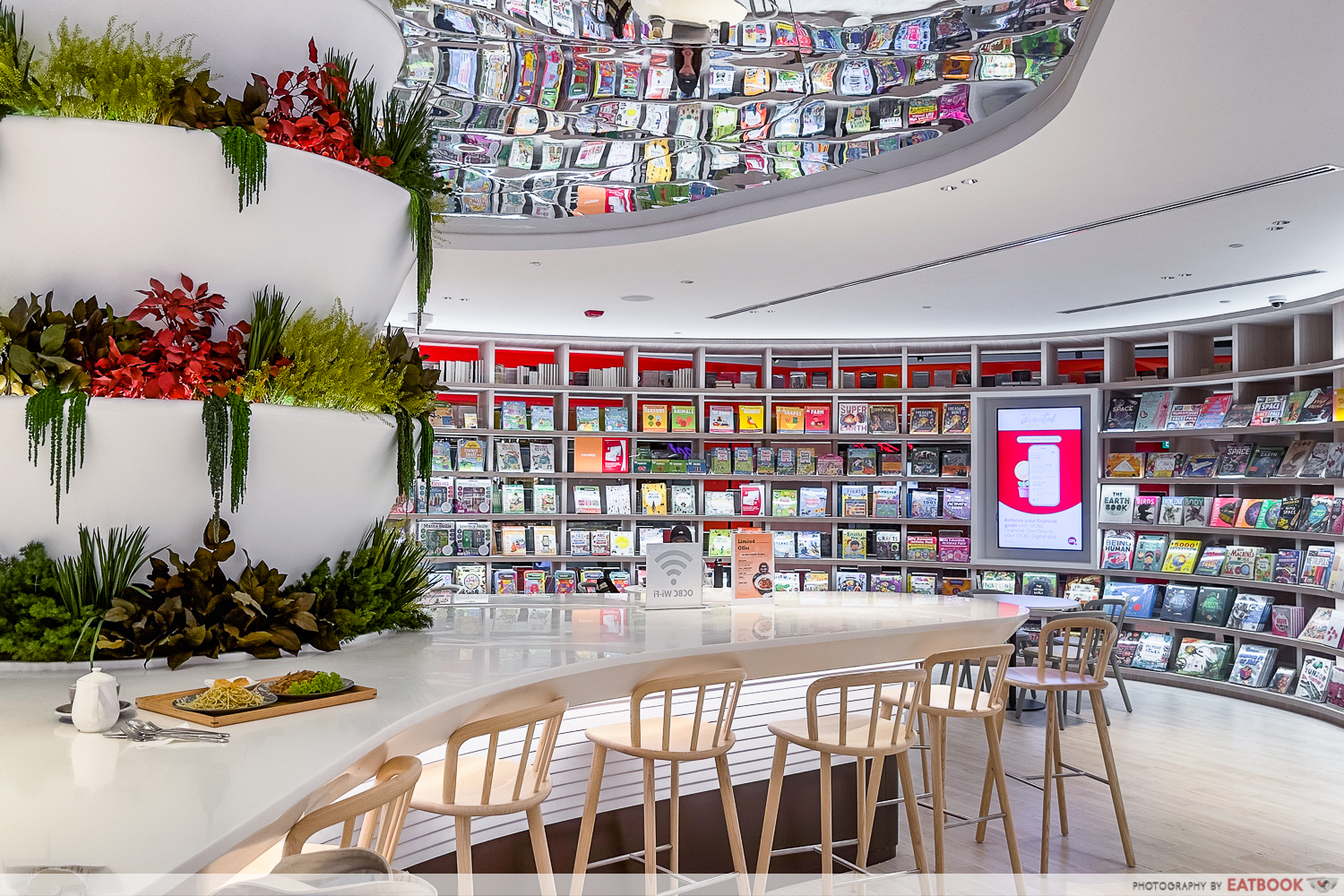 Orange Mocha Cafe is a new, hidden book cafe located at Wisma Atria! You'll find plenty of seats and free wifi here to aid your productivity.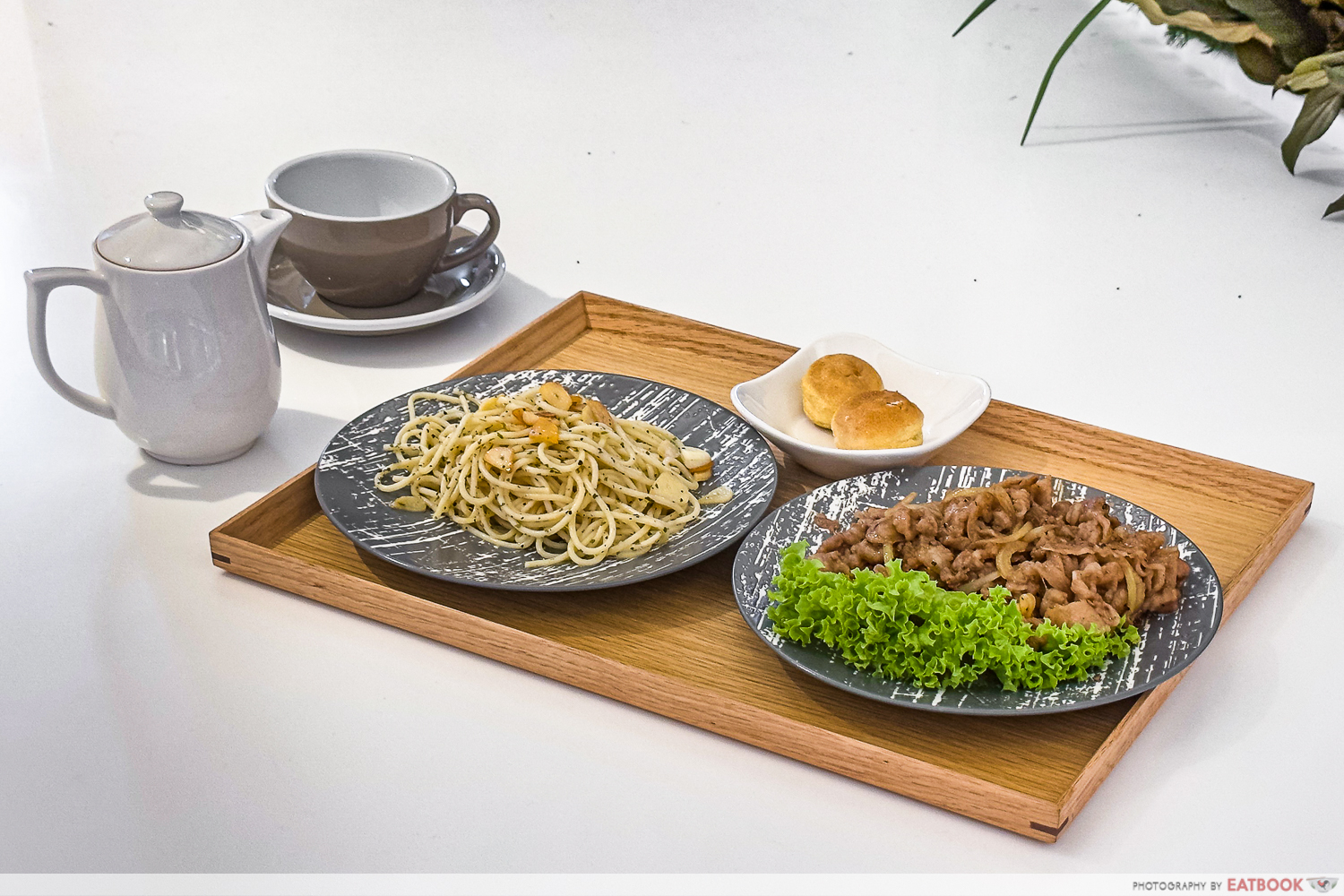 Check out their affordable all-day brunch sets! A three-item brunch set here is priced at just $14.98+, and comes with a protein, carb, and greens. If you're spoilt for choice, you can also choose from their mains, including Pork Shogayaki Burger ($12.80+), Norwegian Salmon Steak ($14.80+), and Mentaiko Pasta ($7+). 
On the drinks front, get their signature Orange Mocha ($6.50+), or Iced Lavender Latte ($7.50+) with floral notes. If you prefer something without coffee, they also have Ice Lychee Rose Tea ($6) and Ice Chocolate ($7.50).
Address: 435 Orchard Road, #04-01, Wisma Atria, Singapore 238877
Opening hours: Daily 11am to 7:30pm
Website
Orange Mocha Cafe is not a halal-certified eatery.
Orange Mocha Cafe: Hidden Book Cafe In Orchard With Japanese Brunch And Lavender Latte
---
12. Cafe Limonci
---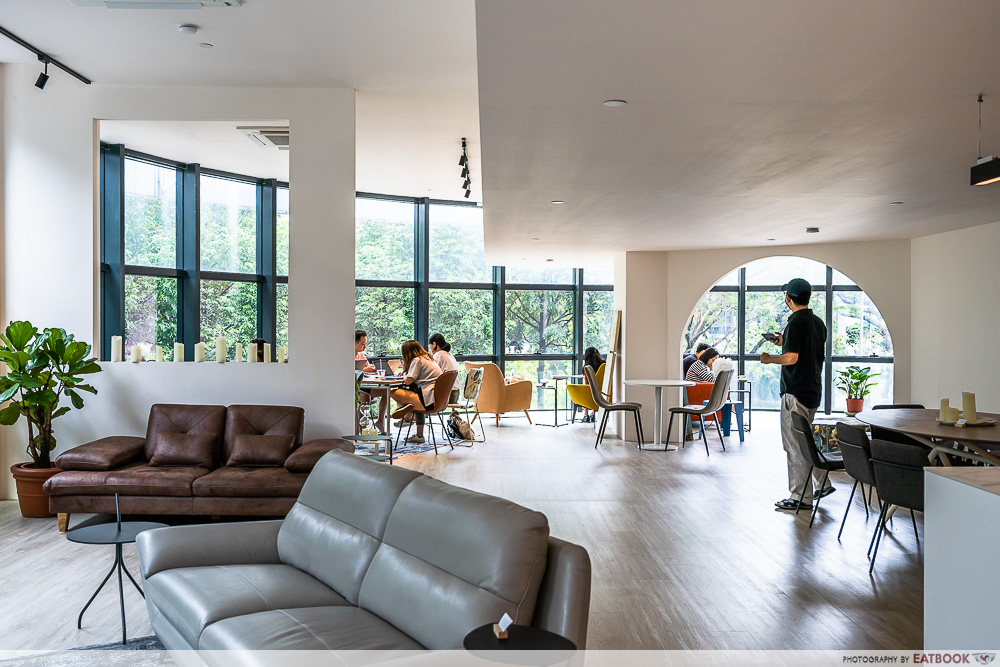 Cafe Limonci looks like an atas furniture store, but they're actually a coffee and dessert spot tucked away in Tai Seng. The place is really cosy and spacious, with plenty of seats arranged differently to fit your own comfort level while working.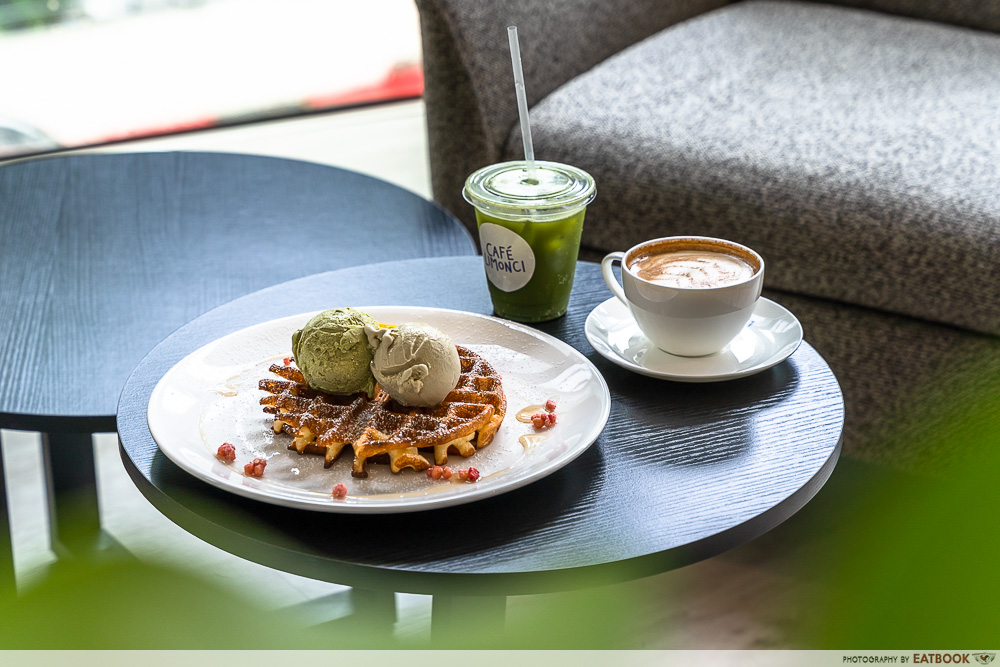 Here, they have large and small dishes catered to different appetites. Get the Pesto Beef Ciabatta ($28+) which features house-made pesto, cheese, tomato, and salad. Otherwise, they also have Buttermilk Chicken Sourdough ($25+). Pair these mains with their Iced Matcha Yuzu Ade ($7+), which boasts a refreshing mix of freshly whisked matcha with yuzu syrup and sparkling water, or Dirty Chai ($8+). 
On the dessert front, you can also choose from interesting ice cream flavours such as Shizuoka Genmaicha ($4.50+) or Yuzu Hojicha Lavender ($5.50+). Pair this with their exclusive Limonci Zesty Waffles ($8+) which are made on-site. 
Address: 61 Ubi Road 1, #01-17, Oxley Bizhub, Singapore 408727
Opening hours: Mon-Fri 9am to 5pm, Sat-Sun 10am to 6pm
Tel: 9677 2188
Website
Cafe Limonci is not a halal-certified eatery, but their food contains no pork or lard.
This Hidden Cafe Looks Like An Atas Furniture Store, Has Genmaicha Gelato And More
---
Where to find quiet cafes in Singapore
---
While some of us may already have a go-to cafe, this is a list of quiet cafes you can consider for your next work or study session. As a cafe lover myself, I'll always be on the lookout for more spots in Singapore! 
If you enjoy your desserts, we have a guide to the best ice cream and waffles cafes in Singapore, including ones that open till 2am! Alternatively, check out Good Chai People, a newly opened chai specialty cafe with all-day brunch in East Coast. 
Good Chai People: SG's First Chai Cafe With All-Day Brunch In East Coast
This post was originally published on 7 April 2021 and updated on 17 April 2023. 
The post 12 Quiet Cafes In Singapore With Cereal Prawn Croissant, Salmon Mentaiko Bowl And More appeared first on EatBook.sg - Local Singapore Food Guide And Review Site.