Island life is the best kind of life but there are only so many times you can go to the Greek islands before you realise there's more to life than lamb gyros on the beach. Hard to believe but true, we promise. Fortunately, Europe is full of islands that are every bit as beautiful, fun and delicious, so why not branch out and laze on the beach with baguettes or paella instead of tzatziki and dolmades?
To get you started, here are 10 of the best European islands that aren't in Greece.
Corsica
France
Whether you want to sail around the Med, hike world-famous trails or eat your body weight in cheese, Corsica is the place to do it. If you're into snorkelling or diving (or just drinking champagne on a yacht), don't miss the Lavezzi Islands in the Bouches de Bonifacio Nature Reserve for warm water and beautiful views. When you tire of the 1000km coastline, head inland to the mountains and get a feel for the culture in the colourful little villages.  
Ischia
Italy
If you prefer your island holidays with a side of pasta and prosecco, Ischia might be your best bet. Just an hour and half by ferry from Naples, Ischia offers up the same crystal clear waters that you'll find in Capri but with a much quieter and more relaxing atmosphere. Be sure to walk up Mount Epomeo, the highest point on the island, and stop in for jaw-dropping views and a spritz or two at La Grotta de Fiore before you make your way back down. After that, you can soothe your sore legs at the beach or go to Parco Termale Tropical to relax in the thermal pools.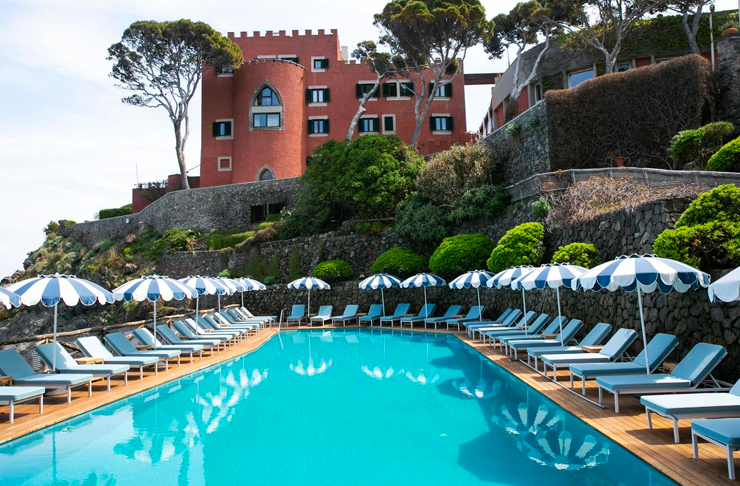 Malta
With oodles of history, crazy-beautiful scenery, 300+ days of sunshine each year and more beaches than you can poke a stick at, Malta should be on any island lovers' bucket list. It's a diver's dream thanks to the shipwrecks and coral, not to mention the 26 degree water throughout summer, but it's got a little bit of something for everyone. It was first inhabited back in 5900 BC so history buffs will be in heaven, but it's the food that we can't get enough of. Think Mediterranean with a twist and be sure to get involved in a fenkata—a Maltese rabbit night—where everyone gets together and feasts on, you guessed it, rabbit.
Hvar
Croatia
For those of you who want chilled beach vibes by day and crazy parties by night, hop on a boat to Hvar and thank us later. Pull up a sun lounger and spend the day going between the turquoise waters and a nice cold bottle of bubbles or organise a charter and cruise around the Pakleni Islands just off the coast. When the evening rolls around, head to Hula Hula for sunset and then jump on ferry to party the night away at Carpe Diem. 
Menorca
Spain
If the infamous Ibiza and Mallorca sound like a bit too much for you, Menorca might be more your speed. Its popularity has risen in recent years which has seen an influx of restaurants, bars, cafes and Instagram-worthy hotels that will blow you away, but it's still quiet enough to find a secluded beach all to yourself, even in the height of summer. The aim of the game here is relaxing and recuperating, but if you do want to let your hair down, the cave nightclub, Covas d'en Xoroi is the place to do it. 
Cyprus
When you just can't give up on your Greek Island dreams but you want to try something new, head to Cyprus. You'll get all the best Greek vibes with a Cypriot twist, and if you have some time up your sleeve you can head north to the Turkish Republic of Northern Cyrpus for a taste of Turkish culture too. Think wineries, hiking trails, delicious eats and Roman and Greek ruins for days, not to mention glorious beaches everywhere you look. Just be sure to arrive into the Republic of Cyprus (rather than the Turkish Republic of Northern Cyprus) so you can move freely between the two. 
Azores Islands
Portugal
Technically an archipelago made up of nine islands in the Atlantic Ocean, we couldn't pick just one of these beauties and we don't think you should either. With lush greenery, volcanic crater lakes, thermal springs, rushing waterfalls and an amazing variety of beaches, it's a true paradise for anyone who likes the outdoors. And it's green in more ways than one; The Azores Islands were named the number one sustainable tourist destination a few years back, scoring impressive results in every category from nature and marine life to hotels, community and culture, so you can feel good about this island getaway. 
Hamnøy
Norway
It might not be your typical sunny island vacay, but who needs warm turquoise waters when you can have the Northern Lights? Hamnøy is a tiny little fishing village in Norway's Lofoten Islands which feels untouched and so far removed from your busy life that it's 100% impossible to feel anything but completely relaxed here. Spend your time climbing mountains, skiing, watching mind-blowingly beautiful sunrises, eating as much cod as your body can handle and chasing those elusive Northern Lights. 
Lastovo
Croatia
If you want remote, Lastovo in Croatia is the place to go. It's home to less than 1000 people and the fact that it's a four-hour ferry ride from Split and boasts only one hotel means it doesn't get a lot of visitors like most of the Croatian Islands. Once you arrive, there's not much to do apart from swim, explore the villages and make friends with the locals, so you'd better be prepared to get very relaxed.
Sardinia
Italy
Remote and isolated not your vibe? Sardinia, with its 2000km of coastline and population of 1.65million people, is anything but. You'll never run out of things to do on this Italian island thanks to the remarkable beaches and grottos, the myriad of smaller islands waiting to be explored and the cities and villages which are bursting with culture (and delicious eats). There are plenty of wineries where you can sample the local vins, but Sardinians tend to be big beer drinkers and they even have their own liquor, Mirto, which you've got to try while you're there. 
Finished island hopping? Try ticking off all these beautiful waterfalls off your hit list next.
Image Credit: Kévin Langlais, Floriano Rescigno, Magdalena Smolnicka, Marcus Löfvenberg, Juliana Chyzhova, Ferdinand Stöhr, Yuriy Garnaev